Social and environmental leadership
Canadians want to see corporate leadership in step with what they value most. For Canada Post, a national institution with a presence in virtually every community, those expectations are even higher. Canadians are looking to us to play a leading role on key issues facing the country – to view our responsibility beyond the services we provide. Through our words and actions, we can be a leader in making this country stronger, greener and more inclusive.
Equity, diversity and inclusion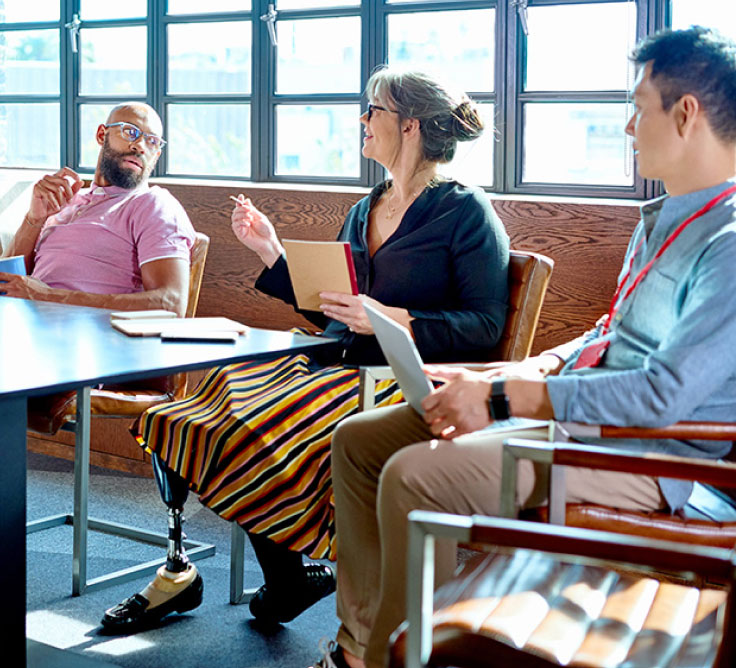 We value equity, diversity and inclusion as an essential part of who we are as a company, how we operate and how we see our future. It matters to all communities and customers we serve. We understand our company must reflect our country. A number of initiatives will help us achieve that goal.
We formed a Joint National Equity and Diversity Committee with all of our bargaining agents. Together, we launched a Five-Year Strategy for Equity and Diversity, and a 2021 Equity and Diversity Action Plan. The action plan identified 40 specific steps the company will take to create a safe, welcoming workplace for everyone. The priority actions focus on addressing oppression and discrimination. Among the measures:
Investing approximately $5 million to advance equity, diversity and inclusion across the organization.
Providing unconscious bias and human rights training to team leaders and frontline employees.
Increasing representation of Indigenous Peoples, persons with disabilities and visible minorities in our workforce.
Expanding inclusive practices, including a flexible work arrangement program, gender-neutral/universal bathrooms, uniform options.
Consulting and engaging human rights specialists and equity, diversity and inclusion specialists to guide leaders in matters related to equity and diversity.
Becoming more accessible for Canadians
Every Canadian should be able to access our services and work with us without barriers. That's why we're working to enhance accessibility, with the help of our national advisory panel of accessibility experts. Here are some of our initiatives:
Canada Post is a signatory of The Valuable 500, a global initiative to facilitate systemic change that makes businesses more inclusive of people living with disabilities. This partnership commits Canada Post to report annually to its Board of Directors on progress in implementing the Accessibility Strategy.
Our Accessibility Strategy includes initiatives to create a welcoming and inclusive experience for customers; build accessible, barrier-free spaces; and increase the diversity of suppliers and the capacity of underrepresented groups to participate in our procurement process. Our goal is to become a best-in-class, accessible Crown corporation.
Canada Post's delivery accommodation program offers alternative delivery services to customers with functional limitations, enabling them to access their letters and packages.
Our digital team creates online content and services with the goal of meeting or exceeding industry, legislated and international standards for accessibility.
Our accessibility policy team provides advice and guidance across the company to promote disability inclusion.
Leadership on the environment and sustainability
Canadians expect Canada Post to support our country's transition to a low-carbon future. We embrace this responsibility, which also enhances our competitiveness. That's why we're investing in green technology, implementing solutions to reduce our environmental footprint, and integrating climate-related risks into our decision-making.
In 2021, in collaboration with our bargaining agents, we published an Environmental Action Plan (EAP) focused on four key areas: climate action, zero waste, sustainable delivery and engagement.
Canada Post also established a roadmap to achieve net-zero greenhouse gas (GHG) emissions by 2050. Through investments across our network, we will reduce our environmental impact, meet our targets, and help deliver a sustainable future for Canadians. Sustainability is also integrated into the investment strategy for the Canada Post Corporation Registered Pension Plan.
Climate action
Canadians want to protect this great country's environment. Addressing climate change in our decision-making is the right thing to do and will help our business succeed.
Reducing greenhouse gas emissions
As part of our 2050 roadmap, we are committed to significant reductions in GHG emissions across our network. Our science-based target has three main components:
Reduce our emissions (scope 1 and scope 2) by 30 per cent by 2030, measured against 2019 levels.
Source 100 per cent renewable electricity for our facilities by 2030.
Engage our suppliers and Canada Post subsidiaries to adopt science-based targets.
Greening our fleet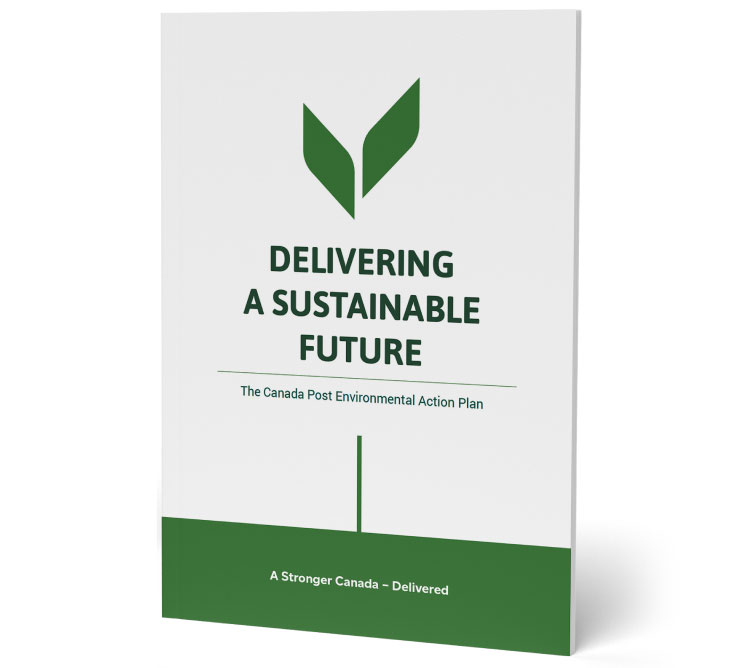 In 2021, we published an Environmental Action Plan in collaboration with our bargaining agents. It focuses on four key areas: climate action, zero waste, sustainable delivery and engagement.
We've started phasing in alternative fuels and low-emission vehicles (hybrid, electric or compressed natural gas) as older vehicles are retired.
We rolled out 740 low-emission vehicles in 2021, for a total of nearly 1,500 of these vehicles in our fleet at the end of the year.
Greening our buildings
We'll reduce GHG emissions across our real estate portfolio over the long term, using solar panels, fuel switching, equipment upgrades, HVAC optimization/retro-commissioning and LED lighting retrofits.
It's our goal to purchase 100 per cent renewable electricity for our facilities by 2030.
We are working on renewable power purchase agreements in selected provinces, in partnership with Public Services and Procurement Canada, other federal departments and provincial governments.
Our first zero-carbon building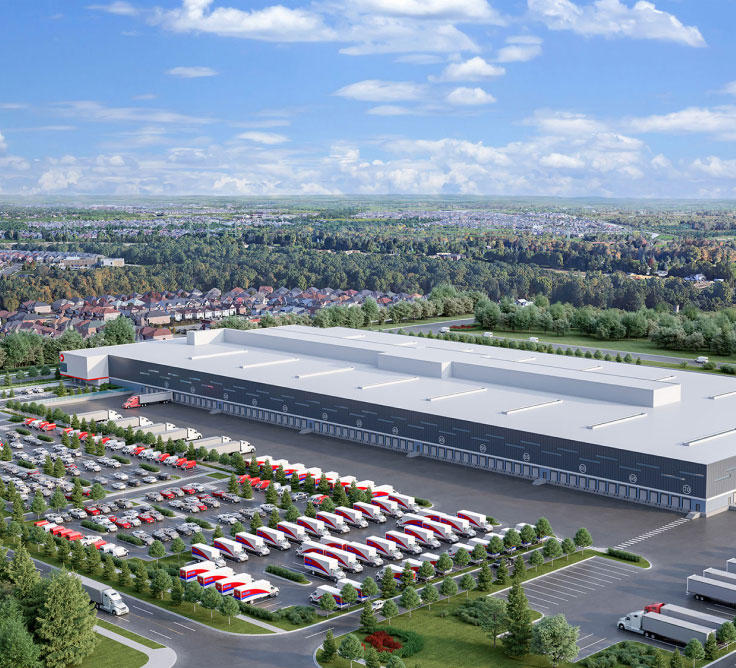 An artist's rendering of the new Ontario East Processing Centre (OEPC), currently under construction in northeast Toronto. Scheduled to open in early 2023, the facility will be a leading-edge, zero-carbon building.
The Ontario East Processing Centre, our new plant in the eastern Greater Toronto Area (GTA), will be a leading-edge zero-carbon building. The facility is scheduled to open in early 2023.
Designed to meet the Canada Green Building Council's Zero Carbon Building™ Design certification, this 585,000 square-foot facility will have efficient HVAC, solar panels, and sensor-controlled light fixtures, among other energy-efficiency innovations.
Recognition for climate leadership
We were recognized in 2021 for our efforts to make a difference on climate change and sustainability.
Corporate Knights named Canada Post one of its 2021 Best 50 Corporate Citizens. This recognized our social and sustainability leadership.
Our real estate team and facilities management partner JLL won the REmmy Award for climate change leadership, recognizing the team's commitment to address climate change as it relates to workspaces.
Zero waste
We've committed to diverting at least 90 per cent of non-hazardous operational waste, and construction and demolition waste, from landfills by 2030. We will report our 2021 waste diversion results, when final, in our Sustainability Report. We also aim to eliminate the unnecessary use of single-use plastics from corporate events, meetings and operations in 2022.
In 2021:
We discontinued retail supplies wrapped in single-use plastic.
We piloted new waste diversion services and equipment at four plants and depots.
We installed water bottle filling stations at 117 sites to help eliminate unnecessary single-use plastics.
Sustainable delivery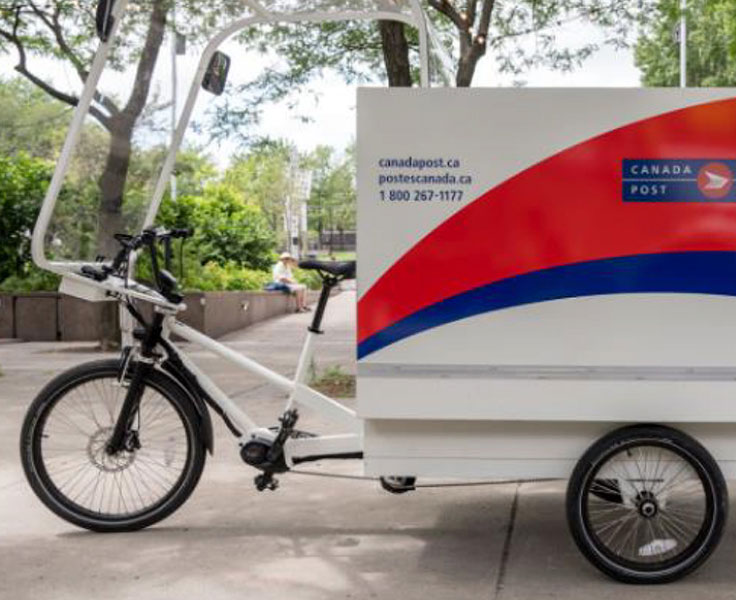 Canada Post is investing in green technology and solutions to reduce the company's environmental footprint. As part of our efforts, we tested two e-cargo trikes on selected routes in downtown Montréal.
We are working to transform our delivery services and packaging to help meet changing customer expectations around sustainability.
We've launched two padded mailers as a 100-per-cent recyclable alternative to the traditional bubble mailer.
Multi-packs of boxes sold in retail outlets are now wrapped in cardboard instead of plastic, reducing the use of single-use plastics in our packaging.
We updated the labelling across most of our products to better inform customers what can be recycled.
We tested two e-cargo trikes on selected routes in downtown Montréal, to better serve customers, improve environmental performance and help reduce urban congestion.
Engagement
To build a culture of sustainability, we're empowering our people to become engaged on climate action and the environment.
In 2021, we introduced the Sustainability Action Fund, a $500,000 annual grant program that enables employees to bring forward and implement projects at their site that support our environmental goals.
We're piloting electric vehicle charging stations for employees at four of our biggest locations.
We're engaging with suppliers, partners and customers on reducing emissions and waste.
Responsible investment
The Canada Post Corporation Registered Pension Plan has integrated environmental, social and governance (ESG) principles into its investment strategy, while maintaining focus on returns for Plan members.
In 2021, the Pension Committee approved a commitment to support the global goal of achieving net-zero emissions by 2050 or sooner. The pension investment team is now developing a Climate Action Plan for the pension fund in line with this commitment.
In 2021, the Pension Plan developed an equity, diversity and inclusion strategy with a dual focus on fostering an inclusive culture at work and integrating equity, diversity and inclusion in its investments.
As at September 30, 2021, the defined benefit component of the Pension Plan had more than $1.1 billion (or 64 per cent of its commercial real estate portfolio) invested in buildings that have LEED

Footnote

1 or BOMA BEST

Footnote

2 ratings (environmental assessment and sustainable building certification programs for real estate).
In its infrastructure portfolio, the Plan had $242 million invested in renewable energy (15 per cent of the infrastructure portfolio), which includes wind power, hydroelectric, solar, biomass and energy from waste.
Footnote1. LEED, Leadership in Energy and Environmental Design
Footnote2. BOMA BEST, Building Owners and Managers Association – Building Environmental Standards
Environment policy
Canada Post is committed to environmental protection in its operations. The Corporation has determined in accordance with sections 66 and 67 of the Canadian Environmental Assessment Act, 2012, that, to the best of its knowledge, during 2021 its projects previously evaluated under the Act were not likely to cause significant adverse environmental effects. More information about Canada Post's efforts to protect the environment can be found in the financial section of the Annual Report and in the Corporation's Sustainability Report.
Fostering reconciliation with Indigenous Peoples
We are taking concrete action to renew our relationships with Indigenous and northern communities – which have been historically underserved – and to play a meaningful role in reconciliation.
Indigenous and Northern Reconciliation Strategy
Our Indigenous and Northern Reconciliation Strategy commits us to taking action in four key areas:
Improve postal services. With a community-by-community approach, we'll improve service to Indigenous and northern communities over five years. Some communities will see new full-service post offices, while others will see existing services improve.

In 2021, five Indigenous communities received improved postal services. We continue to work with Indigenous communities to identify areas that are underserved.
We opened our first community hub post office, located in High Prairie, Alberta. Along with postal products and services, this community hub provides customers with access to secure 24-hour parcel drop-off and pickup services, parcel lockers and money services. There are also small-business support services, electric vehicle charging and a community directory to showcase local businesses.
Our second hub, located in Membertou, Nova Scotia, is one of three hubs scheduled to open in 2022. It also includes other business support services such as rentable meeting rooms, secure printing and shredding options, and publicly available computers for videoconferencing.

Increase Indigenous procurement. We've adopted a target to buy 5 per cent of our procured goods and services from Indigenous-owned suppliers or subcontractors by the end of 2025.

In 2021, we increased our direct Indigenous procurement to 2.1 per cent, compared to 1.2 per cent in 2019. We still have work to do to reach 5 per cent of total procurement from Indigenous-owned suppliers or subcontractors, but are on track to achieve our goal.

Improve Indigenous employment and retention. We will work collaboratively with our bargaining agents and Indigenous Peoples and their communities to achieve this goal.

In 2021, we worked with our bargaining agents to address the current under-representation of Indigenous Peoples by creating designated permanent positions and began staffing the positions.
We continued outreach with Indigenous communities and groups in various provinces to help recruit Indigenous employees.

Support the wellness and safety of Indigenous communities: This includes working to reduce the non-mailable matter, such as alcohol and illicit drugs, which enter these communities.

In 2021, we inspected more than 2,200 items destined for Indigenous and northern communities, resulting in the removal of non-mailable matter with an estimated street value of $2.8 million.
We completed 100 formal outreach and awareness sessions with leaders from Indigenous communities and law enforcement agencies, including leaders from 36 First Nations self-administered police services.
New truth and reconciliation stamp and community grant
In keeping with our commitment to the principles of truth and reconciliation, Canada Post is working with Indigenous experts to issue the Truth and Reconciliation stamp in 2022 – the first in what will be an annual series. The stamp issue will help raise awareness about Indigenous truth and reconciliation and support a spirit of healing.
Beginning in 2022, the Canada Post Community Foundation will award an annual signature grant of $50,000 to a national organization that offers programming anchored in the principles of truth and reconciliation. In 2021, the Foundation awarded 17 grants, totalling approximately $270,000, to programs that support Indigenous youth.