Canada Post is honoured to be one of Canada's storytellers. We proudly celebrate our country through our iconic national stamp program. Our stamps pay tribute to the people, places, achievements and triumphs that make Canada the great nation it is.
In 2021, our 22 different stamp issues featured 59 total stamps. We also issued three commemorative envelopes. Some stamps were launched at in-person events featuring prominent Canadians; several others were unveiled through social media.
An independent Stamp Advisory Committee recommends the subjects and designs for our annual stamp program. It includes historians, designers, artists, academics and representatives from the stamp community from across the country and with different linguistic, ethnic and cultural backgrounds.
Here are some of our most popular issues from 2021:
Editorial Cartoonists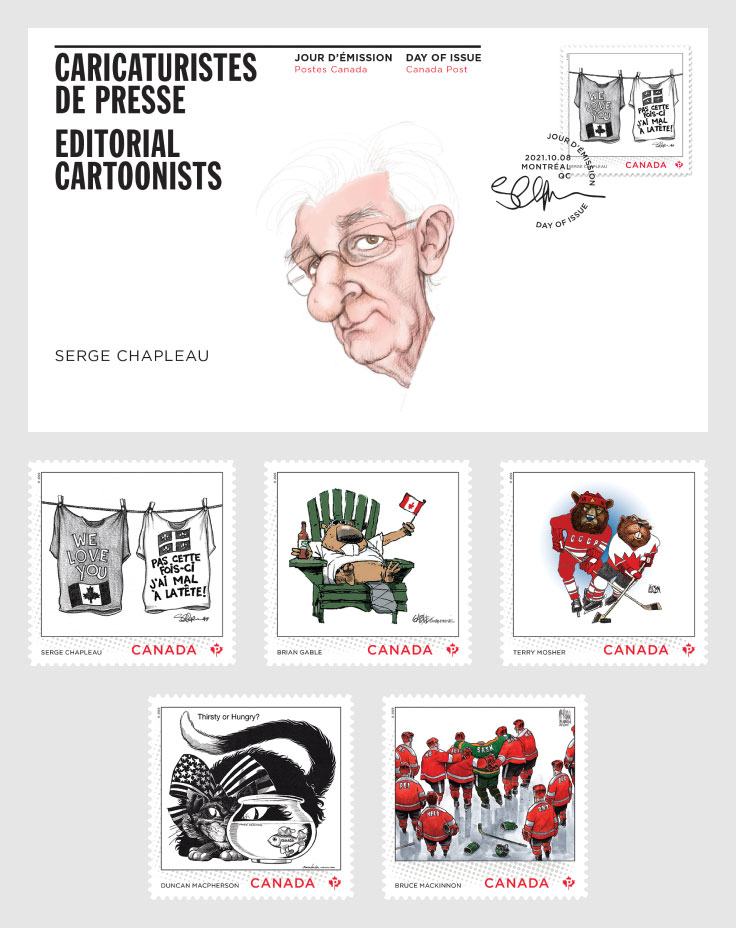 We unveiled five stamps celebrating five of Canada's greatest editorial cartoonists, whose thought-provoking work has helped shape our national fabric over the last half-century:
Serge Chapleau of La Presse
Brian Gable of The Globe and Mail
Terry Mosher of the Montreal Gazette
Duncan Macpherson (1924-93) of the Toronto Star
Bruce MacKinnon of The Chronicle Herald (Halifax)
Armed with pencils, ink and razor-sharp wit, they have boiled down complex issues into a single image – challenging the status quo and tackling controversies head-on. One stamp was unveiled each day over five days, and the cartoonists also participated in a live online panel discussion.
Christopher Plummer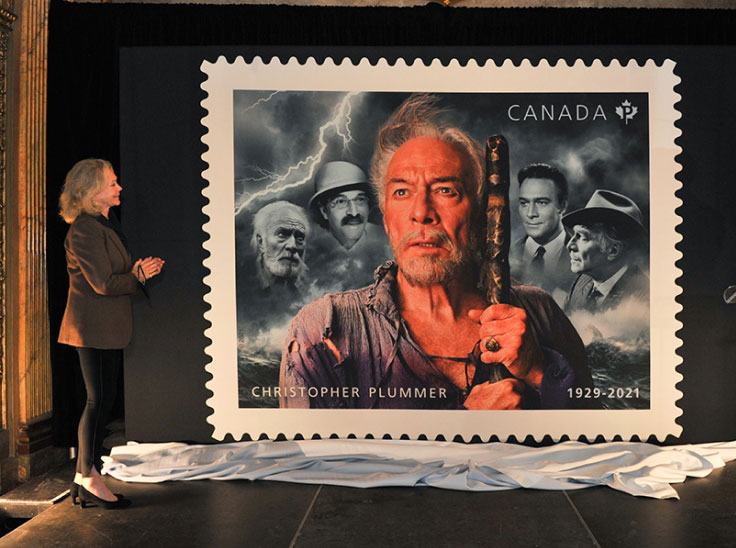 Elaine Taylor Plummer unveils a stamp honouring her late husband, Christopher Plummer, at an event at Toronto's Elgin and Winter Garden Theatre Centre in October 2021.
In October, we paid tribute to one of the world's most distinguished actors, Christopher Plummer (1929-2021), who appeared in more than 200 films, television movies and mini-series. He performed in leading roles on Broadway and at the Stratford Festival.
Canada Post approached Plummer in 2019 about being featured on a stamp. He was consulted in the process and approved the stamp design. The stamp depicts him in several of his most celebrated roles, chosen by Plummer himself. It was unveiled at a small in-person event at Toronto's Elgin and Winter Garden Theatre Centre, which featured Elaine Taylor Plummer, his wife.
Margaret Atwood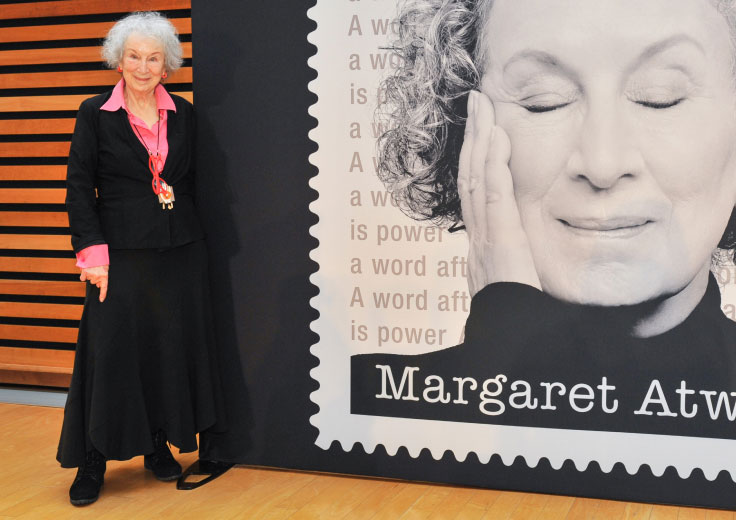 Literary giant Margaret Atwood unveiled a commemorative stamp in her honour during a ceremony at the Toronto Reference Library in November 2021.
We honoured literary giant Margaret Atwood – among the most successful and admired writers Canada has ever known – with a commemorative stamp. She has sold millions of books worldwide and her iconic stories have been adapted into films, plays and television series.
The stamp includes text from her 1981 poem "Spelling" that echoes her belief in the power of one's voice: "A word after a word after a word is power." Atwood unveiled the stamp at a small ceremony at the Toronto Reference Library.
Buffy Sainte-Marie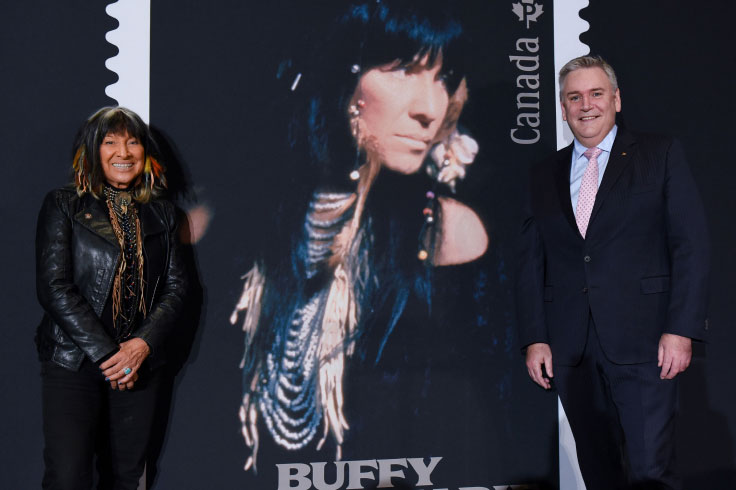 Singer-songwriter Buffy Sainte-Marie, pictured with Canada Post President and CEO Doug Ettinger, at the stamp unveiling honouring the internationally renowned artist.
We celebrated trailblazing singer-songwriter Buffy Sainte-Marie, an internationally renowned artist. For nearly 60 years, she has used her distinctive voice to speak out against injustice and help foster change.
Sainte-Marie's emotionally charged songs have been covered by hundreds of artists. Now in her 80s, she still performs. She unveiled the stamp during a ceremony at the National Arts Centre in Ottawa attended by Her Excellency the Right Honourable Mary May Simon, Governor General of Canada.
Canadian Ballet Legends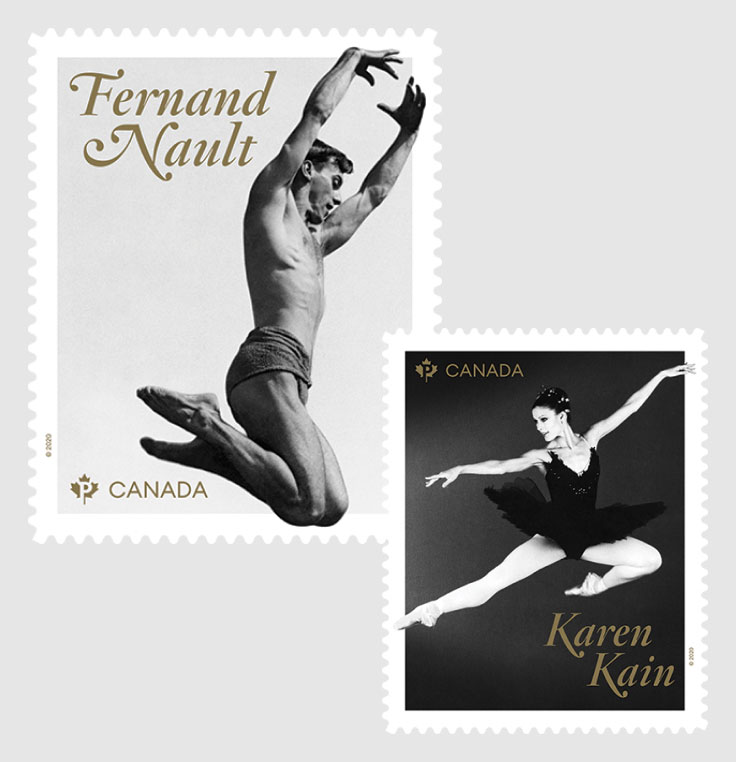 We paid tribute to two ballet legends with two commemorative stamps.
Fernand Nault spent two decades with American Ballet Theatre before joining what is now Les Grands Ballets Canadiens de Montréal as resident choreographer and co-artistic director in 1965. For more than 25 years, he added a diverse range of works to the company's repertoire and often contributed as guest choreographer abroad. Nault died on December 26, 2006.
Recognized as one of the most gifted classical dancers of her era, Karen Kain joined The National Ballet of Canada in 1969. She was promoted to Principal Dancer in 1971 after her debut as the Swan Queen in Swan Lake and went on to perform many of ballet's greatest roles over her illustrious career.
Bluenose
With two new stamps, we celebrated the 100th anniversary of the launch of Bluenose, the most recognized sailing vessel in Canadian history. The Nova Scotian schooner excelled at fishing and racing in the 1920s and 1930s. The schooner was born of a seafaring rivalry between two fishing communities: Lunenburg, Nova Scotia, and Gloucester, Massachusetts, over whose fishing vessels were the fastest.
Bluenose was built to challenge the Americans, who had won the inaugural International Fishermen's Trophy. Bluenose handily won the trophy in 1921 and remained undefeated in four subsequent trophy series: 1922, 1923, 1931 and 1938. The stamps were launched during a virtual ceremony, in collaboration with the Bluenose 100 Committee and the Bluenose II team.
Insulin
We issued a stamp marking the 100th anniversary of the discovery of insulin – one of the world's most important medical breakthroughs – in a laboratory at the University of Toronto.
In 1921, the groundbreaking discovery by Frederick Banting, Charles Best, James Collip and John Macleod placed Canada's medical researchers on the world stage. By the end of 1923, insulin had become widely available, and Banting and Macleod had been jointly awarded the Nobel Prize in Physiology or Medicine for their work. A century later, millions of people with the disease continue to be treated with life-saving insulin.
Black History Month (Willow Grove, New Brunswick and Amber Valley, Alberta)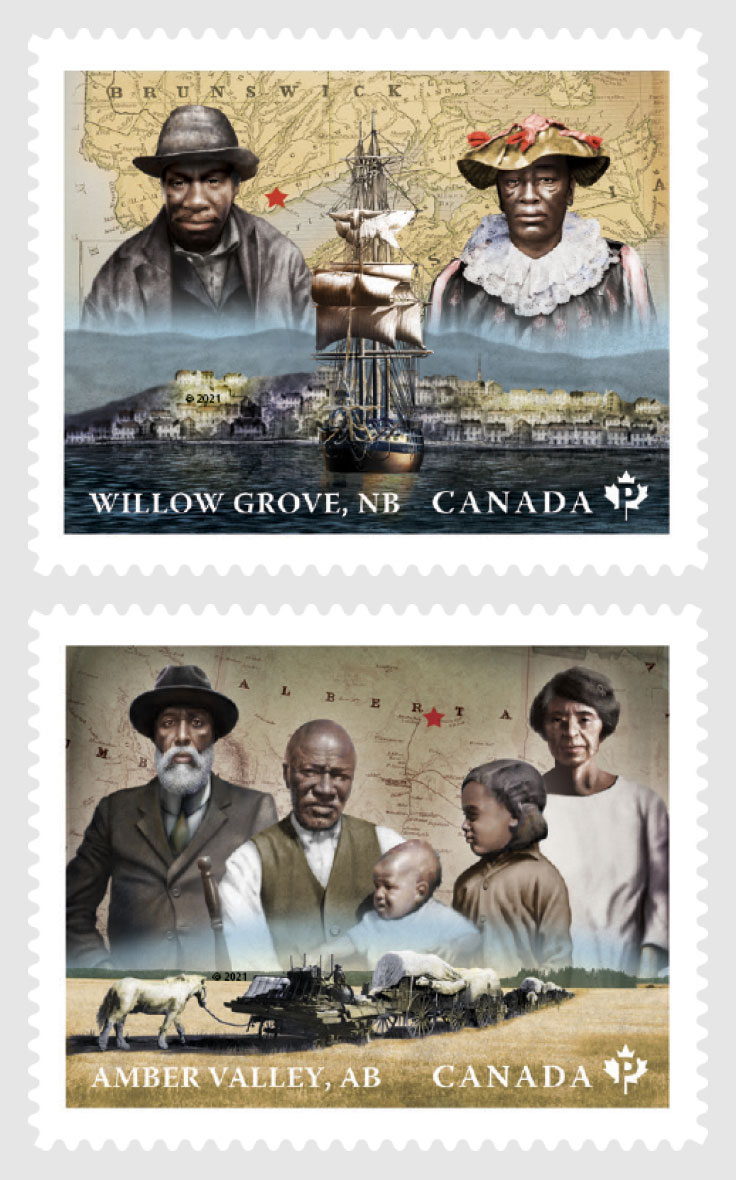 In the 13th issue of our ongoing Black History Month stamp series, we issued two stamps celebrating the hope and perseverance of the Black pioneers who founded Willow Grove, New Brunswick, and Amber Valley, Alberta.
Willow Grove was founded in 1817 by Black refugees. Most had been enslaved African Americans who were offered their freedom and land in exchange for supporting the British in the War of 1812. Their land was of poor farming quality and they received little assistance. Despite racist restrictions in nearby Saint John, the residents formed a thriving community.
The Black settlers who founded Amber Valley around 1910 had journeyed from the American South to escape escalating violence and segregation laws. They carved a living from the bush and muskeg but continued to endure ongoing racial discrimination. Determined to succeed, they built a community that flourished.
Although separated by nearly 100 years, the two communities both served as stepping stones for the success of future generations of Black Canadians. The stamps were launched in collaboration with the New Brunswick Black History Society, and the Black Settlers of Alberta and Saskatchewan Historical Society.