New stamp honours internationally acclaimed Canadian actor Donald Sutherland
The prolific performer has appeared in nearly 200 feature films and television programs over seven decades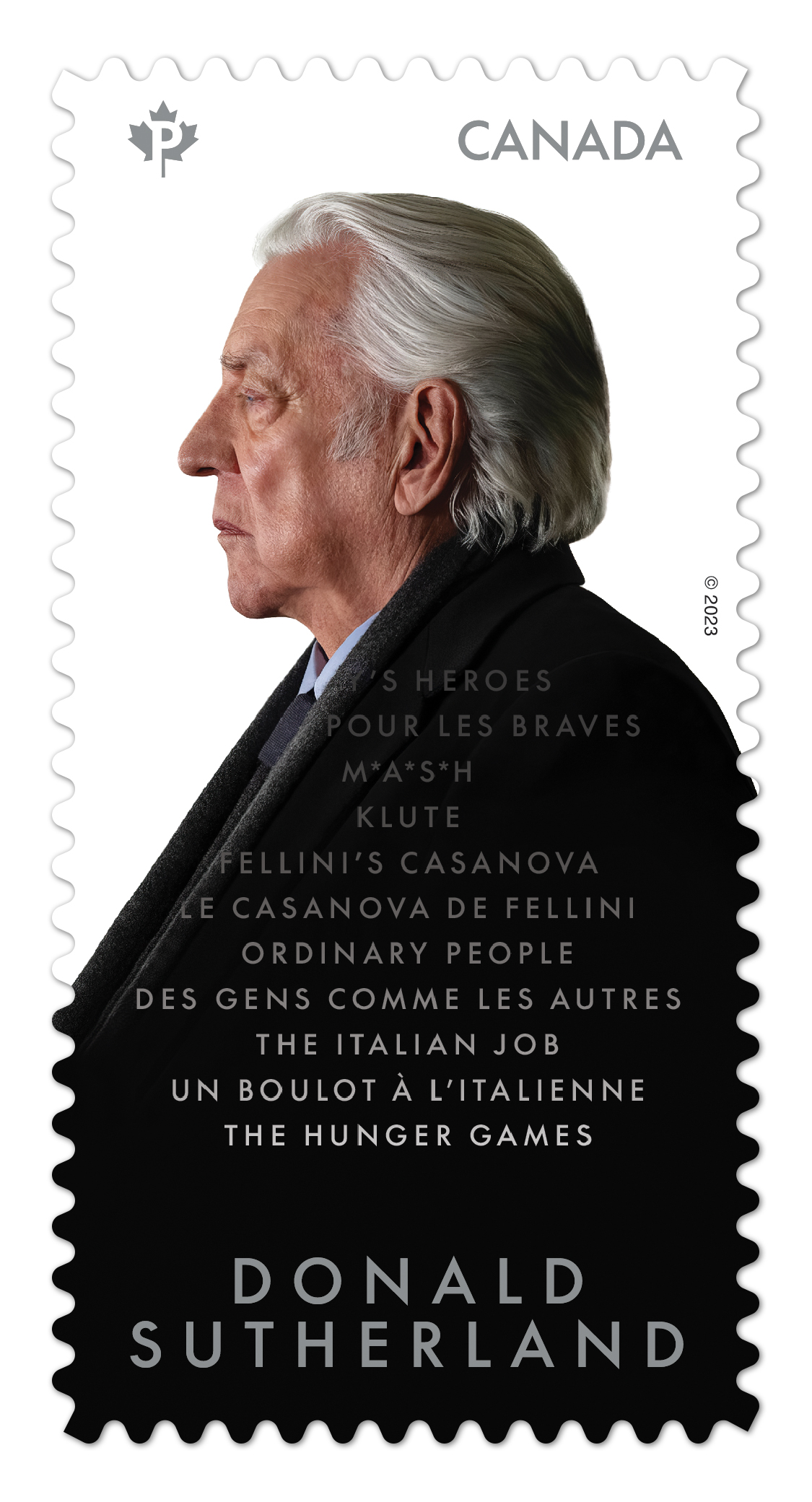 SAINT JOHN – Canada Post issued a new stamp today commemorating the career of one of Canada's most respected and versatile actors, Donald Sutherland.
Born on July 17, 1935, in Saint John, New Brunswick, Sutherland studied engineering and drama at the University of Toronto before moving to England to pursue his passion for acting at the London Academy of Music and Dramatic Art.
He appeared in stage productions and television shows, making his feature film debut in 1963 as "Tall Man in Nightclub" in The World Ten Times Over. In 1967, Sutherland starred in his breakthrough role as killer Vernon Pinkley in the classic Second World War film, The Dirty Dozen.
His first lead role in a major motion picture came in 1970 when he played Captain Benjamin Franklin "Hawkeye" Pierce in the bitingly dark comedy, M*A*S*H. The role transformed him into a Hollywood A-lister and one of the biggest movie stars in the world. It also earned him his first of nine Golden Globe nominations.
Sutherland's incredible talents and eclectic tastes led him to take on a broad range of roles over the course of his seven-decade career. He is known for memorable performances in a variety of films, including Klute (1971), Ordinary People (1980) Backdraft (1991), Disclosure (1994), A Time to Kill (1996), Fallen (1998), Pride & Prejudice (2005), and The Hunger Games franchise (2012-2015).
With his international success, Sutherland has remained a proud Canadian and starred in many Canadian productions, including the TV movie Bethune (1977) and the 1990 feature film Bethune: The Making of a Hero, playing legendary Canadian Dr. Norman Bethune in both.
His work in nearly 200 films and television productions has garnered him many awards, including a Genie (1983), an Emmy (1995), two Golden Globes (1995 and 2002), the Governor General's Performing Arts Award for Lifetime Artistic Achievement (2000), and an Honorary Award from the Academy of Motion Picture Arts and Sciences (2017).
He has also received stars on Canada's Walk of Fame (2000) and the Hollywood Walk of Fame (2011) and been named a Companion of the Order of Canada (2019) and a Commandeur of France's Ordre des Arts et des Lettres (2012).
About the stamp
The movie-poster-inspired stamp, designed by Paprika and printed by Colour Innovations, features an image of the actor's profile, with several of his movie titles in English and French. Cancelled in Sutherland's birthplace of Saint John, the issue includes a booklet of 10 Permanent™ domestic rate stamps and an Official First Day Cover with an image of Sutherland as the character Sgt. Oddball in Kelly's Heroes (1970).
The stamp and collectibles are available at canadapost.ca and post offices across Canada.
Images and more information on the stamp and other products can be found here:
- 30 -
For more information:
Media Relations
613-734-8888
TM Trademark of the Canada Post Corporation