A short note goes a long way
Canada Post is delivering a prepaid postcard to every household in Canada. Mail yours to anyone you want, anywhere in Canada, for free.
Get yours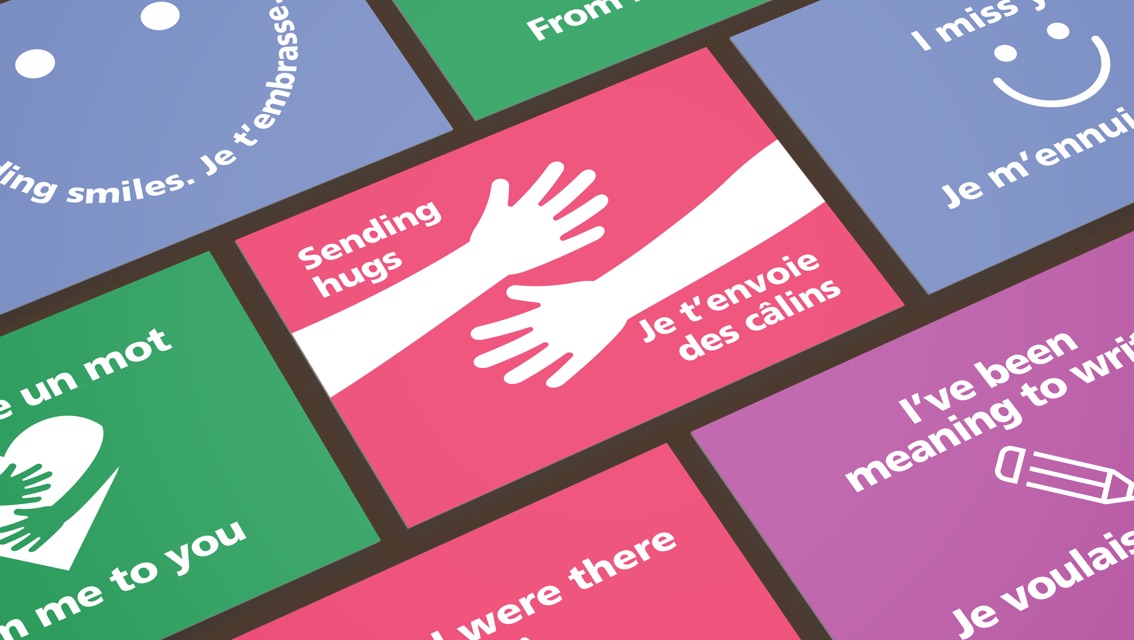 Writing a letter is easy
Tell someone you're thinking of them. Share a photo or a kid's drawing.
It only takes a few minutes.
Tell them about the kids
"The kids are practicing…"
Share your new thing
"I'm doing yoga at home…"
Share a new hobby
"I started scrapbooking…"
Writing inspiration
Make it even more special
Send some wedded bliss
They'll feel the love when you send custom stamps featuring your wedding photos.
Personalize a stamp
Celebrate your child's graduation
Capture the moment in a custom postcard that will make family and friends feel like they were there.
Make a postcard
You don't need much to send a letter!
All you need is...
A stamp
One stamp works for up to 5 sheets of paper* (30 g).
An envelope
Start with a letter-sized envelope.
An address
Ask your loved ones for their address in a call or text. If you only have a partial address, Canada Post can help you complete it.
A mailbox
Drop your letter in a community mailbox or at your local post office.
Whoosh! Your letter is on its way.
All the details...
Postcards
A postcard is a quick, fun way to show you care.
Minimum size is 5.5 by 3.5 inches (140 mm by 90 mm) and up to 9.6 by 6.1 inches (245 mm by 156 mm) before it needs extra postage, when sending within Canada. You can find dimensions, weight and rates for U.S. and international postcards here.
Don't have a postcard handy? Pop into a nearby card shop, or buy pre-stamped ones at a post office or online. You can create one yourself by uploading a favourite photo or doodle.
Envelopes
Shop for mail supplies, like prepaid envelopes, in our online store and get all the info you need to choose the right envelope.
Standard envelopes
Save on postage by using standard-size envelopes. They measure up to a maximum of 245 mm by 156 mm (9.6 inches by 6.1 inches), can be up to 5 mm thick when filled, and can weigh up to 50 g when filled.
Non-standard and oversize envelopes
Oversize or non-standard size envelopes and postcards can weigh 0 g to 50 g once filled. They exceed 245 mm by 156 mm (9.6 inches by 6.1 inches) but cannot exceed 380 mm by 270 mm (15 inches by 10.6 inches). They can be up to 20 mm thick when filled. They will cost you more in postage than standard envelopes.
Prepaid envelopes
Buy now, ship later with our convenient prepaid, standard-size envelopes.
Address
Need help addressing your letter? We've got tips and tools to help.
Have a partial address?
Our AddressComplete tool can help you fill in the blanks.
Don't know the postal code?
We can help!
Properly address a letter within Canada
JOHN JONES
10-123 1/2 MAIN ST SE
MONTREAL QC H3Z 2Y7
The Addressee (First Line)
Civic Address (Second-last Line)
Municipality, Province and Postal Code (Last Line)
Stamps
You can use stamps to send letters, cards and other lightweight papers. Need some? We sell them online and in our post offices.
Stamp Rates
Pay the right amount for your postage
Rates depend on the destination (within Canada or beyond), weight and the size of your item. Check out our standard and oversize dimensions below.
Standard stamp rates within Canada
Up to 5 sheets of paper weighing up to 30 g
$1.07/stamp
$0.92/stamp in a booklet
Up to 9 sheets of paper weighing 30 g to 50 g
Oversize mail
Special postage is required for items such as large documents, oversized envelopes, and heavy cards.
Mailboxes
Once you've sealed and stamped your letter or postcard, mail it at a regular mailbox, community mailbox or post office.
Delivery Time Standards
Delivery time standards for regular mail sent within Canada are:
An average of 2 business days for local mail
An average of 3 business days within the province
An average of 4 business days for national mail
These timeframes are not guaranteed as weather and mail volume can affect delivery times.
#WriteHereWriteNow
When you take the time to share, you can always be there.
What Canadians are sharing
Share what you are writing with #WriteHereWriteNow

aineholder
Canada Post sent everyone a free postage postcard to send to someone special within the country. I of course decorated mine.

kishie_kitsch
@canadapost.official @canadapostagram for the inspiration – we did an online art class and turned our postcards into collage art before sending them!

Katherine Hickey
This arrived in the mail today – what a nice initiative by @canadapostcorp to help people feel connected during the challenging times of this pandemic. When you get yours – remember those people who may be feeling isolated.