Introduction to Intelligence 360 – an overview
Intelligence 360 was designed with a simple and intuitive layout that lets you easily navigate through the tool.

When you log in, you will see the Overview section providing a summarized view of:
Your outbound and inbound items
Items that received an exception scan
On time deliveries
My Notifications, My Watch List, My Favorite Reports, My Recent Reports and Support
Select Overview from the top navigation bar.

Filter a summary view of your outbound and inbound items
Select Edit filters to choose the items you wish to view.

You can filter by timeframe and customer number.
See outbound overview
The Outbound overview section provides a summary view of your outbound items, organized by the delivery process stages, Ready to ship, Shipped, In transit and Delivered.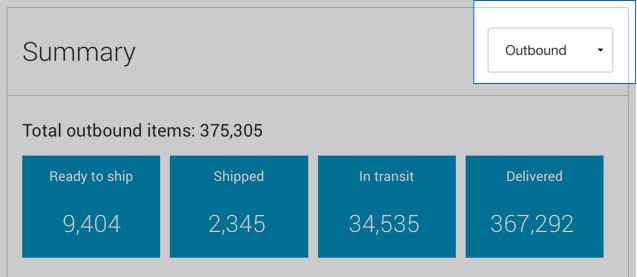 See inbound overview
The Inbound Overview shows how many items were returned to you over the past 28 days. You can also see a rolling 3-business day view of returned items. Inbound items include Return to Sender (RTS) and anticipated and authorized returns.
Within the inbound overview section, information is organized by the Expected Delivery Date (EDD).
See your exceptions (items whose delivery was unexpectedly delayed)
Within Total exceptions in the overview screen you can see a summarized view of your outbound and inbound items that have experience unforeseen delivery interruptions.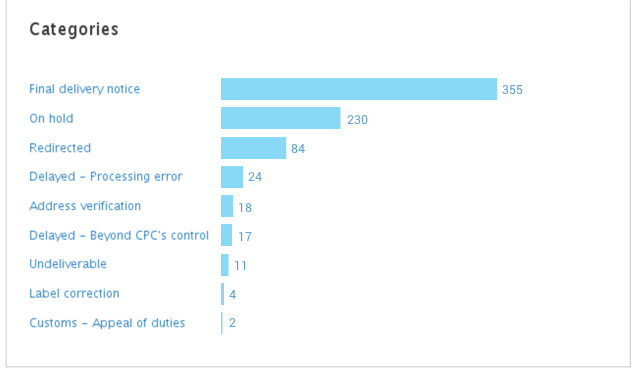 See your On-time deliveries
Outbound and Inbound on-time deliveries are grouped by destination location (Canada, USA, International), shipping service, the number of items specified in the edit filter section and the on time percentage results.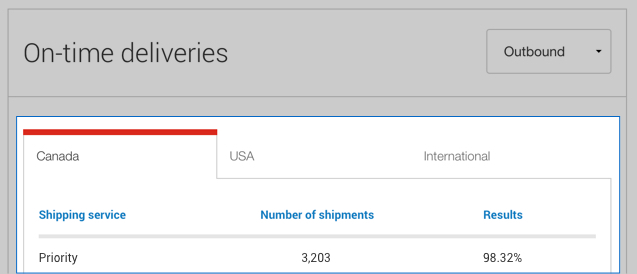 Your notifications
Intelligence 360 advises you when your item has reached its desired stage.

Your watch list
Keep a close eye on your important items by adding up to 20 items to your watch list.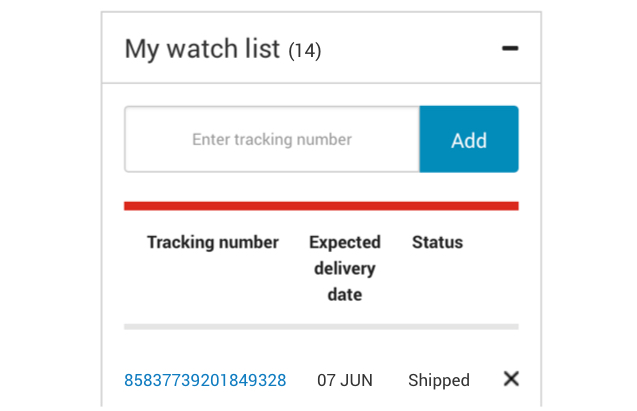 Your favourite and recent reports
View the reports you have added to favourites and the five most recent reports created in the past 30 days.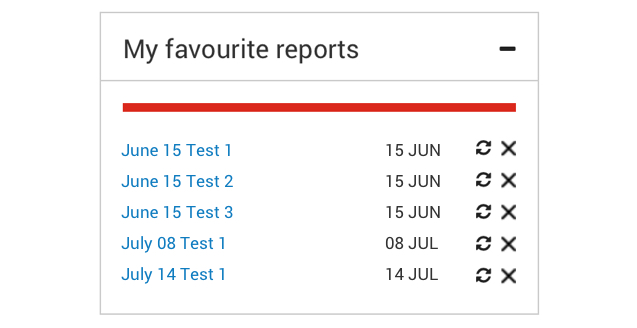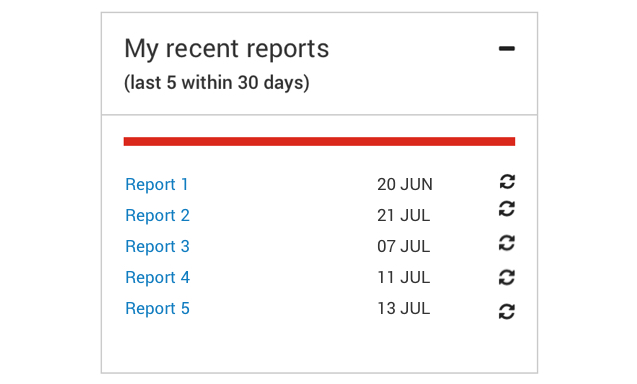 Get help with Intelligence 360
Support has links to help pages that include definitions and terms, navigating through the application, step-by-step instructions on how to create, export and print reports and much more.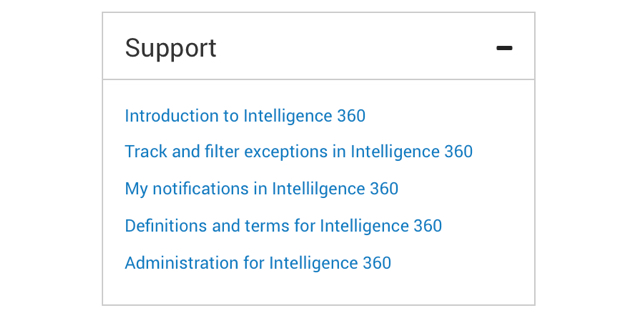 For an overview of Track 360, read Introduction to Intelligence 360.