Precision Targeter - Frequently Asked Questions
How do I get access to information on Neighbourhood Mail?
For additional information on sending your neighbourhood mail through Precision Targeter, please refer to the Neighbourhood Mail Customer Guide at the link below:
Why are some dates greyed out on the calendar?
When the neighbourhood mailing data accuracy cannot be guaranteed the tool greys out the date.
What is Postal Code (FSA)?
The Postal Code is a six-character uniformly structured, alphanumeric code in the form "ANA NAN" where "A" represents an alphabetic character and "N" represents a numeric character. A Postal Code is made up of two segments: "forward sortation area" and "local delivery unit." The forward sortation area is a combination of three characters (alpha-numeric-alpha). It identifies a major geographic area in an urban or a rural location. The local delivery unit is a combination of three characters (numeric-alpha-numeric). It identifies the smallest delivery unit within a forward sortation area.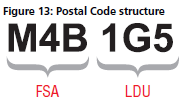 How do I use the tool?
For information on how to use the tool, please refer to How to create a mailing plan at the link below:
How do I get access to tutorial videos?
To access tutorial videos, please refer to the Tutorial videos link:
Who can I call if I have questions/issues with Precision Targeter?
For questions, please refer to the link:
How do I look up a delivery route with a postal code?
Step 1: Select "Create your campaign using a list of geographic areas"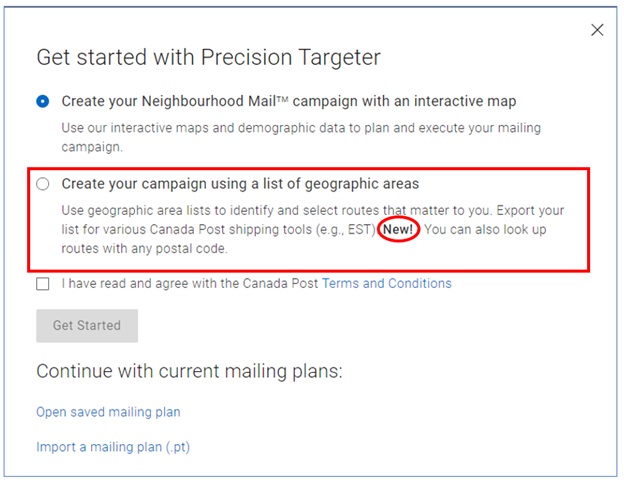 Step 2: Enter postal code in text box and click on the "search" button

. The corresponding delivery route will be highlighted in blue below.
**Note: you can only search 1 postal code at a time. You may search multiple times. **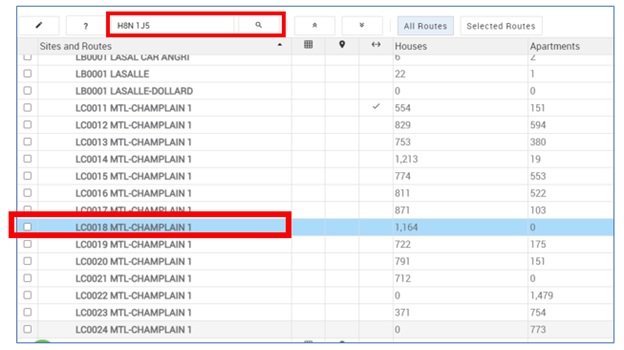 For Rural Routes
When you are looking up a rural postal code, the corresponding routes will appear as follows. You will need to click on the arrow to expand and see the list of routes.