How to create a service ticket report in Intelligence 360
This report shows you the status of service tickets your company has created for items that are late, lost and damaged.
Use the following steps to create a report:
1. Pick My reports in your menu bar.

2. Open the Create new report button.

3. Select Create in the "Service ticket report" box. You can preview the report before you create it.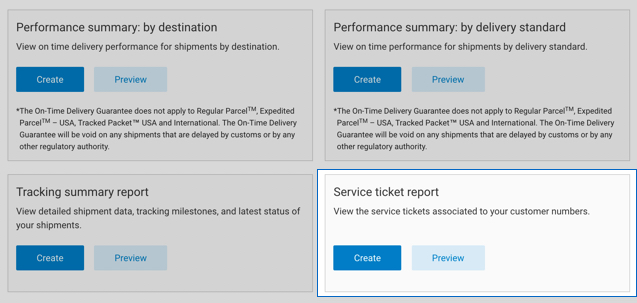 4. Enter the Start and End date of the time period* you want your report to cover.


5. Pick the Customer number(s) whose data you want in the report.


6. Pick the Ticket Status you want a report on.


7. Enter a Report title, Email address and format to download.

You can schedule a report to run on a recurring time frame, or generate a report immediately.
Once a report is generated, you can:
Download it
Add it to your favourites (up to 5 are allowed)
Edit it
Schedule, email and save as a template
There are three types of ticket status:
Open: A service ticket has been created and it is under investigation by Canada Post.
Closed: A service ticket has been actioned and it is now closed. No payment has been issued by Canada Post.
Paid: A service ticket has been actioned and it is now closed. Payment was issued by Canada Post, the amount paid is indicated on the report.