How to Create Reports in Intelligence 360
How to create a report
1. Pick My reports in your menu bar.

2. Now open the Create new report button.

3. Choose the report you want to generate from the display and click on its Create button.

For example: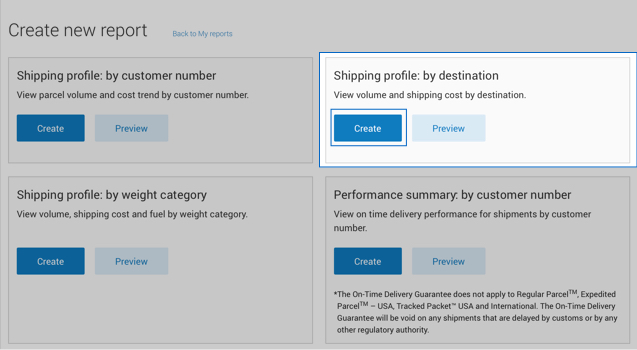 Once a report is generated, you can:
Download it
Add it to your favourites (up to 5 are allowed)
Edit it
Schedule, email and save as a template
Need help creating different types of reports?
Find step-by-step instructions and helpful tips in:
How to create a shipping profile: by customer number
How to create a shipping profile: by destination
How to create a shipping profile: by weight category
How to create a performance summary: by customer number
How to create a performance summary: by destination
How to create a performance summary: by delivery standard
How to create a tracking summary report
How to create a service ticket report