What's a parcel locker?
It's a convenient locker in an apartment building where we can deliver your parcels if you aren't home. Pick your parcels up when you're ready or use it to drop off your own mail.
Your parcel is secure
Your parcel will be inside an individual, locked compartment in your building's lobby or close to your mail room.
Why should my building have a parcel locker?
No need to make a trip to a post office if you aren't home to receive your parcel. Your packages can be delivered right to your lobby's secure parcel locker. It's like having a concierge on duty 24/7, just for parcels.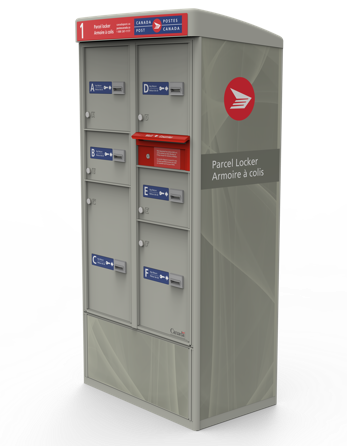 How does it work?
When your parcel arrives, you'll find a numbered key* with instructions inside your mailbox.
Simply go to your lobby's parcel locker and use the key to open the compartment with the same number. Your parcel will be inside.
Once you've got it, lock the compartment and drop the key back in through the mail slot.
You can also drop your mail off in the parcel locker mail slot.
How big is a parcel locker?
Parcel locker dimensions:
163.8 cm (64.5 inches) length
78 cm (30.7 inches) width
51.8 cm (20.4 inches) depth
It has 6 locked compartments to securely store parcels of various sizes.
*If a parcel is too large, all the compartments are full or if a signature is required, the postal agent tries to deliver to your door. If you're not home, a Delivery Card Notice for pickup is left in your mailbox.
Report a problem
Do you have an issue or concern with your current parcel locker or about your mail or parcel deliveries? Visit our support page to contact us.