Transforming our fleet will help us achieve net-zero GHG emissions by 2050
At Canada Post, we know that Canadians expect us to view our responsibilities more broadly than our products and services. They want us to reflect their values and act on their concerns, too – including those about climate change. We recognize this in our transformation plan, A Stronger Canada – Delivered.
Today in Ottawa, we announced our new climate targets. Canada Post has committed to reduce Scope 1 and 2 emissions by 50 per cent by 2030.  We've also committed to the electrification our fleet of nearly 14,000 vehicles, with a target of 50 per cent electric vehicles by 2030, and 100 per cent by 2040.
This will go a long way to helping us achieve a more comprehensive goal we've already committed to, which is net-zero greenhouse gas (GHG) emissions by 2050.
Transforming our fleet will be a challenge, but its impact will be significant. Our vehicles drove 104.1 million kilometres last year – the equivalent of circling the globe more than 2,500 times.
Testing alternative vehicles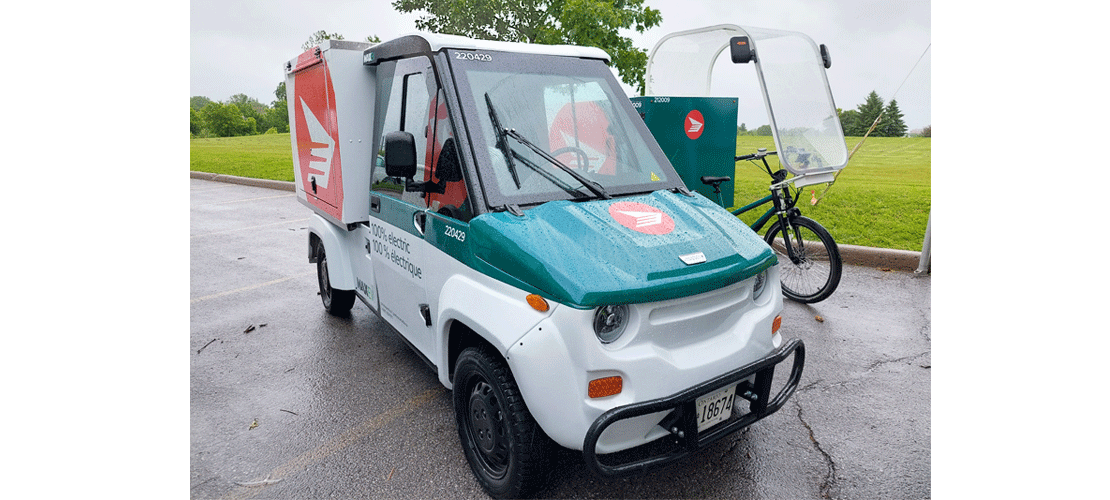 Greening our fleet will also involve testing electric vehicles and alternative modes of transportation to understand which models function best in our operations. Today, at a Canada Post delivery depot in Ottawa, we also showcased some electric and low-emission vehicles in use, as well as others that we're piloting. One is a low-speed vehicle we'll be piloting on a postal route covering neighbourhoods west of downtown Ottawa. This compact, fully-electric vehicle reaches a maximum speed of 40 kilometres per hour. We plan to use it to collect and deliver mail and parcels for a year to evaluate its performance and safety.
Our path to net-zero
Our commitment to environmental leadership is a key pillar of A Stronger Canada – Delivered. Our efforts to reach net-zero emissions by 2050 will require decarbonization across the organization. Apart from the electrification of our fleet, here are some other key commitments that will help shrink our footprint:
We've set a science-based emissions reduction target. We've committed to a 50 per cent reduction in Scope 1 and Scope 2 GHG emissions by 2030, measured against 2019 levels. The target is built to meet the 1.5°C pathway of the Science Based Targets initiative (SBTi), and sets us on a path to net-zero emissions by 2050. We'll be submitting this target to the SBTi for approval.
We'll be greening our facilities. We'll reduce GHG emissions across our real estate portfolio, with new net-zero buildings, retrofits, and energy efficiency upgrades. Retrofits with solar panels, increased insulation, triple-glazed windows and other energy efficiency upgrades, can make our existing buildings much more efficient.
We'll increase our use of renewable energy. We're committed to purchasing 100 per cent renewable energy in Canada's highest-emitting provinces and we're working to bring new renewable energy projects online.
Net-zero carbon buildings
As part of our efforts to green our facilities, any new builds will be constructed to the net-zero carbon standard of the Canada Green Building Council (CAGBC). In May, we unveiled our first net-zero plant: the Albert Jackson Processing Centre in Scarborough, Ont., a $470 million state-of-the-art parcel sorting facility. After it opens in early 2023, it will serve as a key hub for our entire national network, with the capacity to process more than one million packages a day.
The centre was designed to do more than expand capacity and improve service. It was designed to be highly energy-efficient, with efficient HVAC, solar photovoltaic technology, sensor-controlled lights that dim based on occupancy, and daylight harvesting. Once certified, it will be the largest industrial project in Canada to receive the CAGBC designation.
The road ahead
The road to net zero will not be easy. Canada Post has a large and diverse portfolio of buildings across the country. We have nearly 14,000 vehicles in our fleet and Canada's largest retail network of close to 6,000 post offices.
But we've developed a strategic approach to reduce our GHG emissions across our network and operations. We'll continue to work in partnership with our suppliers and customers on our Scope 3 emissions.
With our transformation plan, it's our intention to deliver a stronger Canada, -and a greener, safer and more inclusive Canada. Canadians expect that, for themselves, their communities, and future generations.