Astronomy stamps showcase Canada's superior night sky viewing
CALGARY – Our latest stamps showcase the majestic beauty of two spectacular phenomena – the Milky Way and the Northern Lights – and highlight the night sky viewing in Canada's wild.
Matt Quinn's stunning photo of the Milky Way was taken at Bruce Peninsula National Park in Ontario, while Alan Dyer captured a magnificent image of the Northern Lights in Churchill, Man. Both photographs were taken in 2016.
The stamps were issued on the occasion of the 150th anniversary of the Royal Astronomical Society of Canada and salute its commitment to educating Canadians about the wonders of the universe. Founded in Toronto in 1868, the society has more than 5,000 members across Canada.
Designed by Parcel Design of Toronto, each stamp includes metadata in special ink in the borders, making it visible only under a black light. The hidden information includes the date and time the photograph was taken, and GPS coordinates and type of camera lens used for the photo. Lines and names overlaid on the images highlight constellations.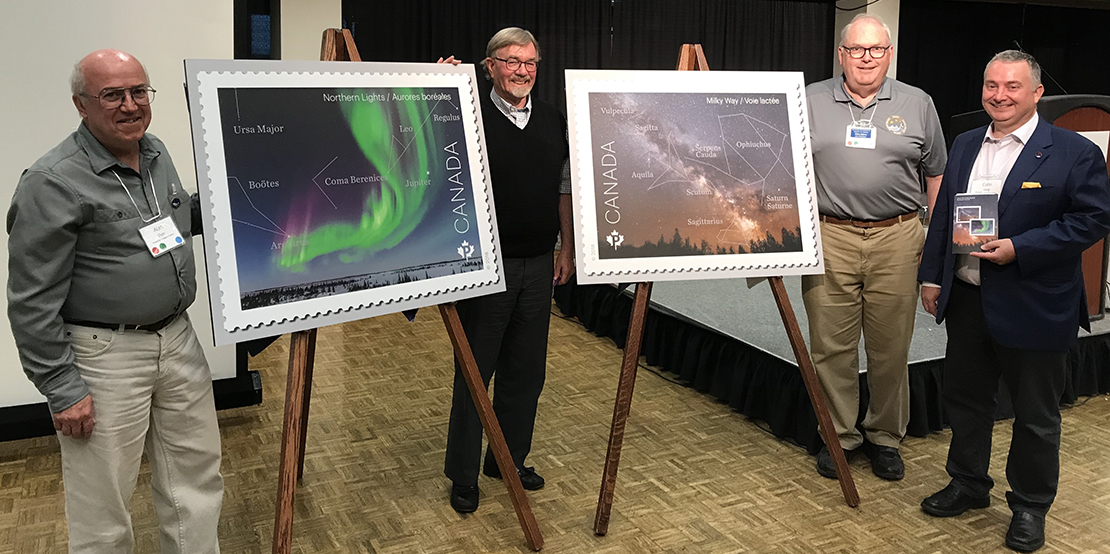 Author and photographer Alan Dyer, who snapped the Northern Lights image used in one of two Astronomy stamps, poses for a photo of the stamps at the unveiling at the University of Calgary June 29, 2018. He is joined by: David Foot, a member of the Canada Post Stamp Advisory Committee that selected the stamp; Chris Gainor, new President of the Royal Astronomical Society of Canada (RASC); and Colin Haig, the society's former president. The stamps commemorate the RASC's 150th anniversary.
The stamps were issued on June 29, 2018 and are available at post offices and online. Click here for more on the stamps in Details magazine.