Fundraising efforts allow Community Foundation grants to help children across the country
The Canada Post Community Foundation supports youth and children by funding organizations in communities across Canada: literacy and language programs, youth outreach services, gender and sexual diversity programs, the arts and more.
Funds go to organizations in the province or territory in which they were raised. In the last eight years, the Foundation has granted more than $8 million to more than 700 projects. Everyone at Canada Post is proud of that – and we're proud of the heartwarming, sleeves-rolled-up enthusiasm that our employees demonstrated again this year in communities across Canada.
Most of the funds are raised through our fall in-store campaign and sales of a special stamp. While employees across the organization donate, our employees in post offices across the country embrace the cause by encouraging customers to donate. They also take their own approaches to fundraising in the community. Their grassroots efforts are the strength of our program – and are the unique initiatives of staff in each community.
Here are just a few examples of their efforts – and Canadians' generosity – from across the country.
Post offices:
Nakusp, B.C.
Employees in this post office framed the newspaper article about the Foundation's $15,000 grant received by the local Nakusp Youth Society to remind customers of the Foundation's impact, boosting awareness and donations.
Dawson City, Yukon Territory
Employees at this post office held a raffle and asked every customer if they wanted to donate, raising hundreds of dollars.
Camrose, Alta.
In cold weather, employees donned tuques and winter coats to hold a successful outdoor BBQ for the Foundation in October. Donations tallied about $1,700.
Earl Grey, Sask.
For this post office's Community Foundation Bake Sale, employees prepared a vast array of 72 plates of baked goods ranging from cookies, tarts, squares & slices, cupcakes and delicious pies. They are already planning something bigger to celebrate the Foundation's 10th year of fundraising in 2020.
Lynn Lake, Man.
This post office raised three times the donations it had in 2018, thanks to the generous donation of a tablet to be raffled off, and a letter-writing campaign to raise the profile of the Foundation.
Yellowknife, N.W.T.
Employees held a raffle for a framed picture and art from this fall's popular Leonard Cohen stamp issue by Canada Post. They're proud that the funds they've raised have supported the Foster Family Coalition of the NWT's new program to help children and teens with fetal alcohol syndrome.
Fonthill, Ont.
This post office's second annual Recipes in a Jar fundraiser invited customers to come to the post office to purchase mason jars full of the fixings for delicious baked goods and soups – no measuring required, just follow the instructions and enjoy! Donations nearly tripled.
Nobleton, Ont.
Employees decorated this post office in a country-and-western theme, wore costumes and held raffles for items donated by local businesses, and bake sales. They raised more than $15,000! Every year, they place in the Top 5 corporate post offices in funds raised for the Foundation, which is pretty impressive considering that Canada Post has nearly 3,700 of them.
Quebec City, Que.
The Quebec Haute-Ville post office is busy with traffic from locals and tourists. Employees have raised more than $11,000 through their popular annual flea market and asking every single customer for donations.
Miscou, N.B.
The postmaster, a trained chef, held numerous bake sales that sold out quickly every time. Baked goods included cookies, Austrian pastries and cinnamon rolls with cream cheese icing. Some customers even called ahead to reserve theirs!
Mill Cove, N.S.
This post office holds weekly raffle draws for quilts and baskets, and receives donations from their PO Box customers.
Elmsdale, P.E.I.
The local postmaster fundraises in her community through a fudge sale, a bake sale and raffling off a gift basket.
Brighton, N.L.
The postmaster here put together a gift basket to raffle off with some donations from a local bakery as well as a homemade quilt, raising hundreds of dollars in a small community.
Grant recipients:
In 2019, the Canada Post Community Foundation issued grants of $1.2 million, shared by 118 organizations across the country. The full list of 2019 grant recipients as part of our "Giving back to our communities."
B.C.
The Canucks Autism Network in Vancouver received a $25,000 donation toward its multi-sports and recreation program for children with autism.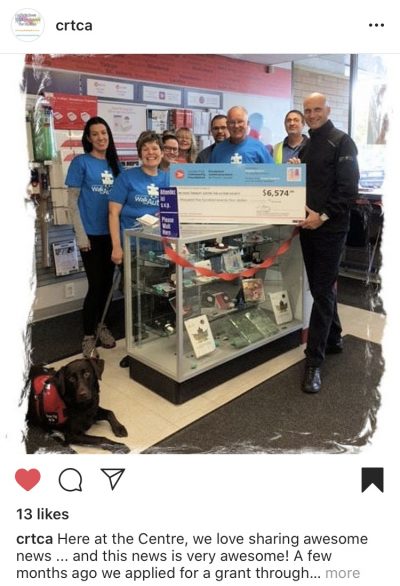 In Kamloops, the Chris Rose Therapy Centre for Autism Society was awarded $6,574 for computers to use in the autism program.
Yukon Territory
Two organizations received grants: Little Blue Early Care and Learning Centre was granted $5,000 toward an indoor play structure for the winter and Robert Service School was granted more than $2,200 to build and use a rock climbing wall – cross-curricular project of the shop class and the physical education department. 
Alberta
Easter Seals Alberta was awarded $21,050 for the Camp Horizon Earth Program, an adaptive hiking program for kids with disabilities or medical conditions.
In Lethbridge, Wilson Middle School will put the Foundation's $5,000 grant to good use to incorporate Indigenous culture in education.
Saskatchewan
The Saskatchewan Alternate Format Materials Library in Saskatoon is putting the Foundation's $12,000 into buying braille books for visually impaired students in the province.
The $6,000 that Big Brothers Big Sisters of Humboldt & Area was awarded will allow it to match four children or youth with a role model.
Manitoba
In Winnipeg, the CanU Canada mentorship program was awarded $20,500 toward its architectural education project. It covers different aspects of planning and design.
In The Pas, the Uptown Day Care Inc. will use its $4,000 grant to help provide nutritious breakfasts to children.
Ontario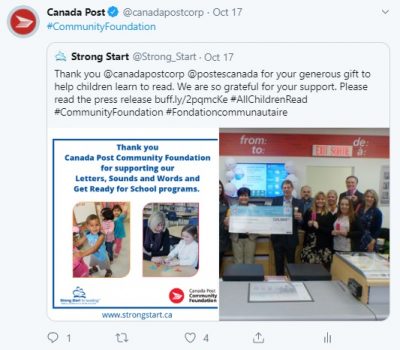 In Manitowaning in northern Ontario, the Township of Assiginack was awarded $2,000 to offer a sewing and quilting program to children.
In Toronto, the Future Possibilities for Kids organization was awarded $13,500 to implement a mentorship program for children aged 9 to 12 in underserved communities.
Quebec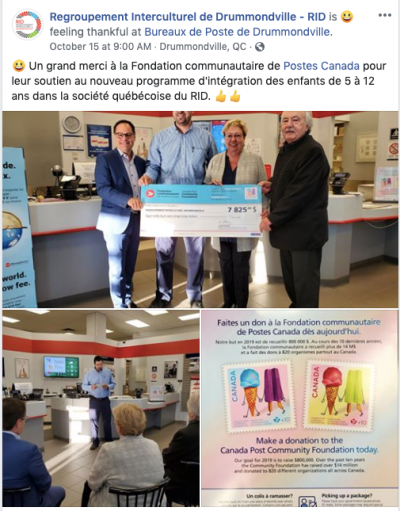 Regroupement Intercultural de Drummondville was awarded $7,825 for workshops with young newcomers to Canada to facilitate their integration.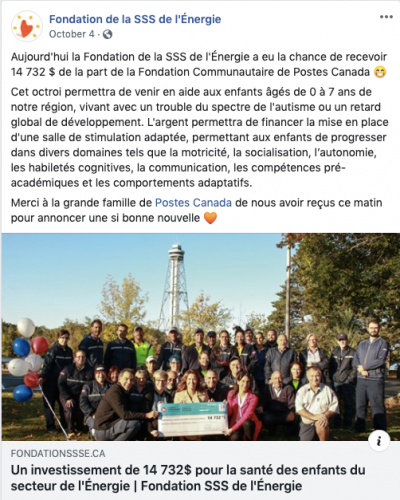 Fondation de la santé et des services sociaux de l'Énergie received $14,732 for a stimulation room for children with autism, ADHD or intellectual delays.
New Brunswick
The YMCA of Greater Moncton received $10,000 to increase the capacity of a mentoring program for youth aged 10 to 17.
With $2,000 from the Foundation, Quality Learning New Brunswick will provide literacy activities to children and youth in low-income neighbourhoods.
Nova Scotia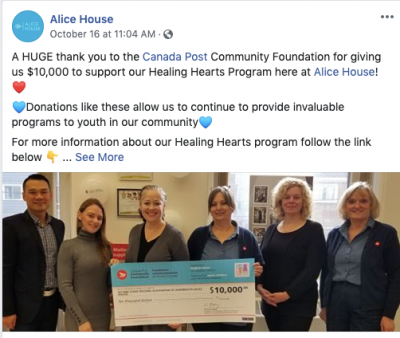 Dartmouth's Second Stage Housing Association (Alice House) was awarded $10,000 for its Healing Hearts Program, which helps children who have been exposed to domestic violence.
Prince Edward Island
The Gulf Shore School in North Rustico was awarded $4,750 for a new natural play surface at the school.
Newfoundland and Labrador
The Boys and Girls Club of St. John's received $10,000 from the Foundation for a nutrition and snack program for children and youth in low-income families or neighbourhoods.
In Wabush, the J.R. Smallwood Middle School library was awarded $1,866 for a colour printer for students to complete their projects.
Northwest Territories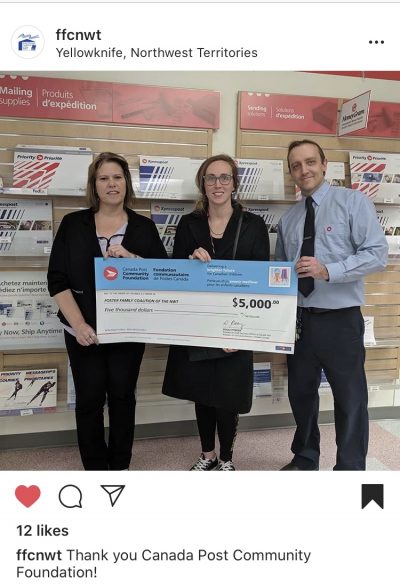 The Foster Family Coalition of the NWT will use its $5,000 grant on resources for the Fetal Alcohol Spectrum Disorder Centre in its library in Yellowknife.
Nunavut
The Aakuluk Daycare in Iqaluit was awarded $5,000 to support an integrated wellness program that incorporates physical activity and healthy meals.
Making a difference: how three organizations used Foundation grants to improve lives
Learn more