Special celebration marks successful opening of four pilot community hubs across Canada
Inside the main entrance to the Fort Qu'Appelle Community Hub post office, the same word has been translated from English into French, Lakota, Dakota, Nakota, Saulteaux and Cree. That word: Welcome.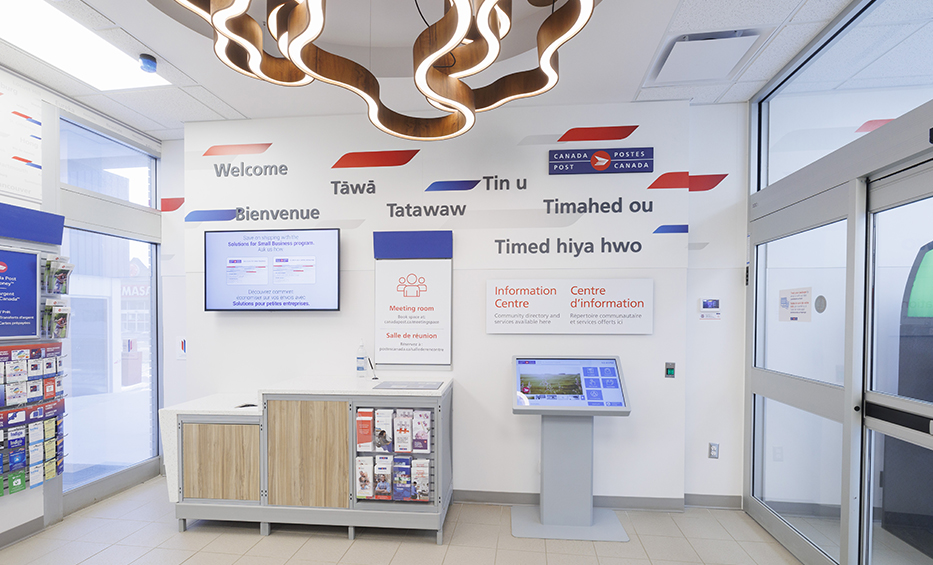 On August 15, Canada Post welcomed residents of the community located about 70 kilometres northeast of Regina to a special celebration where they learned more about what makes their new post office different.
The event also marked the successful opening of four pilot community hubs in different parts of the country to help Canada Post better serve Canadians and businesses in Indigenous, rural and northern communities.
The remodelled post office in Fort Qu'Appelle offers a range of new features and services to better connect residents and local businesses to Canada and the world.
Those include free Wi-Fi, post office boxes, parcel lockers, parcel packaging areas and an interactive business directory. There is also a rentable meeting room, 24-hour parcel drop off and pickup, and an electric vehicle charging station.
Canada Post worked with local elected officials and Indigenous communities as well as the Canadian Postmaster and Assistants Association to plan and design the Fort Qu'Appelle office.
The company consulted the File Hills Qu'Appelle Tribal Council to ensure the five distinct languages used by Indigenous people in the area are reflected on the welcome message and other signage in and around the building.
It also outfitted the remodelled post office with many new accessibility features to remove potential barriers and make it a more welcoming place for residents and customers.
Opened in December 2022, the Fort Qu'Appelle Community Hub is the fourth of four pilot community hubs opened since November 2021. The others are located in Membertou, N.S., High Prairie, Alta., and Little Current, Ontario.
The new format post offices were developed and implemented to meet Canada Post's overarching purpose, A Stronger Canada – Delivered, while keeping the needs of each respective community in mind.
The experience with the four community hubs will help Canada Post improve retail services so that communities and businesses across the country can stay connected and thrive.
Canadian businesses continue to evolve. To empower their growth, Canada Post is making significant investments in its network and in new products, services and solutions.
Providing access to more products and services in communities such as Fort Qu'Appelle through these new hubs is just one way Canada Post is helping to deliver a stronger Canada.