Canada Post is celebrating the 70-year reign – and platinum jubilee – of Her Majesty Queen Elizabeth II with a new commemorative stamp.
The Queen is Canada's only sovereign to achieve this milestone. In recognition of this significant anniversary, Canada Post is releasing its first stamp to feature the "Machin" profile. The classic sculpted image has been used by the Royal Mail since 1967.

While this is the first time a Canadian stamp has featured the Machin profile, it is far from the first time Canada Post has featured Queen Elizabeth II. More than 70 stamps have honoured Her Majesty since her reign began on February 6, 1952.
The stamps have commemorated milestones, historical events and Royal Visits to Canada.
Here is a look back at a selection of these stamps.
Before she was Queen
Canada began honouring Queen Elizabeth II well before she became Queen, when she was Her Royal Highness The Princess Elizabeth.
1935: As part of a series celebrating the silver jubilee of her grandfather King George V, a stamp was issued of Princess Elizabeth as a nine-year-old. At that time, she was not expected to be Queen, since her uncle, The Prince of Wales, was next in line to the throne.
1939: When his brother King Edward VIII abdicated the throne in 1936, Elizabeth's father, The Duke of York, was crowned King George VI. In 1939, Canada was the first Commonwealth country to welcome the new King and Queen in person and issued a set of stamps to celebrate the Royal Visit. One of the stamps featured Princess Elizabeth – then 13 years old – alongside her sister, Princess Margaret.
1948 and 1951: To commemorate Princess Elizabeth's 1947 marriage to Lieutenant Philip Mountbatten of the Royal Navy, Canada issued a stamp based on a photograph taken by noted  photographer Dorothy Wilding. Three years later, a stamp featuring the Princess alongside her husband, The Duke of Edinburgh, was issued to coincide with the pair's first Royal Visit to Canada.
First stamps as Queen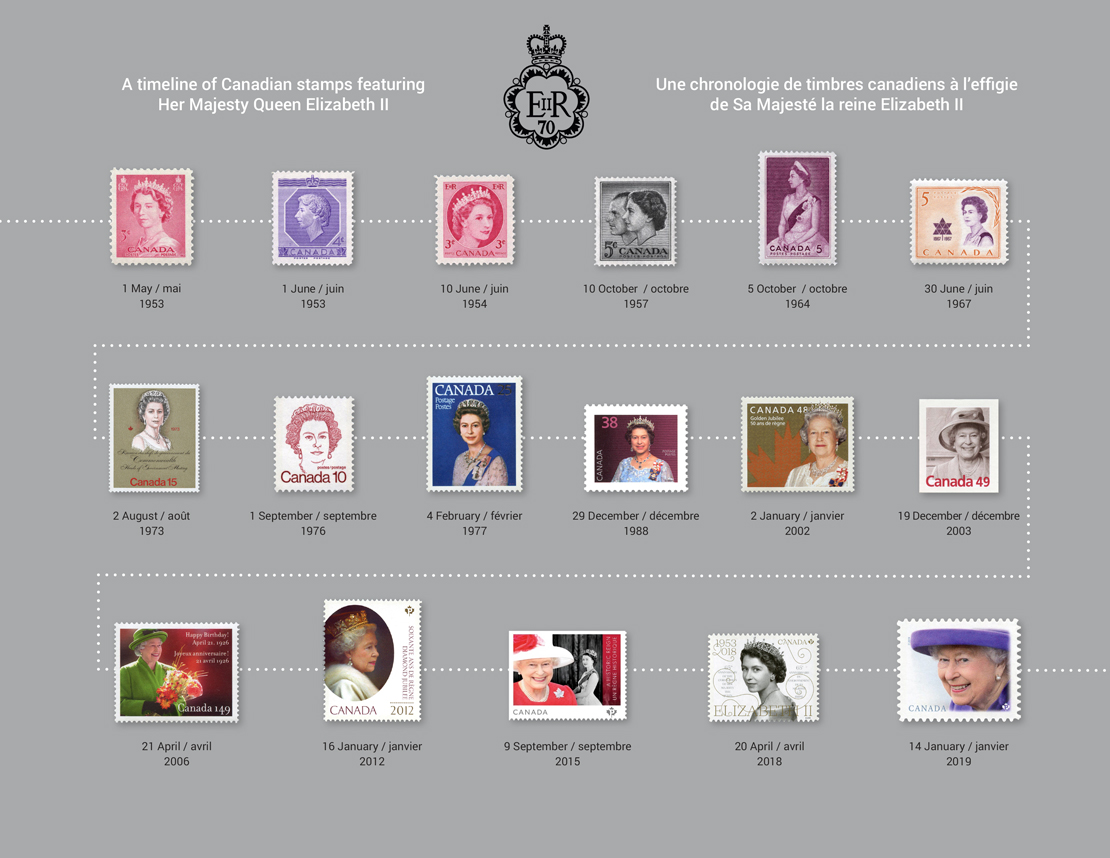 May 1953: Queen Elizabeth II first appeared as Queen on a Canadian stamp more than a year after her February 6, 1952, accession to the throne. This issue included a set of five stamps in various denominations. The first Canadian definitive stamps to feature The Queen, these stamps would replace earlier definitives depicting her father.
The stamp design was based on a photograph taken by Yousuf Karsh, a world-renowned Armenian-Canadian photographer. Karsh photographed The Queen multiple times, and his portraits were used on subsequent Canadian stamps.
June 1953: A month after the definitives were issued, a single stamp was released to commemorate Queen Elizabeth II's coronation on June 2, 1953. More than 100 million stamps of this design were released to the public at a time when interest in royal stamps was high.
1954: A six-stamp series was released based on a photo by Dorothy Wilding, who had been photographing members of the Royal Family for more than 20 years.
Royal Visits to Canada
Several stamps have been issued over the years to mark The Queen's many Royal Visits to Canada, symbolizing her deep connection to this country.
1959: This stamp celebrated a special Royal Visit that was the first to include all the provinces and territories – and provided many of Canada's cities and towns their first opportunity to welcome a reigning sovereign.
1964: This stamp marked a Royal Visit to Charlottetown, P.E.I., and Québec, Quebec. The visit was part of the 100th anniversaries of the Charlottetown and Québec conferences, which led to the development of the British North America Act, 1867.
1967: To commemorate Canada's centennial, The Queen and The Duke of Edinburgh attended celebrations in Ottawa, then sailed down the St. Lawrence River to Montréal where they visited Expo 67. A stamp featuring The Queen and Canada's centennial symbol was issued the day before Canada Day to mark the occasion.
1973: Two stamps were issued to mark the Royal Visit from July 31 to August 4 for the Commonwealth Heads of Government Meeting in Ottawa. For the first time the meeting was held in Canada. It was hosted by then-Prime Minister Pierre Trudeau.
Milestones
Canada has honoured many milestones and anniversaries throughout her reign.
1977 Silver Jubilee: A 25-cent stamp was issued to celebrate the 25th year of The Queen's reign.
2002 Golden Jubilee: The stamp image for the golden jubilee commemorative includes a maple leaf, a symbol of the connection between Canada and The Queen.
2012 Diamond Jubilee: To commemorate the 60th anniversary of Queen Elizabeth II's reign, Canada Post issued a commemorative stamp showing The Queen in profile, as well as an intaglio stamp depicting faces of both the young and mature Queen, inspired by the Queen Victoria diamond jubilee stamp issued in 1897. The issue also included a series of stamp-on-stamp designs featuring Queen Elizabeth II as she had appeared on Canadian stamps over past decades.
2015: Canada Post issued a new stamp on September 9, 2015, to commemorate the day that Queen Elizabeth II became Canada's longest reigning sovereign at 63 years, seven months, two days and 16 and a half hours. Queen Victoria, her great-great-grandmother, had previously held the record.
2018: This stamp, paying tribute to the 65th anniversary of her coronation, featured a portrait taken by Yousuf Karsh in 1951.
More notable stamps
1973: Part of a 1973 to 1976 Caricature definitive stamp series, this image features a pen and ink line drawing created by artist David Annesley. For this series, seven former prime ministers were also honoured, including William Lyon Mackenzie King, Lester B. Pearson and Louis S. St-Laurent.
2003: A 49-cent stamp featuring a photograph of The Queen taken by Canadian singer Bryan Adams during her golden jubilee in 2002.
The Machin profile
2022: The Platinum Jubilee stamp features The Queen's profile, which is based on a sculpture created by Arnold Machin, O.B.E., R.A, who was commissioned to create the image for a new set of definitive stamps. The image became iconic and has been used by the Royal Mail ever since.
Canada Post pays tribute to Queen Elizabeth II's platinum jubilee
Available now