The symbol of junior hockey supremacy is part of Canada's national narrative
Since it was first presented a century ago, the Memorial Cup has been the subject of countless on-ice battles. In 99 previous quests, powerhouse teams have fulfilled their destinies; underdogs have won against all odds; and the improbable has given Canadians jaw-dropping moments.
Since its inception in 1919, the most coveted prize in junior hockey has not only endured but become a part of Canada's national narrative.
Memorial Cup Championship
Donated in remembrance of Canadians who made the supreme sacrifice for their country during the First World War, the Cup was rededicated in 2010 to the memory of all members of the Canadian Armed Forces who've lost their lives in the line of duty.
Awarded annually to the Canadian Hockey League (CHL) champion, the Cup is decided in a four-team, round-robin national tournament between a host team and the champions of the CHL's member leagues: the Western Hockey League, Quebec Major Junior Hockey League and Ontario Hockey League.
This year, the Regina Pats, who played the University of Toronto Schools in the inaugural championship, host the annual spring tournament and the 100th presentation of the Cup.
About the stamp
The symbol of junior hockey supremacy is now forever immortalized in Canada Post's latest stamp.

Illustrated by Louis Hébert and designed by Paprika of Montréal, the stamp evokes the Canadian flag and comes in pennant-shaped booklets of 10.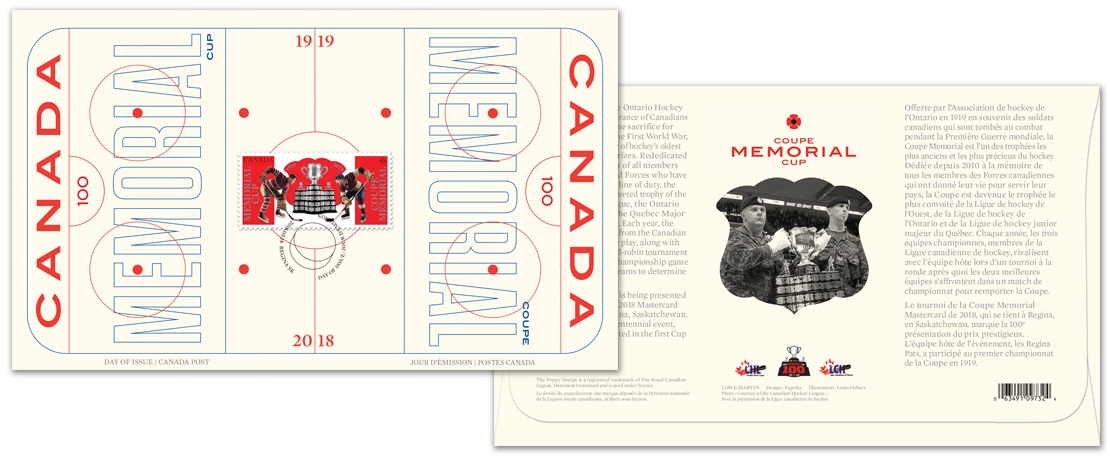 As a tribute to the trophy's origins, the Official First Day Cover includes a photo of two Canadian Armed Forces members accompanying the Cup. The OFDC is cancelled in Regina.
The stamps and all related products are available at retail outlets and online at canadapost.ca/memorialcup.
By the numbers
Most tournament appearances: Peterborough Petes – 8
Most franchise appearances: New Westminster / Kamloops – 10
Most consecutive appearances: New Westminster Bruins – 4
Most appearances in finals: Peterborough Petes and Kitchener Rangers – 6
Most games won in the tournament: Peterborough Petes – 20
Longest game: 102 minutes, 42 seconds: Edmonton Oil Kings (4); Val-d'Or Foreurs (3)