A Stronger Canada – Delivered
We're committed to a sustainable future by investing to reduce our environmental impact and differentiating ourselves as a leader in environmental, social and governance (ESG) principles. Learn more about our commitment to ESG reporting and transparency below.
2022 Sustainability Report
As the needs of Canadians change, Canada Post has an important responsibility to be there for them. We understand the role of the postal service in helping to build a stronger Canada – one that's more sustainable, equitable and inclusive. Our responsibility to Canadians, to meet their needs and expectations, has continued to drive action across the organization. Read our 2022 Sustainability Report for details, or our 2022 Sustainability Snapshot for highlights.
2022 Sustainability Report
2022 Sustainability Snapshot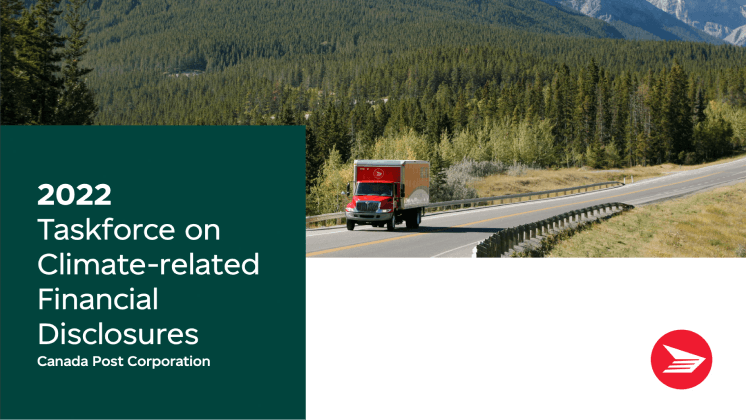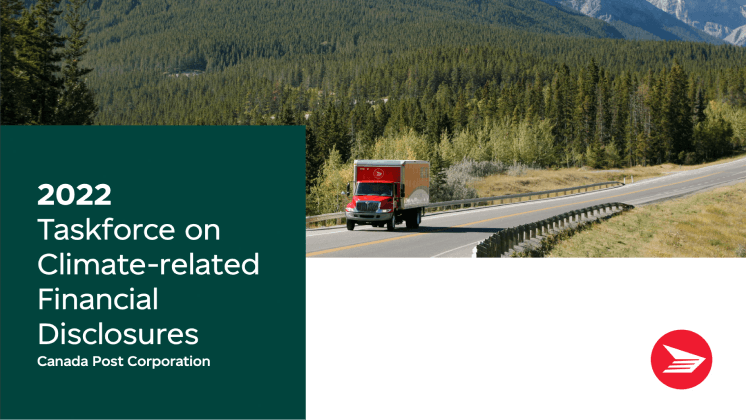 2022 TCFD Report
Decisive corporate action and robust targets are needed in the global fight against climate change. Read our 2022 disclosure aligned with the recommendations of the Task Force on Climate-related Financial Disclosures (TCFD).
2022 TCFD Report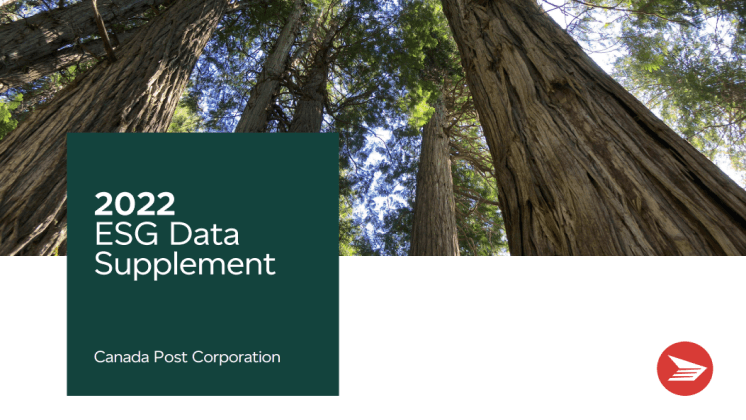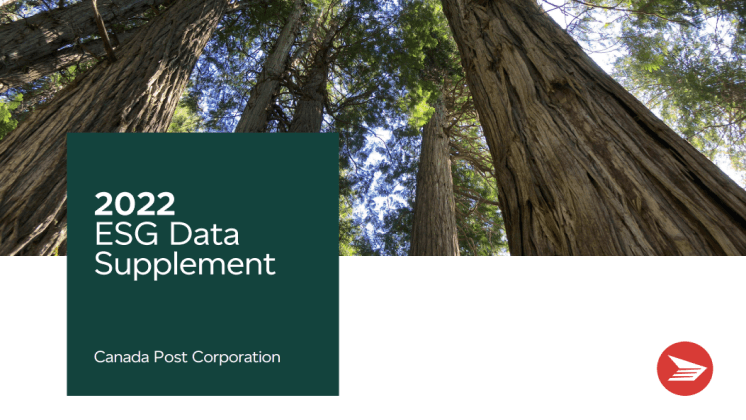 2022 ESG Data Supplement
The Canada Post ESG Data Supplement provides a consolidated overview of our key ESG performance metrics. The supplement supports the full 2022 Sustainability Report and underlines our commitment to transparency on social and environmental leadership.
2022 ESG Data Supplement
2022 ESG highlights
One of the first 150 companies in the world with a net-zero target approved by the Science Based Targets initiative.
Investing $1B in our net-zero emissions goal.
Awarded $1.3M in grants distributed to 101 community organizations.
Added 3 more community hubs for underserved Indigenous, northern and rural communities.
3 leaders recognized as environmental champions by the Clean16 and Clean50.
59 real estate GHG reduction projects underway.
$277M invested in renewable energy through the Canada Post Pension Fund.
Building B at head office awarded Rick Hansen Foundation Accessibility Certified Gold rating.
Improved postal services at 23 facilities in Indigenous and northern communities.
88.8% digital accessibility across all active digital products.
Recognized as a Corporate Climate Leader by CoreNet at the Canadian Real Estate Conference for 2 consecutive years.
Over $900M procurement spending with Indigenous and diverse suppliers, small or medium businesses and B corporations.
ESG reporting frameworks and other disclosures
Past ESG reports
Download archived sustainability reports to learn about our social and environmental initiatives throughout the years.
Contact us
If you have any questions or comments about our ESG disclosures or our approach to corporate sustainability, please email us at ESG@canadapost.ca.