Engaging our people
Our employees are an important part of the communities they serve, and connect us with Canadians in every corner of the country. They are a critical link in helping Canadians complete their online shopping journey. They are trusted by Canadian consumers and businesses, and proudly give back to the places they call home.
We have an important responsibility to keep our employees safe, engaged and informed. Together with our unions, we made progress in 2019 on several initiatives and identified areas where we can improve.
Embed health and safety into our culture
Safety
The health, safety and well-being of our employees is our highest priority.
In 2019, we reduced our injury frequency significantly, as measured by two key indicators – total injury frequency (TIF) and lost-time injury frequency (LTIF). TIF is the annual number of total injuries per 100 employees. Lost-time injury frequency is the annual number of injuries per 100 employees that caused an employee to miss at least one day of work after the day of injury.
In 2019, our TIF was 10.06, 9.9 per cent better than in 2018. The LTIF was 4.60, 12.4 per cent better than in 2018. Slips, trips and falls are typically our most common type of injury, and we reduced them by 10 per cent in 2019 compared to 2018. In our second most common type of injury, manual material handling, we reduced injuries by 7 per cent.
Several efforts contribute to these improvements. Our Make it safe, Make it home program began a fresh company-wide conversation about safety. The program gives team leaders and all employees the tools they need – includingvideos, documents and other resources – to stay safe on the job. Make it safe, Make it home has been the catalyst behind many grassroots initiatives across the country, such as their own music videos, which illustrate how enthusiastically our employees are committed to safety.
Health and safety training in 2019 included well over 120,000 hours of training on areas critical to safety, and Safety Leadership Training was completed by nearly 1,500 team leaders.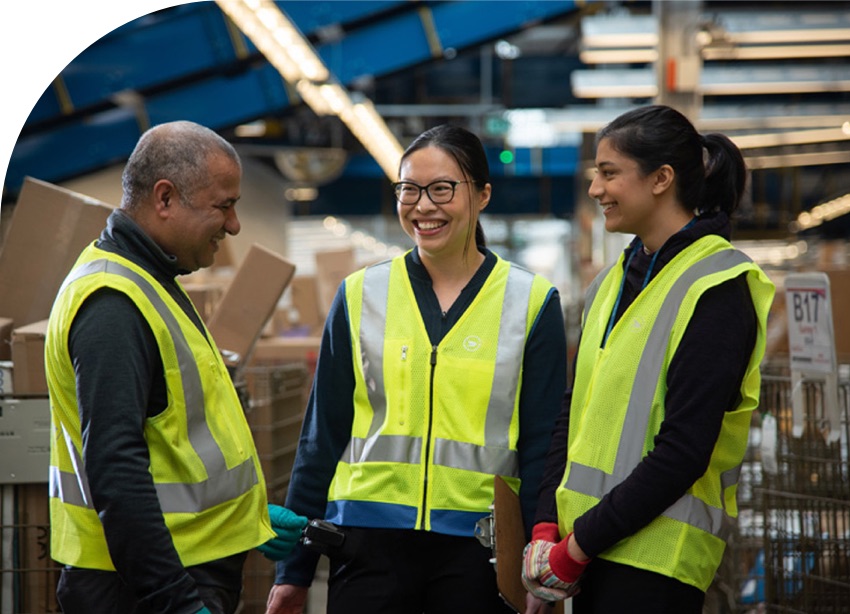 We work collaboratively with our unions at a national and local level to improve safety throughout the company. Our National Joint Health and Safety Committees and Local Joint Health and Safety Committees include Canada Post employees represented by our various unions, as well as management employees.
While we are encouraged by our progress in reducing injuries in 2019, we recognize we need to do more to build a world-class health and safety culture.
Keep wellness in mind
In 2019, we launched a mental health and wellness program – Keep wellness in mind. It reflects our belief that our employees' mental well-being is as important as their physical safety.
Keep wellness in mind is for everyone at Canada Post: full-time, part-time and temporary employees – and their families. It helps them respond to everyday challenges and life-changing situations. It provides confidential 24/7 access to expert advice and information. In addition to the resources available, we trained 1,627 team leaders across the country in mental health leadership.
In 2019, we also extended Employee and Family Assistance Program benefits to more than 9,000 temporary employees. We also doubled the benefits available for psychological counselling for employees and family members eligible for the Extended Health Care Plan, and implemented flexible work arrangements to help employees better manage their work and home life.
Build alignment with our unions
We are working collaboratively with our unions to support our employees, tackle challenges facing the company and achieve shared goals. Examples from 2019 include:
Canada Post

, the Association of Postal Officials of Canada, the Canadian Postmasters and Assistants Association (CPAA), the Canadian Union of Postal Workers, and the Public Service Alliance of

Canada – Union of

Postal Communications Employees (PSAC) collaborated around reducing our environmental footprint.
In December 2019, Canada Post and the CPAA reached a five-year collective agreement, without any labour disruption. The agreement followed more than a year of respectful and collaborative discussions and was later ratified by CPAA members.
In late 2019 and early 2020, in partnership with all our unions, we planned and launched a Diversity and Inclusion Committee that is facilitated by the Canadian Centre for Diversity and Inclusion.
We worked collaboratively with the PSAC to implement flexible work arrangements for all of our

PSAC-represented employees

after changes to the Canada Labour Code took effect in 2019.
Create a workplace of choice
We are working hard to be a preferred employer and to build a workplace that attracts, grows and retains talent. We want our employees to feel engaged and connected with Canada Post and proud of where they work. Several initiatives in 2019 helped us toward that goal:
We launched a company-wide engagement survey in October 2019. Employees' feedback confirmed some of our

strengths – such

as their pride in serving Canadians, the importance of a diverse workforce and our commitment to

safety – and

identified areas for improvement. We shared the results with employees to ensure their voices are heard as the company evolves. We will continue communicating with them as we make changes to improve as an employer.
We launched a Diversity and Inclusion Strategy to help our workplace reflect Canadian society. Of the four employment equity designated groups, women and visible minorities are well represented at

Canada Post

. The number of Indigenous peoples and persons with disabilities working at Canada Post increased by

7.6 per cent

and

8.3 per cent

, respectively, but we are still below the Canadian labour market availability. To help us hire employees from underrepresented groups, we established new partnerships with the Canadian Council on Rehabilitation and Work, the Canadian Centre for Diversity and Inclusion, the Indigenous Skills and Employment Training Program, and Carleton University's David C. Onley Initiative.
Our employees in the community
Improving the lives of children and youth
Our employees continued to show how much heart they have during the 2019 fundraising campaign for the Canada Post Community Foundation for Children.
In 2019, the Foundation contributed about $1.1 million in grants to 118 community organizations across the country. Our employees and customers also raised another $1.3 million to grant to new recipients in 2020.
The Foundation helps to improve the lives of Canadian children and youth through funding for breakfast, literacy and language programs, arts and recreation projects, childhood health programs, anti-bullying campaigns and much more. In the last eight years, it has granted approximately $9 million to more than 775 community projects.
Funds are raised through an annual in-store campaign, sales of a special fundraising stamp and through employee support that includes a payroll deduction program.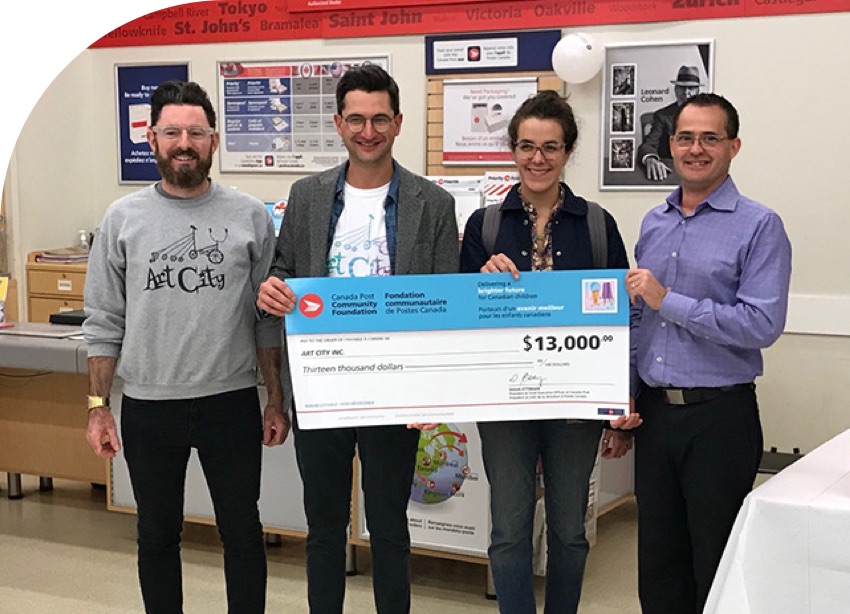 2019 grant recipients

Applying for a Community Foundation grant
Santa's helpers' letter-perfect legacy
For more than three decades, Canada Post employees and retirees have been the driving force behind the Canada Post Santa Letter-writing Program.
These volunteer elves take great pride in helping Santa reply to boys and girls around the world in 39 languages, including Braille.
Canada Post delivers more than 1 million letters to Santa almost every year. In 2019, more than 9,000 elves responded to more than a million letters. Since its inception, the program has replied to more than 30 million letters, leaving a lasting legacy of cherished memories.