President's message
Canada Post plays an important role in serving all Canadians, in all communities. It's a tremendous responsibility, but one we take very seriously. It has deeply embedded us in the history and everyday life of the country we serve. It's also a tremendous source of pride for our people and what will drive us as we prepare to serve future generations of Canadians.
As I look back on 2019, it was a challenging year, but one full of progress and improvements that have prepared us for the challenges ahead. Our financial results reflect the intensifying competition in parcel delivery, on top of the ongoing decline in mail and continued growth in the number of addresses we serve. We are working hard across the organization to address those challenges, while ensuring we focus on the people that drive our success. In the last year we've taken major strides forward to improve how we look after our people, how we reflect the country we serve and how we serve Canadians.
Our people
When I took this role, I made it clear that we needed to place a much greater focus on our incredible people. After a difficult 2018, we needed to find better ways to work together, to listen to one another and keep everybody safe. Our people deserve it and our customers expect it. While there is much more work to do, I am proud of the progress we made on this front in 2019.
Nothing is more important than ensuring our employees make it home safely each day. When I visit plants, depots and post offices, I see firsthand how enthusiastically our team leaders, employees and local joint health and safety committees have embraced our Make it safe, Make it home approach to safety. It's a credit to them that employees were noticeably safer in 2019. We achieved significant declines in our Total Injury Frequency and Lost-time Injury Frequency rates, as well as declines in our two most common types of injury – slips, trips and falls, and manual material handling. We will continue to build on this positive momentum to further embed safety into our culture.
In a first for Canada Post, we embraced mental health and well-being, launching our Keep wellness in mind program for employees and their families. I've welcomed the opportunity to speak to many employees about its importance. Our approach is based on an important principle: that the mental health and well-being of our employees and their families is just as important as their physical health and safety. We know we need to foster a culture where it's OK to talk about these things. Change will take time and we won't be perfect. But we are making progress by working together, learning from and looking out for one another.
Working together is incredibly important as we move forward as an organization. I truly believe the relationships we have with our bargaining agents are critical to our employees, our customers and the company. I understand that improving these relationships will take time, but I am heartened by the discussions I've had with the leadership of all our bargaining agents over the last year as we work to solve the challenges before us. I know that's a sentiment felt by many people across the organization and it's a priority for our continued focus.
Our country
One of those areas of collaboration is on a key file that's incredibly important to the country we serve. In April 2019 we formed the Joint Committee on Environmental Collaboration with all our bargaining agents. We are working together to finalize an ambitious Environmental Action Plan that we can share with Canadians. We want Canadians to see that we are taking our responsibilities in this area seriously.
With hundreds of new hybrid vehicles that emit fewer greenhouse gases, as well as other initiatives, we're doing our part for an environmentally sustainable Canada. We will continue to work hard to pursue and build upon collaboration in other ways. We're keenly aware that this is also expected of us, and is a key pillar of our future.
Our service
We remain Canada's leading e-commerce parcel delivery company. We are investing in our future. Many positive impacts are already being felt – and others will be over time as we pour the foundation for a strong future.
Let me share one telling example. A few years ago, we started installing parcel lockers in apartment and condominium buildings. The lockers provide a secure location for all the parcels we deliver to these buildings. We installed about 4,000 additional parcel lockers in 2019, and now have over 9,300 across the country. New research shows that customers love them for the convenience and security. Once a parcel locker is installed in a building, the people living there do more online shopping.
That's a win for the online retailers, the end customer and for Canada Post. We are ramping up quickly to meet demand by installing more than 5,000 parcel lockers in 2020. Parcel lockers are a practical and impactful innovation, but they're actually a very small part of the overall investments we began to make in 2019 – $585 million worth, of which $457 million was capital investment. Much of that investment was to grow capacity in our network.
Online shopping is booming – and is expected to continue to grow. To maintain our market-leading position, we are expanding existing facilities, building new facilities, reorganizing space in others, and increasing the use of sophisticated automation. These investments will help us better respond to changing demand, while enhancing efficiency and productivity. We intend to carry on making significant investments in 2020 to shift our business as Canadians themselves shift from mail to needing us much more for parcels.
Our finances
With our more than 250 years of history, and our unique responsibility, Canada Post remains a powerful, consistent and driving force in this country, its communities and its economy. In our own quiet, reliable way, we connect all Canadians, no matter where they live – including those living in the nearly 200 communities we serve by air in the far North and remote areas.
As it has throughout its long history, the Canada Post of today has its challenges, but it is adapting, and investing to address them. We are working together to find solutions and reflect the country we serve. While we move forward, our leaders and dedicated employees continue to proudly serve Canadians – and I am deeply grateful to them all. As we build our path forward, rest assured that this strong public institution will remain a vital part of our national fabric.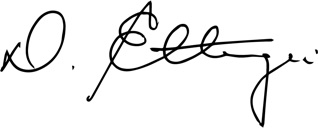 Doug Ettinger
President and Chief Executive Officer