Responding to Canada's growing needs
In 2020, Canadians fast-tracked their online shopping habits by a few years, driving record parcel volumes for Canada Post. This accelerated shift to e-commerce will have a significant and sustained impact on the Canadian economy. It means retailers – and Canada Post – must adapt to the changing needs of Canadians.
We are proud to provide an essential service and help people stay connected. We're delivering Canadians' online purchases and helping businesses reach customers through direct mail. We've seen the crucial role our post offices play in the e-commerce economy and the importance of our Lettermail™ service in helping people stay in touch. But we also know that we must make significant investments to continue serving all Canadians.
Increasing capacity and improving service
As the country's parcel delivery leader, Canada Post is supporting the e-commerce needs of Canadians and helping businesses adjust to the changing retail landscape. We expect parcel volumes to grow for the foreseeable future. That's why we are building new processing plants and expanding existing facilities to increase parcel capacity, among other things. Here are some multi-year investments in the works:
We broke ground in 2020 for a new state-of-the-art parcel sorting facility in the Greater Toronto Area. It will be our largest plant and a key hub of our national network. Expected to be operational in the fall of 2022, it will be able to process more than 1 million packages a day at full capacity – 50 per cent more than our Gateway facility in Mississauga, our largest plant now.
In 2020, we installed new parcel sorters in Moncton and Montréal. We also opened a new delivery facility in Kitchener in 2020, which freed up space in the existing Kitchener processing plant to install a new parcel sorter in 2021.
We opened a new delivery facility in Regina in 2020 and implemented retrofits in facilities in Montréal and Calgary for added capacity. We also made modifications to 46 facilities across the country to increase capacity for the busy holiday season.
In 2021, we are opening new delivery facilities at various locations, including Trois-Rivières, Ottawa and two in greater Montréal.
In 2021, we will launch a new cloud-based tracking system that will give consumers and commercial customers more visibility on the status of their parcels in our network.
Canada Post is well positioned to help the economy build back. But with e-commerce growing rapidly, we must improve the customer experience even more to meet Canadians' expectations for fast, safe, convenient, secure and affordable parcel delivery service.
These examples speak to our recent ongoing investments in efficient, improved service:
In 2020, we installed nearly 3,700 indoor parcel lockers in apartments and condominiums – bringing our total to approximately 13,000 countrywide. This convenient, secure and environmentally responsible delivery experience now serves more than 3 million Canadians. We plan to install another 5,500 lockers in 2021. Our research tells us that Canadians shop online more often if they have access to a parcel locker.
We are also testing automated lockers in residential neighbourhoods that have high parcel volumes.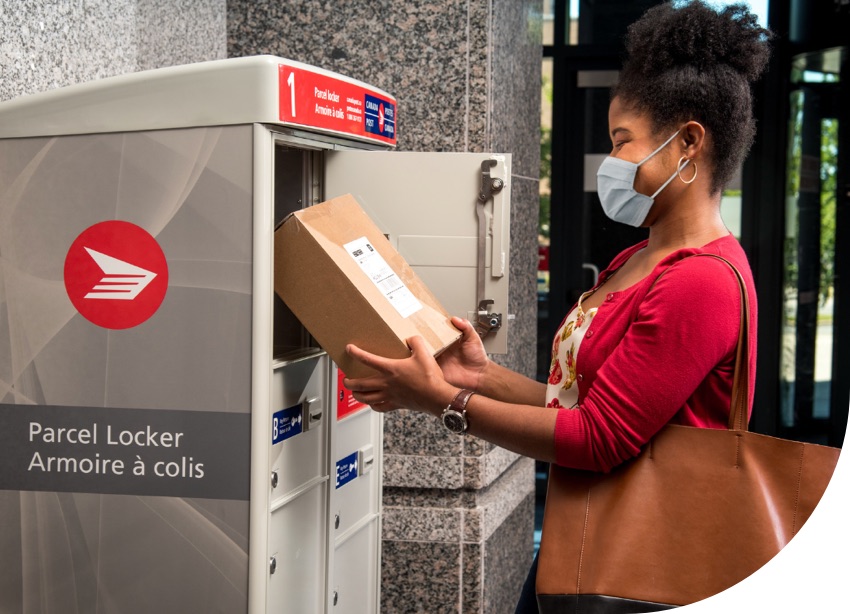 Expanding our retail services in communities
We've got an unrivalled retail network of more than 6,000 post offices. They give Canadians a convenient and secure place to pick up their parcels if they're not home when we deliver, and to mail and ship their items.
We play an important role in providing communities – urban, rural and remote – with relevant services when and where they need them. We deliver packages from across the country or around the world, and help entrepreneurs grow. For many northern and remote communities, we're a lifeline to the online world as the only delivery provider.
In 2020, Canada Post approved a strategy to improve mail service to underserved Indigenous, northern and rural communities. Some communities will see new full-service post offices. Others will see existing services enhanced. Improved service will provide greater access to the e-commerce economy.
We're also working to establish community hubs that would offer a wide range of services in rural Canada, including improved financial services and potentially new government and community services. We expect to launch the first pilot in an Indigenous community in 2021.
We're improving the overall customer experience at retail outlets and parcel pickup sites across our network. Some of our plans for 2021 include:
Improving the process for product returns – an opportunity for us to be an industry leader.
Expanding service at select parcel pickup locations by allowing consumers and small businesses to induct parcels. Customers could both pick up and drop off parcels, including product returns.
Rolling out new point-of-sale technology across our network that will speed up customer transactions and reduce wait times.
Supporting businesses as they recover
Canada Post partners with thousands of businesses big and small across Canada – many of which have pivoted by introducing online stores or increasing digital sales. We're working to help them compete in markets near and far. We connect them with e-commerce platforms, and provide them with online shipping tools, audience insights and discounts on shipments in Canada and abroad. We also help them with targeted and integrated marketing campaigns.
Small businesses especially need our help. Canadians' rapid shift to online shopping in 2020 meant we were in a unique position to help small businesses:
We saw a 52-per-cent increase in Parcels revenue from small businesses in 2020, compared to 2019, and an even greater increase during the holiday season.
There was a 45-per-cent increase in the number of parcels dropped off at post offices in 2020.
We saw a 69-per-cent increase in the number of sign-ups to our small business program in 2020.
In 2021, we'll continue to help businesses build back, and also improve our services for online shoppers. We'll introduce better digital tracking of packages, perform parcel pickup for businesses in more locations and introduce new delivery preferences that will improve the overall online shopping experience.
Investing in our Direct Marketing and Transaction Mail business
Direct Marketing and Transaction Mail (Lettermail) remain significant parts of our business. In 2020, they generated nearly half of Canada Post's operating revenue.
As the Canadian retail economy recovers from the pandemic, we expect our Direct Marketing business will improve. Direct mail – such as coupons and flyers – puts a company's message directly into the hands of prospective customers and helps bring people in the doors of businesses. We know that direct marketing remains very relevant for Canadian businesses of all sizes to connect with their customers in local communities.
Lettermail – which includes items such as letters, cards and postcards – has been an important way for Canadians to stay connected, at a time many people have been isolated from family and friends. We saw in 2020 how meaningful physical messages were for Canadians to express their feelings when they couldn't be there in person.
We are investing in new digital solutions to modernize Lettermail and to integrate Direct Marketing products with media platforms and channels that will improve the relevance and value of these services to marketers, advertisers, enablers and influencers.
We are investing in and exploring new ways for Canadians to interact with Lettermail and Direct Marketing both digitally and physically to improve relevance and value, such as knowing when specific mail items are being delivered to you.
We launched Write here. Write now. – a national campaign that reminded Canadians of the powerful emotional connection created by receiving letters, notes and cards in the mail. Our campaign encouraged Canadians to share their heart by writing cards and letters and sending them to the important people in their lives. After the fall campaign, we saw significant growth in personal letters sent during the fourth quarter of the year.
We continue to invest in ways for marketers, advertisers, enablers and influencers to improve their targeting efforts and amplify their advertising message by incorporating direct marketing with other media.
We are also bringing the entire direct marketing industry together to educate, share best practices and increase environmental sustainability.
We will continue to invest in Direct Marketing and Lettermail to connect businesses with customers and help Canadians stay in touch.