Engaging our people
Our tens of thousands of employees are the face of Canada Post. Throughout COVID-19, Canadians were counting on us like never before – and our employees stepped up to provide an essential service. We thank them for their resilience and their commitment to safety.
Embedding safety into our culture
During COVID-19, the health and safety of our employees and Canadians remained our highest priority. We made significant changes across our operations to keep our people safe, following the guidance of the Public Health Agency of Canada and local public health authorities. We also kept open lines of communication with our bargaining agents and sought their input on our approach to keeping employees safe.
In a very short time, we changed the way we operate our plants, depots and post offices and how we deliver. Some examples include:
We implemented physical distancing, increased cleaning and sanitization, and secured face coverings, hand sanitizer and disposable gloves for employees.
We installed clear protective barriers in post offices to separate customers from employees, increased signage to remind customers to physically distance and cleaned high-touch surfaces regularly. As the situation evolved, we made face coverings mandatory in all of our post offices and facilities.
We introduced a new Knock, Drop and Go policy to minimize contact between delivery agents and customers at the door.
Keeping our employees safe also meant keeping them informed. We ramped up our employee communications in several ways in 2020:
We provided frontline team leaders with the information, training and resources needed to keep our people safe. Team leaders held regular floor talks and were instrumental in communicating important safety measures to employees. We're extremely grateful for the efforts of team leaders during such a difficult time.
We created a special COVID-19 employee information website that they could access from any device and regularly communicated new safety measures.
We collaborated with our bargaining agents and joint health and safety committees to inform employees appropriately when an employee in a facility tested positive for COVID-19.
We provided special paid leave for child care and elder care for employees who couldn't work due to family responsibilities, and provided paid quarantine leave for employees 70 and older, those with pre-existing conditions or considered high-risk, and those required to isolate at home.
Significantly better safety results
We're incredibly proud of our employees' efforts to stay safe. We significantly reduced our injury frequency, as measured by total injury frequency (TIF) and lost-time injury frequency (LTIF). TIF is the annual number of total injuries per 100 employees. LTIF is the annual number of injuries per 100 employees that caused an employee to miss at least one day of work after the day of injury.
In 2020, our TIF was 6.89 – a 31-per-cent reduction compared to 2019. Our LTIF was 3.19 – also a 31-per-cent improvement compared to 2019. The severity of injuries improved seven per cent in 2020 compared to 2019.
Slips, trips and falls are our most common type of injury. In 2020, we reduced them by 32 per cent compared to 2019. For manual material handling, our second most common type of injury, we reduced injuries by 30 per cent. The number of motor vehicle collisions decreased by 11 per cent in 2020. We attribute improved safety to a few main factors, including vigilance by all employees and less traffic on the road in 2020.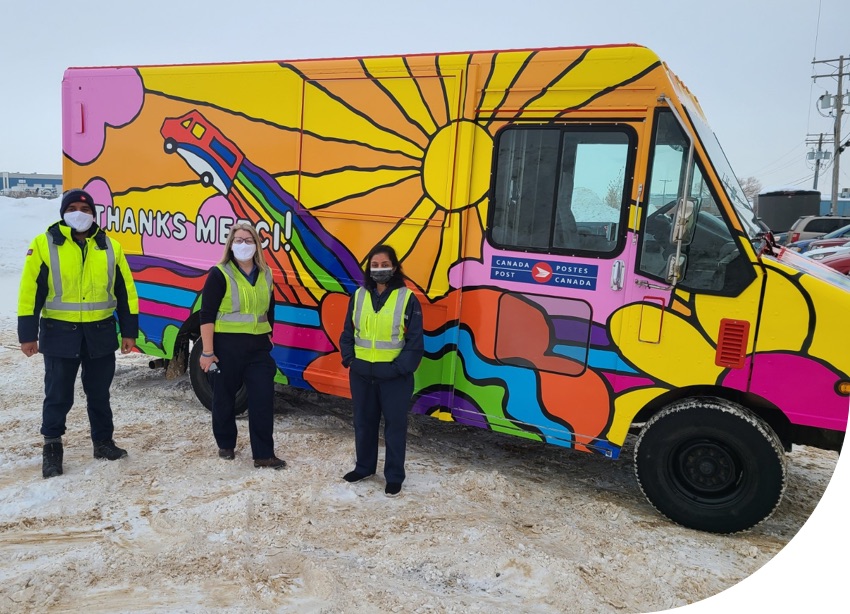 Despite the improved safety record, we must do even more to help ensure every employee is safe on the job. In 2020, one of our on-call relief employees tragically lost his life in a motor vehicle accident while on his delivery route. Losing a colleague is extremely difficult. This served as an important reminder that we all must think about what we're doing each day to make it home safe.
Looking ahead, a comprehensive 10-year safety strategy has been developed for Canada Post by a leading international safety consulting firm.
Preventing and responding to workplace harassment and violence
Canada Post does not tolerate aggressive behaviour in any form, including violence, harassment, threats, intimidation, and inappropriate language and bullying. After aggressive behaviour toward post office employees increased, we addressed it with a major campaign that asked Canadians to treat them with kindness and respect. We also added "harassment" and "aggressive behaviour" to our Workplace Harassment and Violence Prevention Policy, and in early 2021, launched new training on these topics.
A focus on mental health and wellness
We updated our Health and Safety Policy in 2020 to recognize that employees' mental health is as important as their physical health and safety. We also reminded employees often that they – and their families – have confidential access to counselling, information and expert advice through the Employee and Family Assistance Program. Beginning in April 2020, we allowed our employees to access the services of a registered psychologist or social worker without a doctor's prescription.
Employee convoys supporting healthcare workers
In April of 2020, in dozens of towns and cities, our employees honked horns and waved as they drove convoys of Canada Post vehicles around healthcare facilities to thank the medical professionals inside. These grassroots tributes to the frontline heroes of healthcare captured the hearts of Canadians, who shared images on social media.
A special stamp for our employees
To thank our employees for their efforts throughout COVID-19, we created a special stamp just for them that illustrates a Canada Post truck with a rainbow trailing behind it. The truck represents our employees' service to Canadians throughout the pandemic, while the rainbow – a global symbol of solidarity, hope and strength – had appeared in notes left on our vehicles and community mailboxes. Every Canada Post employee received two booklets of these stamps. We also wrapped several Canada Post trucks across the country with the stamp image.
Working with our bargaining agents
Our bargaining agents bring valuable perspectives and contributions to Canada Post. It's important that we collaborate with them in a spirit of partnership – especially on safety.
Our Local Joint Health and Safety Committees, which include union and management representatives, showed tremendous leadership in keeping our employees, our facilities and Canadians safe. Members of our National Joint Health and Safety Committee also worked well together on new policies around leave, delivery practices and protective equipment.
We continue to explore and pursue new ways to work with our bargaining agents to reach agreements and make progress on common interests. For example:
Canada Post's new Joint National Equity and Diversity Committee includes representation from all four bargaining agents as well as our management team.
We issued a joint statement on racial injustice in June 2020, and developed an Anti-Racism Action Plan.
We're working with our bargaining agents to reduce our environmental footprint.
Creating a workplace of choice
Canada Post strives to be a workplace of choice where employees are proud of where they work, can build a fulfilling career and pursue opportunities. We're committed to an inclusive and diverse workplace that embraces and celebrates our differences. In 2020, we took several steps to engage our employees and ensure they were heard:
Our second annual employee engagement survey saw improvements in the response rate and engagement score. Overall, survey scores improved. There were significant gains in areas employees had identified and which we focused on – communication and employee well-being. Some of the highest increases were around the pride that employees feel, and their willingness to recommend Canada Post as a place to work.
We communicated more with employees through frequent CEO updates, team meetings and town halls, and regularly informed employees about changes that affect them.
We launched our Joint National Equity and Diversity Committee in January 2020, with facilitation from the Canadian Centre for Diversity and Inclusion. The committee is focused on creating a more equitable, diverse and welcoming workplace, where employees can feel safe, supported, respected and empowered.
We'll keep the dialogue open with our employees and continue to work on strengthening the connection our people feel to Canada Post.