Sharing Canada's stories through stamps
We take enormous pride in telling Canada's stories through our iconic national stamp program. Our stamps pay tribute to the people, places, moments, achievements and challenges that make Canada great. It's a role we cherish.
In 2020, a number of successful virtual stamp launches let Canadians celebrate historically significant people, events and milestones.
Among our 15 stamp issues during the year, many were unveiled through social media campaigns, using the Canada Post website, Twitter and Facebook to create awareness and anticipation before releases, and to present captivating videos exploring the stories behind the stamps.
The stamp program was especially popular as Canadians were sending letters and cards to stay in touch with friends and family during COVID-19.
An independent Stamp Advisory Committee recommends the subjects and designs for our annual stamp program. The committee includes historians, designers, artists, academics and representatives from the stamp community.
Here is a selection of stamps from 2020:
Medical Groundbreakers
The Medical Groundbreakers stamps featured six Canadian physicians and researchers who revolutionized healthcare here and around the world.
Dr. Bruce Chown (1893-1986) was one of the few world leaders in eliminating rhesus disease, once a major cause of newborn deaths.
Dr. Julio Montaner (b. 1956) led research that helped transform HIV/AIDS into a manageable condition with a near-normal life expectancy and has markedly reduced HIV transmission.
Dr. Balfour Mount (b. 1939), considered the father of palliative care in North America, founded the world's first comprehensive palliative care service based in a teaching hospital.
Dr. M. Vera Peters (1911-1993) revolutionized treatment for Hodgkin lymphoma and breast cancer in an era when the work of female physician scientists was not often acknowledged.
Dr. James Till (b. 1931) and Dr. Ernest McCulloch (1926-2011) transformed the world's understanding of tissue renewal by establishing the foundations of stem cell science.
Maud Lewis
We issued three stamps featuring the work of Maud Lewis, one of the country's most beloved folk artists. The holiday stamps – which presented three of her seasonal paintings – were some of our best-selling stamps of 2020. As well, the Art Gallery of Nova Scotia hosted our first ever live online event with appearances by prominent dignitaries; a guided tour of the Maud Lewis Gallery and the artist's home; and a live chat room where those attending could comment as the event unfolded.
Lewis started painting as a young girl, making Christmas cards she sold door-to-door around South Ohio, Nova Scotia, where she was born in 1903. Known for bright, cheerful depictions of rural Maritime life, including people, animals and landscapes, Lewis worked in obscurity for decades, finally gaining national attention and recognition in the 1960s. Despite living with rheumatoid arthritis since childhood, she was tireless in her work. By the time she died in 1970, she had painted nearly every surface of her one-room house, which the Art Gallery of Nova Scotia restored, moved and made a permanent exhibit.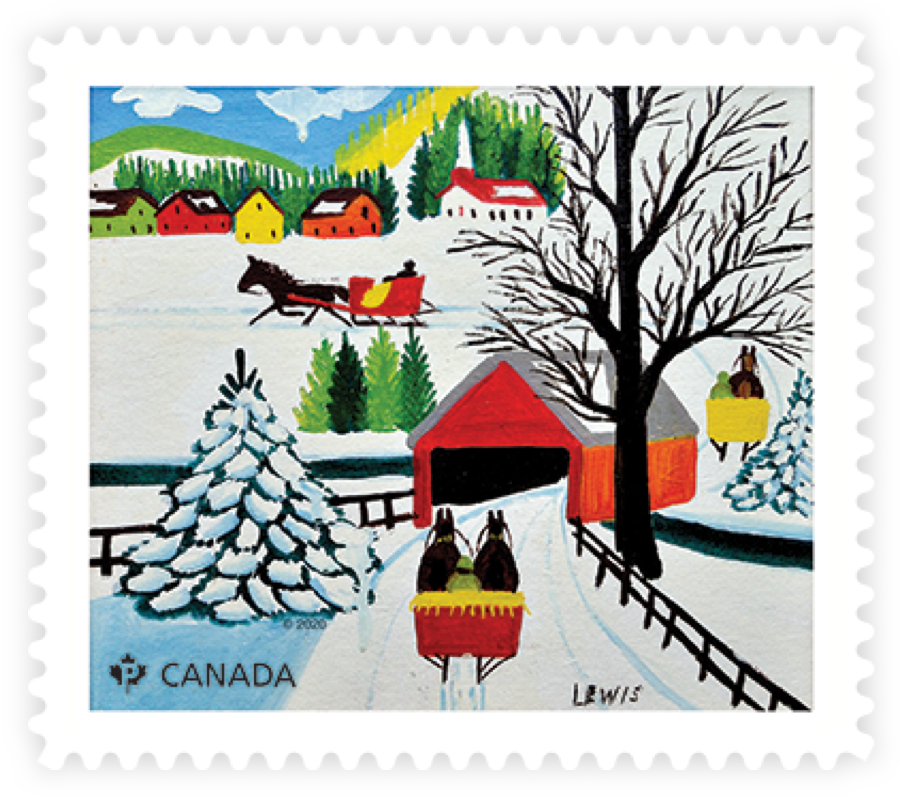 Black History Month: Colored* Hockey Championship
Shut out of leagues and competition because of their race, determined Black hockey players and organizers formed all-Black hockey teams in the Maritimes between 1895 and 1930. They also created their own championship. This stamp honours the trailblazing dedication of these players and their supporters.
There was no preset game schedule for these teams. Instead, they challenged each other to matches by telegraph or by placing ads in local newspapers. The ultimate prize was called the Colored Hockey Championship, a term not in use today, but which the stamp issue retains because it is historically accurate.
All-Black hockey games often outdrew those of white-only leagues, and the players changed the game in small but important ways. For example, while goalies in other leagues stood upright, the all-Black teams used down-to-the-ice goaltending, which was later adopted by players in white-only and professional leagues.
* The use and spelling of the term "Colored" were retained in this stamp issue for historical accuracy.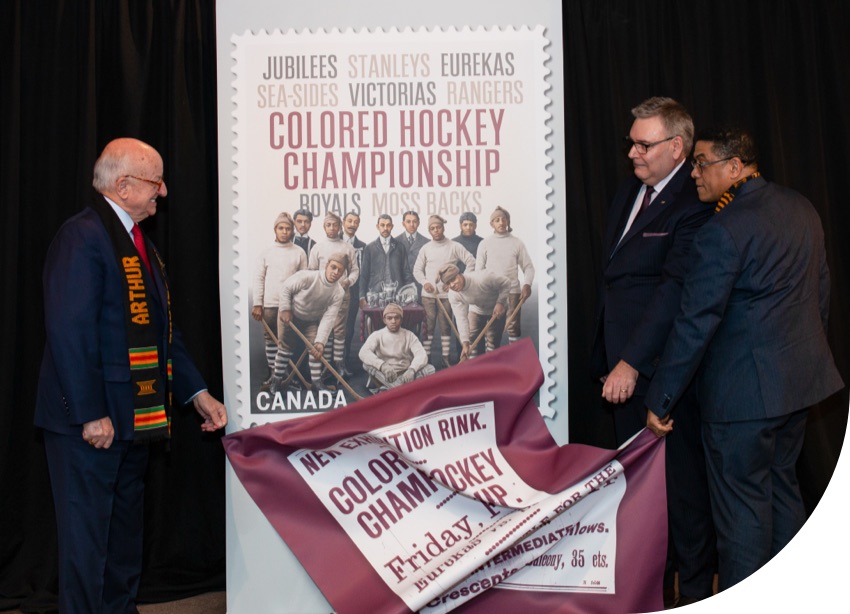 Victory in Europe, 75th anniversary
To commemorate the 75th anniversary of Victory in Europe Day (May 8, 1945), we issued stamps honouring two Canadians who exemplified bravery on the battlefront and support on the home front.
Léo Major was scouting the German-occupied Dutch town of Zwolle in 1945. Acting alone, he tricked the enemy into thinking they were under full attack, causing them to retreat. He captured dozens of prisoners and earned the Distinguished Conduct Medal.
Veronica Foster worked assembling Bren light machine guns in a Toronto factory. The Canadian government created a promotional campaign around "Ronnie, the Bren Gun Girl," encouraging women to join the war effort at home. Foster is thought to have inspired the creation of the fictional "Rosie the Riveter" character in ads that later appeared in the United States.
History of Radio in Canada
We issued a pair of stamps to mark the 100th anniversary of the first scheduled radio broadcast in Canada, which happened on May 20, 1920, at the Chateau Laurier Hotel.
XWA (Experimental Wireless Apparatus) – the first station in Canada to receive an experimental radio licence – broadcast a live performance by soprano Dorothy Lutton to Members of the Royal Society of Canada.
While early enthusiasts were mostly amateurs who built their own equipment, radio caught on quickly with mainstream listeners. Within two years of Canada's historic first broadcast, 34 radio stations were operating across the country. By the end of the 1920s, Canadians were tuning in on more than 300,000 radios.
The online campaign supporting this stamp launch went viral and resulted in dozens of radio personalities across Canada sharing their memories of how the industry had changed over the years.
Lunar New Year
Lunar New Year plays an essential role in Chinese and other Asian cultures and it is widely credited as the oldest surviving calendar system in the world. Each year in the 12-year Chinese zodiac is represented by an animal believed to influence the personality and fortunes of the person born under that sign.
To commemorate Lunar New Year, Canada Post launched a 12-year stamp series in 1997 and another in 2009. Every year two new stamps recognized that year's animal. In January of 2020, the Year of the Rat, Toronto Mayor John Tory unveiled our Lunar New Year stamps at the Chinese Cultural Centre of Greater Toronto.
Lunar New Year stamps continue to be among the most popular stamp issues. In 2021, we produced a retrospective featuring all 24 designs from the second Lunar New Year series.