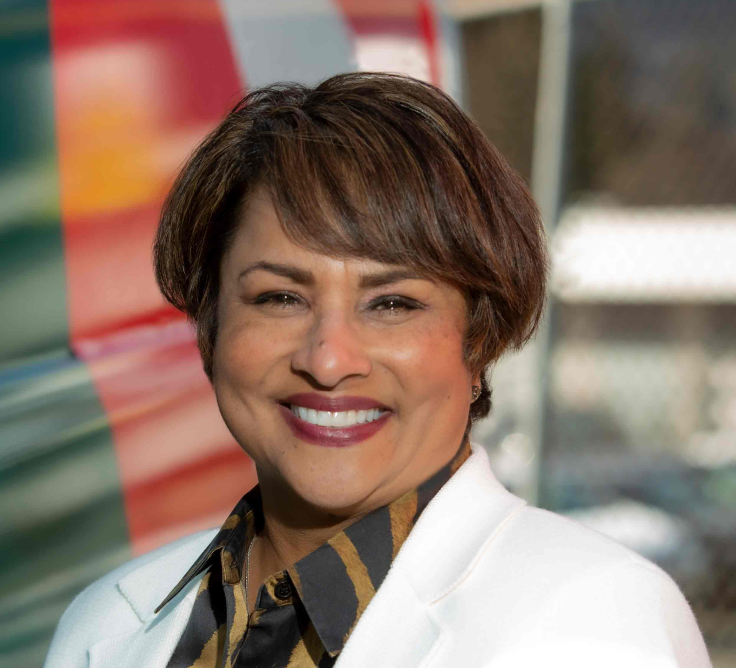 I am extremely proud of Canada Post's employees for their dedication throughout 2022 to help build a stronger company and country. With their efforts, the Corporation continued to deliver on key aspects of its strategic transformation plan. The needs and expectations of Canadians are changing. By continuing to innovate and invest in the future, Canada Post is working hard to ensure it will be there to serve all Canadians.
Investing to better serve our country
The ecommerce landscape in Canada is rapidly evolving. The enormous growth in online shopping during the pandemic has intensified competition for delivery services, posing challenges for Canada Post.
However, the Corporation has a strong foundation to build on as it continues to innovate. It is the country's leading ecommerce delivery provider and operates the largest retail network in Canada. It is the only delivery company to serve all 17.2 million addresses in urban, rural and remote locations across the country. With ecommerce expected to more than double in Canada over the next decade, the Board of Directors has approved several investments that will help Canada Post continue to meet the changing needs of Canadians.
One of the largest investments is the new $470-million Albert Jackson Processing Centre, which will open in 2023. Located in northeast Toronto, this zero-carbon building will significantly boost Canada Post's parcel processing capacity and help improve service to consumers and businesses across the country. It demonstrates how Canada Post is building for the future while also recognizing its past. Albert Jackson, the building's namesake, is an important part of the history of our company and we're proud to honour his legacy.
Leadership on what matters to Canadians
Canadians expect Canada Post to lead by example on important social issues and help deliver a more sustainable future. In 2022, the Board of Directors approved more ambitious science-based targets on greenhouse gas emissions and continued to support the company's efforts to electrify its fleet of more than 14,000 vehicles. This included strengthening our 2030 emissions reduction target to set us on a path to net-zero emissions by 2050.
While I recognize that Canada Post has significant work ahead to reduce its environmental footprint, I was pleased to see the Corporation be recognized for its efforts – it received Canada's Clean50 and Clean16 awards for its leadership in reducing emissions and greening its operations.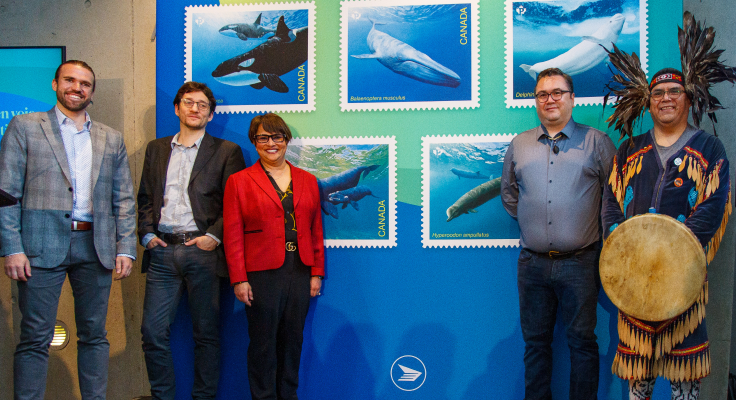 (From left to right) Joshua Ford, Canada Post's Director of Regional Process Engineering; Dr. Thomas Doniol-Valcroze, Fisheries and Oceans Canada; Suromitra Sanatani, Chair of the Board of Directors of Canada Post; Morgan Guerin, Senior Marine Planning Specialist and Marine Enforcement Coordinator for the Musqueam First Nation; and Alec Dan of the Musqueam First Nation helped unveil the Endangered Whales stamps at Vancouver's Beaty Biodiversity Museum in May 2022.
Several other initiatives in 2022 also demonstrated Canada Post's commitment to social and environmental leadership. For example, I was honoured to participate in an event at the Beaty Biodiversity Museum in Vancouver where we unveiled a set of stamps that raise awareness about the plight of endangered whales in Canadian waters. Canada Post also took the extraordinary step of issuing a fundraising stamp to support the people of Ukraine. The decision reflected the deep concern and compassion Canadians feel in response to the devastating events in Ukraine, which have killed thousands of civilians and displaced millions of people from their homes.
Our national stamp program captures who we are as a country because of the work of our dedicated and independent Stamp Advisory Committee. This committee – which includes historians, designers, academics and philatelic experts from across the country with diverse linguistic, ethnic and cultural backgrounds – reviews all submissions and then selects the subjects and designs. They do incredible work and I would like to thank them on behalf of all Canadians.
Supporting our people and keeping them safe
In 2022, the Board approved several measures to ensure we continue to do right by our people, including the Corporation's first Anti-Racism and Anti-Discrimination Charter. It was co-created by Canada Post's Anti-Racism Employee Resource Group and all bargaining agents.
The Charter is an important example of how management continues to build alignment with Canada Post's unions on issues that matter to employees and all Canadians. With the collaboration of bargaining agents, Canada Post also continued to improve safety across the company in 2022, including the frequency and severity of injuries.
I was also delighted to see Canada Post's People and Safety team win the Canadian HR Team of the Year Award for organizations with more than 500 employees. The award recognized the team's collaborative approach and dedication to supporting the business and all employees.
A strong team to deliver a stronger Canada
The Board of Directors has an important responsibility to oversee management's strategies and outcomes, while ensuring Canada Post reflects the broad priorities of Canadians and its shareholder, the Government of Canada. In this oversight role, the Board remains focused on Canada Post's dual mandate to serve every Canadian address and to be financially self-sufficient. While we recognize that Canada Post faces significant financial challenges, long-term financial self-sustainability remains a priority. The comprehensive investments outlined in this report, along with shareholder support and collaboration with all unions, will put the Corporation on a path to achieve that goal.
I am grateful to all members of the Board for their extensive contributions throughout the year. I want to especially thank Michèle Desjardins and Mélanie Dunn – two long-standing Board members whose terms ended in 2022 – for their dedicated service over many years. I also welcome our newest member, Louise Champoux-Paillé, who brings a wealth of experience to the Board.
On behalf of the entire Board of Directors, I want to thank our customers for choosing us – the individual Canadians sending a package, entrepreneurs growing their small business and the commercial customers that rely on us daily. We appreciate their business and value the trust they place in us. The Corporation is working hard to improve service and be the best delivery partner possible.
Canada Post is proud to serve this great country and wholeheartedly embraces that responsibility every day. I extend my sincere gratitude to Canada Post's senior management team and to all employees for everything they are doing to deliver a stronger Canada.

Suromitra Sanatani, LL.B., ICD.D
Chair of the Board of Directors