Our nearly 68,000 employees are the heart of our company and our greatest ambassadors. They connect us with Canadians and are proud to serve the communities where they live and work. We have an important responsibility to keep our people safe, and to ensure our workforce and culture reflect our country and the shared values of Canadians.
In 2022, we made significant strides in our commitment to doing right by our people. We focused on issues such as improving driver safety and continuing to safely roll back our COVID-19 protocols. We also made progress in building a workplace of choice by enhancing equity, diversity and inclusion, and engaging employees through our refreshed values and behaviours.
Embedding safety into our culture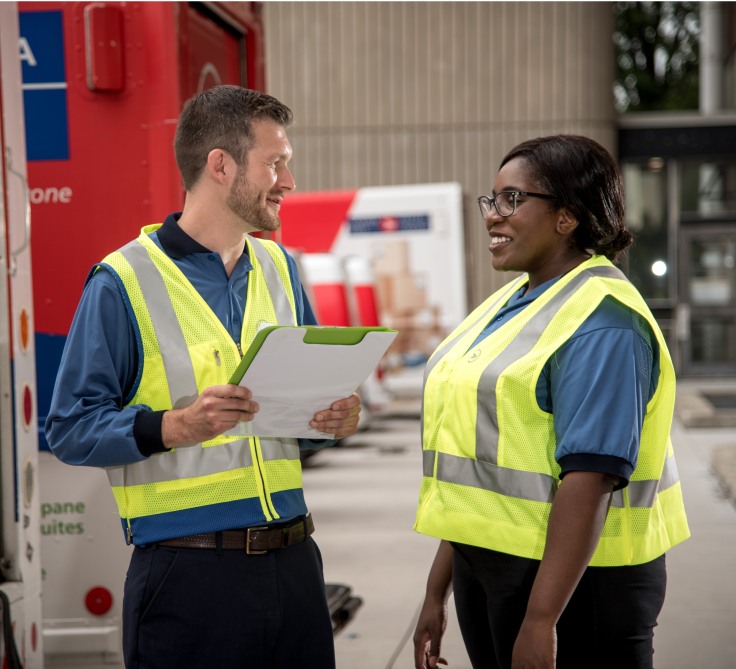 The safety of our employees, customers and the communities we serve remains our top priority. In 2022, we implemented several initiatives as part of our 10-year Health and Safety Strategy and five-year Mental Health Strategy to become a safer workplace:
We held our first national health and safety virtual conference, which brought together more than 1,000 health and safety champions from across the company to discuss how to support the physical and psychological health and safety of our employees.
We shared a series of short videos on psychological support and started the first wave of psychological health and safety pilots for employees.
We marked National Road Safety Month in October with a focused training and education program. With the theme of "Safety first, every second counts," a new topic was introduced each week to reinforce safe driving behaviours.
We held our second annual Driver Safety Recognition Awards and created a best-in-class road safety standard, which we will begin deploying in 2023.
To further improve driver and road safety, we conducted more than 300 on-road evaluations, delivered road safety orientations to more than 6,400 employees nationally, and provided collision-avoidance training for 1,200 drivers.
We installed telematics technology on 8 per cent of our fleet to further reduce motor vehicle collisions and injuries for our employees. The information helps team leaders identify areas of concern and determine where on-street observations may be necessary.

In 2022, we piloted a slip simulator training unit to raise awareness with our employees about slips, trips and falls. Nearly 900 employees across 26 sites practised walking on a slippery surface in a safe and controlled environment.

To raise awareness about slips, trips and falls, we piloted a slip simulator training unit. Nearly 900 employees across 26 sites – from Windsor, Ontario, to Moncton, New Brunswick – practised walking on a slippery surface with various simulated obstacles in a safe and controlled environment.
We delivered safe-lifting workshops to reduce manual material handling injuries, helping us significantly reduce the number of injuries of this type during the year.
In 2022, our Local Joint Health and Safety Committee members spent more than 234,400 hours on prevention activities in our workplaces. Overall, our employees together took more than 829,000 hours of training, of which safety was a critical component.
Continued improvement on safety
We continue to improve our safety performance thanks to the dedication of our employees. For the fourth straight year, we reduced both the total injury frequency (TIF, the number of total injuries requiring professional medical aid per 100 employees) and lost-time injury frequency (LTIF, the number of injuries per 100 employees that caused an employee to miss at least one full shift of work after the day of injury).
In 2022, compared to 2021:
Our TIF was 5.89 – a 10-per-cent improvement;
Our LTIF was 2.68 – a 15-per-cent improvement.
Slips, trips and falls continue to be our most common type of injury. In 2022, we reduced them by 5 per cent compared to 2021. For manual material handling, our second most common type of injury, we reduced injuries by 17 per cent. In 2022, we also continued to reduce the motor vehicle collision rate.
Overall, the severity of lost-time injuries improved by 7 per cent.
While we are encouraged by the improved safety results, we know that we must continue building a stronger safety culture. The most important thing our employees can do each day is to make it home safely. Tragically, in 2022, an employee was killed in a single-vehicle accident. We offered support to their colleagues during such a difficult time and extended our deepest condolences to their family.
Evolving our approach to COVID-19
As COVID-19 risk levels changed across the country in 2022, we continued to monitor the situation and adapt our approach based on guidance from public health officials and Employment and Social Development Canada. Under our 10-step COVID de-escalation plan between August 2021 and September 2022, we gradually rolled back our temporary COVID-19 measures.
We also suspended our Mandatory Vaccination Practice to align with our federal partners. Overall, 97 per cent of our employees complied with the practice. Employees on leave without pay returned to work in July. The number of COVID-19 cases related to workplace transmission dropped from 40 in 2021 to 10 in 2022.
With our de-escalation plan now complete, our Tactical Pandemic Response Toolkit (TPRT) is guiding our ongoing efforts to protect the health and safety of our employees, contractors and visitors. The TPRT allows for early detection of increased cases within the workplace, helps us manage COVID-19 over the longer term, and provides a framework for future pandemics or public health emergencies.
Under the TPRT's risk-based approach, enhanced safety protocols are deployed for Canada Post employees at targeted sites for 21 days.
Building alignment with our bargaining agents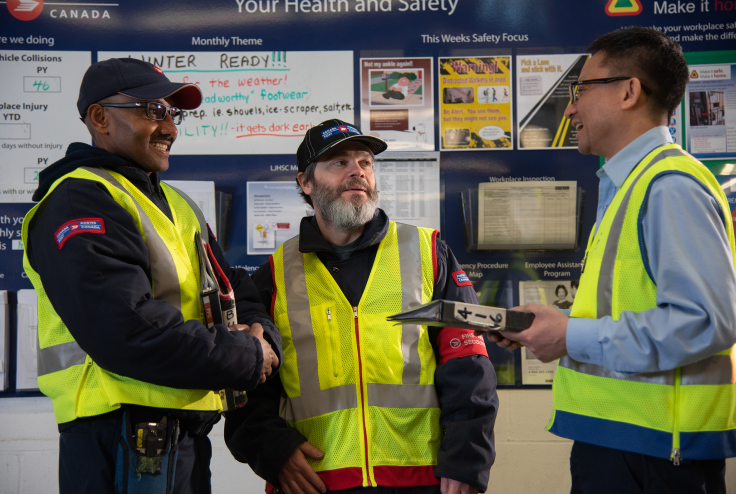 We are dedicated to working with our bargaining agents in a spirit of partnership to move forward together and demonstrate leadership to Canadians on important issues.
Our four bargaining agents are:
The Canadian Union of Postal Workers (CUPW – both units, Urban Postal Operations, UPO, and Rural and Suburban Mail Carriers, RSMC).
The Association of Postal Officials of Canada (APOC).
The Public Service Alliance of Canada/Union of Postal Communications Employees (PSAC/UPCE).
The Canadian Postmasters and Assistants Association (CPAA).
In 2022, we continued to engage with all of our bargaining agents to address a range of important issues, such as:
Consulting on all safety and staffing matters for the new Albert Jackson Processing Centre in northeast Toronto, opening in 2023.
Transitioning CUPW-RSMC employees to an hourly rate of pay.
Assessing a new, more flexible CUPW staffing model to improve employee retention and alleviate pressure on hiring.
Leading a job evaluation exercise with PSAC and APOC to determine the inclusion of certain jobs in the appropriate bargaining unit.
Continuing to implement the pay equity settlement between the company and the CPAA.
Making progress on our broader pay equity plan, in compliance with recent federal pay equity legislation.
Developing structures to create flexible capacity and more manageable distribution of volumes for employees.
Engaging in various relationship committee meetings and semi-annual meetings to provide business updates and discuss issues of common interest.
Creating a fair and respectful workplace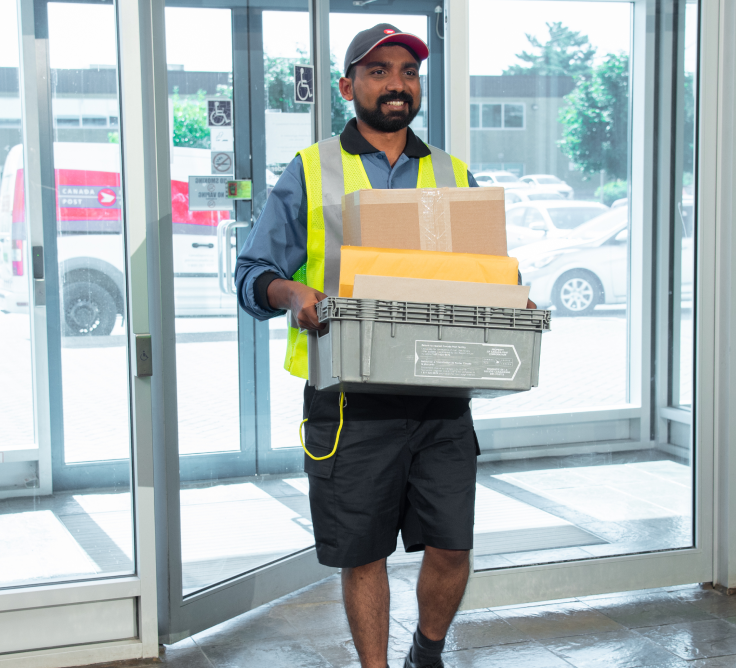 Our goal is to create an inclusive and caring workplace where everyone is welcome, heard and has equal opportunity. We want to attract and retain top talent that reflects Canada's diversity and become stronger together by embracing our differences. Several initiatives in 2022 helped us work toward those goals:
Introduced our Anti-Racism and Anti-Discrimination Charter, which outlines our zero tolerance for racism and protects all employees and customers from discrimination.
Continued work on our five-year Strategy for Equity and Diversity, in collaboration with our bargaining agents.
Provided Indigenous culture awareness training to employees in the Membertou, Nova Scotia community hub area, with plans to expand this training to other locations in 2023.
Established gender-neutral washrooms to ensure everyone feels free to be themselves at work. In 2022, we began installing inclusive signage in some facilities, while in others we are making small changes to accommodate our employees' requests for a safe space.
Continued to increase the diversity of our workforce, including for Indigenous Peoples, people with disabilities and visible minorities. We also expanded memberships to our Employee Resource Groups for anti-racism, Indigenous Peoples, people with disabilities, and LGBTQ2S+ Pride.
To celebrate Pride Month, we painted 11 rainbow crosswalks at various facilities across Canada and our employees participated in several Pride parades.
We used our Hybrid Workplace Practice to guide our employees' return to the workplace. The new, flexible practice allows employees to establish a healthy work-life balance, while meeting the needs of the business.
Also in 2022, we received the Canadian HR Team of the Year Award (500 employees or more) at the Canadian HR Awards, which recognized our People and Safety team's collaborative approach and dedication to supporting the business and all employees.
Engaging our employees and establishing our new values and behaviours
We ramped up employee engagement in 2022 by embarking on a journey to strengthen our corporate culture. Our refreshed values and behaviours were unveiled through virtual sessions and 40 in-person team leader forums, held in 15 cities across the country. More than 5,300 employees attended these forums, which included business updates and culture workshops.
Our new values (Trust, Respect, Deliver) and behaviours (Make the call, Know the destination, Deliver for others, Ignite our pride) aim to empower and engage our employees to help us build a stronger Canada.
We continue to encourage employees to provide their feedback to help us better understand their needs and identify ways we can improve. In the 2021 Employee Engagement Survey, employees told us they wanted to see change. We heard them and focused our improvements in 2022 on stress and tension, tools and resources, and communications.

Our 2022 employee survey received our highest-ever participation rate at nearly 53 per cent and more than 56,000 comments. The employee engagement index decreased slightly to 71 from 73 in the previous year. In 2023, our improvements will focus on our communication with employees, career development, and providing employees with the tools and resources they need to perform their roles.
We also launched a revamped employee recognition program with more flexibility and a simplified process to recognize achievements and celebrate special moments. The new program aligns with our new values and behaviours, and it supports our goal of being a workplace of choice, where employees feel engaged and appreciated.