Online shopping in Canada is expected to more than double over the next decade. We're investing billions of dollars in our operations to handle that growth and better serve Canadians, now and in the future. In 2022, we made important progress on our efforts to increase parcel processing capacity, enhance service and improve the overall customer experience. Our momentum will carry into 2023 as we open the Albert Jackson Processing Centre – our newest, largest and greenest parcel sorting facility.
Expanding capacity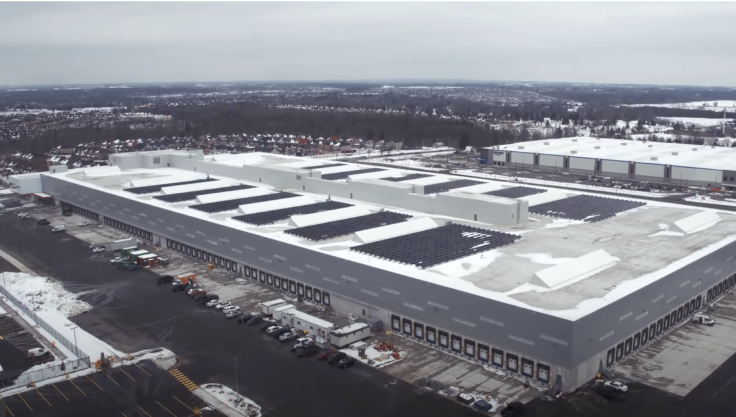 The new $470-million Albert Jackson Processing Centre in northeast Toronto, opening in 2023, will be able to sort more than 60,000 packages per hour – 50 per cent more than our Gateway facility in Mississauga, currently our largest parcel plant.
Our multi-year plan invests in our facilities, network and fleet. It will boost capacity across the country and improve service, especially in underserved communities.
In 2023, we will open the $470-million Albert Jackson Processing Centre in northeast Toronto, adding significant parcel processing capacity to our network and improving service for customers across the country. It will be able to process more than a million packages a day at full capacity – approximately 50 per cent more than our Gateway facility in Mississauga, Ontario, currently our largest parcel plant.
We're investing more than $30 million to expand our processing plant in Calgary and increase its capacity. We are also planning new parcel sorting facilities in Ottawa and Vancouver to expand capacity.
We have more than 100 new builds, expansions or upgrades planned or in progress across the country.
In 2022, to further expand capacity and improve service, we opened 14 new facilities, including in Montréal and Chambly, Quebec; Fort McMurray, Alberta; Scarborough, Ontario; Whistler, British Columbia; Niverville, Manitoba; Penetanguishene, Ontario; and Lepreau, New Brunswick, among several other communities.
We increased automated parcel sorting across the network to improve efficiency and customer service.
We expanded our Tracked Packet™ – International service to China, Taiwan and the United Arab Emirates.

In 2022, we increased automated parcel sorting across our network to improve efficiency and customer service.

We're replacing our right-hand-drive vehicles with safer and more efficient models that provide more storage capacity and flexible cargo management. We started receiving the new vehicles in fall 2022.
We tested 10 autonomous guided vehicles (AGVs) at our Léo Blanchette facility in Montréal to support material handling operations. Equipped with several safety sensors, the AGVs help transport products safely and efficiently within the plant.
In 2023, we're looking at testing and deploying new robotic packet induction technology at our Gateway facility in Mississauga, Ontario, and the Pacific Processing Centre in Richmond, British Columbia.
Improving service and tracking
Canadians expect fast, safe, convenient and reliable parcel deliveries. They also want more visibility on where their parcels are and when they'll receive them. We're introducing enhanced tracking, adding more parcel lockers and helping customers personalize their deliveries, among other improvements.
Tracking and delivery preferences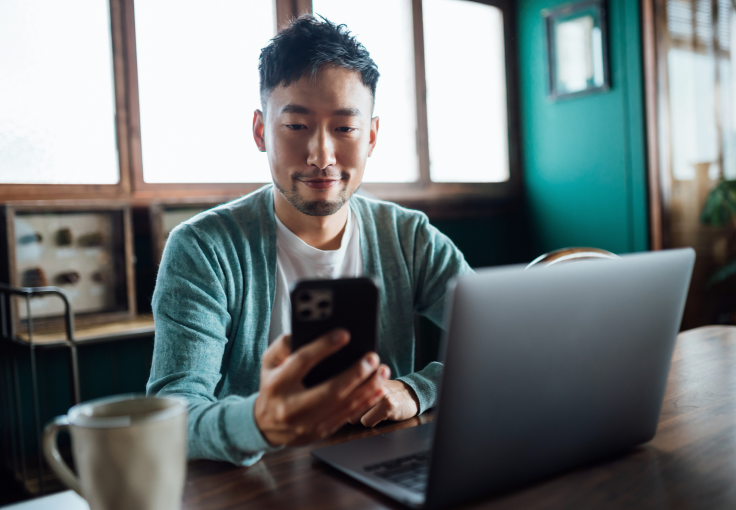 Tracking gives Canadians greater visibility of parcels in transit and allows them to customize their receiving experience based on preferences. In 2022, we improved the delivery experience for Canadians in several ways:
Launched the Automatic Tracking service on our Android mobile app in February 2022 (the service was made available on canadapost.ca and our iOS mobile app in 2021). More than 263,000 Canadians are using the service, which automatically adds parcels to a user's track list and allows them to set their delivery preferences.
Launched text message tracking notifications on our website and mobile app. Text notifications keep customers informed of the delivery status of their items and expected delivery date.
Improved tracking visibility and customer service by adding nearly 11,800 portable data terminals (which our employees use to scan items), with new features and upgraded technology.
Enhanced our website and app to help customers track a package, find a postal code, a post office, or a shipping rate. In 2022, the Canada Post app was ranked 7th and 16th in the free business apps for iOS and Android, respectively, with ratings of 4.6 and 4.5 stars (out of 5).
Launched a national test of My Mailbox iOS mobile app. The app is a free, secure online service that notifies customers when Lettermail™ or Canada Post Personalized Mail™ items are on the way to their household or community mailbox. Users can get timely updates through app notifications, updates sent directly to their email, or both. We're also planning an Android version.
Continued to work on improving visibility on inbound international packages prior to arriving at customs, and enhanced expected-delivery-date notifications.
Parcel lockers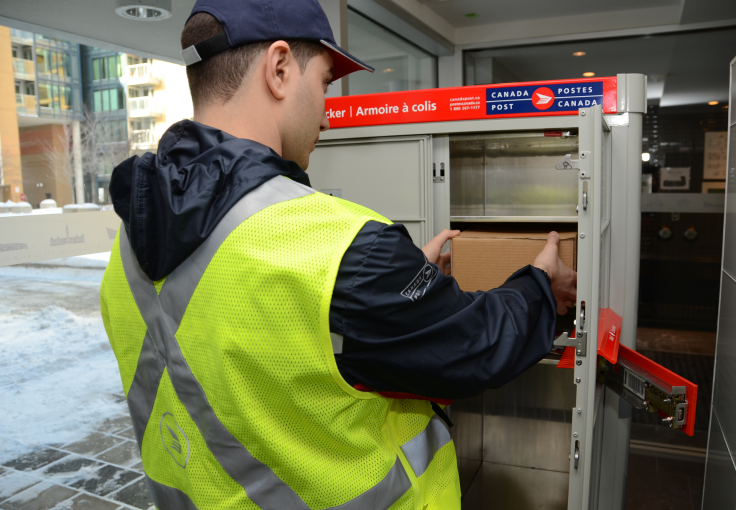 Parcel lockers provide a convenient, secure and environmentally responsible delivery experience. The lockers now serve more than four million Canadians.
Canadians increasingly want safe, secure and convenient parcel delivery. To serve this growing demand, we continue to install parcel lockers in neighbourhoods, apartments and condominiums. The lockers now serve more than four million Canadians. In 2022:
We installed nearly 3,900 indoor parcel lockers in apartments and condominiums, for a total of more than 20,600 indoor lockers countrywide.
We installed more than 4,800 additional outdoor parcel lockers at existing delivery points, bringing our total to more than 7,200 across Canada.
Enhancing our retail services
Canada Post operates the country's largest retail network, with almost 5,900 post offices across Canada. To support the diverse and evolving needs of Canadians, we have invested more than $100 million in new retail products and services across our network.
Indigenous, northern and rural communities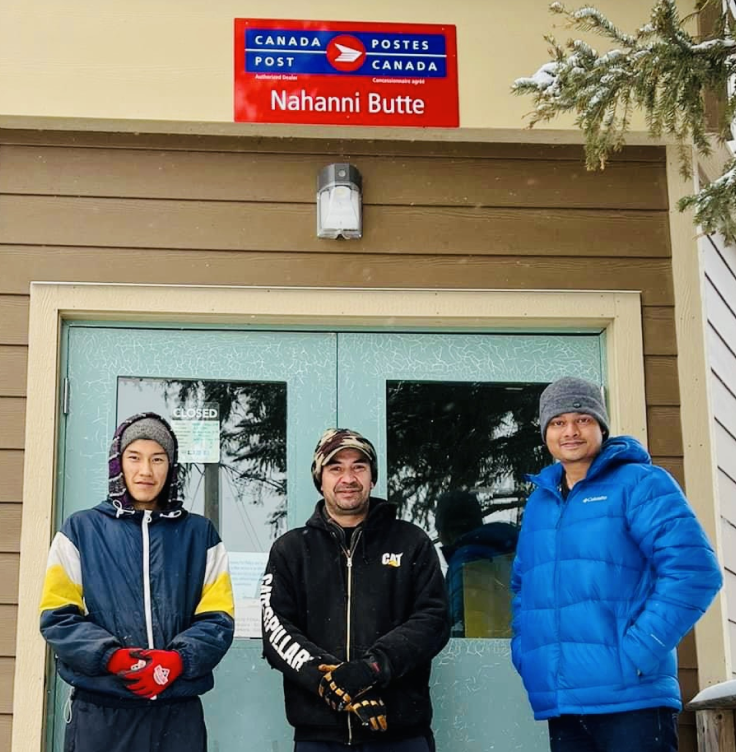 In 2022, we opened new full-service post offices in Indigenous communities, including Nahanni Butte Dene First Nation in the Northwest Territories. Pictured (from left to right) are Brodie William Snider, Chief Steve Vital and Band Manager Soham Srimani.
We continue to work with Indigenous communities to identify underserved areas. In 2022, we began to implement the retail five-year roadmap for our Indigenous and Northern Reconciliation Strategy through the following initiatives:
Invested $1 million to enhance and expand postal services to Indigenous and northern communities in collaboration with community leaders.
Improved postal services in eight Indigenous communities, such as issuing new postal codes for identity and community recognition, upgrading postal boxes, and adding new full-service locations and pickup and drop-off locations.
Opened three full-service post offices in rural locations (Christian Island First Nation, Ontario, Nahanni Butte Dene First Nation, Northwest Territories, and Sagamok First Nation, Ontario), added a pickup and drop-off location in Walpole Island, Ontario and announced that a second post office will open in Iqaluit, Nunavut, in 2023.
Expanded financial services
With the largest retail network in the country, Canada Post plays an important role in providing financial services to Canadians from coast to coast to coast.
In 2022, we confirmed there are financial needs across the country that Canada Post is uniquely positioned to fill. This is especially true in rural, remote and Indigenous communities. During the year, we launched or expanded a number of financial products and services for Canadians.
Going forward, we are committed to exploring new ways to provide financial services to Canadians in every corner of the country.
Opened new community hubs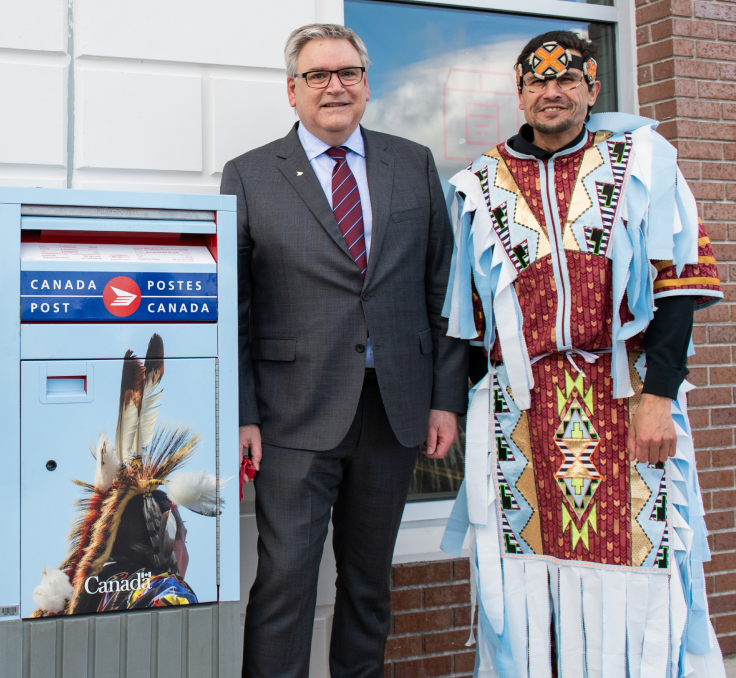 We opened three new community hub post offices in 2022 to better serve Indigenous, northern and rural communities, including in Membertou, Nova Scotia. Pictured are Canada Post President and CEO Doug Ettinger and David Meuse, cultural ambassador for the Membertou Trade and Convention Centre.
In 2022, we opened three new community hub post offices to better serve Indigenous, northern and rural communities.
Along with postal products and services, our community hubs offer a wide range of other services that vary by location, including secure 24-hour parcel drop-off and pickup services, parcel lockers, financial services, an ATM, and electric vehicle charging. Small-business support services are also available, such as a community directory of local businesses, rentable meeting rooms, secure printing and shredding options, and publicly available computers for videoconferencing.
In March 2022, we opened our second community hub. Located in Membertou, Nova Scotia, it serves the local Mi'kmaq community.
In December, we opened two more hubs, located in Little Current, Ontario, and Fort Qu'Appelle, Saskatchewan.
Improved point-of-sale technology
In 2022, we completed a multi-year retail technology upgrade in our post offices, with all of our automated sites now using new point-of-sale technology. The improved technology will speed up customer transactions, reduce wait times and improve accessibility.
Helping Canada stay connected and businesses succeed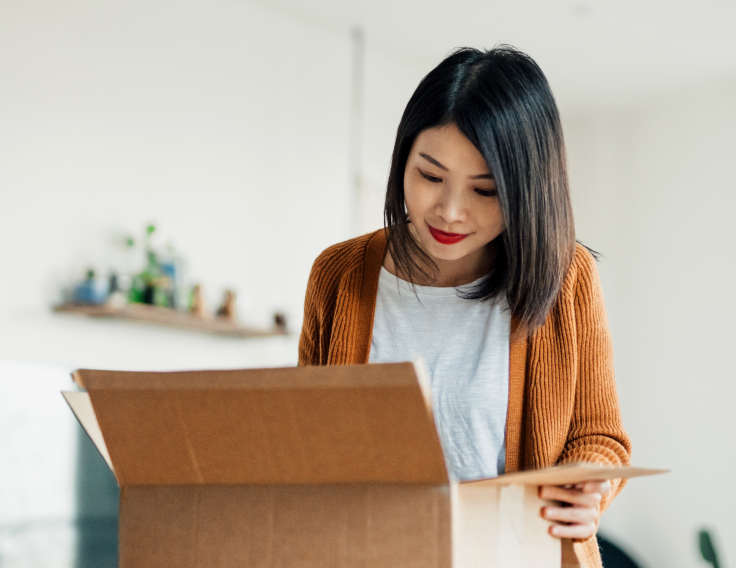 The needs of Canadian businesses continue to evolve. To empower their growth, we're making significant investments in our network and in new products, services and solutions. In 2022, we optimized our on-time service performance and launched several initiatives to support businesses of all sizes.
Parcels and ecommerce
To improve convenience and flexibility for small businesses and consumers, we expanded the services available at our pick-and-drop retail locations (formerly parcel-pickup locations). Our pick-and-drop locations allow customers to retrieve or drop off prepaid parcels, and purchase mail supplies such as stamps, flat rate boxes or prepaid envelopes. By the end of 2022, all of our more than 160 pickup locations had been converted to the pick-and-drop model.
We introduced or expanded better tracking and consumer preference tools for customers, such as the Automatic Tracking service on our Android mobile app. We also launched text message tracking notifications, available through our website and mobile app. These tools improve the delivery experience for customers of businesses we proudly serve.
We're also investing in innovative new features that will further enhance tracking for businesses and consumers, including photo confirmation at delivery.
New delivery capabilities will support Canadian ecommerce businesses, including piloting later induction to enable next-day delivery in Montréal, Vancouver and Toronto. We're also testing weekend delivery in Montréal, which enables us to better serve business needs and meet consumer expectations.
We are strengthening our returns solutions and experience for businesses and consumers. This includes product enhancements to our online returns centre, testing package-free returns and new capabilities to improve convenience, including residential returns pickup, inducting returns in street letter boxes, and providing greater visibility and tracking on returns.

Our annual Tales of Triumph contest showcases the unique stories and accomplishments of resilient small businesses in Canada. In 2022, PRIZM Foods was one of five winning businesses that each received a $20,000 prize package.

In 2022, our annual Tales of Triumph contest continued to showcase the unique stories and accomplishments of resilient small businesses in Canada. The five winning businesses each received a $20,000 prize package, including shipping and marketing credits, marketing services, promotion across Canada Post digital channels, and national and regional targeted media campaigns.
To connect businesses with Canadians, our 2022 Canadian Giftbook catalogue shared holiday offers from more than 200 retailers with approximately 775,000 frequent online shoppers across Canada. A digital version of the catalogue was available on canadapost.ca.
We continued to support Canadian businesses with our free-to-join Canada Post Solutions for Small Business™ program. The program provides small businesses with a host of easy-to-use tools, including shipping and tracking solutions, easy return policies and access to marketing insights and articles.
For our Solutions for Small Business members, we again offered the Free Shipping Tuesdays program during Small Business Month. Each Tuesday in October, members could send one free Expedited Parcel™ item within Canada and one free Tracked Packet™ item to the United States. Approximately 82,000 businesses took advantage, sending a total of more than 200,000 free packages.
To support small businesses across rural and remote Canada, we offered shipping discounts to our Solutions for Small Business customers in rural and remote areas. Between June and December 2022, the program helped more than 5,200 small businesses operate and compete.
We launched the Delivering More campaign, with ads on television and social media, to let Canadians and Canadian businesses know that we're investing to better serve them, now and in the future.
Canada Post Smartmail Marketing™ and Lettermail™
In 2022, we continued to connect local businesses with current and new customers and explored innovative ways for Canadians to interact digitally and physically with their mail. Among our initiatives, we:
Introduced a new data visualization tool for marketers using Canada Post Neighbourhood Mail™. The tool allows businesses to optimize their direct marketing campaign planning and design by connecting with the right customers through data mapping.
Enhanced our Precision Targeter™ tool to help businesses locate a delivery route by entering a postal code. We also improved its performance, making it easier and faster to create Neighbourhood Mail™ campaigns.
Launched a national test of My Mailbox iOS mobile app, which notifies users when specific mail items such as Lettermail and Smartmail Marketing are delivered to their mailbox. It also informs users of the sender and number of pieces of mail delivered. We're planning an Android version of the app.
We hosted several live events and webinars to support Canadian businesses and their growth. One example was Marketing Innovations: Inspiring success stories, which shared advice on leveraging the power of direct mail to build successful marketing campaigns.
Throughout the pandemic, Canadians have looked to shop locally to support small businesses in their communities. Direct mail, such as coupons, offers and flyers, puts a company's message directly into the hands of local consumers. It remains an important tool for Canadian businesses.
Lettermail also remains a convenient and cost-effective way to send items for personal or business reasons, including letters and cards, business correspondence and invoices. To support Canadians, regulated stamp prices were maintained at 2020 levels throughout 2022.
Delivering a seamless and superior customer experience
Canadians want more choice, convenience and control with every delivery, every digital experience we provide and every trip to the post office. We launched several initiatives in 2022 to improve the customer experience, for example:
Improving customer satisfaction and accessibility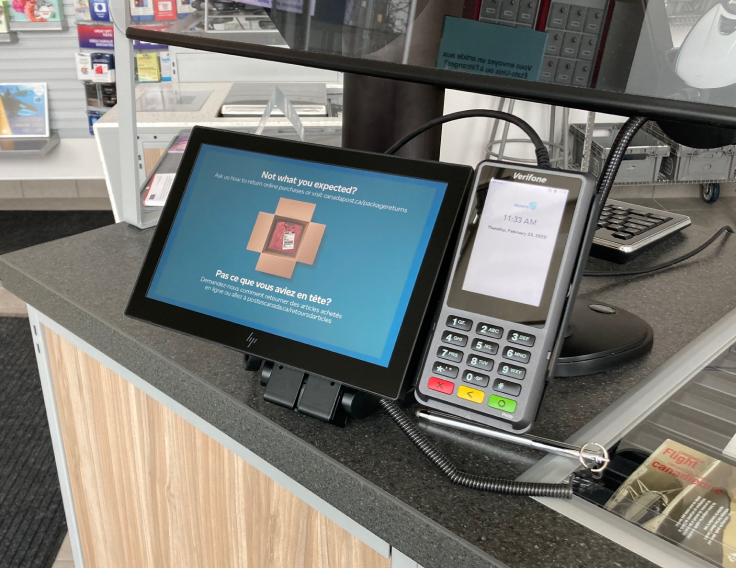 New touchscreens in our post offices help us gather customer satisfaction information and provide greater insight into how we can better serve Canadians.
New customer-facing touchscreens in our post offices allow us to collect customer satisfaction information at the point of purchase. In 2022, the solution provided us with greater insight into how to better serve Canadians.
The touchscreens also allow Canadians to follow transactions. For people who may not be able to access the touchscreen, accessibility and special ergonomic needs are met with a secondary, mobile handheld device that can be used for payments and signatures.
We successfully delivered more than 80 accessibility projects in our retail stores, primarily counter replacements and automatic doors.
Reducing wait times for customers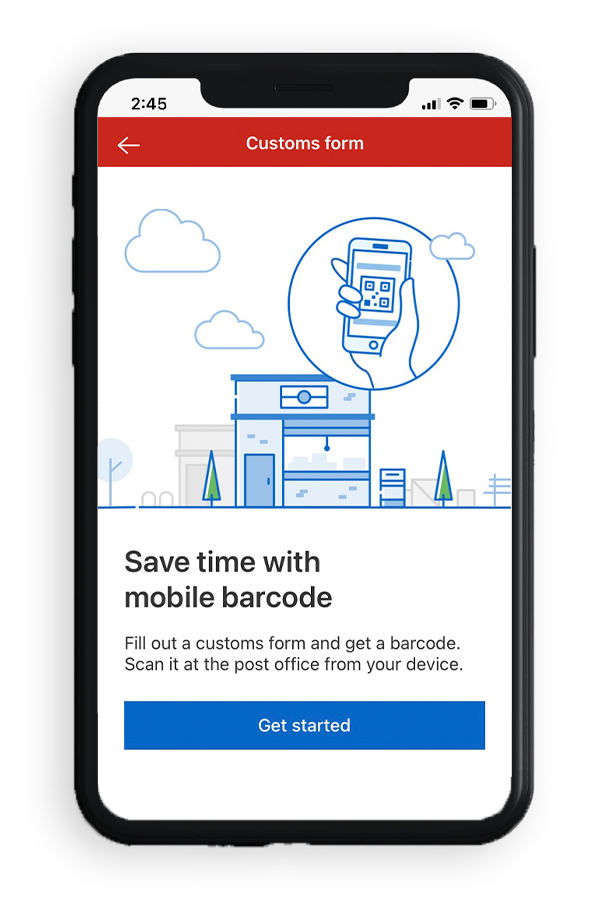 Customers can complete customs forms at canadapost.ca or on the Canada Post app, saving them time at the post office.
We introduced options for customers to prepare customs forms for shipping in advance of their visit to the post office. The customs forms can be completed at canadapost.ca or on the Canada Post app.
We introduced new training for post office clerks to better identify customer needs to increase efficiencies and customer satisfaction.
We improved contactless transactions, allowing customers to mail labelled packages without interacting with a clerk. We installed more than 90 contactless induction boxes and tested free-standing induction equipment.
Enhancing the digital experience
In 2022, our improved online virtual assistant – which saves customers a call to customer service – handled approximately 3.8 million conversations. Also, the newly launched virtual voice assistant answered 105,000 tracking status inquiries.
We completed the design phase of our Experience Transformation project. This multi-year project focuses on enhancing the end-to-end experience for customers and employees. It will modernize and improve technical platforms across the company.