Sharing Canada's stories through stamps
One of Canada Post's most meaningful roles is to share stories that connect Canadians to their country and to each other. We do this through stamps.
Every year, we recognize the incredible people, places and events that shape Canada's evolving national narrative and we honour the iconic wildlife and landscapes that are embedded deep in our roots. As storytellers, we aim to celebrate all voices that warrant space in the country's collective memory. We are also making sure there is always room for those stories that challenge Canada to be better.
By contributing their ideas and suggestions, it is Canadians who keep the program vibrant.
An independent Stamp Advisory Committee reviews all submissions and then recommends the subjects and designs. Members include historians, designers, academics and philatelic experts who come from across the country and have diverse ethnic, cultural and linguistic backgrounds, with francophone and anglophone representatives at all times.
In 2022, our 21 stamp issues featured 45 stamp designs. Here is a selection from the year:
Eleanor Collins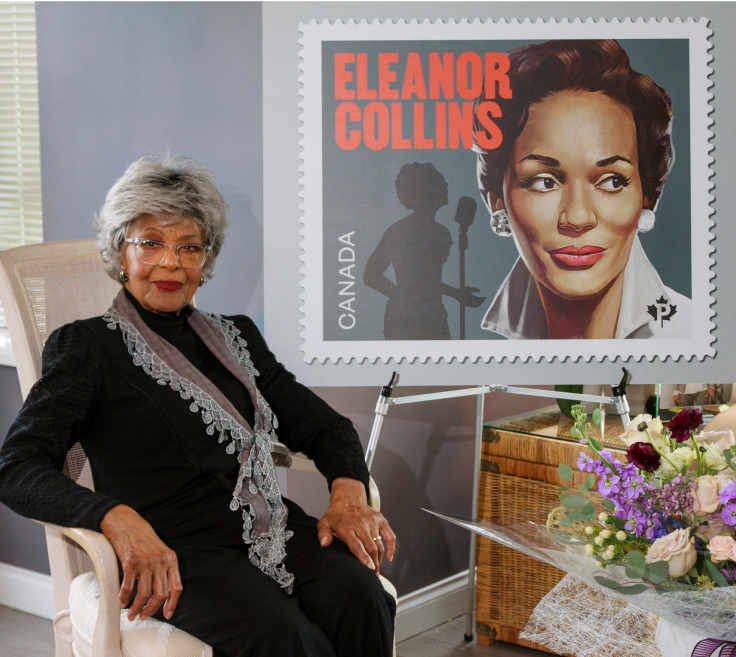 At age 102, Eleanor Collins made a special appearance in our January 2022 virtual event in which her commemorative stamp was unveiled.
Canadian jazz legend Eleanor Collins is celebrated for breaking boundaries.
In 1955, the Edmonton-born performer became Canada's first female jazz artist to host a national television series, The Eleanor Show. Over the following decades, she appeared on numerous other television and radio shows. In 2014, adding to several lifetime achievement awards, Collins became a Member of the Order of Canada.
The stamp was intended to be unveiled at a live event in January. However, due to COVID-19, the unveiling occurred through a video tribute. At 102, Collins herself appeared on screen to share her feelings on receiving this recognition.
Endangered Whales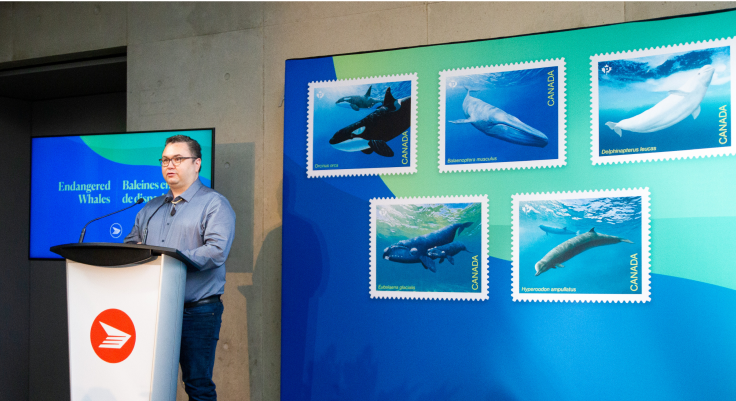 Morgan Guerin, Senior Marine Planning Specialist and Marine Enforcement Coordinator for the Musqueam First Nation, participated in the launch of the Endangered Whales stamps at Vancouver's Beaty Biodiversity Museum in May 2022.
A captivating set of five whale stamps celebrated the beauty of Canadian nature, while calling for the need to preserve it. The issue featured five species with populations in Canada assessed as Endangered:
Beluga whale – St. Lawrence Estuary, Cumberland Sound, Ungava Bay
Blue whale – Atlantic and Pacific
Killer whale – Southern resident in the Northeast Pacific
North Atlantic right whale
Northern bottlenose whale – Scotian Shelf
We unveiled these stamps in May at the University of British Columbia's Beaty Biodiversity Museum in Vancouver. Joining us for the unveiling were students from the University Hill Elementary School's Climate Club.
Indigenous Leaders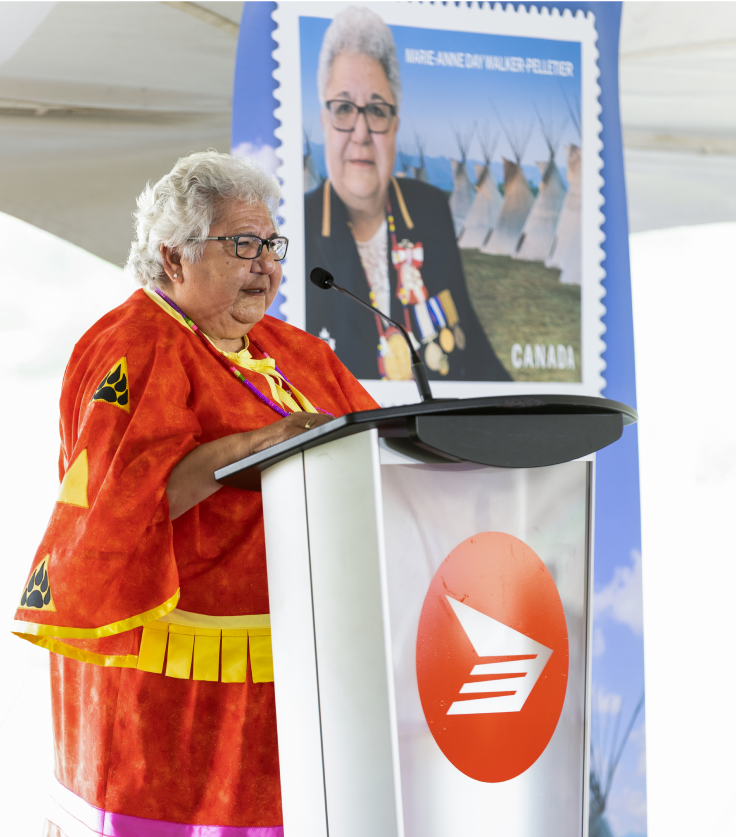 In June 2022, Chief Marie-Anne Day Walker-Pelletier spoke to the audience at the unveiling of her commemorative stamp in Fort Qu'Appelle, Saskatchewan.
On June 21 – National Indigenous Peoples Day – we issued, as part of a new series, a set of stamps paying tribute to the lives and legacies of three leaders who each made a significant impact on the communities they served.
Harry Daniels (1940-2004) was a politician, activist, writer and actor who successfully lobbied to have the Métis and non-status Indians in Canada included as one of the Indigenous Peoples recognized in the Constitution Act, 1982, and recognized as "Indians" under the British North America Act, 1867.
Jose Kusugak (1950-2011) was an Inuit activist, linguist and broadcaster who played a critical role in the efforts that led to the creation of Nunavut in 1999, for which many consider him a Father of Confederation.
Chief Marie-Anne Day Walker-Pelletier (b. 1954) spent nearly 40 years as leader of the Okanese First Nation in Saskatchewan, the most consecutive terms ever served by an elected First Nations chief in Canada.
The stamps were unveiled over three days in June at local in-person events in Regina; Rankin Inlet, Nunavut; and Fort Qu'Appelle, Saskatchewan, respectively.
Monique Mercure
Known for her fiery spirit, versatility and powerful performances, Monique Mercure (1930-2020) appeared in more than 80 films and TV productions and in over 100 plays. Her 1977 stand-out performance in J.A. Martin photographe earned her Canada's first Festival de Cannes award for best actress. Throughout her career, Mercure received numerous honours, including two Genie Awards. She was named an Officer of the Order of Canada in 1979 and promoted to Companion in 1993. She was also named a Grand Officer of the Ordre national du Québec.
Family, friends, fans and peers gathered in November at Montréal's Rialto Theatre for the unveiling. The evening event featured live performances, tributes and stories celebrating Quebec's grande dame of stage and screen.
Help for Ukraine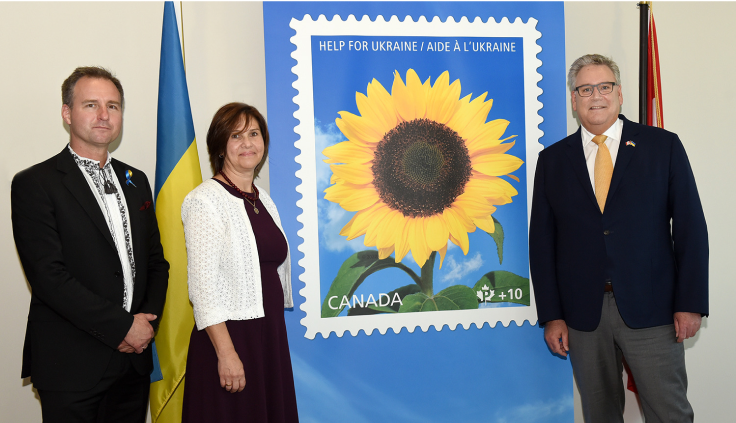 Orest Sklierenko (left), President and CEO of the Canada-Ukraine Foundation, along with Major (Retired) Oksana Kuzyshyn, Chief Operating Officer at the Canada-Ukraine Foundation, joined Canada Post's President and CEO Doug Ettinger in Ottawa to unveil the Help for Ukraine fundraising stamp.
Recognizing the generosity of Canadians in times of need, we issued a semi-postal fundraising stamp to provide customers and collectors with a way to support the people of Ukraine and the escalating humanitarian crisis.
This was the first time we issued a stamp dedicated to raising funds in support of a country in need of humanitarian assistance. A donation of $1 from each booklet of 10 stamps (and 10 cents from the Official First Day Cover, a special collectible envelope) provides essential aid – and hope – to those affected by the situation. Funds raised through the purchase of this stamp are distributed through the Canada-Ukraine Foundation.
The stamp features a sunflower, Ukraine's national flower, which has become a widely recognized symbol of peace and unity. The yellow sunflower and blue-sky background on the stamp also reflect the colours of Ukraine's flag.
The Summit Series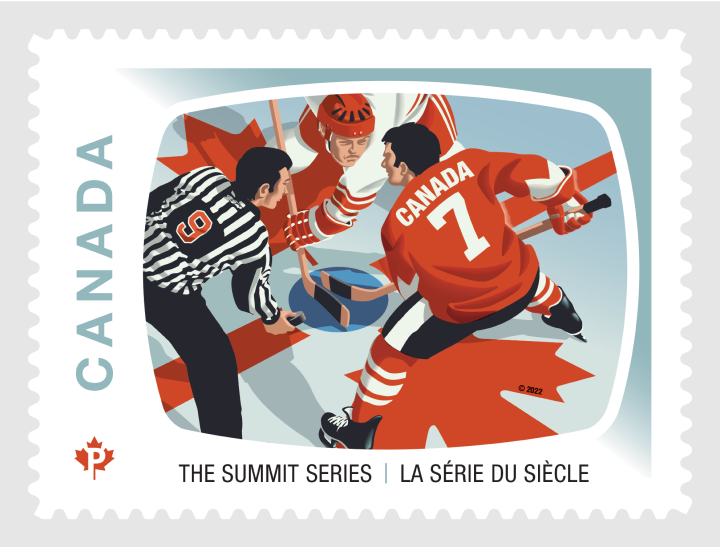 On September 28, 1972, an estimated 13 to 15 million Canadians (out of 21 million) tuned into Game 8 of the legendary Summit Series.
The nail-biter against the Soviet Union national team was watched across the country – in living rooms, factories, bars and halls. People lined up shoulder to shoulder in front of televisions on sale in department stores. Businesses closed. When Paul Henderson scored the series-winning goal with just 34 seconds left, Canada erupted.
The stamp was unveiled in September on social media in a special video featuring famous Canadians recounting their memories of the historic event. Fans shared in the moment by posting their own stories.
Truth and Reconciliation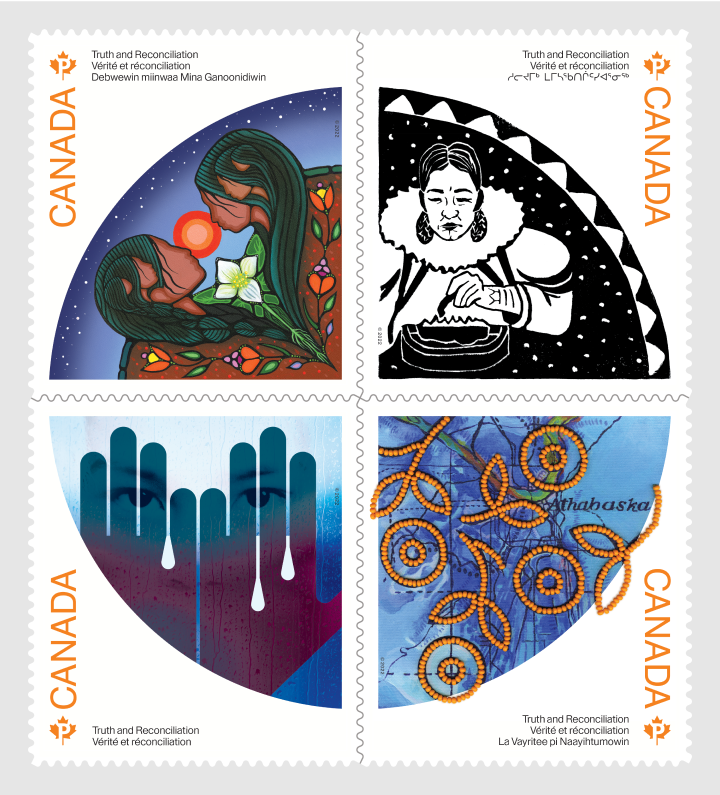 In connection with the National Day for Truth and Reconciliation on September 30, we launched a new stamp series to encourage awareness and reflection on the tragic legacy of Indian residential schools and the need for healing and reconciliation.
We commissioned four artists to create stamps representing the future of truth and reconciliation. Below is an excerpt from each artist who provided insight into their design.
Jackie Traverse, First Nations artist (Lake St. Martin, Manitoba) – Anishinaabe, Ojibwe
"This image represents seeds of change… I've put the (unofficial) national flower, the bunchberry, in the centre to represent Canada, with the roots from the seeds reaching to the past."
Gayle Uyagaqi Kabloona, Inuit artist – Qamani'tuaq (Baker Lake), Nunavut
"I created a woman lighting a qulliq, the traditional Inuit stone lamp used for heat and light to signify caretaking. This woman is carrying on in her culture as she has always done, taking care of herself and others and healing."
Kim Gullion Stewart, Métis artist – Athabasca, Alberta (currently lives in Pinantan Lake, British Columbia)
"While maps like this one are a two-dimensional record of historical process and places, they are incomplete until they include elements that are important to the people who are Indigenous on this continent."
Blair Thomson, artist and graphic designer
"A pair of bold hands are held over the eyes and human face. Intended to be cross-representative – those of Indigenous Peoples/Survivors, covering their face in sadness, pain, memories, and those of the settler, masking their view of reality and shame."
The stamps were unveiled as part of a virtual event that was hosted by the National Centre for Truth and Reconciliation and included high school students from across the country.
Tommy Prince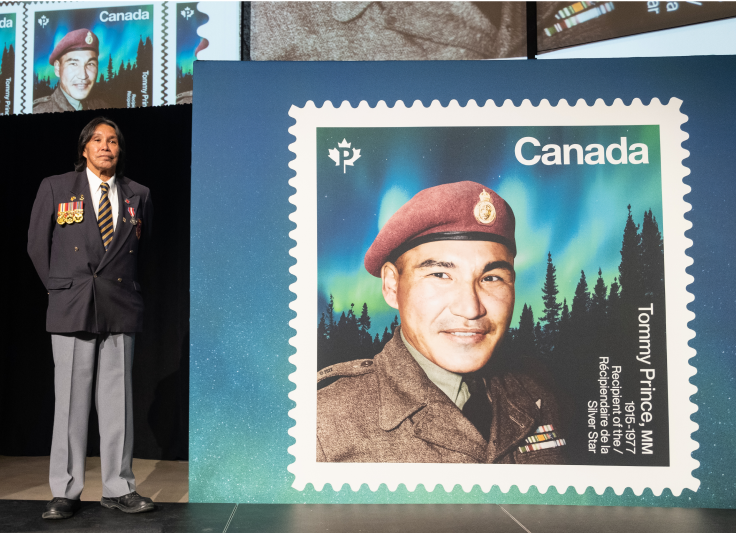 Tommy Prince Jr. attended the October 2022 ceremony at the Canadian Museum for Human Rights in Winnipeg, where he unveiled the commemorative stamp celebrating the legacy of his father.
Sergeant Thomas (Tommy) George Prince, MM (1915-77) was one of Canada's most-decorated Indigenous war veterans and a prominent Anishinaabe activist.
He received 11 medals, including the Military Medal and the Silver Star (U.S.), for his service in the Second World War and the Korean War. His marksmanship, tracking skills and stealth were legendary. Once, while repairing a broken telephone line he was using to report on German positions, he posed as a farmer tending his fields – in full view of the enemy. After the Second World War, Prince served as vice-president of the Manitoba Indian Association, advocating for the abolition of the Indian Act and for the government to respect existing treaties.
The stamp features a photo of Prince in his Korean War uniform, with the northern lights to represent the sky above the Brokenhead Ojibway Nation where Prince was raised. It was unveiled in Winnipeg at the Canadian Museum for Human Rights, at a ceremony attended by several Indigenous war veterans and Prince's son, Tommy Prince Jr.
Top-banner photo: In November 2022, Michèle Mercure helped unveil the stamp honouring her mother, Monique Mercure, at the Rialto Theatre in Montréal.