How to address mail accurately
Send business and addressed marketing mail without processing delays and surcharges
Help your business by following address guidelines on your mailings — you'll avoid delays and surcharges caused by extra processing.
In this article you'll find:
Address placement guidelines.
Graphic placement guidelines.
Correct address formats for mail to Canadian, U.S. and international destinations.
Address placement guidelines
Use these addressing guidelines for standard, large and image-printed envelopes so that your mail can be scanned by our processing equipment.
Standard envelope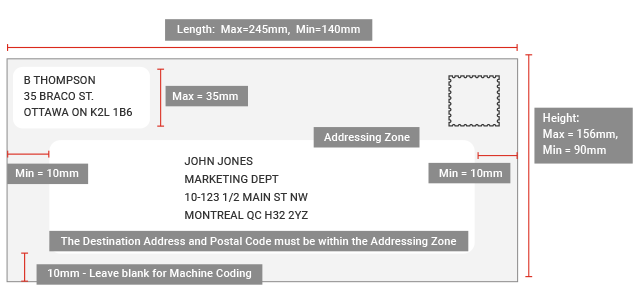 Graphic placement guidelines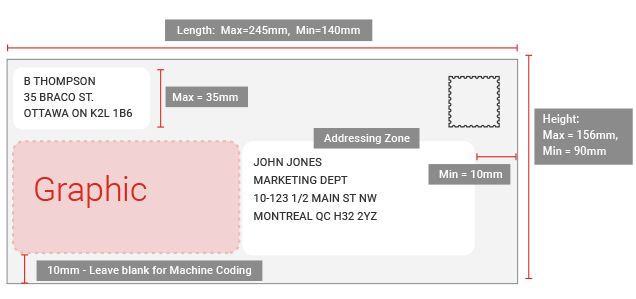 On a large envelope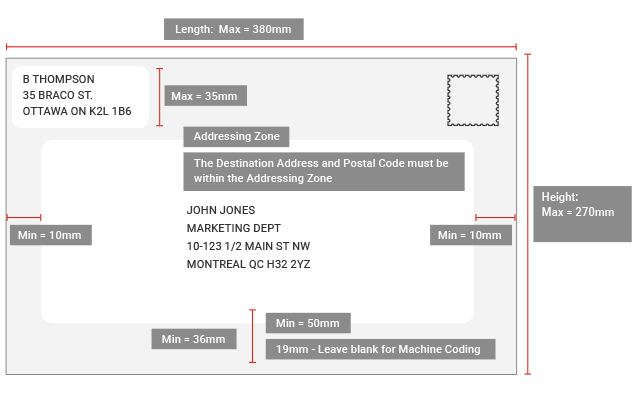 Correct address formats
To avoid unnecessary delays or surcharges, follow these addressing guidelines (visual examples follow):
Write STREET ADDRESS in uppercase letters.
Write POSTAL CODES in uppercase letters and separate the first 3 characters from the last 3 characters with 1 space. (No hyphens please. These can cause delays)
Place the municipality, province or territory and postal code on the same line.
Separate the municipality from the province (or territory) with 1 space; separate the province (or territory) from the postal code with 2 spaces.
Don't use punctuation unless it is part of a proper name, e.g., ST. JOHN'S.
Format the return address the same way as the destination address and place it in the top-left corner of the envelope or package (or on the back of the item at the top).
Visual examples
Canadian civic addresses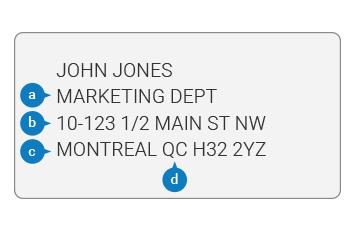 Place additional delivery information such as title, floor, etc. above the civic address.
Place the unit number before the civic number with a hyphen in between.
Use 1 space when a civic number suffix is present but do not use a space if it is a letter (e.g. 123A).
Separate the postal code from the province symbol by 2 spaces.
United States addresses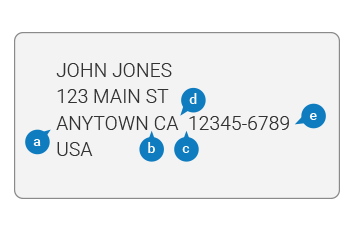 Use the full name of the city.
Separate the state symbol from the city by 1 space.
Separate the zip code from the state symbol by 2 spaces.
Use the 2-character state symbol rather than the full state name.
A zip code is either 5 or 9 digits. If it's 9 digits, a hyphen separates the 5th and 6th digits.
International addresses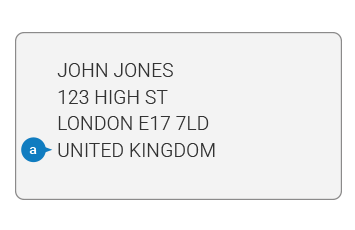 *Spell the country name correctly so that our processing equipment can read it.
Make sure the name of the country appears alone and is the last entry of the address block below the city name and postal code/zip code. Spell the name of the country in full and in capital letters (e.g.: write UNITED KINGDOM and not UK).
Other examples
These illustrated examples provide detailed explanations and helpful tools for correctly formatting other address types.
Symbols and abbreviations
Keep your addresses short enough to stay within machineable guidelines by using abbreviations. Find the Canada Post approved short forms for:
Accurate addresses don't just help lower costs by eliminating redelivery and extra handling — they also help to reduce the carbon footprint of your delivery.