Buttercream Clothing embraces community and communication to bring slow fashion into the future.
Founder and owner, Candice Munro plans to take it "slow" right now – and her customers and community couldn't be happier.
"Slow fashion is a huge challenge in a world of immediate gratification," Munro said. She explained that slow fashion advocates for buying better-quality garments that will last longer and for fair treatment and pay of people, while building a close-knit, inclusive community.
It has become popular, even trendy, as people, especially with supply chain issues, move towards wanting more locally made items. Customers are discovering that slow fashion is the way to get it.
Buttercream Clothing embraces the slow fashion mindset. What goes into managing the process around the trendy term gets to the heart of the brand's larger ethos of community and communication as a pathway toward a sustainable clothing future and sustained success.
Local, ethical and well-made in Canada
Munro launched Buttercream with 1 sewing machine on her kitchen table and her new baby in tow and grew the direct-to-customer ethical, sustainable clothing e-retailer into a popular brand known as much for inclusivity as for the quality and comfort of its collections.
Today, Buttercream employs 30 people, including seamstresses, warehouse and factory team members in Calgary, all oriented around one mission.
"Local, ethical and well-made in Canada is how we started – that was the origin story," said Munro, who lives with her family in British Columbia, while the Buttercream team operates out of Alberta. "Even as we grow, and as things elevate, that is still the backbone of the business. It's so important to us."
That commitment has endeared the brand to its community, a close-knit group of customer-advocates, many of whom have been on board from the start.
Buttercream started with Munro organizing home dress parties, where she brought a handful of original designs for women to see, feel and try on. Their feedback would be reflected in future designs, many of which are still some of the brand's most popular styles.
Her formula for success is simple: "We really listen to our people."
The spirit of that conversation from those earliest parties continues today, as connection and communication between the brand and its shoppers remains vital.
Enjoy reading this article? Read Insider Magazine for more insights, tips and articles like this.
Download the magazine
Learning to go slow
Buttercream is proudly slow fashion – not a term that gets thrown around a lot, so it often creates confusion among shoppers.
Basically, at any given time, Buttercream has 100 SKUs on its website – some freshly baked, others for presale. The brand makes the difference between the two categories exceedingly clear for shoppers.
Freshly baked means just that – items are ready to go when you order it. Usually. Popularity, you see, has its price.
Savvy Buttercream shoppers have educated themselves about how the brand launches these Freshly Baked items. "It gets incredibly competitive," Munro said. "Freshly Baked items sell out really quickly – amazing, but that has its own challenges. While we try not to market around scarcity, there is only a limited amount of garments our team can make in a short period of time. Our community has learned to jump on these launches without delay."
Presale items, however, are different. Once you order, only then does the fabric get cut and seamstresses begin their work. These small batches mean little waste or unwanted inventory, but they also mean a wait time for customers (think upwards of 10 to 12 weeks during high-volume order times).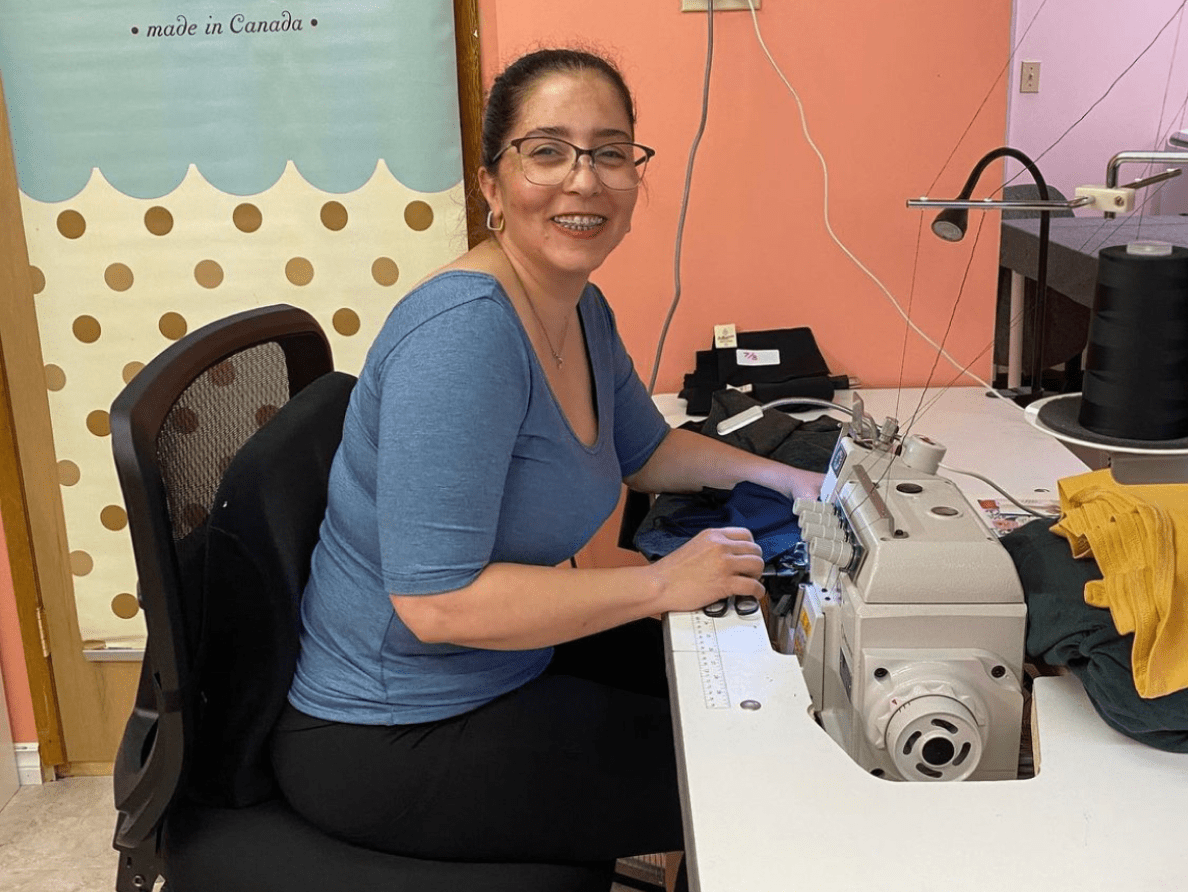 People really get it. They're willing to wait – sometimes wait a long time – for the orders they want. Granted, we're trying to turn that around and make it as fast as we can, but it's slow fashion. It's a different world than the fast fashion, which has been so mainstream for so long.
The Buttercream team manages expectations through communication and transparency – and even a few surprises while customers wait.
"Expectations with customers are a lot about education – and we educate people everywhere," Munro explained.
From a mandatory checkbox at checkout acknowledging the wait time, to messaging on the website and in its confirmation emails, to social media posts highlighting the seamstresses making the order, it is hard not to get the message.
While customers wait, the brand supplements the order with smaller launches every 2 weeks and flash sales on social media.
"Slow fashion does not necessarily work for everyone. But our community has really taken to it and even educates their friends and family what to expect when ordering," Munro said.
Growing quickly with slow fashion
Buttercream is ready to go full steam into their slow fashion future.
In the months ahead, Munro looks to open a storefront/showroom in its Okotoks, Alberta, warehouse. There are plans to expand its size range offerings to 5X and 6X, while also adding in some more business casual looks for those returning in person to the workplace.
"When online shopping skyrocketed, our sales increased by 40% overnight. We're still on that trajectory; we haven't looked back," Munro explained. "That kind of growth has been a challenge, but we're also very grateful for it and the community that has taken us here."
Want to take your ecommerce business to new heights?
Talk to an ecommerce expert from Canada Post
Contact us