To help retailers offer the shipping data and delivery experience their customers want, Canada Post works with today's top e-commerce platforms, integrating its e-commerce solutions directly into their technology.
If you're already a WooCommerce merchant, your e-commerce toolkit can be greatly enhanced by accessing several important Canada Post features designed to improve your e-commerce operations and help you deliver a better end-to-end shopping experience.
There are three great solutions that you can take advantage of to enhance your WooCommerce store:
Canada Post Shipping Method by WooCommerce: This extension allows you to show shipping fees and expected delivery dates in real-time to your customers on your checkout page.
Canada Post Shipping Plugin by PluginHive: When installed, you can offer shoppers an integrated tracking experience from within your store, give shoppers the power to choose how they receive their orders with "deliver to post office" functionality, and enable a best-in-class integrated returns experience.
Third party shipping solutions: Further integrations from Canada Post partners like ShipStation, OrderCup, ShipRobot, and StorePep will automate your operational tasks and offer other feature enhancements. These third party shipping solutions automatically import your orders from WooCommerce and print Canada Post shipping labels with one click.
Want to learn more? Canada Post has a team of solution integration experts to help merchants like you.
Contact an expert
Why you should be shipping in real-time with Canada Post integrations
Did you know that, according to a recent Canada Post survey of Canadian online shoppers, 67 per cent of shoppers abandon their cart when shipping costs aren't provided upfront?1
Canada Post and WooCommerce's live rating integration makes it possible to establish real-time shipping quotes based on exactly what's in your customers' carts – charging them exactly what you'll have to pay for delivery. Plus, the "expected delivery date at checkout" feature lets your customers select the delivery speed and fee option that best fits their needs before moving on to payment.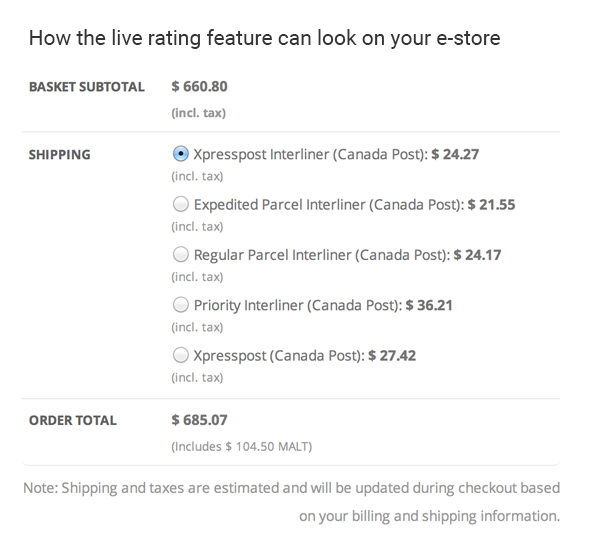 By aligning with your customers' priorities this way, you can make them feel their needs are understood and that you aren't inflating shipping fees or raising product prices to cover costs.
Connecting your WooCommerce store to your Canada Post account
In the WooCommerce Extension store you can buy and install Canada Post extensions to add in-demand features like live rating, tracking and delivery options to your online store.
Here's what to do:
Buy, install and activate the Canada Post Shipping Plugin.
Link your Canada Post account.
Configure desired shipping options and start printing labels!
Need more details? Here's an excellent primer on how to install and manage extensions within WooCommerce.
When installed, you can offer shoppers live shipping rates at the cart/checkout page, print shipping labels from within your store, and provide an integrated order tracking experience. Moreover, you can also generate Manifests and schedule pickups, give shoppers the power to choose how they receive their orders with "deliver to post office" functionality, and enable a best-in-class integrated returns experience.
Automate your WooCommerce store with Shipping Solutions and Canada Post
In addition to enabling Canada Post shipping label printing, third party shipping solutions – such as ShipStation, OrderCup or StorePep – can do much more for your e-commerce operations.
Adding a shipping solution can streamline shipping and fulfillment and make tracking shipments and inventory easier as well – particularly if you sell on multiple sales channels.
Several shipping solutions integrate seamlessly with the WooCommerce platform and Canada Post, allowing you to:
Pull orders in real-time

Automate label printing and manifests

Update e-stores with tracking numbers

Send shipping notification emails

Prepare international customs forms

Generate detailed reports
The following Shipping Solutions are compatible with both CPC and WooCommerce:
Source:
1 Canada Post. 2019 Canadian Online Shopper Study, April 2019.
Enjoy a partnership that delivers success.
Contact a Canada Post representative to understand how your business can leverage our e-commerce expertise.
Contact us