The Northern Canada traplines were lifelines for Brenda Dragon and her family.
Growing up in Fort Smith, Northwest Territories, Dragon watched as her parents, David and Jane, dressed the family of six in wild furs from those lines.
These were healthy, outdoorsy kids who never knew the bite of 40-below temperatures thanks to the fur hats, mittens, moccasins and parkas mom made. Beyond the warmth, the money generated from the traplines gave the family those extras that make life special.
"My father was known to be a gruff man, but when he was working with furs, he was really peaceful and content. I got to spend time with him when he was that way. It was special to me," Dragon said. "My mother was the same when she was sewing the furs. You can't be stressed or angry doing these things. Fixing the furs at home was calming. That's what it meant to our family."
Today, Dragon carries on her family tradition with Aurora Heat, a brand that promotes the traditional use of fur while educating shoppers about what sustainability means in the modern world.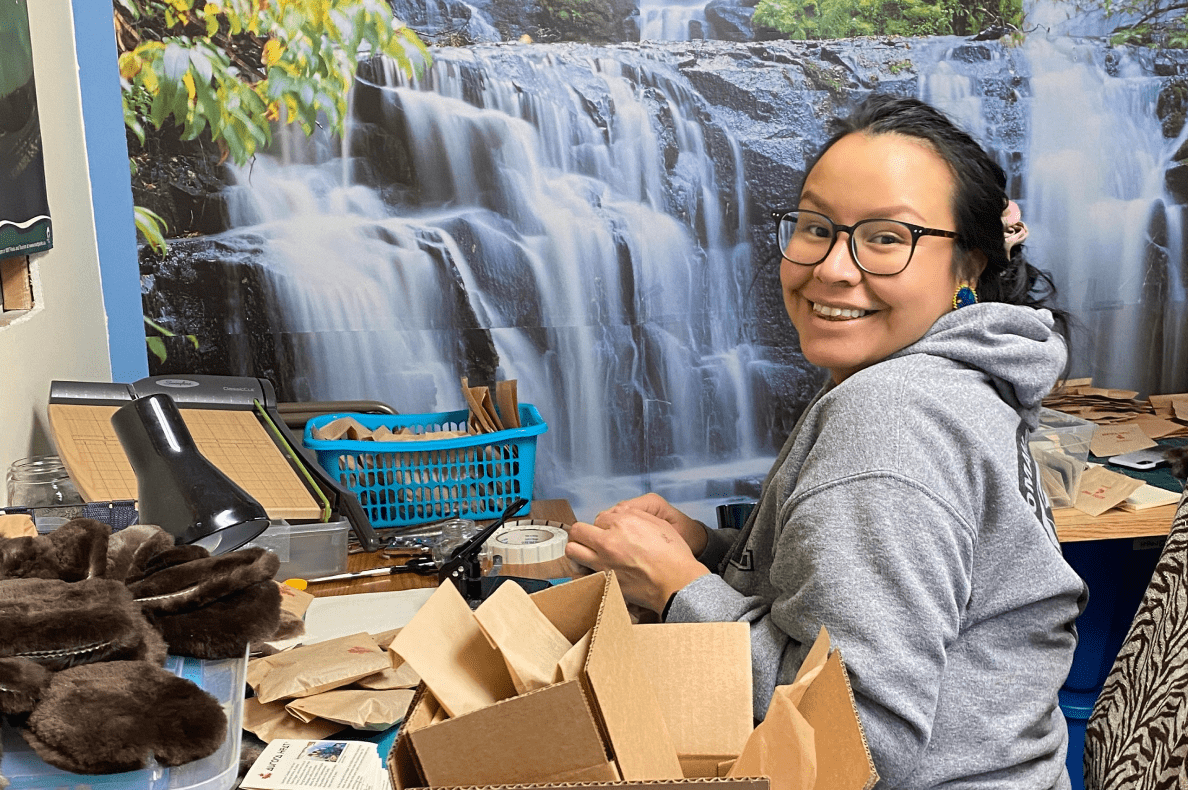 A family tradition of sustainability
It all goes back to family for Dragon.
When my father passed away, I thought a lot about my parents' remarkable life together, the traplines, and the beautiful fur he gifted us. I thought about how fur endures time; I longed for a way to carry on the family tradition. I wanted the world to see that trapping is a positive connection to the land.


In 2015, she created Aurora Heat to carry forward that legacy.
The brand aims to support Genuine Mackenzie Valley Fur and NWT beaver pelts to create a line of practical and sustainable products, with the most popular being hand and foot warmers for adults and kids. The dense beaver undercoat is designed by nature to be warm, lightweight and durable – the ultimate protection from cold, Dragon explained.
"It's utilitarian, but there's also a real beauty. It's a natural product that has this incredible longevity. The people who bought the very first warmers seven years ago are still keeping warm with them today."
Operating out of a 1,000-square-foot workshop in Fort Smith, Dragon is the company's creative engine, designing all the products currently in production, plus a backlog of a dozen ideas yet to hit the market. Each has the goal of helping people keep warm, keep healthy and/or improve their mental health.
That last one might surprise people, Dragon said. But she hears from customers who embrace the warmers as a soothing connection to the natural world.
"Sometimes it's the only natural thing a person has. Maybe everything they are wearing at that moment is synthetic, but this little square of fur of ours is their connection back to nature," Dragon said.
Enjoy this article? Read Ecommerce Insider magazine for more insights, tips and articles like this.
Download the magazine
Ecommerce growth and community growth
Nearly three-quarters of early sales were driven by products sold via Yellowknife retailers to the 20,000-plus Aurora Borealis tourists arriving in the region every year. But when the pandemic hit in March 2020, and the borders closed down to tourists, the brand recommitted to its ecommerce presence.
In the first year of lockdown, online sales grew 10-fold and overall revenues tripled. Shopify has enabled Aurora Heat's ecommerce growth by allowing the team to seamlessly build a new website without outsourcing design development. The brand also uses numerous apps within the platform to handle email marketing, customer review aggregation, translations and currency exchanges.
The Aurora Heat team continues to generate interest in the brand through social media and paid/organic campaigns to drive people to the website, including
tapping into key search terms.
"You wouldn't believe how many people google 'hand warmers,'" Dragon laughed.
But that commitment has landed the NWT company on the first page of Google search results for "reusable hand warmers" in both Canada and the United States.
The brand also drives awareness through partnerships with organizations like Canada Snowboard and Nordiq Canada.
Aurora Heat has more than 300 five-star reviews. In fact, the overwhelming feedback inspired a branding change for the company – "authentic Canadian hand warmers" now reads "Canada's most loved hand warmers." "I find that people want to share. They took a risk and tried our Northern way of keeping warm; we keep hearing how they loved the product and that they tell all their friends," Dragon said. "Customer service has been a big part of this business right from the beginning. We enjoy connecting with our customers in meaningful ways."
Committing to sustainability
Dragon knows fur isn't popular with everyone and that it can generate a lot of hate. She has heard it. But instead of bristling, she tries to educate.
"I grew up with the Indigenous worldview that holds deep respect for the land and animals," she explained. "Trapping and harvesting fur are part of that relationship in our interdependency with the natural world. I'm proud my business reflects this and sustainability practices that cultivate abundance – from how we source our furs, to the delivery carrier we use."
The brand ships in simple, minimal packaging of recyclable, lightweight cardboard and paper inserts. The ornamental pieces in their collection (Christmas decorations and earrings) are not frivolous baubles but are created in an effort to use the whole pelt with zero waste.
Part of Dragon's sustainability commitment also involves creating positive impact in her community. In the NWT, upwards of half of Indigenous women are unemployed, so the 10 Indigenous women in the Aurora Heat workshop in a small town of 2,500 people make a difference.
Aurora Heat has also developed a strong social impact program, where a portion of every purchase goes to on-the-land initiatives for Indigenous youth, educators and knowledge holders. From supporting programs like Bushkids NWT and the Child & Nature Alliance of Canada, the brand makes a powerful, public statement about its commitments.
"We need to return to simplicity as much as we can and rely on natural products. If we ask that of our customers, we need to model that in our business practices," Dragon said.
Perhaps that's why the company website does more than simply sell – it delivers stories about the brand's commitment to the land and its people and brings the story of the products and Dragon's family to life.
"It's important to me that we are introducing people to a way of life in the North. I try to share what it is we're trying to do and why. That resonates well."
Dragon continued:
"When people read the story, and understand it, they gain confidence in our products. It's also a step toward reconciliation. It is very clear that they're buying an Indigenous product that is the result of thousands of years of Indigenous cultural knowledge. That's what we're offering. People are accepting our fur products and holding them in their hands to keep warm. It's very personal."
Sources:
Aurora Heat, Shopify, Google, Canada Snowboard, Nordiq Canada, Bushkids and Child & Nature Alliance of Canada word and design trademarks belong to their respective owners.
Want to take your ecommerce business to new heights?
Whether you're just beginning your climb or looking to scale new peaks with your business, our Canada Post ecommerce experts can help.
Let's chat