Be it over jagged peaks, down a raging river or across an omnichannel shopping experience, Mountain Equipment Company (MEC) prides itself on prepping customers for the smoothest journeys possible. It's all part of a strategy, company officials say, that will lead the brand – and its customers – into the future.
It doesn't matter to us how our customers want to engage, online or in store, ship or pick up, research online and buy in store, or just walk in, get information from our staff and buy. All these experiences need to be the same and as seamless as possible throughout the journey. That's the key to our future – balance. Sure, ecommerce is growing steadily, but our stores will always be the backbone of the organization. The outdoors is a tactile experience.
The pandemic created chaos for retail, but for MEC, the side effect of lockdowns and isolation created thousands of new customers inspired by a newfound love for the outdoors. More than three-quarters of Canadians said the pandemic gave them a greater appreciation for the outdoors, with more than half planning to embark on their first-ever outdoors road trip in 2022 to hike, bike, sightsee or camp1.
Those numbers are in line with a growing number of shoppers looking to align their purchases with their values. Almost two-thirds (65%) of Canadian online shoppers are now looking inwards, examining their core values and prioritizing what's most important to them in life. Three in five (57%) Canadians have been placing more emphasis on self-care over the past year, and almost half (49%) have been paying more attention to how their choices impact the environment2.
That kind of thinking further root MEC in its customers' minds. Like other lifestyle brands, MEC has formed a tight bond between its brand and its shopper's identity. Shoppers not only see themselves in the brand but in each and every product.
"Our customers know exactly what they want – right down to the tablets they use for rehydration, or the compass they want to use, or the electronics they want to wear," Gehres  said.
Enjoy this article? Read Ecommerce Insider magazine for more insights, tips and articles like this.
Download the magazine
Evolving an omnichannel strategy into the customer experience
Connecting customers and their much-loved products is exactly why MEC has dedicated itself to an omnichannel experience, as some of those products need to be experienced beyond digital.
Omnichannel is a word that gets thrown around a lot. I get that. But it's everything to our brand. Walk in the door of one of our stores; it's an experience. Shopping for outdoor stuff is exciting and sensory. You feel that paddle you are going to carry every day at summer camp. You smell the hot wax coming out of the ski shop or the grease from the bike shop. Those kinds of experiences don't translate well online.


That was the challenge during the pandemic when shoppers were forced to become solely tactical over tactile. They couldn't go into a store and feel the product, so they ordered their tents, sleeping bags or food and it arrived at their door. Pure online worked. But it wasn't the same, Taylor explained.
How does he know that? His customers told him.
Taylor continued, "As soon as we opened the doors again, it was a massive flood of people. Sure, they wanted to see live human beings and talk to someone, but they also wanted to be able to touch and feel the items they wanted to buy. What did that paddle board feel like? How did that life jacket fit?"
For MEC, the in-store experience is as much about browsing and information as it is buying.
Let's use climbing as an example. That's a pretty intimidating pursuit to a novice. If you've never done it before, it's great to talk to someone in person. The internet can help you, but it can't answer every question or solve every challenges completely. You still need the voice of experience.
"For us, our stores are our member experience centre – starting right off with our experienced staff," Gehres said. "You come into one of our stores, and you can find someone who actually has done the climb or trail you want to do, and they can tell you exactly what you need. We can have that conversation right there, right in the store.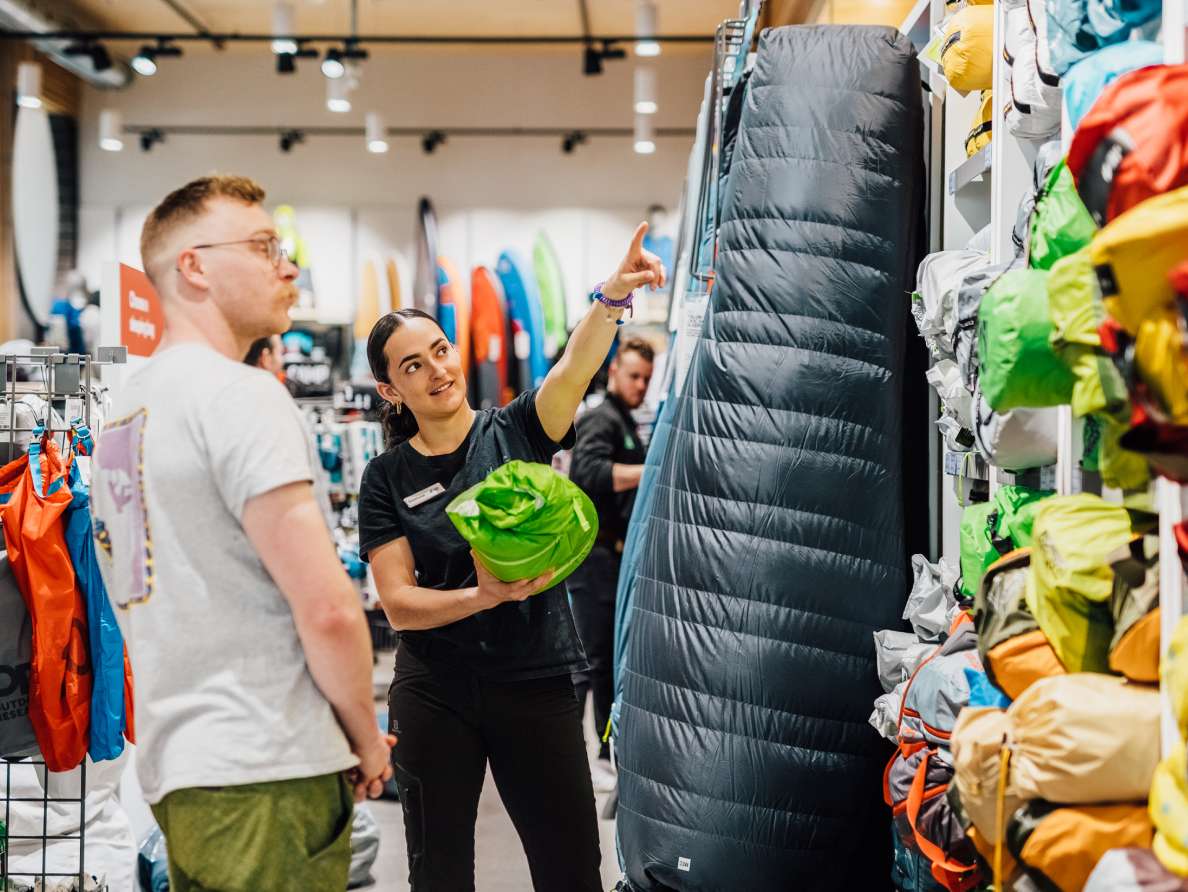 "Having an actual engagement with someone who has done it before, who can tell you what it is like, how to move from being a beginner to an expert, someone who can give you advice, that's the key. That's why the brick-and-mortar locations are super important and will never go away."
Balancing the best of online and in-store shopping
MEC is heavily investing in its frontline staff to accomplish this because "that's where you win the day-to-day battle in retail," Gehres said.
The store's online traffic remains higher than its 2019 levels, but MEC has seen its shoppers embracing the omnichannel journey. They have an idea as to their preferences, but it's an evolving picture, Taylor stresses.
"Our job as a retailer is to help our shoppers figure out what our shoppers want and how they want to get it – and that's a big challenge for all of us. We're figuring it out with the consumer at the same time. It's like this live science experiment that's happening to all of us. It's such an exciting time. Retail is not dead. It's having an amazing resurgence in a good way."
Sources:
1 Leger Marketing poll, Canadians eager to explore the great outdoors and travel within Canada this summer, December 2021.
2 Canada Post, Phase 5's Canadian Online Shopper Study, May 2022.
Want to take your ecommerce business to new heights?
Whether you're just beginning your climb or looking to scale new peaks with your business, our Canada Post ecommerce experts can help.
Talk to an expert