The holiday season, also known as peak season, has always brought an influx of orders for online retailers – and this year will be no exception. Online sales go hand in hand with returns. 44 per cent of Canadian shoppers returned at least one item purchased online last year – compared to 37 per cent in 2019.1 Ensure your business is equipped to meet shoppers' expectations and build loyalty well beyond the holiday season with a well-planned return policy.
Your return policy matters
Your customer experience extends far beyond purchases. In a recent survey, 44 per cent of consumers revealed that offering flexible returns is a factor that influences their choice of retailer2 and 56 per cent of online shoppers will abandon their carts due to a lack of flexible return options.3 Delivery and returns are clearly a big factor in your customers' decisions to buy, so take the time to ensure your return policy is customer friendly. Clear delivery timelines and easy return processes will help your brand build goodwill, build confidence in your business and ultimately win sales.
Here's what you need to do to succeed – both during and beyond the holiday season.
Do what you can to avoid returns
To minimize returns without sacrificing customer experience, here are some things your business can do that ecommerce customers say minimize the likelihood of product returns:
Provide accurate and detailed product descriptions
More details lead to more informed purchases. 40 per cent of online shoppers say they would not have returned their item if they were given more accurate and detailed descriptions prior to purchase.4
Provide accurate product measurements
Exact measurements will help online shoppers understand how a product will fit into their lives – before it's delivered.
Include high quality pictures of items
Give shoppers a complete view and full understanding of your product with detailed photos. Sharing images from different angles, realistic product placements and interiors can build buyer confidence and prevent surprises upon delivery.
Provide a size chart specific to each item
One-size-fits-all sizing doesn't always apply. Item-specific size charts can help prevent returns. 37 per cent of online shoppers say they've had to return items because they didn't fit.5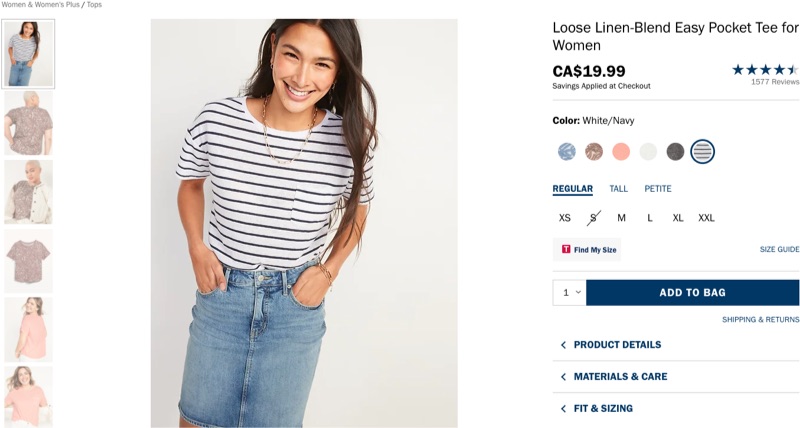 Old Navy's website provides ample product information in their detailed product view to empower their online shoppers to buy with confidence.
Not only will this information help minimize returns, but additional details about your products can help convert browsers into buyers.
Dive into Canadian ecommerce expectations, returns research, best practices and market trends.
Download our guide
Craft a best-in-class return policy
Online shopping became a regular occurrence as we adapted to the COVID-19 pandemic. Today, the majority (84 per cent6 ) of shoppers expect to shop the same amount or more online in the coming year.
Based on our consumer research, here are some elements to keep in mind when crafting a customer-focused return policy for your business:
Make it clear
Make your return policy easy to locate and understand. Feature key policy changes, like an extended return deadline during peak season, directly on your home page. This small change could boost your shopping cart conversion rates. In fact, 63 per cent of shoppers will abandon their cart due to concerns over the business' return policy.7 The clearer your policy, the more likely it is that consumers will shop with you.
Make it simple
Offer a simple returns process. Consumers evaluate how straightforward your returns experience is before they make their gift purchases. This is especially true during the holidays as they want their family and friends to have an easy process when exchanging or returning gifts.
I requested a return and then a shipping label was emailed to me. I sent it back for an easy return, and the money was credited back to my card quickly.
Make it convenient
Consider extending your returns window during peak season. For almost half of consumers, flexible returns are a top reason to continue shopping from a specific retailer.8 Expect this number to be higher throughout peak season as customers look for longer return periods so their recipients have time to return gifts, if needed.
Consider extending returns for purchases made from late November into January, or even early February. Keep in mind that due to the increase in online orders, returns may take longer to reach your facilities than in previous years.
It was easy to go online and get a prepaid shipping label. I just repackaged the item and dropped it off at a post office. I appreciate having return shipping paid, it makes online shopping with this store a real option.
Make it flexible
A staggering 61 per cent of shoppers will stop shopping with a retailer if returning an item was inconvenient.  Give customers options that let them decide how they'd like to make their returns. For example, offering both in-store and mail-in returns gives customers flexibility and builds confidence which can translate into future purchases. Consider covering return shipping charges as 73 per cent of shoppers will shop more often with a retailer who provides free returns.10
The best experience I've had is when I ordered online with free shipping and then was able to bring the item to the store to process a return/exchange. They were friendly, apologized for the defective item and offered a free replacement delivered to my home or a full refund. 
Tip:
Make it easy for customers to get a return label from you – either on-demand or right in the box. This goes a long way in creating the right experience. Our Returns Guide provides in-depth benefits and tips to set up both return label options – helping you decide which strategy works best for your business.
As peak season approaches, taking the time to evaluate and polish your return policy will help your business. In addition to encouraging holiday shoppers to shop with you, you will build brand confidence and customer loyalty by providing an end-to-end shopping experience tailored to the needs of online shoppers.
Sources:
1 Canada Post. Canada Post Consumer Survey, 21-211, June 2021.
2-3  Canada Post. 2021 Canadian Online Shopper Study, 21-205, April 2021.
4-5 Canada Post. 2019 Canadian Online Shopper Study, 19-201, April 2019.
6-10 Canada Post. 2021 Canadian Online Shopper Study, 21-205, April 2021.
Return solutions that drive success.
Discover our suite of return solutions to help you drive sales and meet customer expectations.
Contact an expert