No matter where you live in Canada, you're likely aware of a Canada Post retail outlet in your area. With nearly 6,000 physical locations across the country, we have the most expansive retail network in Canada.
This network ensures Canadians can access the tools and services they need to do business every day. From dropping off parcels and stocking up on shipping and mail supplies to getting key information, our vast network and dedicated employees are there to support you and your small business needs.
Find us from coast to coast to coast
We're pretty much everywhere in Canada. We have retail outlets in every province and territory. In fact, most Canadians reside within just 5 km of a post office!
When it comes to shipping, our retail network is the largest in Canada. This means Canadians who use our products and services can expect the same standard of service at any retail location. It also makes it easy for online shoppers in Canada to pick up their parcels from convenient and secure locations; this is key if direct delivery to a home address or mailbox isn't possible. Online shoppers also benefit from this convenience when dropping off returns.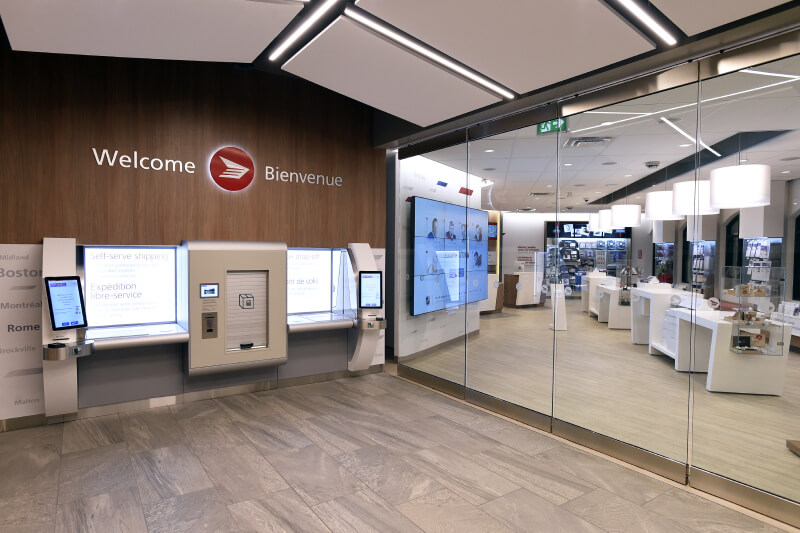 Subscribe to our small business e-newsletter for the latest articles, resources and news.
Subscribe
Community hub post offices
In addition to supporting mail pickup and product returns, we're introducing community hub post offices. They provide additional services to rural, northern and Indigenous communities that are often underserved when it comes to financial and community services.
In October of 2021, the first community hub post office opened in High Prairie, Alberta. In addition to core postal products and services, customers in High Prairie now have access to secure 24-hour parcel drop-off and pickup services, parcel lockers and contactless induction. The community hub post office also offers financial services such as Canada Post MyMoney Loans, small business support services, electric vehicle (EV) charging and a community directory.
As part of our efforts to deliver a stronger Canada, these new community hubs aim to help solve accessibility issues and improve the lives of those in rural, northern and Indigenous communities.
Learnings from the community hubs will benefit all Canadians and small businesses across the country as they will be used to improve our services throughout our entire retail network.

Find your nearest post office location through our find a post office tool.
Our staff and services
Our retail staff are there to support your business with mailing, receiving and shipping in Canada and beyond. They are trained to assist you with label printing; receiving your parcels or mailings; and supplying you with packaging, tools and products designed to help you ship safely, affordably and efficiently.
Shipping Labels and Supplies
We work hard to make shipping in Canada easy. That's why our online shipping tool, Canada Post Snap Ship™, enables you to create your own shipping labels wherever you manage your business – at home, office or warehouse. Snap Ship also enables you to create and generate a QR code that you can bring to one of our retail outlets where our staff can print your label for you. This saves you time as all the required information to send your item will be completed before you even enter the post office!
Planning to ship something internationally? Don't forget to fill out the required documentation before you head to the post office to ensure a seamless handoff.

Learn more about the international shipping process and requirements.
There were so many days where I would just go to the Canada Post office with a half-wrapped package and be like, 'Help me, please! What am I doing wrong? What am I doing right?' And they were just super kind at the post office; they always just helped me out, showed me what I needed to do, gave really good advice.
Our retail locations sell a variety of packaging supplies – mailers, boxes, bubble wrap, tape and everything you need to ship.
In an effort to continuously improve our environmental practices, you may also notice that more than a dozen products sold at our retail outlets were revamped to use less plastics and more sustainable materials.
Stop by one of our retail outlets to stock up on the essentials. If you need a helping hand ordering something that's out of stock, our clerks can help you order them in our online store.
Canada Post's people
The retail employees you meet at our post office locations are an essential part of our company. They represent how we do business with Canadians and are the face of our company across the country. They work directly with our customers every single day, helping them purchase and use our products and services while providing consistent and exemplary customer service.
In all of the different places I've lived, and wherever I engaged with my business, I found that the Canada Post offices – the people in there and the way that systems ran – were all really comforting because it was all the same and I felt like I could walk into any post office, get my questions answered, get it all sorted out.
Our retail versus online services
While our retail locations and employees are always there to assist you with your business needs, there are benefits to completing parts of your shipping transactions online – such as label creation and customs form completion. When you create shipping labels online with Snap Ship, for example, you will enjoy greater discounts than you can get by walking into a post office.
Get more information on small business shipping discounts.
To save yourself time at the post office, print and affix your labels before heading there to drop off your parcels. Customs forms must be completed online ahead of shipping. Doing this saves you time and effort at the retail counter and ensures that your packages make it across borders seamlessly so you can focus on other aspects of your business.

Learn more about the international shipping process and requirements.
Whether visiting our retail locations is a part of your daily routine, or the post office is a place you only visit once in a blue moon, our retail employees are ready to support you and your small business on your journey.
We're here for you
Discover what Canada Post can do to support your small business and learn more about the Canada Post Solutions for Small Business™ program today.
Get more info