Twice he's touched the roof of world, reaching the highest summit on seven continents. Before that, he became the first Westerner in 50 years to cross the Empty Quarter of Arabia, the world's biggest sand desert. Adventurer, author, filmmaker and CEO, Jamie is the main keynote speaker at Think INSIDE the Box 2016. The event showcases cutting-edge strategies to maximize your direct marketing impact.
In 2002, Jamie opened a retail store in Calgary, selling products he personally puts to the test on his trips around the globe. Six years ago, he launched an e-commerce operation to sell a range of active lifestyle products to shoppers across Canada. His business, LiveOutThere.com, was recently ranked one of Canada's 50 fastest growing companies by both Profit Guide and Alberta Venture magazines. – he also was nominated for Canada Post Ecommerce Award – should we mention here also?
Use direct mail as the foundation for your next integrated campaign
Download INCITE
Jamie's compelling and passionate presentation will illustrate the lessons his life as an adventurer has taught him about being a better marketing leader.
Here's a sneak peek at some of his advice.
Bring a sense of urgency to work
Cut down on complacency and get the quality you want by giving projects the time and attention they deserve.
"The more seriously you take the work at hand, the more fulfilling it is and the better results you'll get.  I try to carry a similar intensity that I might use on Everest to leading my organization," Jamie says. "I try to carry a similar intensity that I might use on the side of a mountain to leading my organization and making business decisions. I've found that to be enormously successful."
Don't dawdle with decisions
Sitting on a decision too long can end up being costly. While it's not wise to be hasty, you need to make up your mind.
"If you're hanging off a cliff, you only have so much energy," Jamie says. "If there's a storm approaching, you only have so much time. You can't defer to the next day or when we come back on Monday. You've got to make a decision now."
Keep your main goals in mind
Day-to-day details can cloud your vision of your ultimate goals. If you want to realize them, make sure you don't lose sight of what's required to get there.
"You get overwhelmed by a thousand details and all the other forces at play," Jamie says. "You need to be able to focus and say 'What's the most important thing I need to do right now?' It took me 1,300 kilometres of walking with a camel through the desert to figure that out."
Let there be laughter!
Serious business doesn't always have to be serious. Have fun with your work mates, and don't get too down when times are tough.
"What we're doing is serious, but we won't take ourselves too seriously doing it," Jamie says. "There's a sense of buoyancy, a sense of laughter, and a perspective to be had. I find that pretty important."
Want to hear more?
Come see Jamie and others at Canada Post's Think INSIDE the Box Direct Marketing Conference.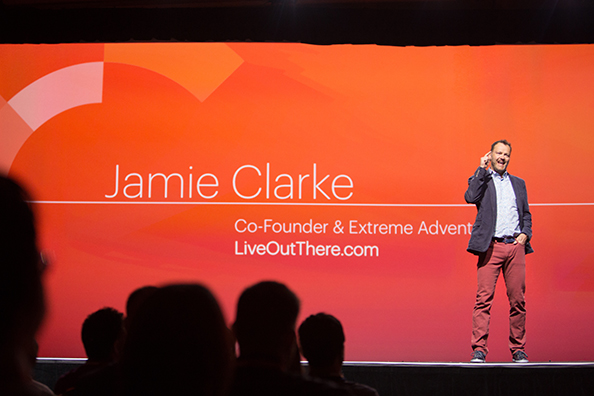 Contact your Canada Post representative or Register online today.
Put your ideas into action!
Learn how Canada Post can help you deliver real results by adding direct mail solutions to your marketing mix.
Contact us