Better marketing results can be achieved by reaching potential customers in their homes. This is because home is the place where most consumers make critical decisions, and contemplate and assess their potential purchases, wants, and needs. It's the coveted place where savvy marketers compete to hold consumer attention, and there's no better way to get through to them there than with a compelling, tactile, and targeted direct mail piece.
Use direct mail to make a deep impact
There's a reason direct mail has been a go-to marketing media since 1000 BC – it drives results. Today, marketers often focus their attention and budget on email and digital advertising, but direct mail shouldn't be overlooked as part of the mix. Top marketers like Neil Patel (hailed by Forbes as one of the world's top 10 marketers) recognize its ability to drive great results, so don't miss out.
Recently, Canada Post conducted scientific research in an effort to quantify the effectiveness of direct mail in comparison to digital advertising. The findings were measured based on the impact the two different medias had on consumers' brains. The results were shared in a whitepaper called A Bias For Action.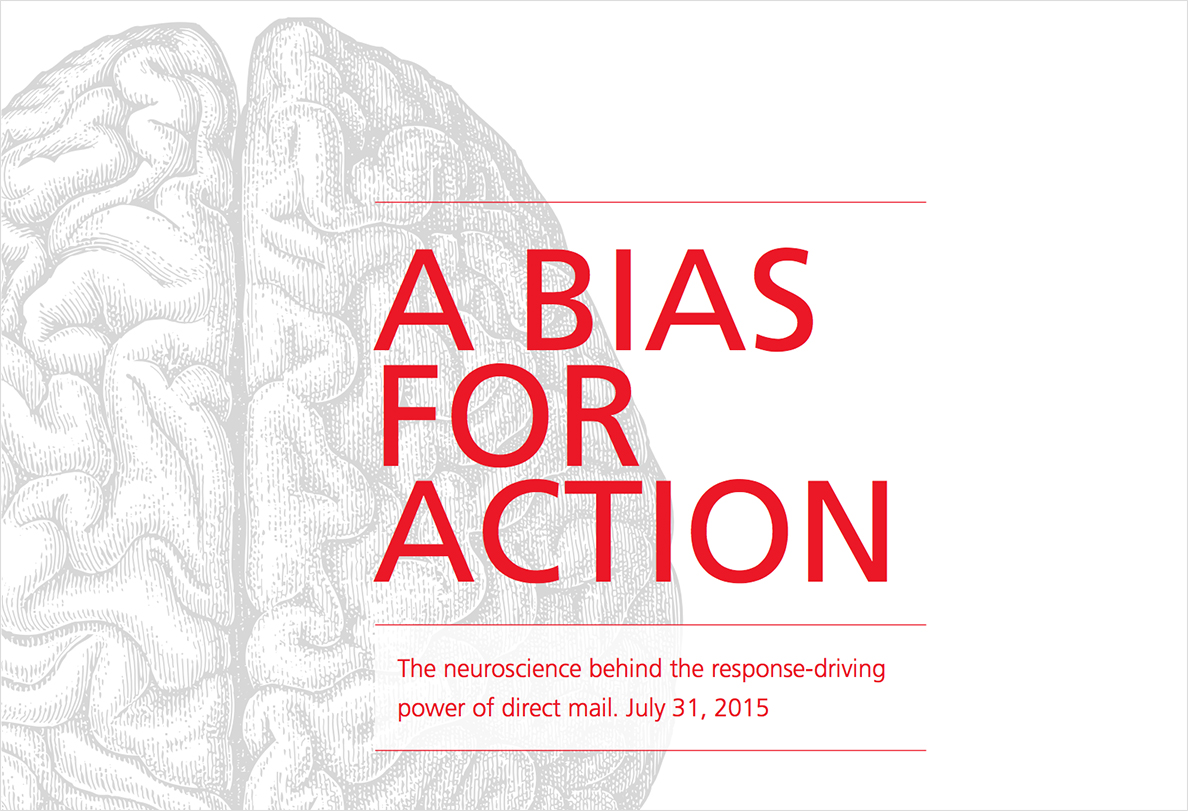 The research revealed that campaigns that integrate direct mail with digital make a strong impact. This is because direct mail is persuasive, easy to understand, is visually processed quickly, and drives consumer behaviour.
Get better results by amplifying your marketing mix
Canada Post dove a little deeper recently with cutting edge neuromarketing research. The results, published in the whitepaper Connecting for Action, revealed that direct mail and digital are stronger together. When paired with digital advertising in integrated campaigns, direct mail optimized consumer action, emotional engagement and brand recall. People paid 39% more attention to integrated direct mail and digital campaigns than to single-media digital campaigns, and consumers had 40% higher brand recall when direct mail followed email. Better brand recall improves the odds that a customer will trust a particular company, associate the brand with a product, and ultimately buy from them.
The research demonstrated that people are hardwired to pay more attention to marketing that has a tactile component. This is because it takes 21 per cent less mental effort to process direct mail and it prompts a 20% higher motivation response than digital. Pairing direct mail with your next digital campaign could increase the likelihood that people will pay attention to it and take action.
How to drive better campaign results
There's no better way to optimize your campaigns for success than by incorporating direct mail into your marketing mix. To drive great direct mail results, keep these five key principles in mind.
1. Be tactile
Because most people receive a small volume of physical mail, in comparison to a large volume of emails, it can be much easier to stand out in the mailbox than in the inbox. This doesn't require a huge budget to achieve – marketers just need to think creatively. The physicality of direct mail offers marketers the ability to send something surprising, memorable, and tactile to recipients. Marketers and businesses should invest in sensory direct mail pieces to drive results.
There are many ways to make a statement with direct mail. For example, new innovations in print technology offer sensory ways to make pieces unforgettable. An eye-catching piece is a great place to start.
Marketers can command attention with die cut pieces, or novelties like glow-in-the-dark ink. Innovations like scented ink and textured paper can help them tease other senses as well.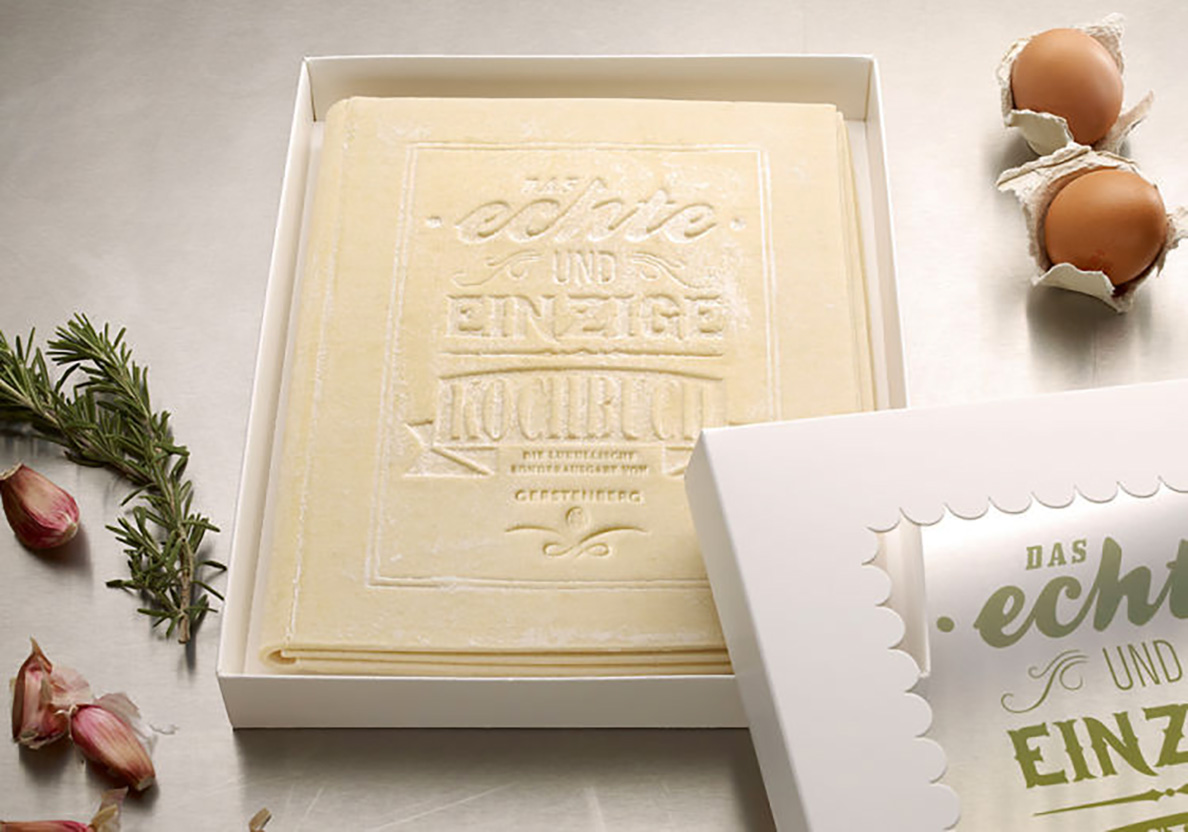 Source: korefe.de
2. Think beyond the letter
In 2015, direct mail was the main marketing channel for FinTech companies in the U.S. They know it offers a powerful physical way to send a message. BNZ New Zealand is a great example of a FinTech business that highlighted the tactile nature of direct mail. They created a direct mail campaign to increase enquiries for their premier product, home loans. The campaign yielded great ROI, leading to a 13% increase in enquiries. Their mailing showed homeowners across the country that they were throwing away a ton of money on their home loan, and that a loan from BNZ could help them stop the bleeding. To reinforce their message and drive their point home, BNZ mailed out letters attached to bundles of real shredded banknotes. The message was loud and clear because recipients could literally hold onto their potential losses and assess the damage. That kind of drama can't be achieved with email or a letter alone.
3. Step it up to stand out
Like Fintech businesses, Telco companies have long relied on direct mail, but their strategy for its use is quite different. They tend to invest in the message more than the medium. Lindsay Bentley, a Canada Post Manager of Commercial Marketing, thinks they could benefit from it more with larger investments in design:
Telco companies are very focused on sticking to a tight budget for each mailing piece, opting for basic pieces. They are missing out on an opportunity to engage their customers in a very meaningful physical way. Print technology innovation has given marketers the ability to engage customers through multiple senses. Things like scent or texture can be added to enhance the physical brand experience for a greater campaign impact. The goal should be to engage their customers more.
4. Send some love
Direct mail offers them the ability to effectively cross-sell within their existing customer base, and allows them to leverage richer offers to incentivize existing customers to buy more from the brand. Sending customers a personalized offer by mail also makes them feel valued, which these businesses recognize.
These companies are clever in their use of direct mail to target, upsell and yield maximum returns from their existing customers, while simultaneously showing them that they care through their messaging and special offers.
5. Be a sharpshooter
When you go hunting you don't shoot blindly and hope for the best. Before coming to Canada Post, Bentley worked in marketing, supporting a few major Telco companies. She spent over six years at Rogers Media. During her time in the industry, she observed that the major players used mass mailings to cast a wide net. That strategy worked in its own way, but since then, the big fish have adjusted their approach. They now rely heavily on customer data to fine tune their outreach in order to get a more precise and predictable bang for their buck.
They're getting more refined in their targeting in order to avoid over-mailing. They're getting smarter on where they're going to get the best ROI from.
Even the little guys can make a splash when they use data to their advantage in direct mail campaigns. For example, Woosh, an independent wireless network in New Zealand, generated great ROI from a basic and affordable direct mail marketing campaign, designed to boost sales for their phone and broadband package. They used data to target their main competitor's unhappy customers, sending a letter that appeared to be a bill that was ripped in half. Their message was simple – switch to Woosh and stop overpaying the big guys for wireless. The company had a small budget, but still managed to do something creative and tactile with the mailing. The ripped bill conveyed a strong message that would likely have been lost in a digital-only campaign, and their targeting got that message into the right hands.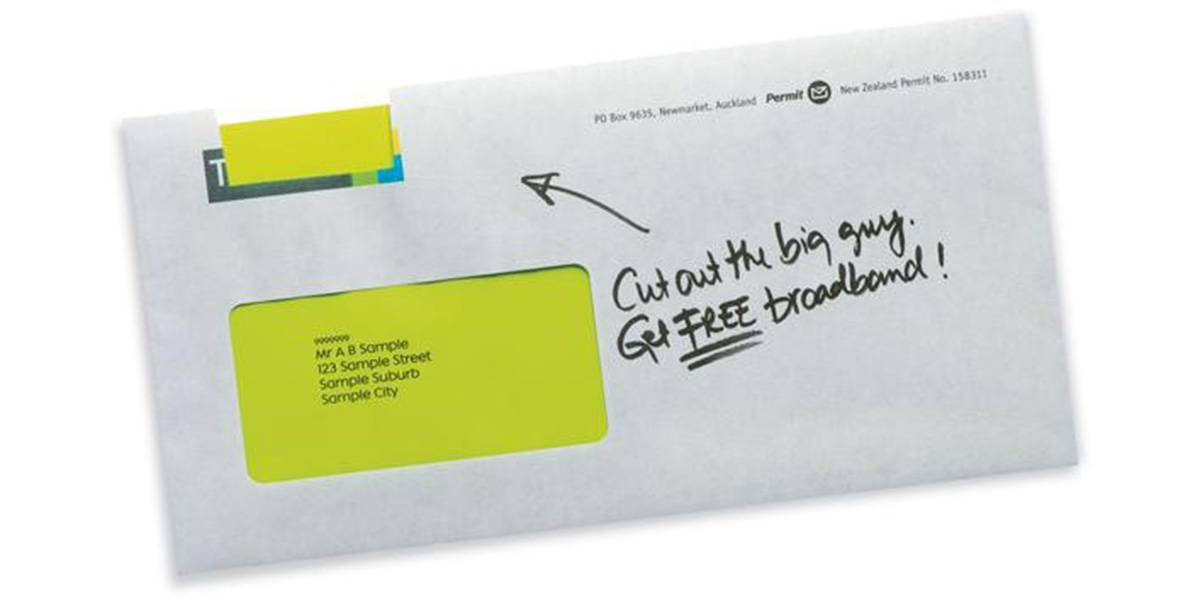 Source: directnewideas.com
To get the most out of your next marketing campaign, you'll need the right approach. Whether you're re-evaluating your marketing strategy, or simply looking to optimize what you're doing, the key to success can be a multi-channel campaign that mixes digital and direct mail.
Learn how to integrate Canada Post Smartmail Marketing™ into your next direct mail campaign.
Contact an expert