The exciting touch of the new Yaris. With a new multimedia communication platform, Touch and Go, and several other exciting innovations and features, the new Toyota Yaris was the smartest and most exciting car in its segment.
Get out of my dreams, get into my car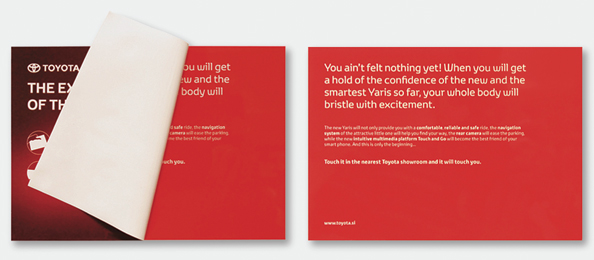 The new Yaris simply had too many improvements and features to talk about. They were best discovered first-hand at a Toyota dealership.
So, to drive traffic to the showrooms, and to communicate the awesomeness of the new car, an electrostatic mailing was created with the help of the Institute for Practical Physics.
Made with plastic and special foil, this mailing literally gave recipients a hair-raising experience when they opened it. It brought to life the message, "The new Yaris. You'll bristle with excitement."
Electric success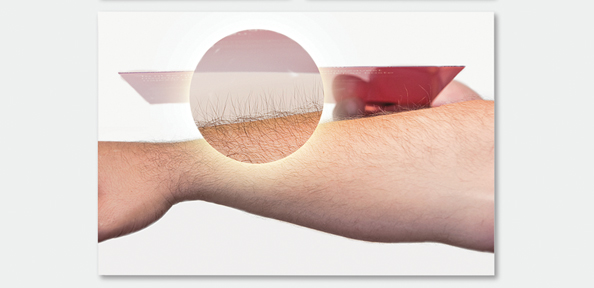 Response rates for this campaign were 20% higher than they were for the previous best-performing mailing.
The idea was also picked up by specialist websites that used it as an example of best practices for direct mail.
Don't waste your moment
One of the questions we often ask clients is: 'what response do you want?' Invariably they answer, 'we want people to buy our new car.'
We tend to pry further. ' What response do you want when they first open your direct mail piece? When they first think about your brand? Do you want them to laugh, to be amazed, do you want them to pin the letter to the wall, or use it to enter a draw?' If you don't think about that incredibly important moment, then you are probably wasting your money.
A well planned physical mailing can deliver a moment of sheer amazement. And that moment can ultimately lead to better response rates and sales.
Talk to a Canada Post representative to learn how Smartmail Marketing™ can support your initiatives.
Contact us