Sharing Canada's stories through stamps
In 2019, we celebrated our country, its people, rich history and breathtaking nature through 18 different stamp issues. We paid special tribute to Canadian pioneers and innovators who've shaped our nation.
Leonard Cohen
We paid homage to the masterful Leonard Cohen with three stamps celebrating the world-renowned Canadian singer, songwriter and poet.
The images on the stamps and the Official First Day Covers highlight three periods of his illustrious music career: his impressive debut in the 1960s; the resurgence of his popularity in the 1980s and early 1990s; and an 18-month world tour he undertook in his seventies, followed by a final burst of creative genius.
For more than two years, Canada Post worked closely with the Cohen family and estate to choose an approach, designs, images and texts that reflected and honoured his global stature.
The stamps were unveiled at the Montréal Museum of Fine Arts, in the city of his birth, overlooking the Cohen mural that rises 21 storeys above Crescent Street. They were issued on September 21, 2019, which would have been Cohen's 85th birthday.
More than 1,500 people visited a special event at a post office on Sainte-Catherine Street in downtown Montréal to be among the first to buy the stamps and Official First Day Covers.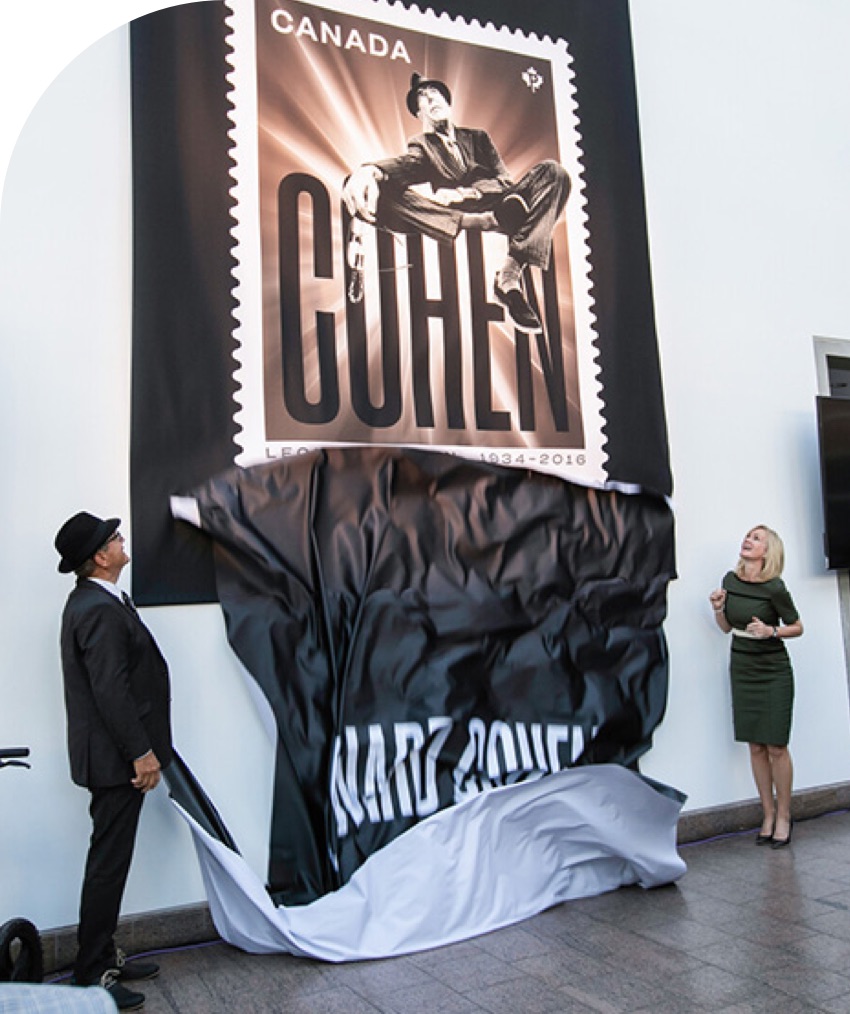 Apollo 11, 1969-2019
We issued two commemorative stamps celebrating the 50th anniversary of the historic Apollo 11 mission and the Canadians who helped make it possible. On July 20, 1969, the world watched in awe as astronaut Neil Armstrong took humankind's first steps on the moon. The historic mission featured significant Canadian ingenuity and innovation.
Engineers James Chamberlin and Owen Maynard – born in Kamloops, B.C., and Sarnia, Ont., respectively – were instrumental to the success of the Apollo program. They are featured on the Official First Day Cover.
The first legs to stand on the moon were actually from Héroux Machine Parts Limited of Longueuil, Que. Now known as Héroux-Devtek, the company manufactured the spider-like landing gear legs on the lunar module. The legs are still on the moon.
The stamps were unveiled by Her Excellency the Right Honourable Julie Payette, Governor General of Canada, at a special ceremony in Longueuil at Héroux-Devtek.
Albert Jackson – Black History Month
Regarded as Canada's first Black letter carrier, Albert Jackson overcame barriers to find lasting success. In 1882, he became the first Black letter carrier in Toronto, and likely in Canada. When he arrived at work on his first day, his would-be colleagues refused to train him and he was assigned a lower position. Debate over the situation raged for weeks until political pressure, especially from Toronto's Black community, triumphed and Jackson was able to walk his route. Jackson held his job as a letter carrier for the next 36 years until his death in 1918. During that time, Jackson pursued other opportunities for success, and accumulated nine properties across Toronto.
Canadians in Flight
Our Canadians in Flight stamp issue honoured three Canadians and two aircraft that blazed new trails in the sky. The stamps were unveiled at the Canada Aviation and Space Museum in Ottawa.
Elsie MacGill

Vancouver-born Elizabeth Muriel Gregory (Elsie) MacGill was an aviation engineering pioneer. She was the first woman in Canada to earn a degree in electrical engineering, to hold a master's degree in aeronautical engineering and to work as a professional aircraft designer. She was dubbed "Queen of the Hurricanes" in a Second World War comic book for her role in overseeing design refinements and production of Hawker Hurricane fighter planes.
Avro Arrow

The iconic Avro CF-105 Arrow was a twin-engine, supersonic interceptor aircraft. Developed between 1953 and 1959 to bolster North American defence, the delta-winged Arrow could fly at more than twice the speed of sound. It's considered one of the greatest technological achievements in Canadian aviation history.
William George Barker, VC

Born in a log cabin near Dauphin, Man., William George Barker, VC, was a First World War pilot and the most decorated member of the military in the history of Canada and the British Empire. His wartime service included 50 aerial victories. He was awarded the Victoria Cross for downing four German planes during his final fight over France in October 1918, despite being outnumbered and wounded. In 1919, after the war, Barker became the first Canadian pilot to carry international airmail.
Lazair

The Ultraflight Lazair – better known as the Lazair – was a family of twin-engine high-wing ultralight monoplanes designed by Dale Kramer of Port Colborne, Ont. With its true aircraft configuration and 11-metre, glider-like wingspan, the Lazair combined a light, efficient chainsaw motor with modern aircraft materials. Although production ended in 1985, it is considered one of the best light aircraft ever made.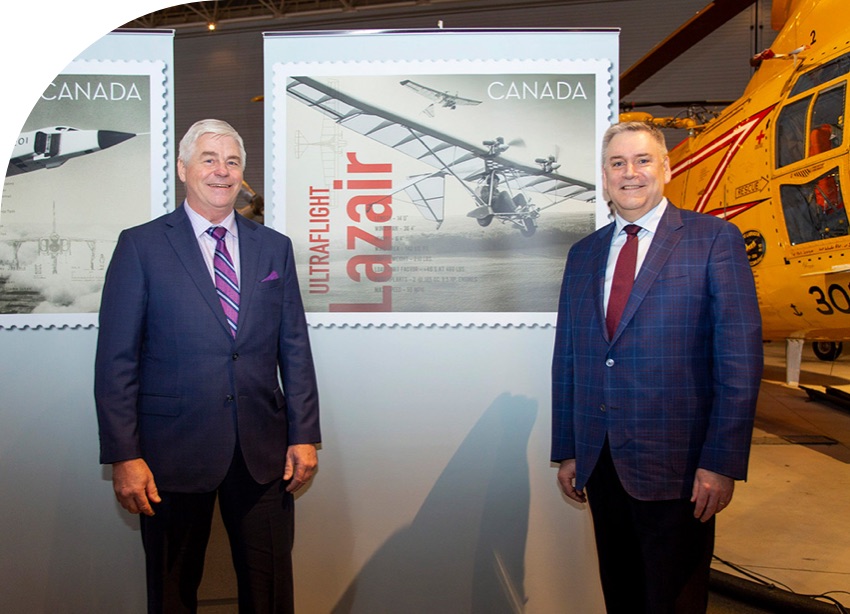 Punch Dickins

First World War ace C.H. "Punch" Dickins was an aviation pioneer and bush pilot. He flew 73 combat missions and was awarded the Distinguished Flying Cross. In 1928, for Western Canada Airways, he flew the first scheduled airmail delivery from Winnipeg to Edmonton. That same year, Dickins made the first reconnaissance flight across the unmapped barren lands of the Northwest Territories, covering more than 6,000 kilometres. During the Second World War, Dickins managed schools that trained air force pilots and headed the organization that flew North American-made planes overseas to aid the Allies. At de Havilland Canada, he influenced the design of the legendary DHC-2 Beaver bush plane.

Top-banner photos: On the left, Shawne Jackson-Troiano unveiled a stamp for Black History Month that honoured her great-grandfather, Albert Jackson, regarded as Canada's first Black letter carrier. On the right, Doug Ettinger, President and CEO of Canada Post, and Her Excellency the Right Honourable Julie Payette, Governor General of Canada, unveiled a stamp celebrating the 50th anniversary of the historic Apollo 11 mission and the Canadians who were instrumental to its success.