Canada Post is invested in the communities it proudly serves. Our employees live in the areas where they work and are committed to helping their communities thrive and succeed.
Supporting children and youth across Canada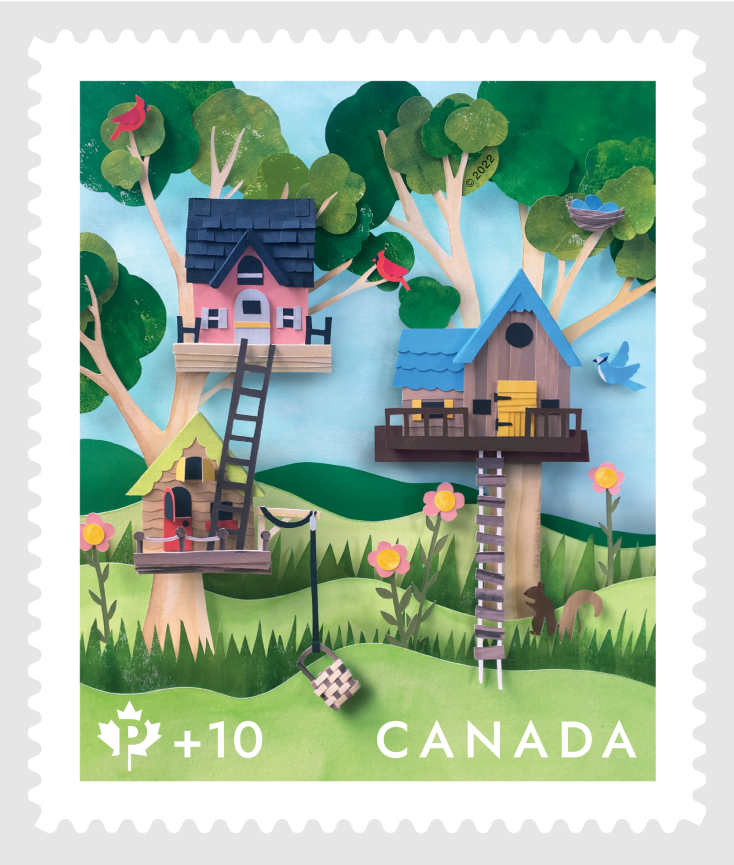 Each year, the sale of a special Canada Post Community Foundation stamp (2022 issue pictured) helps raise funds for programs that improve the lives of children and youth across the country.
The Canada Post Community Foundation is dedicated to improving the lives of children and youth across the country. Each year, the Foundation provides grants to schools, charities, grassroots organizations and other groups offering programs that support young people.
In 2022, the Foundation awarded a total of $1.3 million to 101 groups from every province and territory, funding programs focused on youth outreach, gender diversity, childhood health, supporting Indigenous youth, arts and recreation, mentoring, and many others.
Funds are raised through customer donations in post offices, voluntary employee payroll deductions and the sale of a special stamp issued each year.
The Community Foundation stamp is sold at retail outlets across the country. Retail employees select the stamp design every year. They also spearhead a five-week, in-store fundraising campaign. In 2022, that campaign and sales of the special stamp generated $806,000. Every dollar raised goes to charities and community organizations supporting children and youth.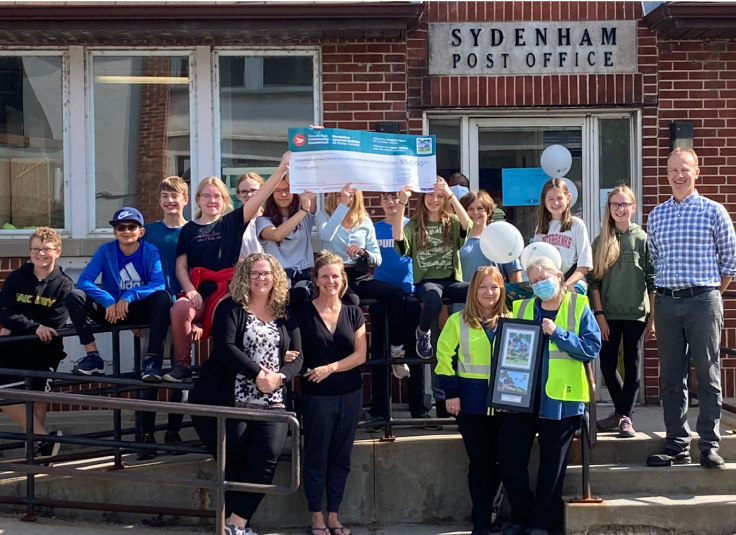 Loughborough Public School in Sydenham, Ontario received a Community Foundation grant to help build a greenhouse and teaching kitchen on the shared traditional lands of the Haudenosaunee and Anishinaabe peoples. Children and staff from the school (pictured) gathered outside the Sydenham post office for a cheque presentation.
Since 2012, the Foundation has awarded over $12.3 million to 1,100 projects across Canada.
As part of Canada Post's commitment to fostering reconciliation with Indigenous Peoples, the Foundation awarded the first annual Indigenous Truth and Reconciliation Signature Grant of $50,000. The grant is awarded to a local, regional or national organization offering programming anchored in the principles of truth and reconciliation.
The 2022 grant went to the Northern Nishnawbe Education Council in Sioux Lookout, Ontario, to support its Wake the Giant program. The goal of the program is to create stronger bonds, relationships and understanding between Indigenous and non-Indigenous people across Northern Ontario.
In 2022, the Community Foundation awarded 18 grants, totalling approximately $235,000, to programs supporting Indigenous youth.
2022 Community Foundation grant recipients
Applying for a Community Foundation grant
Santa's special helpers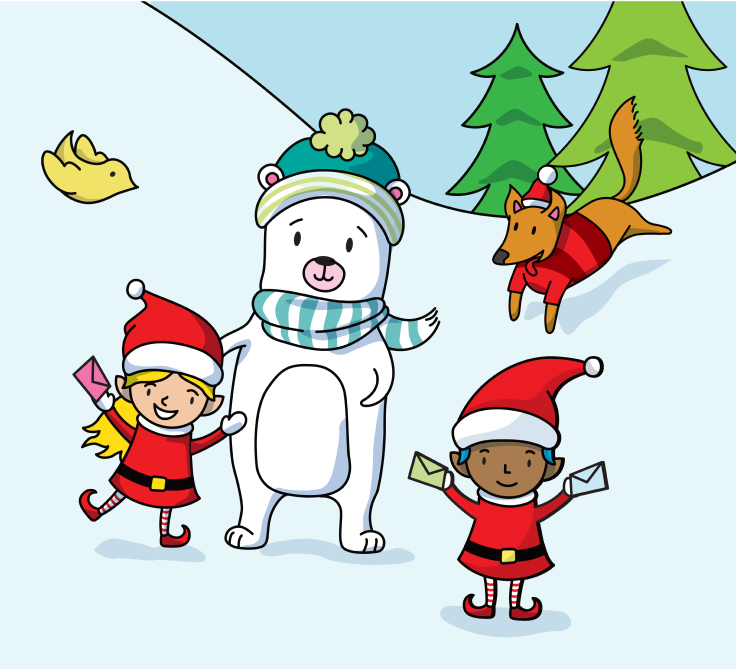 For four decades, Canada Post employees and retirees have been warming the hearts of millions through the Canada Post Santa letter-writing program.
Every November and December, our volunteer postal elves help bring the wonder of the holiday season to children across Canada and around the world.
When children write to Santa, our elves help him respond to their heartfelt letters. It's an important responsibility our volunteers cherish each year.
In 2022, 10,000 elves answered 1.4 million letters in more than 40 languages, as well as in the braille writing system.
Since the program started in 1982, it has delivered messages from Santa to more than 34 million children.
Celebrating Indigenous students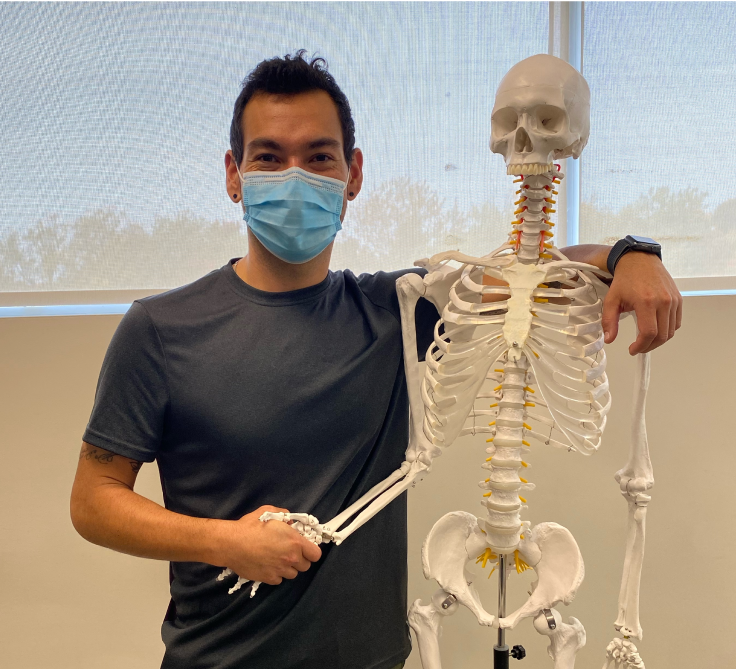 Chett Monague, who's studying at the Canadian Memorial Chiropractic College, received one of the Canada Post Awards for Indigenous Students. In 2022, he was one of 25 Indigenous Canadian students awarded a $2,000 grant to help cover the cost of their education.
Canada Post is committed to supporting Indigenous and northern communities. One way we do this is by helping First Nations, Inuit and Métis students renew their post-secondary studies.
The Canada Post Awards for Indigenous Students provide $2,000 to select students returning to college or university after at least a year away from school.
In 2022, 25 Indigenous Canadian students received a grant to help cover the cost of their education.
A panel of Canada Post representatives and a member of the Indigenous community read and evaluate all submissions and select the winners.
The awards were created in 2004 to celebrate the hard work and determination of Indigenous Canadians who've embraced a renewed pursuit of learning. Since then, more than 430 students have been recognized.