It's always a good time to strategize for the holiday season. That's why Canada Post recently surveyed 1,500 Canadian consumers to get their take on holiday shopping (both in-store and online), including what they're looking for from retailers during the hectic season and how their holiday shopping habits have changed in the last few years. What they told us offers brand new insights into how retailers can create a successful "golden quarter" – the kind of insights that ring true in any season.
Here are 5 key takeaways from our research which will help you achieve a successful retail holiday season in 2022:
#1: Peak season is beginning earlier and lasting longer
The evolution of ecommerce has redefined how consumers shop in both the physical and digital worlds. Consumers aren't confined by the boundaries of Black Friday and Cyber Monday – they're deciding when and how to browse and buy.
Brands need to be ready to meet shoppers wherever they are, whenever they happen to be there.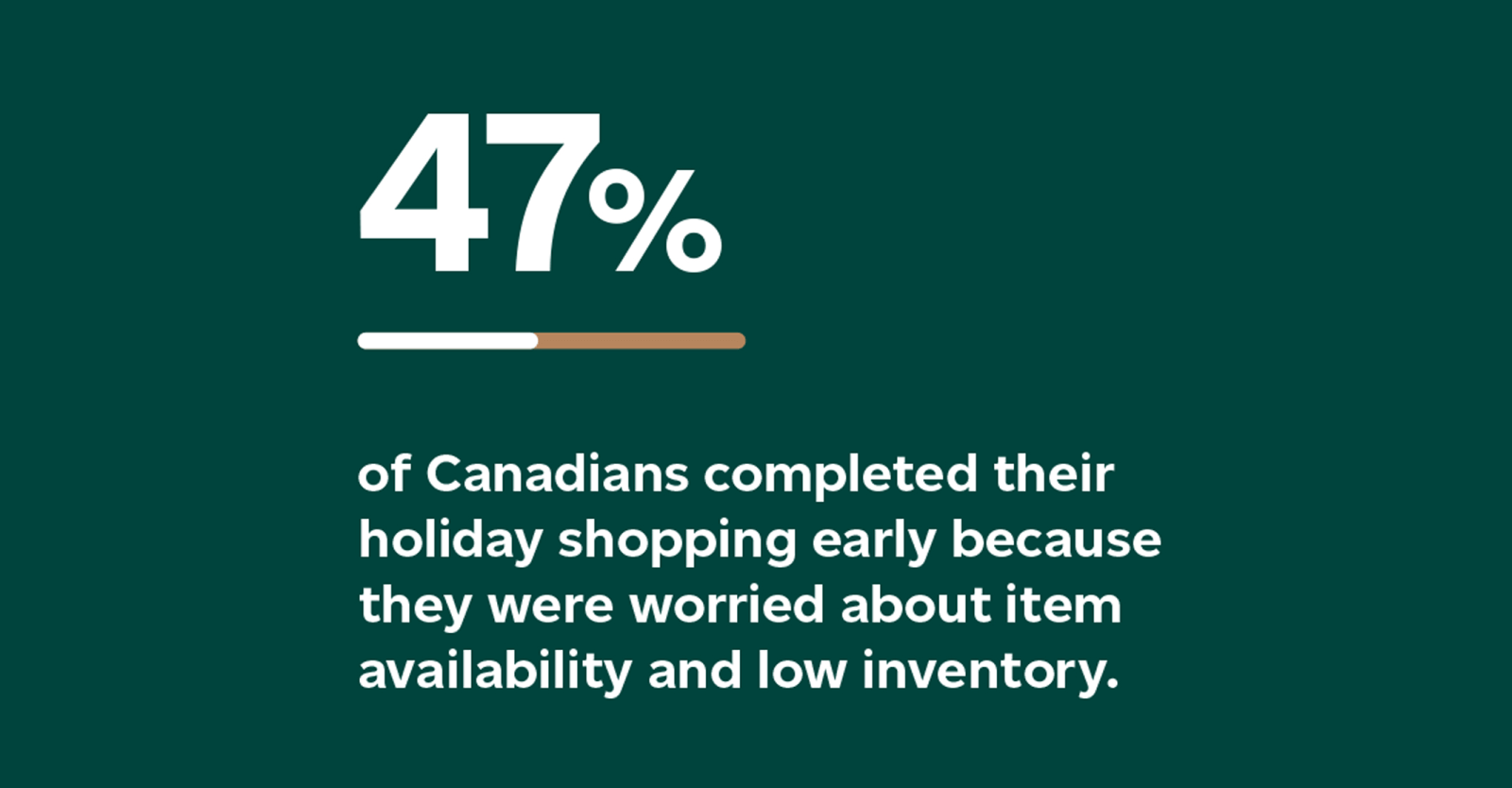 #2: Purpose-driven shoppers are on the rise
Consumers are becoming increasingly aware that their buying decisions can make a positive and meaningful impact on the world. Younger consumers in particular are migrating toward brands that weave ethics and authenticity into their business practices.
If Giving Tuesday isn't on your radar, it should be. It's a global philanthropic movement that takes place annually on the Tuesday after Black Friday/Cyber Monday. Charities, companies, businesses and individuals rally for their favourite causes, encouraging their network to make purchases and/or donations on the day.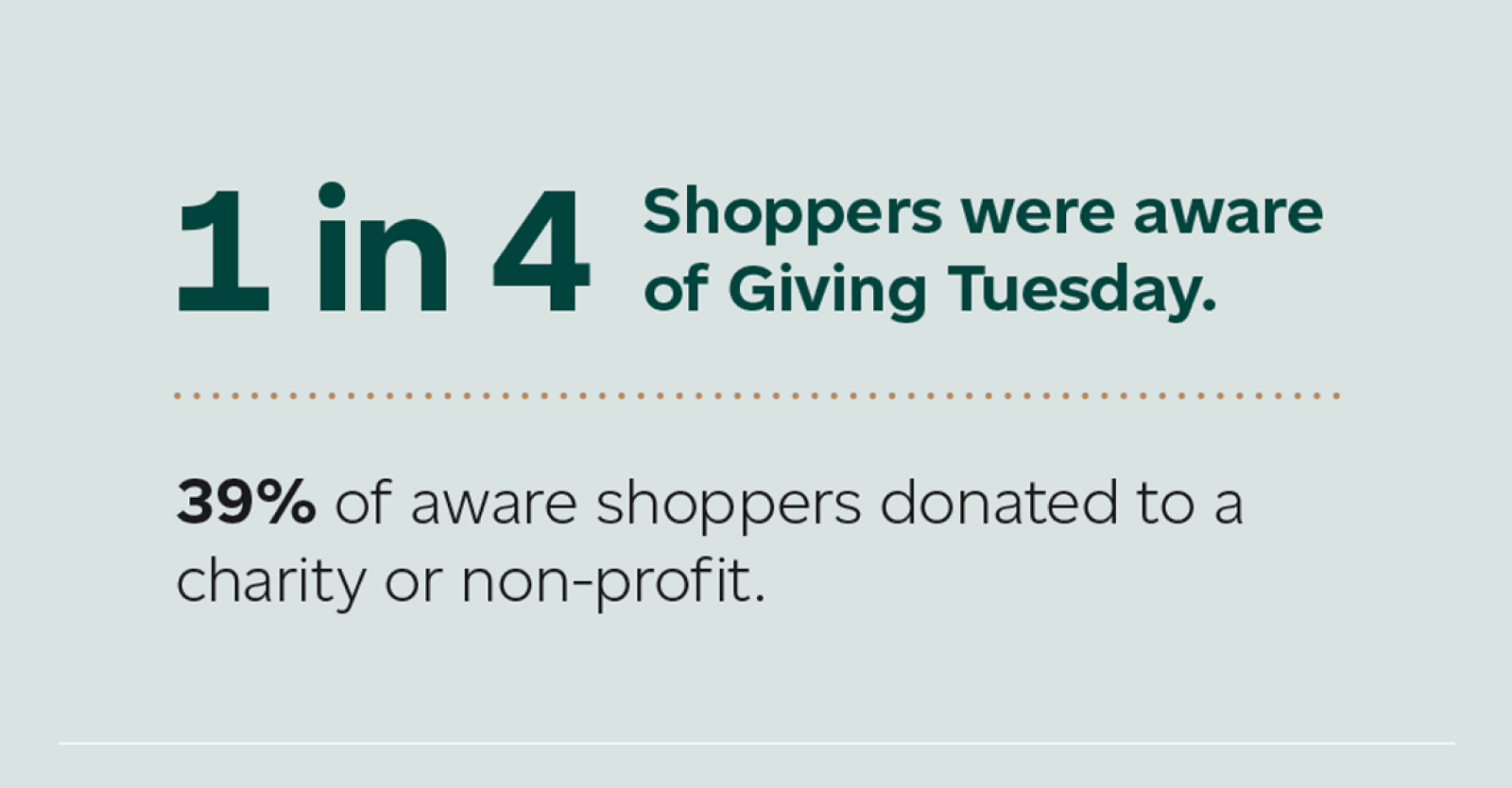 Many Canadian shoppers are well aware of this special day and are engaging in these campaigns. It's the perfect opportunity to align your values with your customers'.
#3: Shoppers' expectations of brands are rising
Shoppers want the entire purchase journey to be easy, convenient, transparent and full of options. Is yours hitting the mark?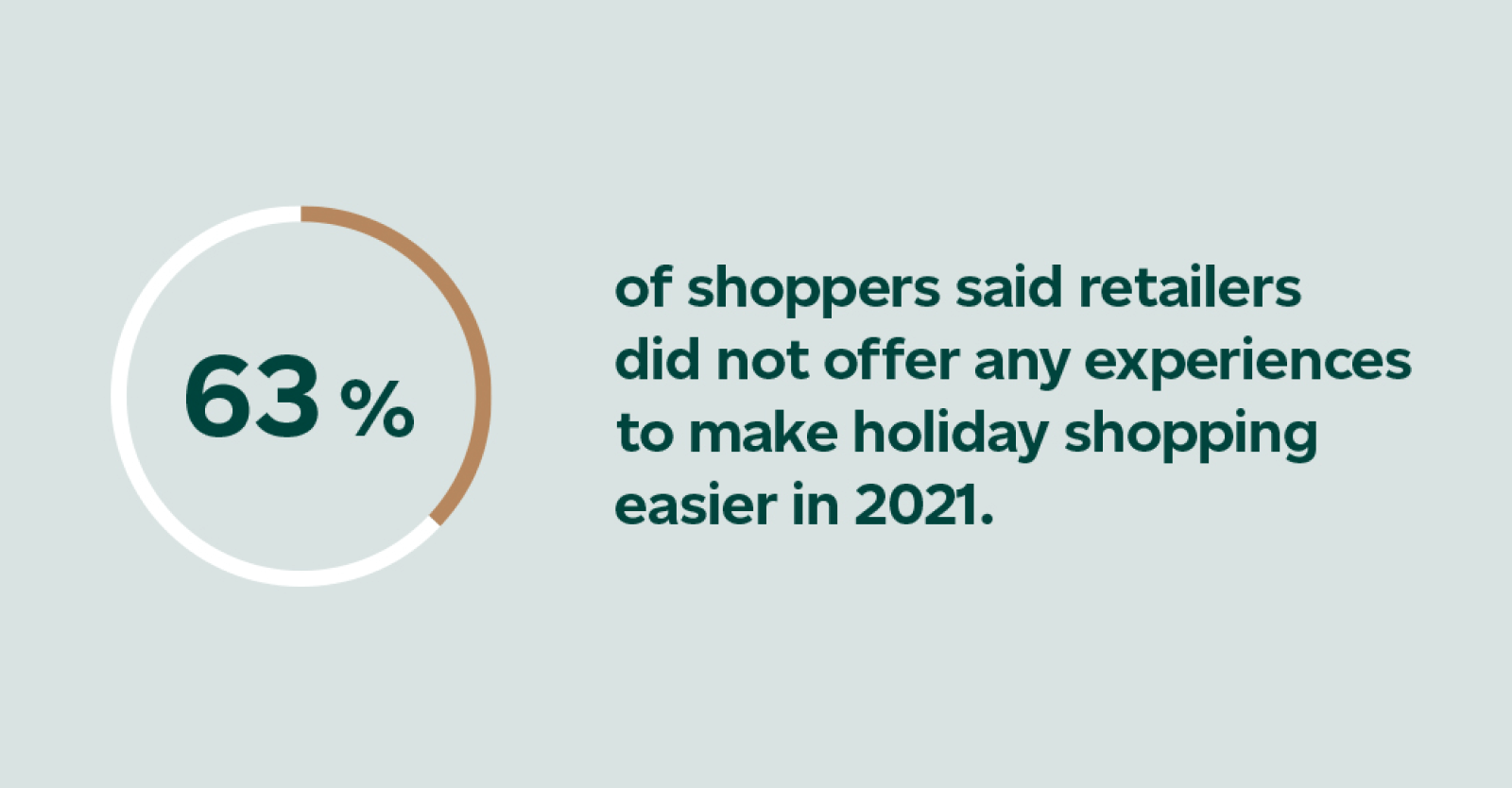 Enhancing your infrastructure, offering new features and capabilities and synching online and offline inventory will help you stand out and get the sale. This may require (often substantial) investment. But once you determine what is feasible (both in cost and time), the results will go a long way when it comes to attracting and retaining customers.
The online shoppers we surveyed offered suggestions for how to make holiday shopping easier. They said that retailers should offer:
Back-in-stock alerts
Virtual chat with a salesperson
Waitlists for hard-to-get items
Store pickup and/or delivery of in-store items
Try to incorporate these if you can.
Ready to make the most of the holidays?
We can help with every aspect of your
ecommerce strategy.
Contact an expert
#4: Shoppers expect omnichannel experiences
Shoppers expect you to meet them where they are, when they need you. Your marketing strategy should include appearing on the right channels to improve your discoverability and engagement. But how do you do that? Leverage your customer data to understand where holiday shoppers are coming in, where they drop off and how to get them back.
#5: Hybrid shopping is here to stay
Online shopping is here to stay, but the in-store experience still matters. "Shop your way" messaging encouraging all avenues of purchasing will continue to resonate.
Nobody's giving up choice. During the holiday season in 2021, there was nearly an even split between in-store and online purchases: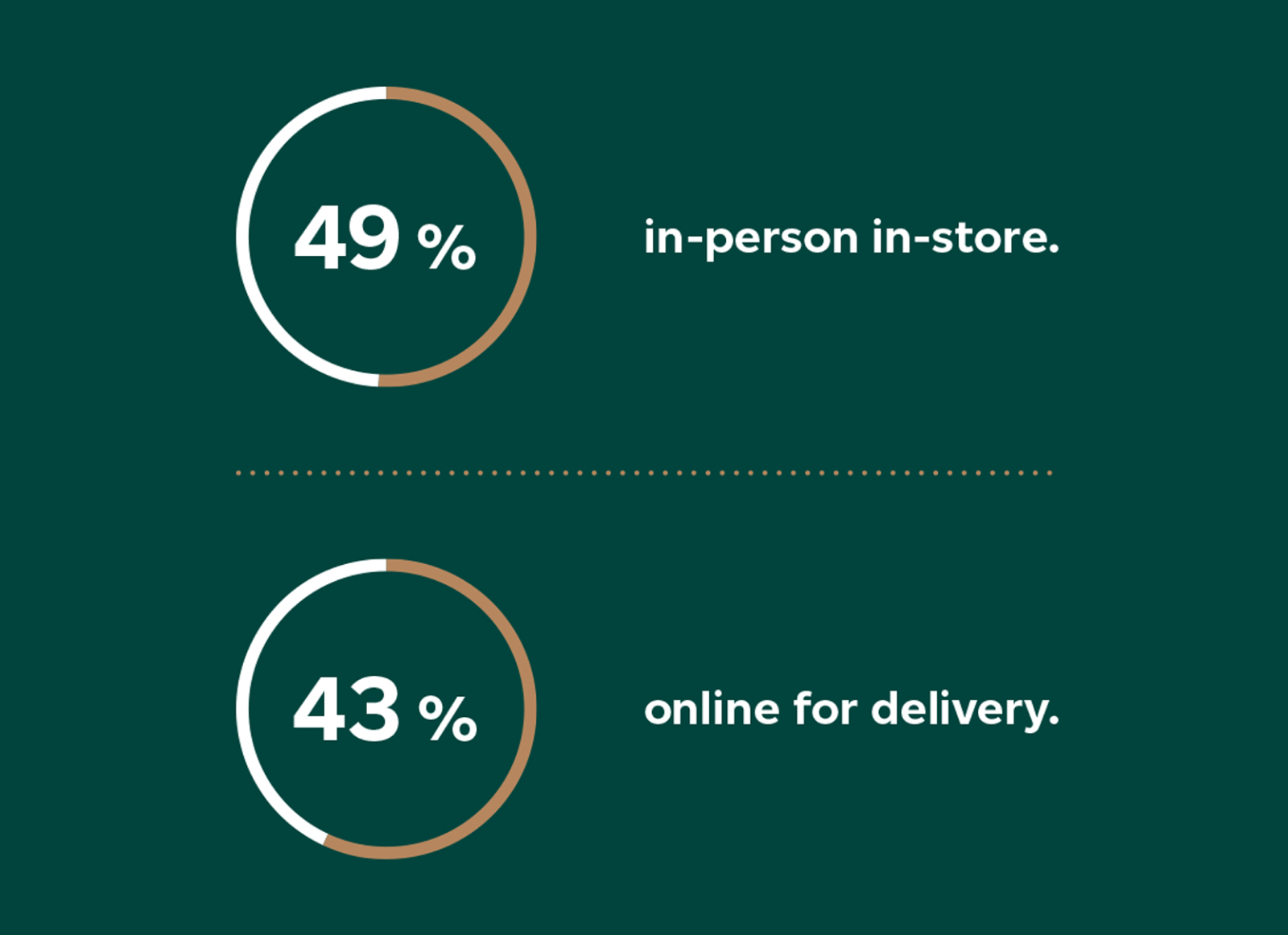 Several factors influence online holiday shoppers when it comes to making a purchase:
Results from a web search
Word of mouth
Promo or ad received via email
Loyalty programs offered by retailers in person at their physical store
In 2022, shoppers expect to make even more holiday purchases online for delivery, with less interest in curbside pickup options: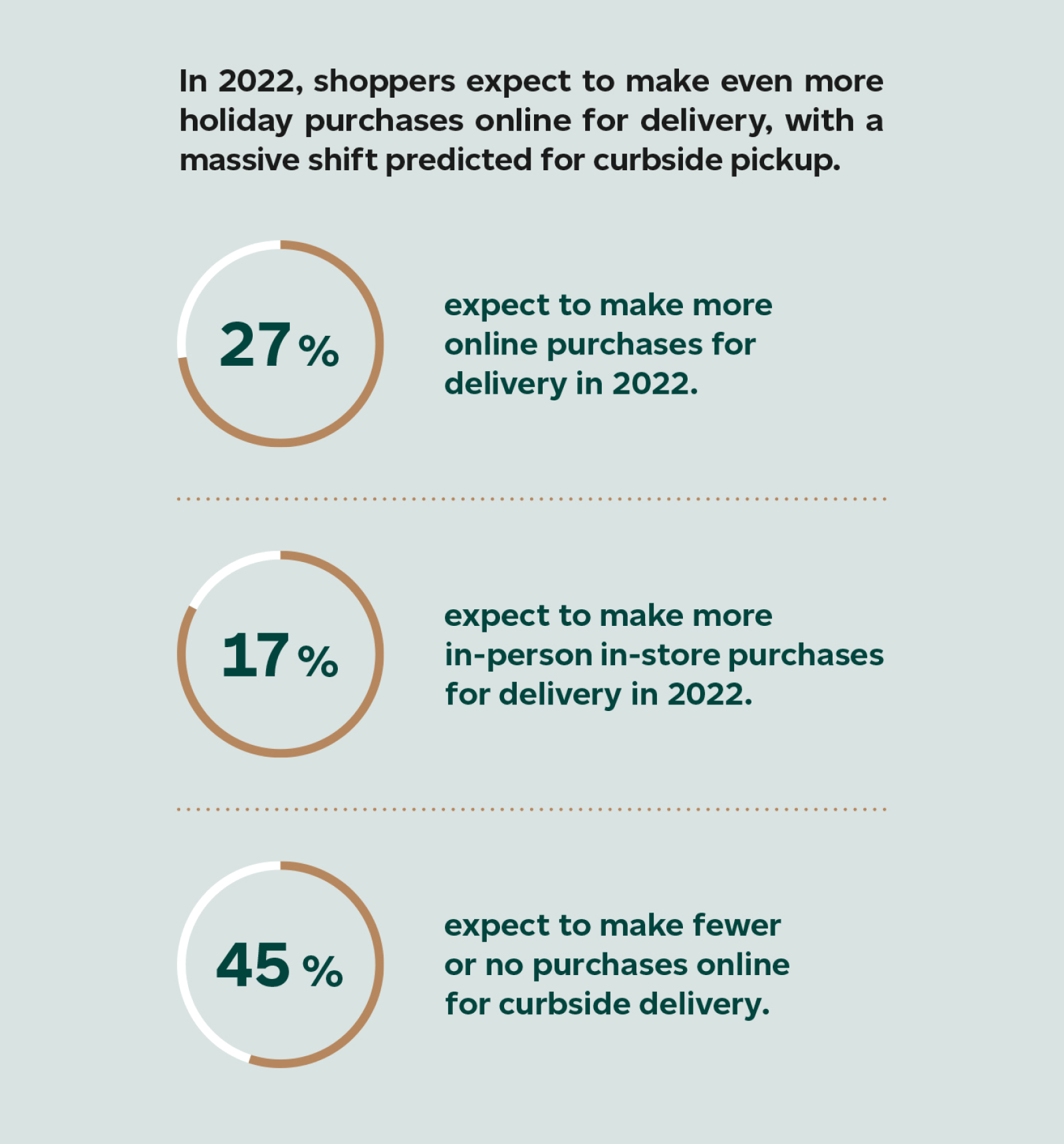 Armed with these new insights, we know your 2022 retail holiday season will be successful.
Sources:
The Strategic Counsel. Holiday Omnibus Report, January 2022.
Get all the insights
Download the full report to get all of our insights and actionable advice to optimize your holiday ecommerce strategy.
Get the report