Online retailers in the U.S. are facing an uncertain business future. The pandemic brought massive changes to the ecommerce landscape in a short period of time, but will these changes persist? What do consumers want today and what will they need tomorrow? Is Canada the right marketplace to grow your business? We're here to answer these crucial questions and to help you develop the best ecommerce strategy for your business.
Running a successful ecommerce business shouldn't be about trial and error. When in doubt, listen. Canadian consumers are expressing their evolving needs – which are in sync with the current wants and needs of American consumers. We're taking notes to help improve your understanding of the ecommerce trends and consumer trends that impact your business today and tomorrow.
Grow your business with Canada Post. We can help you tap into the Canadian ecommerce opportunity.
Contact us
Here are 8 notable trends for 2022 to inspire your thinking, fuel your planning and keep you one step ahead of the consumer – and your competition.
1. Canadian shoppers listen to other shoppers
User-generated content, or UGC, is created by consumers rather than businesses. That's what makes it so effective. Consumers devour this kind of content in the form of reviews, ratings, comments on social networks, videos and more. In fact, 59 per cent of Canadian online shoppers cite reviews and other user-generated content as reason to frequent a specific retailer.1
Shoppers appreciate retailers who showcase user reviews and other forms of user-generated content because it suggests that they believe in transparency and authenticity. These are attributes that can be absolute 'tie-breakers' when consumers pick one brand over another.
If you're not doing so already, encourage your Canadian customers to share their reviews, ratings and other feedback on your website and social networks. Consider incentivizing them with an exclusive discount code or, if you're on a budget, with a contest or sweepstakes competition.
User-generated content can help drive consumer engagement, establish credibility and generate traffic – all great reasons to put it on your checklist.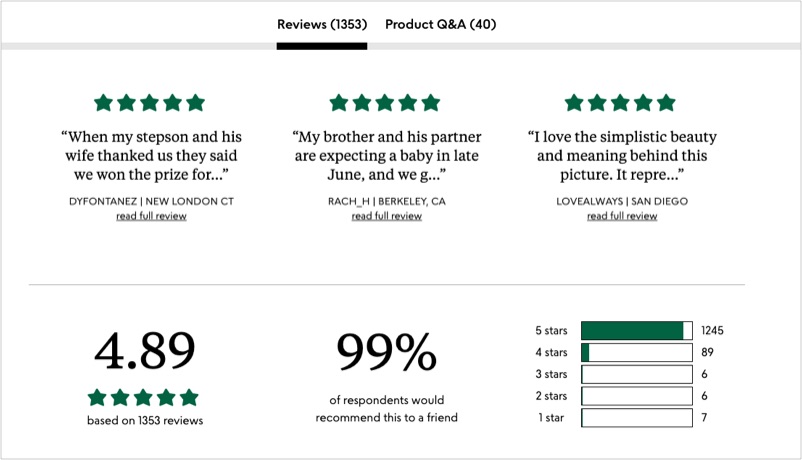 An example of reviews on a product page. Source: Uncommongoods.com.
2. A new age of ethical demands
Consumers are more aware than ever that their buying decisions can make a positive, meaningful impact on the world. Younger consumers are migrating towards brands who build ethical, authentic practices into their business efforts – with honesty, environmental and social governance at the forefront.
Here are 5 brand factors that influence where consumers shop online:




Think about ways that you can establish and communicate a distinct corporate social responsibility message. It may involve exploring partnerships with the community and suppliers, cutting back or providing options on the packaging you use during shipping or choosing sustainably sourced materials. Be transparent about your values and demonstrate to your shoppers why they are so important to you.
Explore the "Navigating the Canadian shopper journey report"
Download now
3. It pays to have influence
The surge in ecommerce in 2020 and 2021 had brands scrambling to keep up, bringing new products and services to market while addressing changing consumer needs. Many brands sought out content creators and influencers who could create reactive content – which consumers devour. It can be in the form of ads, reviews and videos shared across social media from celebrities, industry experts or just regular folks. It adds tremendous value to your brand.
The numbers are clear:

Brands like Smash + Tess, Coal & Canary and Cheekbone Beauty shared their approach to crafting an influencer strategy that works for their business and customers.
For more on how to make thoughtful influencer marketing decisions for your business, read our blog post, "The strategy behind brands leveraging influencer marketing."
4. Integrating online and offline advertising
Disruption has left many marketers searching for solutions to unlock growth and increase human connection with customers. Business owners and marketers must be savvier than ever. Acquiring sales and converting shoppers into customers is a multi-faceted approach. In 2022, expect to see the consolidation of online/offline advertising grow in popularity.
These advertising methods were most effective in driving consumers to make a purchase in store and online:


Integrated campaigns using Google, Facebook, Instagram, YouTube and more – in addition to physical touchpoints like direct mail – leave a deeper neurological imprint on consumers. Direct mail's unique combination of targeting, physicality and relevancy can amplify your digital marketing mix. If you need to deliver brand experiences right into the hands of the consumers that matter most to your brand, direct mail is worth considering.
For more on how direct mail can be a key part of converting your audience, read our blog post, "Innovative solutions that elevate direct mail."
5. World class customer experience
Every year is the year of the consumer. We've seen leading brands roll up their sleeves and prioritize their efforts on providing exceptional customer-centric experiences that keep consumers coming back for more. They've come to expect seamless experiences through the end-to-end shopper journey across all channels.
Everyone has their own personal reasons for shopping online, rather than in a physical store. Among those who shop online, their top motivation is: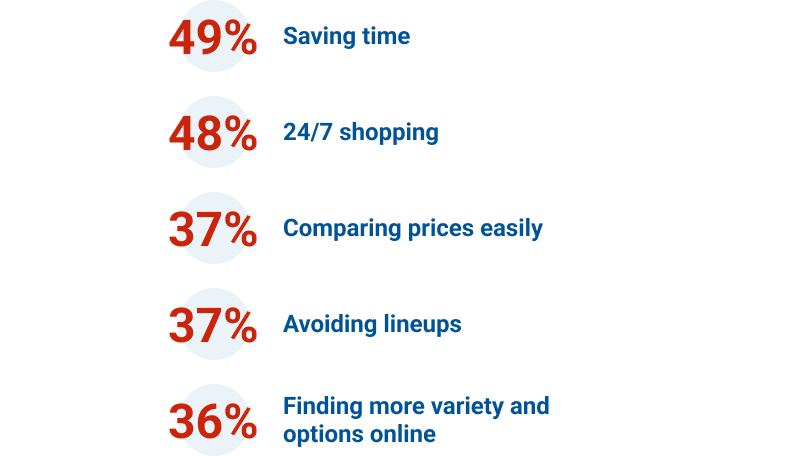 Shoppers will continue to evaluate retailers against one another – that's a given. Pay close attention to these motivators and strategize to increase visibility with consumers. Shoppers are actively searching for brands that use technology to improve price, variety and convenience.
6. A good return policy is a competitive differentiator
As online shopping has ballooned, so have returns. Rather than looking at returns as a hassle, consider it an opportunity to further distinguish your business from the pack.
Shoppers are strongly influenced by a good return policy. They are more likely to shop with online retailers that make it easy to: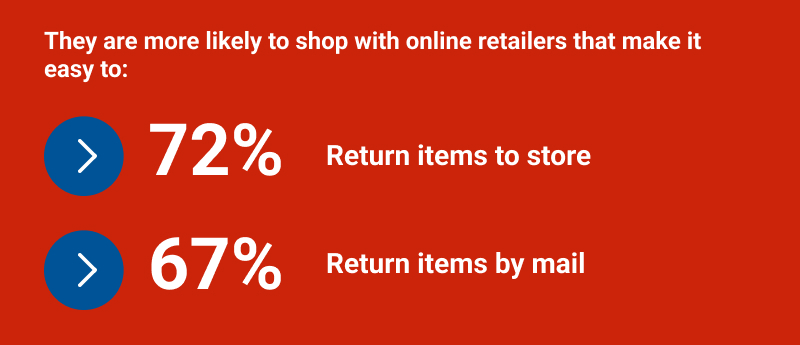 A returns experience that's complicated or costly taints the entire shopper experience.
Your returns strategy should strive for optimal convenience. Make your return policy clear and upfront on all key communication channels – from your printed advertisements to your website. If you can, offer consumers free shipping on returns – chances are your competitors already do.
7. Focus on carbon control
Working towards net-zero and carbon-neutral retailing remains a key influencer to sustainability-conscious consumers. The size of your carbon footprint and the genuineness of your public position are necessary parts of your business plan.


An important step in connecting with your audience is understanding how they feel about the environmental impact of your business. Evaluate how you can make meaningful and realistic strides. Sustainability isn't always easy. Have conversations with your partners and suppliers to find opportunities to improve your collective carbon footprint. Communicate these shared values and efforts with your customers.
8. Your customers can guide you
The shifts of the last two years have made it challenging to plan for the future. There are no easy short-term answers. The best we can do is continually listen to our customers and monitor how their needs are changing. That way, we can quickly shift when they shift. Every year, Canada Post invests in delivering industry-leading ecommerce and marketing research to Canadian online retailers. We can help guide you through what's happening – and why it matters – to help drive your business forward.
Source:
1 Canada Post. 2021 Canadian Online Shopper Study pg. 21-205, April 2021.
Grow your business in Canada
Get actionable insights that will help you grow north of the border. Sign up to receive quarterly ecommerce and marketing tips, discover what's trending and more.
Subscribe