If you're an online retailer in the U.S., the future of your business may feel uncertain. We all know that 2020 and the pandemic brought massive changes to the e-commerce landscape in a short period of time, but will those changes persist? What do consumers want today and what will they need tomorrow? Is Canada the right marketplace for your business? We're here to answer some of those burning questions to help you develop the best e-commerce strategy.
Figuring out how to run a successful e-commerce business doesn't have to be trial and error. When in doubt, listen. Canadian consumers are voicing their changing needs and preferences loud and clear – which are no doubt similar to the wants and needs of American consumers today. We're taking notes so we can improve your understanding of the e-commerce trends, and consumer trends, impacting your business today and tomorrow. Our goal is the same as yours: to help keep you one step ahead of consumer expectations – and your competition – as you expand your borders. To achieve it, we conduct our own exclusive research to ensure you are armed with the most accurate and up-to-date information on Canadian consumers.
Here are nine notable trends in Canadian e-commerce to pay attention to in 2021 and beyond.
1. Canadian shoppers listen to other shoppers
User-generated content, or UGC, is created by consumers rather than businesses. And that's precisely what makes it so effective. Consumers devour this kind of content, whether it's in the form of reviews, ratings, comments on social networks, videos and more. In fact, 32 per cent of Canadian online shoppers cite reviews and other user-generated content as reason to frequent a specific retailer.
Shoppers appreciate retailers who showcase user reviews and other forms of user-generated content because it suggests that they believe in transparency and authenticity. These are attributes that can be absolute 'tie-breakers' when consumers pick one brand over another.
So, if you're not doing so already, encourage your Canadian customers to share their reviews, ratings and other feedback on your website and social networks. Consider incentivizing them with an exclusive discount code or, if you're on a budget, with a contest or sweepstakes competition.
In short, user-generated content can help drive consumer engagement, establish credibility and generate traffic – all great reasons to put it on your checklist.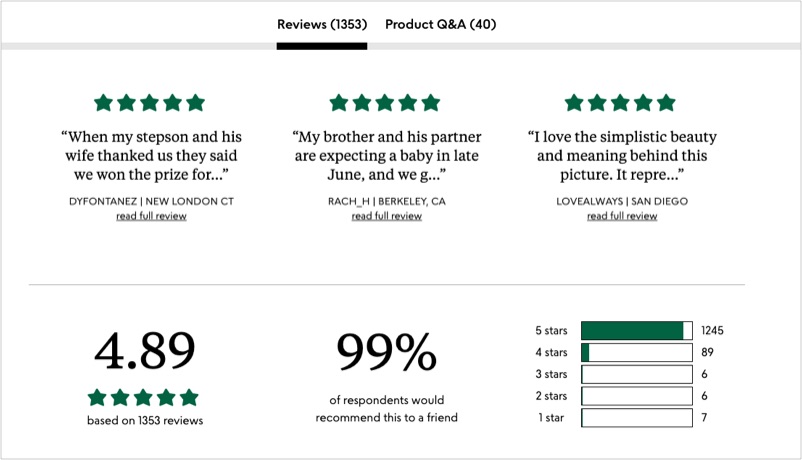 An example of reviews on a product page. Source: Uncommongoods.com.
2. Canadians appreciate exclusive product offers
Many Canadians will shop U.S. retailers to purchase products from brands they cannot access in Canada. In fact, 42 per cent of Canadian online shoppers will frequent a specific retailer that sells things that are hard to find elsewhere. To succeed with Canadian customers, offer or promote hard-to-find products at competitive prices.
Selling exclusive products may be a tall order for some businesses, so we're not suggesting that everything you carry must be next to impossible to find. Start with products that are difficult to source in Canada. For instance, consider carrying a popular line of products that's unavailable in Canada, or create your own product line. Once you have products that stand out in a crowded marketplace you can make them a focal point of all your communications.
But what if unique products are off the table for you? Corporate social responsibility influences consumers' buying decisions as well – and will continue to do so in the future. Stand out by aligning your brand with a good cause, giving back a portion of every sale to that cause. This strategy can help your brand get noticed. TOMS, for example, is well known for selling their signature shoes "one for one." This means that for every pair they sell, they donate a pair to a child in need.
3. Thinking green appeals to Canadian consumers
The pandemic seems to have replaced sustainability on the news, but that's only for the short term. Sustainability and other corporate social responsibility objectives will continue to be top of mind for consumers in the decades to come. In fact, 46 per cent of Canadian consumers will shop more often with retailers who take steps to reduce their carbon footprint.
Canadian consumers know that their buying decisions matter. Making consistent, conscious choices can make a positive and meaningful impact on the world. Younger consumers are known to shop small and green and actively look for brands that share their values. Think about ways you can establish and communicate a distinct corporate social responsibility message to your customers.
For eco-conscious Canadians that order internationally, consider shipping all their order items in one consolidated package to reduce packaging waste, or choose sustainably-sourced materials for your packaging and/or products.
Learn how we can help your business grow and thrive by attracting customers in Canada.
Contact an expert
4. Home is where your customer is
The pandemic has left many marketers searching for solutions to a host of new communications challenges. One of the top ones? How to reach and engage housebound Canadian consumers suffering from digital burnout.
Direct mail offers a key solution. It's compelling and impactful when it comes to reaching Canadian consumers. In fact, almost 73 per cent of them collect their mail at least three times a week, and 42 per cent collect it five times a week. Astonishingly, more than half of them will open and read the advertisements that they receive in the mail in the next 6-8 months, and 60 per cent like to receive coupons in the mail. Those odds are in your favour!


It may be time to remix your marketing mix. Canadians are working from home more than ever – and consuming direct mail like never before. This channel doesn't necessarily replace your digital efforts. If anything, direct mail's unique combination of targeting, physicality and relevancy can amplify your digital marketing mix. If you need to deliver brand experiences right into the hands of Canadian consumers, direct mail is worth considering.
[ For more on how you can boost marketing performance, check out Amp up your marketing mix with direct mail ]
5. Canadians want a little peace of mind
The increase in online shopping will continue to keep package security top of mind for Canadian consumers. 73 per cent will shop more often with retailers that ensure their packages are kept secure when they are not home to receive them. It's up to you to find ways to meet that expectation and reassure your customer base.
Your delivery partner's ability to meet customer expectations is an important part of your brand promise. Responding to their need for safer, more secure package delivery can be yet another point of distinction.
Canada Post offers a unique range of solutions for enhanced delivery experiences. Community mailboxes, parcel lockers and P.O. boxes enable customers to pick up packages on their own time. For even more convenience and security, our extensive retail network, together with FlexDeliveryTM, provides a 15-day hold on pickups – 10 more days than our competitors.
6. Canadians like subscription boxes – and they're good for business
What's behind the phenomenal growth of subscription boxes in Canada? Consumers love the thrill of trying new products without the hassles of shopping. For retailers, subscription boxes represent an additional source of recurring revenue – and ongoing consumer loyalty.


Subscription models can be an amazing source of predictable revenue for your business and can seriously boost customer loyalty. Most models are sold monthly, enabling customers to experience your brand on a regular basis. This helps to entrench brand preferences. You also open the door to upselling and other selling opportunities.
The top categories for subscription boxes include books, meal kits, arts, crafts and hobbies and health and wellness.

7. Loyalty is a two-way street
Loyalty programs are as old as marketing itself, but that's no reason not to offer one. In fact, 17 per cent of Canadian online shoppers will frequent a specific retailer because they offer a great loyalty program. Like subscription boxes, a loyalty program can generate recurring revenue, plus it can make your most valued Canadian customers feel special. Win-win indeed.
When considering a loyalty program, keep your customers in mind. What do they expect? What do they truly value? What will incentivize them to keep coming back? While points, credits and discounts are common, you don't necessarily have to build your program around them. Your customers may be happy with invitations to members-only events, or free shipping and returns.
Nordstrom's rewards program, The Nordy Club, allows you to earn one point for every dollar spent at Nordstrom, Nordstrom Rack and HauteLook. Points can be cashed in for store credit, and holders of Nordstrom credit cards can earn points three times faster.
8. E-commerce is here to stay
Over the past year, more Canadians have turned to online shopping than ever before, with millennials and Gen-Z driving the shift. While it's reasonable to assume that some consumers will go back to their pre-COVID-19 shopping habits, not all will.



That means now is the time to take advantage of the huge number of Canadians who are shopping online these days. It's also worth contemplating how you can appeal to consumers that prefer in-store shopping experiences by recreating the in-store experience online.
When it comes to strategically investing your marketing budget, you'll need to monitor how and when your customers are buying in the months ahead. Your investments should reflect their preferences.
9. Free shipping is a must
Free shipping has become table stakes among Canadian online shoppers. These days, most Canadian consumers don't even look to see if you offer it – they just expect free shipping as par for the course.

Unexpected shipping charges at checkout is a major cause of cart abandonment. So, the question isn't can you afford to offer free shipping, but can you afford not to?
It's so important that companies devise and test free shipping strategies. You could offer free shipping on a minimum purchase value, consider free shipping during special promotional periods, or offer free shipping to your best repeat customers.
The turbulent shifts of the last year have made it challenging to plan for the future. There are no easy, short-term answers. The best we can do is continually listen to Canadian customers and monitor how their needs are changing. That way, we can quickly shift when they shift. Every year, Canada Post invests in delivering industry-leading e-commerce and marketing research to online retailers to help them develop the best e-commerce marketing strategy for their business.
Sources:
Canada Post. 2020 Fall Survey, 20-214, October 2020.
There's lots more to learn.
Stay up to date on the latest e-commerce insights and content from Canada Post.
Get email updates