In 2016, Eve Laird was suffering from eczema. Instead of using over-the-counter creams, she was determined to heal herself by changing her diet. And while she did manage to clear her eczema over time, she was left with a problem: "There were no indulgent, yet healthy snacks I could eat."
Filling in a gap in the market
Laird took snack matters into her own hands.
"I started experimenting at home using wholesome, real ingredients I found in my pantry," she says. "After countless hours spent baking and recipe tweaking, I finally created a snack I felt good about eating. This little snack I now proudly call Eve's Crackers."
She launched the business, selling her crackers – which included ingredients like sesame, flaxseed and chia seeds – to retail locations. Her customer base grew, and she was soon able to bring on her sister, Sarah, as her business partner. She also moved from baking the items herself in her home kitchen to outsourcing production to a professional kitchen – which she says made her items with as much love and attention as she did.
But plans changed once COVID-19 hit.
Changing course in a rapidly changing retail landscape
Prior to the onset of the pandemic, in-person activations were Eve's Crackers' primary form of marketing. The company was very much a "boots on the ground" operation, engaging in samplings, trade shows, and popups. But now these were no longer an option.
The sisters had to pivot their marketing strategy and diversify revenue streams. In particular they had to focus on their online channel, which up until then was only used passively for customers who didn't live near a store that carried their products.
"The pandemic highlighted the untapped potential we had in our online channel," Laird says. "Our online store was our beacon of hope during this time."
Growing online sales strategically
The sisters quickly evolved their business model from its focus on retail accounts to growing online sales.
They launched a series of initiatives to maximize the company's online presence. For instance, the duo created an email marketing series focused on engagement and building their list. They also launched a new referral program to boost their online customer base and revitalize their social presence, creating buzz with a new strategy aimed at building the Eve's Crackers community.
They drove more traffic to the site through paid targeted social ads as well as by strengthening their SEO and Google Analytics strategy. To stay on top of online orders, they outsourced fulfillment to a third-party fulfillment centre.
Their crash course in how to grow online sales really paid off. They boosted sales 200 per cent compared to the same time last year, making their COVID-19 recovery a real success story.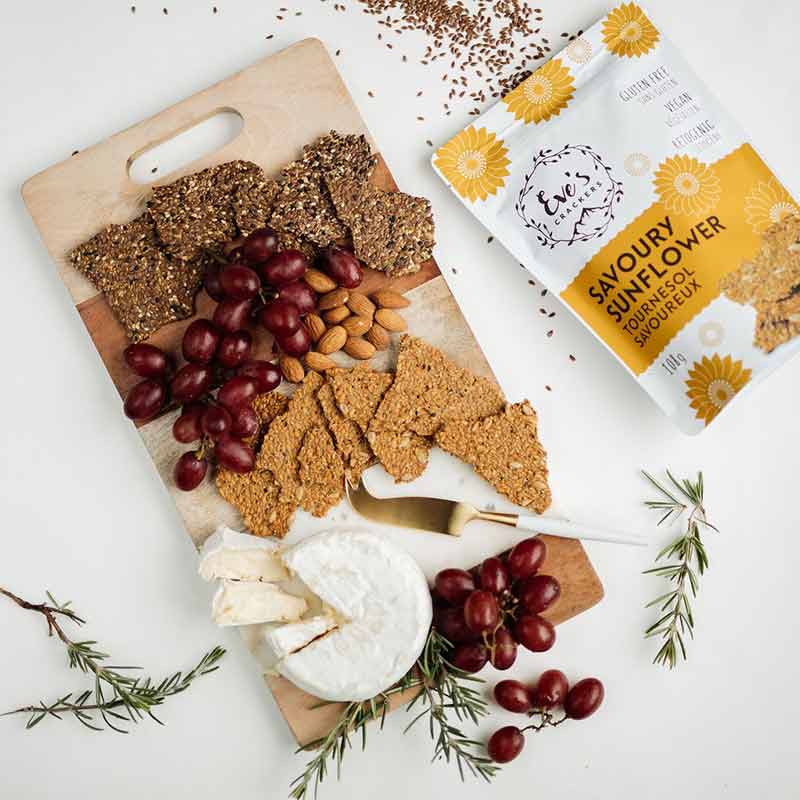 A cheese platter from Eve's Crackers filled with Savoury Sunflower crackers, red grapes, almonds and a round of Brie cheese.
Focusing on their customers
Throughout their recovery, Eve's Crackers has allocated resources for nurturing their online D2C (direct-to-consumer) revenue stream. They've hired an email marketing and copywriting specialist and outlined a more robust marketing strategy with the aim of increasing online D2C sales by 300 per cent.
Building customer relationships for a brighter future
"The response has just been so amazing," says Laird. "I'm so happy we've started reaching out more to our customers. We've just discovered so much. And it was a missed opportunity for us before COVID-19. We're going to continue to build on this and engage with our customers through email and social. I think the online channel is a really unique way to express our voice and grow a larger, more engaged community."
We're here to help you thrive.
Explore resources, success stories, insights and advice designed to help you grow and build a strong small business.
Learn more