David Kang has led fulfillment strategies across a variety of organizations and knows the ins and outs of moving warehouses, increasing efficiencies, and managing storage capacities. His strength lies in working with retailers who have experienced exponential growth in their e-commerce business.
---
Designing or expanding, and then operating, a distribution centre means dealing with a lot of moving parts. You need to move products around as quickly as you can, and you must consider several factors – from choosing the right shipping partner to selecting the most appropriate equipment – to keep your e-commerce operations working as smoothly as possible.
"Fulfillment is the most important artery supporting the overall health of any e-commerce business," says David Kang, a logistics expert who has managed warehouse operations for several large organizations. "You simply have to get things right here if you expect customers to keep coming back."
Striking a balance between cost and density
Optimizing warehouse labour, for instance, means much more than hiring the correct number of workers. The actual work they do also has to be optimized for peak productivity – and that requires the right tools.
When it comes to deciding just what equipment might work for your operation, consider the type and amount of materials you handle, how often and how far they need to be moved, and the skills and requirements of those that will be moving the materials – as well as the overall layout of your facility, Kang explains.
Since you'll want to stack products up, rather than just across, be sure to check clearance heights in addition to the ground-level floor area. This third dimension is a key consideration for e-commerce merchants looking to leverage vertical warehouse space.
It all comes down to cost versus density, Kang says: "How much product do you hope to pack into your space, how are you going to get at it, and what budget do you have to work with?"
This means having the right racks, pallets, shelves, and bins in place before buying any pricier items like lift trucks, for instance. Lift trucks come in all shapes and sizes and can include small hand-operated pallet trucks, powered pallet-jacks, and various kinds of counterbalance trucks and forklifts.
Pallet trucks. Pallet trucks are non-powered tools designed to move palletised loads. They're simple in their operation with the operator sliding the forks into the pallet, 'pumping' the handle to raise the forks off the ground, and moving the load via the handle. The hydraulic jack is raised, and the forks are separated vertically from the front wheels, forcing the load upward until it clears the floor.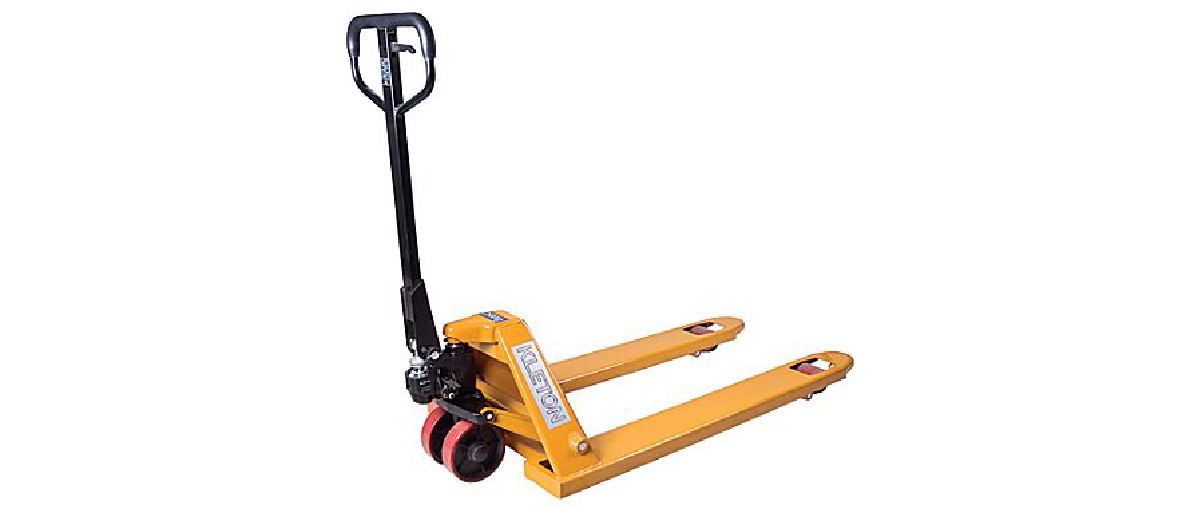 Source: Staples.ca
Counterbalance trucks. In powered counterbalance trucks, the forks protrude from the front of the machine, with no extending legs or arms, meaning the truck can be driven up to the exact location of the load or racking. They're useful in areas where space is limited due to their tight turning circles. They are also ideally suited to applications that require inside and outside use.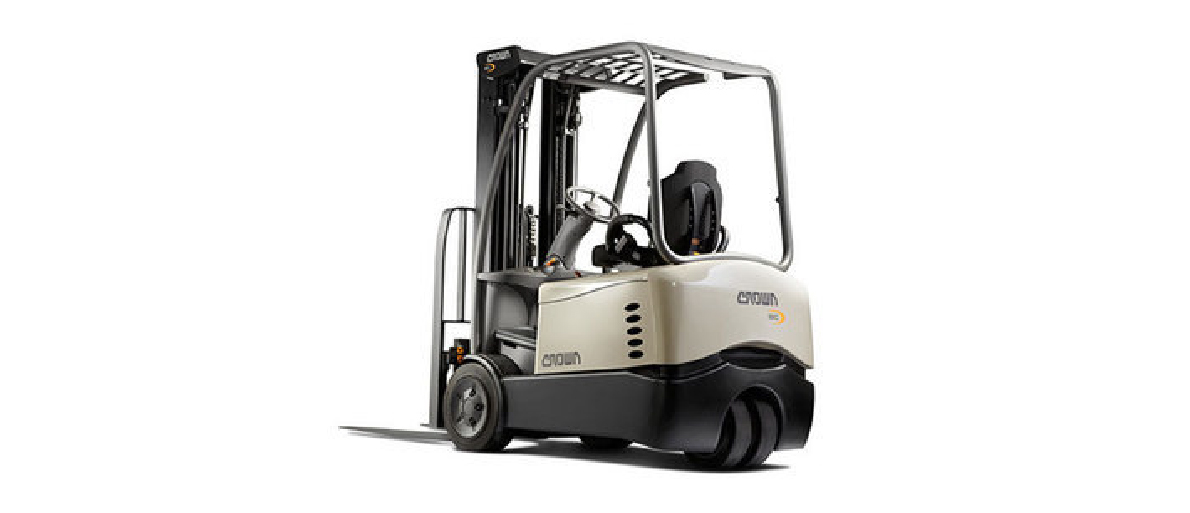 Source: rydermaterialhandling.com
Reach trucks. Reach trucks are the most common trucks for e-commerce fulfillment spaces. They offer maximum lift height with excellent manoeuvrability thanks to the ability of the fork carriage to extend beyond the stabilising legs, and therefore 'reach' into racking. The combination of this reach capability and the stabilising legs means reach trucks can lift to heights of several metres while still operating in very tight working areas.
Finding the truck that fits your racking system, stocking speed, safety requirements, and budget takes some thought as each level of machine becomes more expensive. Try narrowing down the options available to determine what your warehouse team needs to work safely and efficiently, Kang suggests.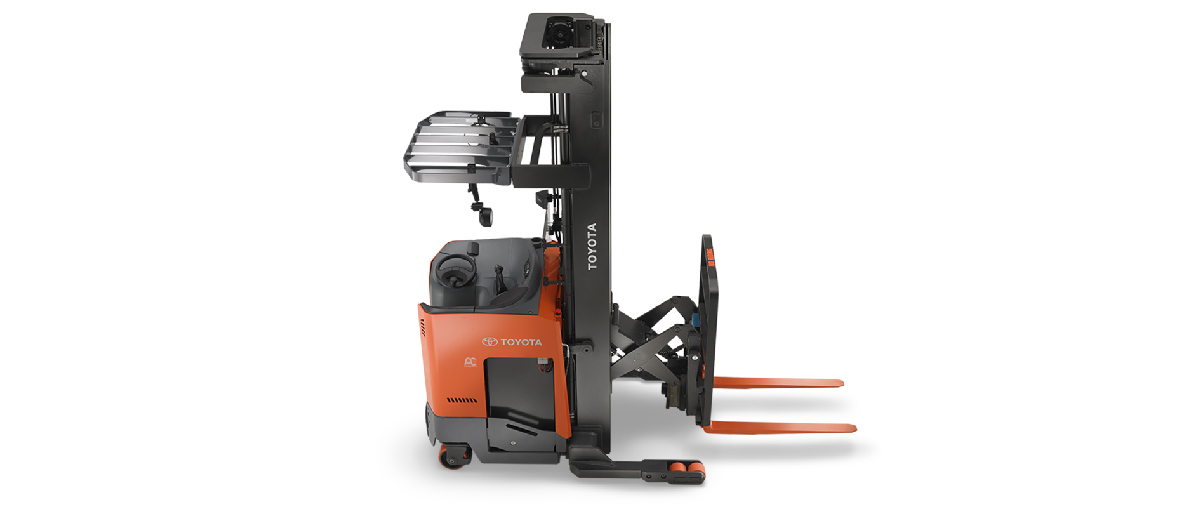 Source: toyotaforklift.com
Be sure to check aisle width
Be sure to pay close attention to aisle width, Kang adds. Your aisles should be wide enough to handle a pallet truck, for instance, since the operator will need room to pull it back all the way once its load is released. This will depend on the model you choose, but figure that the jack and the person pulling it will need a minimum of 125 centimetres to operate safely.
If you're looking at a larger forklift, be sure to check for its aisle width radius requirements as well. In this instance, expect to need an aisle width of something like 200 to 400 centimetres depending on the model.
Read also: E-commerce fulfillment: When do additional distribution centres makes sense?
Where used can make sense
When you're finally ready to finally make a purchase, you have another decision to make: New or used? Going with new equipment means you get the bells and whistles that accompany the latest technology – but often with a hefty price tag. Plus, you'll lose some value to depreciation from the outset.
If your business plan is looking to the future for expansion and growth, buying new can be a great investment. Used equipment, on the other hand, works well as a short-term investment – if you need to increase your capacity immediately, but are short on available cash, Kang says.
His advice: Used equipment can be a particularly good solution for smaller operations with simpler applications. When shopping around, carefully consider which features you actually need to perform at an optimum level, and shop for only those items. A well-maintained used vehicle could offer everything you need, and you won't pay extra for a factory shine.
Check under the hood
Certain mechanical checks need to be undertaken by experienced fork lift truck engineers, however. Ask them to commit in writing to what has been done; that way you can be sure of what you're buying.
"There are excellent used machines out there, but they won't usually last as long as a new item, since someone else has already put on some miles," Kang notes. The good news, though, is that used equipment tends to hold its value fairly well if you need to make changes in the future.
Where can you start?
Before embarking on a major buying spree, ask for help, Kang suggests. "Unless you're in direct competition with them, most business owners are happy to showcase their successes – and perhaps even where things went wrong." Equipment vendors will also be more than willing to set up site visits with satisfied clients.
As well, since they're not distracted by trying to run the business day to day, logistics consultants can also help improve the efficiency of your distribution facility.
Stay in the loop. Get the latest e-commerce tips, resources and news delivered right to your inbox.
Sign up now