Returns are a major sticking point for customers, and what customers want from merchants is subject to change. To meet their evolving needs, merchants should invest in user-friendly e-commerce returns solutions. Most want returns to be easy and affordable, if not free. This growing expectation creates financial conundrums and logistical difficulties for merchants of all sizes. Even the top e-commerce merchants struggle to meet consumer expectations.
For more than one-third of consumers, flexible returns are a top reason to continue shopping from a specific retailer.1
Follow e-commerce returns best practices to keep customers happy
Nothing ruins a shopping experience quite like a return gone sideways. And the gap – between what consumers expect and what merchants offer – becomes widest at this point. Satisfying customers' desires is always challenging because most businesses are measured against every positive experience a shopper has ever had. Figuring out ways to keep your customers happy, without losing money on returns, is a challenge – but one that is worthwhile to undertake.
Offer user-friendly e-commerce returns solutions to retain and attract customers
Merchants who turn a blind eye to what consumers expect from a returns experience will pay a high price. Far from an afterthought, returns have become a key driver of purchasing behaviour. E-commerce retailers who offer easy, flexible and free returns will attract new customers, convert browsers into buyers and secure loyal customers.
Dive into Canadian e-commerce expectations, returns research, best practices and market trends.
Download guide
These e-commerce return rate statistics illustrate the importance of your returns policy
Returns are on the rise. In 2019, 37 per cent of shoppers made a return versus 46 per cent in 2020. The average number of returns in 2019 was 1.1, which rose to 1.6 in 2020.2 The COVID-19 pandemic has driven more and more shoppers online, so how you handle returns matters.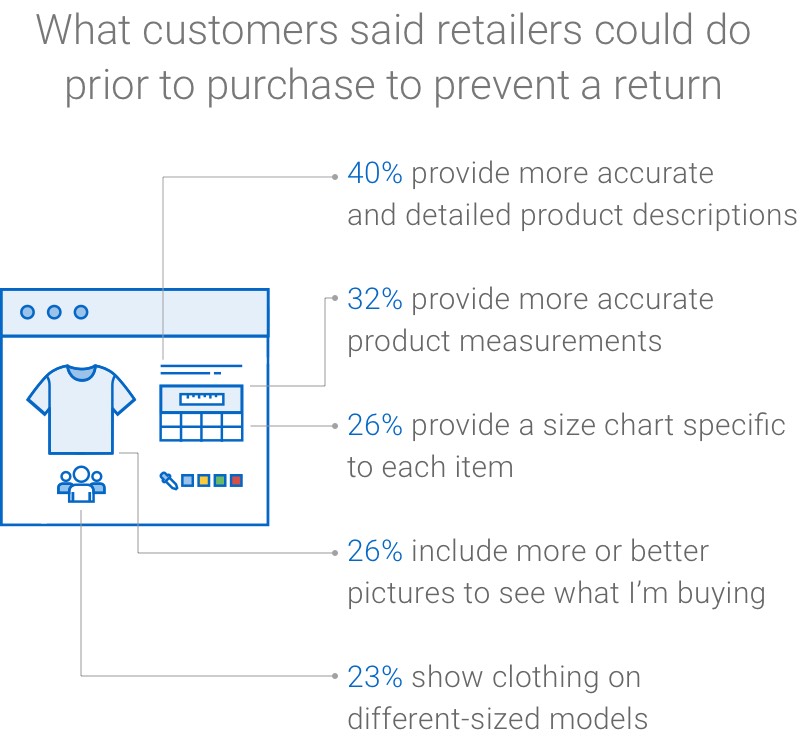 Source: Canada Post. 2019 Canadian Online Shopper Study, CPC 19-201, April 2019.
Many shoppers will investigate an e-commerce business' returns policy before they even place an item in their cart – well before they complete the checkout process. They assess the details of the returns policy before they buy, and they may even compare one brand's experience against another's to help them choose which items they will buy online and from whom. Before you delay rethinking your returns policy for another year, consider these eye-opening statistics: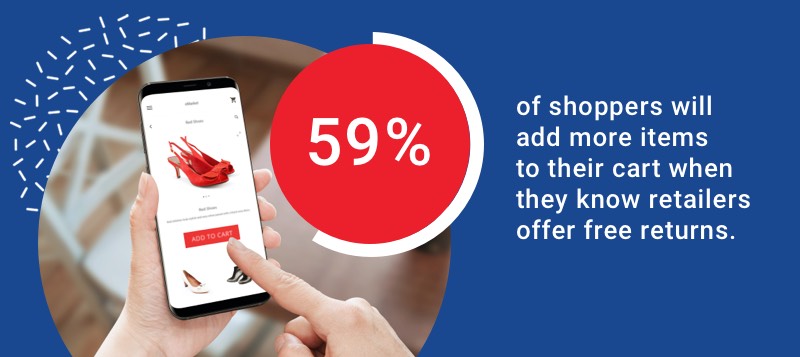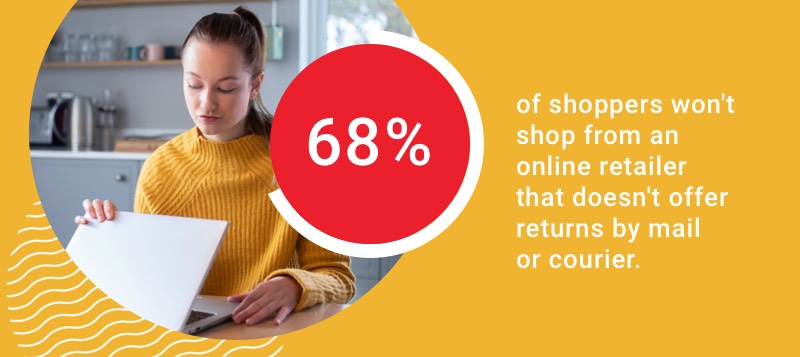 Source: Canada Post. 2020 Fall Survey, 20-214, October 2020.
It's important to make your returns policy easy to understand and easy to find on your website, and it's becoming increasingly important to make it as customer-friendly as possible. A complicated returns policy could cost you your next sale.
Why you should care about returns
The returns experience, be it positive or negative, can have a massive effect on brand loyalty and can influence repeat business.
Negative returns experiences can hurt your business
Consider how much time, money and effort it took to acquire each of your customers. Don't risk souring those relationships with a bad returns experience.
To shortchange the importance of that experience is to squander your earlier investment as 79 per cent of shoppers will stop shopping with a retailer after a bad returns experience.3
Customers share their experience – both positive and negative
People love to share their experiences in person and online. They also factor in the experiences of others into their buying behaviour. Offering a poor returns experience opens your business up to negative public reviews, bad word of mouth, bad publicity that could go viral and more. On the flip side, offering a stellar returns experience opens up your business to positive reviews, good word of mouth, repeat business and more. It's important to assess what message your returns experience is sending and analyze how it can be improved.
How to create a good returns policy
To create a beneficial returns policy, you need to understand whose needs and expectations you are trying to meet. A good online returns experience offers a variety of options.
Design your returns policy to meet the needs of all online shoppers
Your business will attract a mix of these six common shopper types, so addressing their concerns is key. A simple, easy-to-find returns policy creates confidence early in the shopping process.
1. The new-to-you shopper
We surveyed 2,500 Canadian shoppers and 25 per cent of them said that in 2020 they shopped with online retailers they've never shopped with before.4 That trend suggests that your business may sell to a large number of new-to-you shoppers this year. It's so important to understand that a new-to-you shopper is seeing your product images, descriptions and sizing charts for the first time. For this type of shopper, returns are a safety net. 'What if it doesn't fit? What if it's different than I expect?' Questions like these will be top of mind for this shopper.
2. The gift-buying shopper
'Will it fit? Is it the right colour? Will the recipient love it? What if someone else buys the same gift for them?' For these thoughtful gift-givers, returns are essential.
3. The long-distance shopper
These days, shoppers are being more selective when it comes to where they're going. As a result, forcing an online shopper to travel to one of your brick and mortar store locations to return their purchase isn't a great option. What if there isn't a location nearby? Consider a drop-off location that's closer to your customer's home or work – such as a street letter box or one of Canada Post's 6,200 post offices. Forcing a customer to come in to return an item can also be a thorn in their side if they are returning a defective or damaged item. It's important to make returns as easy as possible for your earnest customers, but not too easy for customers who may intend to exploit your business.
4. The occasional shopper
Online shoppers who make 2 to 6 purchases a year represent 31 per cent of Canada's online shoppers.5 Reassure them with multiple returns options that make shopping with you stress free.
5. The hyper/elite shopper
Hyper shoppers (who make more than 25 purchases a year) and Hyper Elite shoppers (who make 41+ purchases a year) are the most active, experienced and confident. They're familiar with the best-in-class returns experience and won't settle for second best. These are the customers whose dollars you want to win the most. Their loyalty can be invaluable to your business over time.
6. The footwear or apparel shopper
Footwear and apparel sizing is tricky because it varies from country to country, even brand to brand. To win customers and avoid as many returns as possible, ensure that your products include clear and easy-to-follow sizing charts. Also consider offering free returns by mail to those who may misunderstand your sizing information or shop for others without clarity on their sizes.
At first glance, a customer-friendly returns policy may not seem cost effective. Think of it as a long-term investment. How you handle returns matters. If you're not sure where to start, Canada Post can help. We offer customer-friendly returns solutions that work and our e-commerce experts can help you build or enhance your returns strategy. The more customers you satisfy, the brighter your financial future will be. And that's the definition of good ROI, don't you think?
Sources:
1 2 3 4 5 Canada Post. 2020 Fall Survey, 20-214, October 2020.
How can we help?
Speak to an e-commerce expert to learn how you can optimize your returns strategy or work with us to create one that will meet shoppers' expectations.
Contact an expert