The final mile is critical. It should never be underestimated or an afterthought in the customer journey. It's the last battleground in a long campaign to win a customer's loyalty. Their purchase isn't complete until your product is in their hands, and how it gets there matters.
The delivery experience is key
Your delivery experience should be smooth and leave a positive lasting impression on your customers. It doesn't end when your shipment crosses the border – the final mile is the real finish line. A successful delivery is about a lot more than just speed. Convenience, flexibility, customization and communication are just as important.
Merchants are setting the bar high for the delivery experience. Knowing the best practices of other companies is important, but acknowledging that Canadian shoppers have unique needs is key. The delivery experience you offer will influence first-time purchases, inspire repeat business and increase brand loyalty.
Delivery essentials
When it comes to delivering your product(s), three things matter most:
1. Keeping your delivery promises
Make and keep delivery promises to your customers from the outset. Knowing when their order will arrive can influence whether they will shop with you or take their business elsewhere. As far as promises go, a tight delivery range is good. During COVID-19 and peak shopping times, delivery delays have been common. Manage your customers' expectations by warning them about delivery delays and keep them updated with shipment tracking alerts if possible.
Keep fulfillment in mind. The clock starts ticking when the order is complete, so make sure you factor fulfillment time into your delivery promises.
Keep communications open. During your busiest selling seasons, you may need to manage expectations and adjust your promises. Let your customers know about any delays upfront.
Choose your delivery partner carefully. They will represent your brand on the final leg of the journey.
With careful consideration, the right partner and a strong strategy, you'll deliver exactly what your customers want, when they want it.
Source: Canada Post. 2019 Consumer Study, 19-203, August 2019.
2. Offering a selection of delivery speeds
Giving your customers options is key. By offering a choice of delivery speeds, you can meet the needs of those who want to save money and those who are willing to pay for speedy delivery. Charging for speed may help you offset some of the cost of free shipping options.
Overall, Canadians prefer free shipping over fast shipping. With free shipping, 57 per cent of Canadians expect to receive their packages in 10 days or more.1
Enable customers to pay for speed if they are far away. Offering faster delivery options can help you reach out-of-the-way areas quickly and competitively. Work with your delivery partner to create a strategy that enables you to make strong commitments to your customers and deliver on them.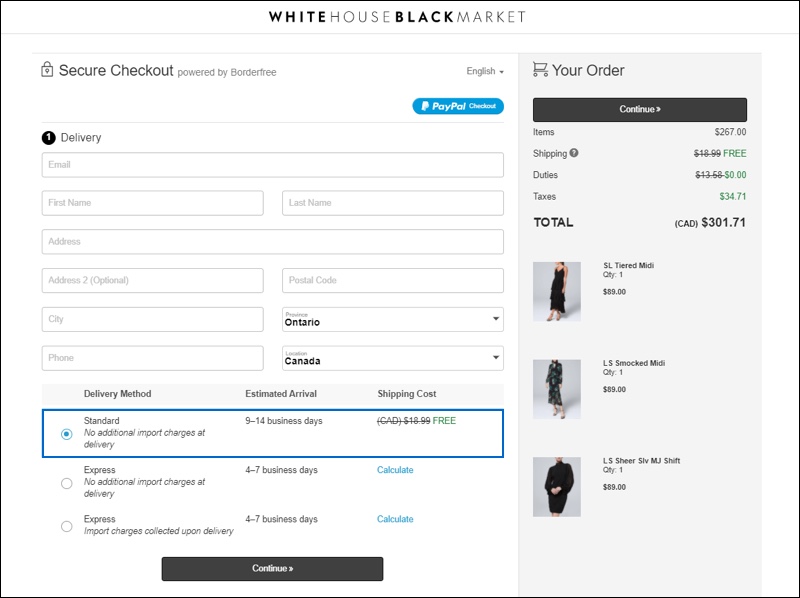 White House Black Market offers multiple shipping options at checkout. (Click image to enlarge; opens in a new tab)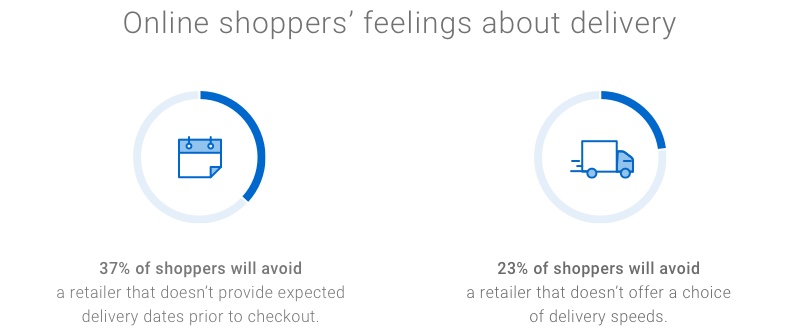 Source: Canada Post. 2019 Consumer Study, 19-203, August 2019.
3. Offering flexible, secure choices
Make your delivery options work for your customers. Canadian shoppers want convenient choices when it comes to things like delivery location. Brick-and-mortar retailers have an advantage – they can use their network to offer pickup at a nearby store. Some customers prefer receiving deliveries at their door, or in the parcel locker in their lobby, or the option to stop by a post office on the way home from work.
Consumers want to be able to customize their receiving experience. They also want delivery updates so they can track their purchases in transit.
Choose a delivery partner that can give your customers options. Look for one that offers delivery flexibility and can extend your reach across Canada. Canada Post has access to 5.4 million community mailboxes – including parcel compartments – making it easier for Canadians to access their mail and packages all in one place.
While delivery-related factors may not be a top five purchase decision influencer, 44 per cent of e-shoppers indicate that delivery influences their choice of retailer. 27 per cent of Canadians will abandon their cart because of a lack of flexible pickup options and 16 per cent prefer a delivery company that offers convenient pickup locations when they're not at home.2
Canadians are used to the convenience of picking up at their local post office. This is likely because 90 per cent of Canadians live within three miles of a post office.3
Gather delivery feedback from your customers. When it comes to crafting an ideal delivery experience, listening to what consumers want is always a good call. 54 per cent of online shoppers prefer Canada Post for e-commerce deliveries, and one-third find it inconvenient when they can't select their preferred carrier.4
As a merchant, you want every aspect of your business to be convenient and professional for your customers. Don't underestimate the importance of the final mile and a smooth receiving experience. When you put your best foot forward for others, they notice. After all, isn't loyalty about noticing that someone is doing their best for you and rewarding them for it?
Sources:
1 2 Canada Post. 2019 Consumer Study, 19-203, August 2019.
3 Canada Post. Annual Report 2018.
4 Canada Post. 2019 Corporate Brand Pulse, CPC 19-222, November 2019.
Develop a cross-border strategy you can rely on with the insight of an experienced partner.
Our team can help you tap into Canada's incredible e-commerce market.
Contact an expert