Carl-Philippe Nantel has dedicated himself to making the lives of felines and their human families healthier and happier, all while easing their environmental strain on the planet. It's a bold innovation that, he hopes, will change the way people think about their pet's ecological footprint.
Not a bad idea for a guy who didn't even own a cat.
"There are many, many cat owners, and they all love their cats so much. The more I spoke with people, the more I was surprised by the close relationship between humans and cats," the Ecocat Litter founder explained.
"I never thought I would be a cat owner – I never thought I would be a cat lover. But I was won over. It became my obsession to make cats happier and owners' lives easier."
Understanding the ecological footprint of cat litter
The scope of the problem, well, stinks.
Currently, the cat litter market is dominated by products made from bentonite clay, a natural clay that clumps when in contact with moisture. That ability to swell to 15-times its volume makes bentonite clay ideal for litter products.
Its convenience, however, comes at a price. Not only is bentonite clay largely obtained via environmentally damaging strip mining, it's also non-biodegradable, which means Fluffy's bulky litter will reside in a landfill for the next millennia or so.
I am not sure people realize how bad cat litter can be for the ecology. I knew I wanted to encourage pet owners to reduce their waste. I knew I wanted to create an ecological, efficient, and affordable solution. But I didn't know how. For six months, I was obsessed with learning about cat litter. So much so that I finally got my own cat and we started to try different litter together.


With his furry business partner, Nantel began a trial-and-error process that would last 2 years before he landed on a solution that, he says, is approved by his chief customer – cats.
Enjoy this article? Read Ecommerce Insider magazine for more insights, tips and articles like this.
Download the magazine
Joining the circular economy
Founded in 2019, Ecocat offers a soybean-based cat litter, a product that provides the same benefits as clay litter but without the major drawbacks. The completely plant-based product clumps and controls odour while being biodegradable and compostable.
Nantel is proud of his Montreal-based company's place in the circular economy, with its product ingredients sourced from residue produced by a ramen noodle plant.
"We are taking a leftover product that nobody wants, nobody needs and turning it into something useful," he said.
Currently, Ecocat is only available in Quebec, with more than 90% of its business coming through the company website.
While customers may buy individual bags, the company offers multiple subscription plans where customers pick a package for a recurring order that is shipped to their homes.
"Our goal was to have a subscription-based model front and centre from the start – it was about convenience for cat owners," Nantel explained. "As an ecommerce company, we have big ambitions. Litter can be a little boring, but we are always looking to do something a little different, a little smarter. The subscription model got attention."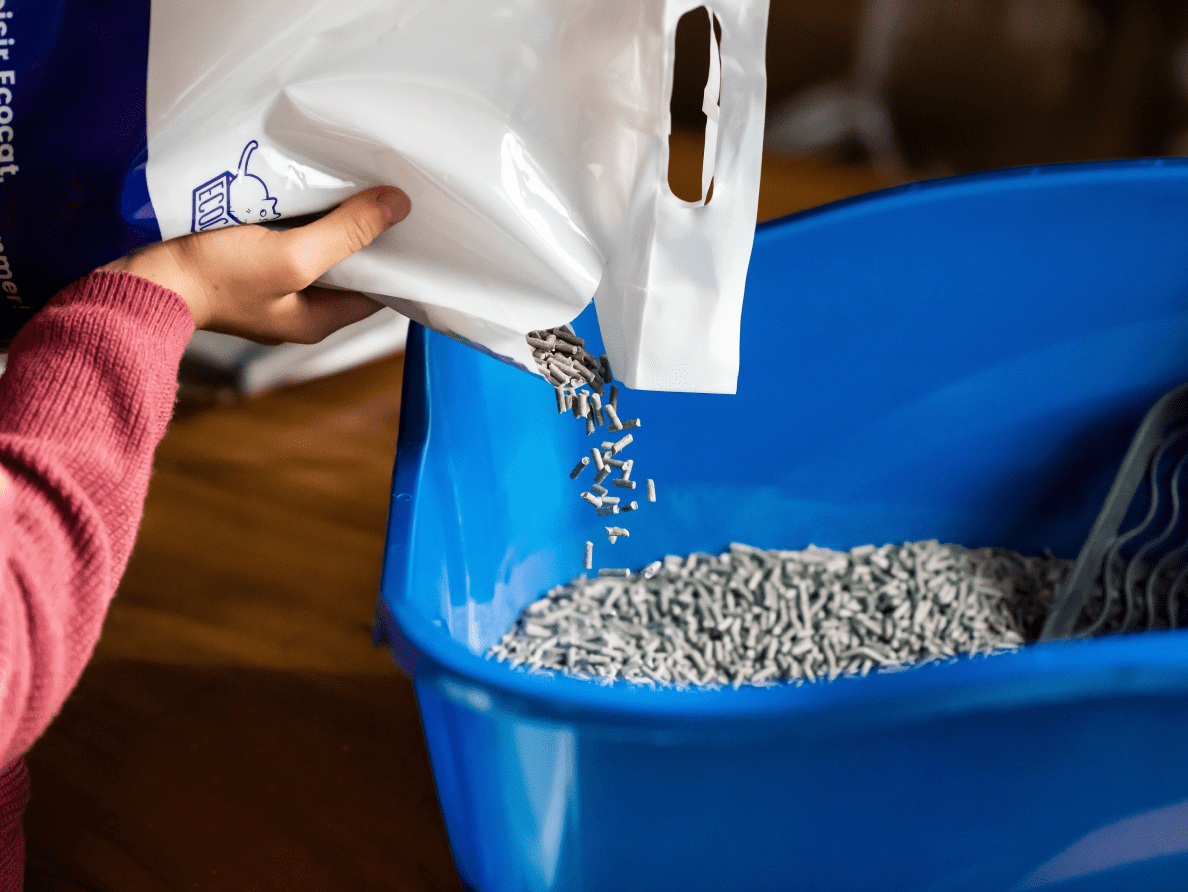 But when you lean on subscriptions and home delivery, you need a creative shipping solution, Nantel explained.
"When you think about shipping a product like this – heavy, bulky, and frequent – you need to consider it all, from the product to the innovation behind it, to the packaging. It all works together," he explained.
First, the product was developed to provide the same absorbency at one-third the weight of its competitors. An 8-pound Ecocat bag, for instance, lasts one cat one month. With clay litter, 24 pounds of product is needed for the same duration.
"That product innovation alone is why we can also sell almost exclusively online," Nantel said.
Second, the company engineered a vacuum bag and biodegradable packaging to maximize the shipping efficiency and minimize the environmental impact.
"Our packaging is secure and durable, but it is also a marketing tool. We have created something nice, so when consumers see it, it pops. Yes, it is still solid and safe for transport – but it is also cool," he said.
Finding a way forward: Ecommerce and beyond
Since March 2020 one-third of Canadian pet owners have welcomed a new pet into their homes, representing an estimated 3 million pets. In Quebec, pet owners are more likely to have cats (67%) compared to dogs (48%).1
Coupled with the rise of online shopping, that created an incredible – and almost instant – demand for pet products. But when factories shut down and halted supply, Ecocat was stuck. No raw material meant short stock.
"That was a scary time," Nantel said. "But we learned a lot of lessons in that moment and are using those to plan our future growth."
In the next 5 years, Nantel looks to grow Ecocat outside Quebec, with planned expansion into Ontario and British Columbia already underway, followed by nationwide and, eventually, the United States.
To do that, the company needs its own factory at home. Even without another global pandemic, Nantel does not see an immediate end to supply chain challenges. Not only does a Canadian factory provide better control of its chief ingredient, it will further reduce the company's ecological footprint by bringing production closer to home.
"This is really important for us. We are so focused on making this a reality," he said. "Scaling does not happen at the level we want without it."
Customer demand is also calling on the company to expand beyond online.
With the pet care marketplace dominated by retail giants like Mondou and PetSmart, Ecocat is developing relationships with these chains and looking into offering its products in stores.
Additionally, the company is testing a refillable bulk litter bin in a handful of retail outlets. The fill-on-demand service is offered at a reduced price and has, so far, proven to be a popular alternative.
Ecocat also hopes to become a thought leader by including more pet care and health advice on its website and social channels. It is about offering anything that makes cats' and their owners' lives a little easier, Nantel said.
We're not only selling litter, but we are also giving information and advice to customers, while also helping them lessen their impact on the planet. We love cats and we want to help.
Key takeaways
Know that shipping is about more than the box – the product, the innovation behind it and the packaging all work together.
View your growth strategy in light of supply chain issues of the last two years.
Consider the challenges customers face and how your ecommerce operations can help solve them.
Sources:
1 Cision/Newswire. National Survey of Canadian Pet Owners Reveals an Estimated 3 Million Pets Joined Canadian Homes During the Pandemic, February 2022.
2 Mondou and PetSmart word and design trademarks belong to their respective owners.
Want to take your ecommerce business to new heights?
Whether you're just beginning your climb or looking to scale new peaks with your business, our Canada Post ecommerce experts can help.
Let's chat