Fashion was one of the first industries to enter the e-commerce space, and it continues to grow impressively year after year. In fact, it is currently the second leading category for online spending in the U.S., right behind electronics.
The numbers add up, too. Between 2017 and 2021, the online fashion industry is expected to experience 72% growth, reaching approximately $146 billion by 2021.
Certain segments of the fashion industry, including athleisure brands and menswear, are largely responsible for this staggering growth. It is also partially attributed to the widespread adoption of more active lifestyles and the emphasis that young people today place on their personal style.
Canadian merchants selling apparel, or those interested in expanding or enhancing their cross-border strategy, should craft a strong customer acquisition strategy for U.S. online fashion shoppers in order to take advantage of this lucrative sales opportunity.
Stay in the loop. Get the latest e-commerce tips, resources and news delivered right to your inbox.
Sign up now
Target the right customers
Many people shop for fashion online, but certain demographic groups outshop others. If your goal is to maximize ROI, target the right online fashion customers.
Older millennials lead the pack
Older millennials (aged 25-34) make the lionshare of today's online purchases, with individual shoppers spending an average of $2000 per year on e-commerce purchases. They like the convenience of online shopping, and because they are high earners (with average incomes averaging more than $65,000 USD per year) they have the disposable income to shop recreationally. If you can effectively target this group your sales will be in good stead.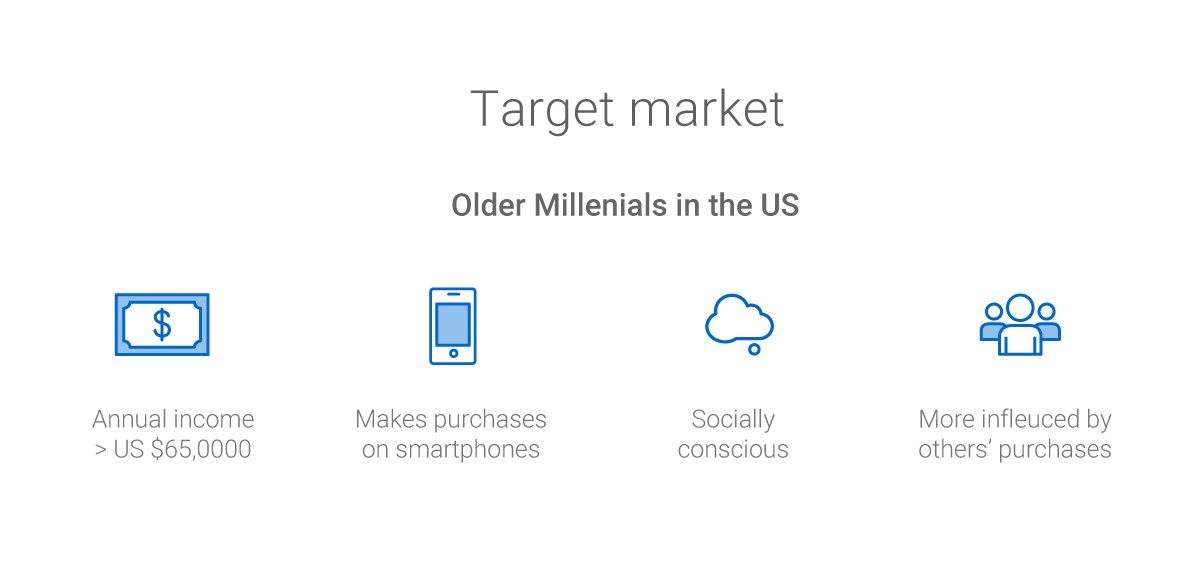 Grab their attention
It's important to understand the mindset and motivations of these tech-savvy and social consumers in order to effectively target them and sell your products to them.
Older millennials look for a good mobile experience that matches their lifestyle preferences, place great importance on how socially conscious the brands they buy from are, and their purchase decisions are often driven, or heavily influenced, by their peers and the many social media influencers that target their demographic.
A good way to target millennial customers is through influencer marketing campaigns. If you're unfamiliar with this strategy, it basically involves reaching out to influential social media personalities with large followings with an audience that overlaps with the demographic you are trying to target. You will need to either pay the influencers you want to work with to promote your business, or offer them free samples of your products to try publically and/or review. You can also offer them the opportunity to host giveaway contests for your business, or offer their audience custom discounts on your products.
It's also a good idea to encourage your existing customers to share reviews and social media posts of them wearing your products. Encourage them to use a particular hashtag or tag your business on social media so you can track and share their posts to encourage more sales and positive word of mouth.
You can also try implementing referral marketing tactics into your acquisition strategy. For example, you could offer special discounts to customers who refer your business to their friends and family members. This type of tactic can be automated through your website.
Cultivate an ideal shopping experience for online fashion shoppers
The American market leads the way in terms of technological advancements for online shopping, constantly setting new precedents when it comes to meeting shoppers' expectations for flexibility and convenience. As a result, shoppers from this market expect merchants to incorporate features that enable a seamless and integrated experience across different online channels. Here are a few tips for cultivating a positive e-commerce shopping experience for your business:
Go mobile to make shopping a breeze
In 2017, mobile purchases were expected to account for 34.5% of all e-commerce purchases, and that percentage is expected to leap to 54.5% by 2021.
The easier your checkout process, the better the chance that you will make sales. Mobile features such as buy now buttons, one-click checkouts, or mobile payment options can go a long way in influencing your customers to complete their purchases.
Tip:
Impulse buys can be driven by a simple checkout experience. It's important to ensure that shoppers know exactly what they are buying, so try to offer virtual dressing rooms or helpful size guides for your merchandise. It's also important to have an easy-to-grasp but not too easy-to-abuse online returns policy in place to satisfy your customers' expectations when a product doesn't meet their needs.
Get social and visualize your merchandise
Think about how you can incorporate social or sharing platforms into the checkout experience. Older millennials value seeing what a piece will look like on. A great way to do this is by being active on social media and showcasing what a piece of clothing will look like through photos of models, or hashtags that will let browsers see posts shared by your customers wearing your products.
Overcome key obstacles
It's critical to know the obstacles of the online fashion market in order to mitigate them. Keep the following in mind as you craft your online shopping experience:
Sizing
It's hard to know if something will fit well when you can't try it on before you buy it. As a result, online product sizing is one of the key obstacles of online shopping in the Fashion segment. Customers often regard online sizing as confusing or intimidating. You can work around the obvious inherent obstacles of online sizing by sharing clear descriptions and measurements of your products on your website.
As a result of recent technological advances, methods of apparel sizing for online customers have evolved. Some retailers are going high tech with apps that help you determine your perfect size, others are even mailing sizing suits to their customers for a custom fit. If these methods are out of reach for your business, providing a good sizing chart works well, too.
Shipping
Shoppers will go to great lengths to avoid paying for shipping. In fact, high and even modest shipping rates often lead to abandoned carts. While free shipping is always the most desirable option from the customer's perspective, it's not easy to offer to customers at all times. Even major retailers struggle to offer it year round.
If free shipping with no restrictions isn't feasible for your business, consider how you can introduce a minimum purchase threshold, or offer free or low shipping rates during key shopping periods like the holiday season. You can also partner with a final mile delivery provider with strong partnerships to enable a convenient experience across the border.
Returns
Product returns are a reality of online shopping – especially in the fashion industry. The current rate of return for e-commerce apparel is 28%. Cross-border returns can be costly, but there are strategies you can use to share costs with your customers while still providing a great customer experience.
Stay on top of your game: the competition is stiff
With such a lucrative e-commerce opportunity, it is no surprise that big players in the American market, like Nordstrom and Macy's, have started to shift their focus from the traditional brick-and-mortar store to online retail. Last year, Amazon launched their own apparel subscription service – Prime Wardrobe. Although these competitors may seem intimidating to small and growing retailers, shoppers value a good online shopping experience that small businesses are able to provide.
By staying ahead of trends and expectations, any business can be successful in this segment. Think outside the box, stay on top of what your competitors are doing, and go above and beyond for your customers whenever you can to make a lasting positive impression and build loyalty.
Don't miss out on the incredible opportunity that awaits you in burgeoning U.S. online fashion market. With a little focused attention and effort you can find and attract the right customers for your e-commerce business, and meet their expectations for a positive online shopping and delivery experience.
Sources:
1emarketer. Apparel & Accessories Retail E-commerce Sales 2016-2021, (August 2017), online: emarketer.com/Chart/US-Apparel-Accessories-Retail-Ecommerce-Sales-2016-2021-billions-change-of-total-retail-ecommerce-sales/210283,(consulted on January 18, 2018).
2Bold Metrics.The Current States of Apparel ecommerce in 2016, (n.d.), online: blog.fashionmetric.com/the-current-state-of-apparel-ecommerce-in-2016/, (consulted on November 17, 2017).
3McKinsey & Company.The state of fashion , (December 2016), online: mckinsey.com/industries/retail/our-insights/the-state-of-fashion, (consulted on November 9, 2018).
4Euse, E.Mn Are Actually Spending More Than Women on Clothing, (February 4,2016), online: complex.com/style/2016/02/study-finds-men-spend-more-on-clothing-than-women, (consulted on January10, 2018).
5The Boutique@Ogilvy.The Boutique@Ogilvy 2016 Men's Shopping Report, (2016), online: ogilvy.com/wp-content/uploads/2016/02/Boutique-at-Ogilvy-2016-Men27s-Shopping-Report.pdf, (consulted on January 12, 2018).
6Gustafson, K. "The next wave of online shopping is about to hit", (June 9, 2016), CNBC, online: cnbc com/2016/06/09/the-next-wave-of-online-shopping-is-about-to-hit.html, (consulted on November 2, 2017).
7Smith, C. The surprising facts about who shops online and on mobile , (February 23, 2015), online: businessinsider.com/the-surprising-demographics-of-who-shops-online-and-on-mobile-2014-6, (consulted on November 22, 2017).
8eMarketer.US Millennials and Money, (November 2017), online: emarketer.com/Report/US-Millennials-Money-What-Theyve-Got-Where-Goes-What-Shapes-Their-Spending/2002148, (consulted on January 9, 2018).
9eMarketer.US Millennial Shoppers 2017, (January 2017), online:emarketer.com/Report/US-Millennial-Shoppers-2017-How-Digitally-Native-Generation-Changing-Retail/2001937, (consulted on January 9, 2018)
10Bureau, U. S. Millennials Outnumber Baby Boomers and Are Far More Diverse, Census Bureau Reports , (June 25, 2015), online: census.gov/newsroom/press-releases/2015/cb15-113.html, (consulted on January 22, 2018).
11Hutchinson, Why the Focus on In-Stream Purchases and One-Click buying in Social Media? , (June 6, 2015), online: socialmediatoday.com/social-business/adhutchinson/2015-06-06/why-focus-stream-purchases-and-one-click-buying-social-media, (consulted on January 4, 2018).
12Statistic. U.S. mobile retail sales as a percentage of retail e-commerce sales from 2017-2021, (n.d.), online: statista.com/statistics/249863/us-mobile-retail-commerce-sales-as-percentage-of-e-commerce-sales/, (consulted on January 4, 2018).
13Skrovan, S. Why researching online, shopping offline is the new norm , (May 17, 2017), online:  etaildive.com/news/why-researching-online-shopping-offline-is-the-new-norm/442754/, (consulted on January 4, 2018).
14Thomas, L. "The Amazon effect is hitting the apparel industry", (July 10, 2017), CNBC, online: cn
Want to sell more beyond Canada?
Canada Post has the insights and solutions to help your online store reach the world.
Contact an expert