Owner Amanda Buhse describes it as the ultimate "fake-it-until-you-make-it" moment. Only three months after starting Coal & Canary in her kitchen in 2014, Buhse landed her company's cheeky candles in the hands of some of the biggest names in entertainment. Think Meryl Streep and Benedict Cumberbatch. Or Sam Smith and Taylor Swift. And yes, even think Beyoncé.
But how did the small business based in Winnipeg end up among such a star-studded cast? Turns out, a great product backed by solid research, a bit of luck and a whole lot of gumption goes a long way towards putting your brand centre stage and driving sales for your ecommerce business.
How swag bags gave Coal & Canary's small business a big boost
Picture the gift bag that exhausted parents hand out to the guests leaving their 8-year-old's birthday party. Now, multiply that into the stratosphere. That is what we're talking about when we talk about celebrity swag bags.
In 2001, the Academy of Motion Picture Arts and Sciences started the tradition by handing out swag bags filled with extravagant goodies to performers, presenters and hosts. In 2006, the organization ended the practice after running afoul of the Internal Revenue Service (IRS).
---
You might also like:
---
That decision created an opportunity soon filled by private companies who now oversee the entire process from business connections to backstage distribution. Distinctive Assets, which for the past several years has handed out Everyone Wins at the Oscars gift bags, is one such company.
In recent years, the swag bag tradition has taken on a life of its own, as the contents of the bags themselves have become the subject of media coverage running up to the events. Public interest has only ramped up as social media's influence has grown. Brands pay thousands to donate their products and services. But a brief social endorsement by a celebrity can mean the world to a small and medium-sized business.
In 2015, Distinctive Assets – a Los Angeles-based niche marketing company that offers celebrity placement, product introduction and branding opportunities – saw to it that nominees, presenters and performers at both the 57th annual Grammy Awards and 87th annual Academy Awards went home with a gift bag full of goodies worth an estimated $25,000 and $168,000, respectively. These carefully curated collections featured an eclectic mix of products – from chocolates and cake pops to designer clothing and eyewear, to Gibson guitars, custom-designed furniture and luxury rail trips through the Canadian Rockies.
That was a particularly important year for Coal & Canary. VIPs at both events took home a three-candle gift set specially crafted by the company that featured the scents Swag Bag Jet Lag, Fake Lashes and Camera Flashes and Party Hopping and Selfie Swapping.
The swag bags were a genius marketing tactic for their small business
"Anyone who scoffs should sign up for a marketing class," Lash 'Sultan of Swag' Fary, founder of Distinctive Assets, told the New York Times in April 2021. "Celebrities are the best brand ambassadors in the world, and this is a win-win for everybody."
After the bags landed, Coal & Canary achieved their 10-year stretch goal for ecommerce growth in a little more than 10 weeks.
Buhse knew Coal & Canary would be a great fit for award show swag bags. Their fun, energetic company vibe, combined with an Instagram-worthy product aesthetic, meshed perfectly with other brands included in these gift bags.
"We were thinking about the Junos. That would be so cool – amazing. It would have been a dream come true," Buhse says.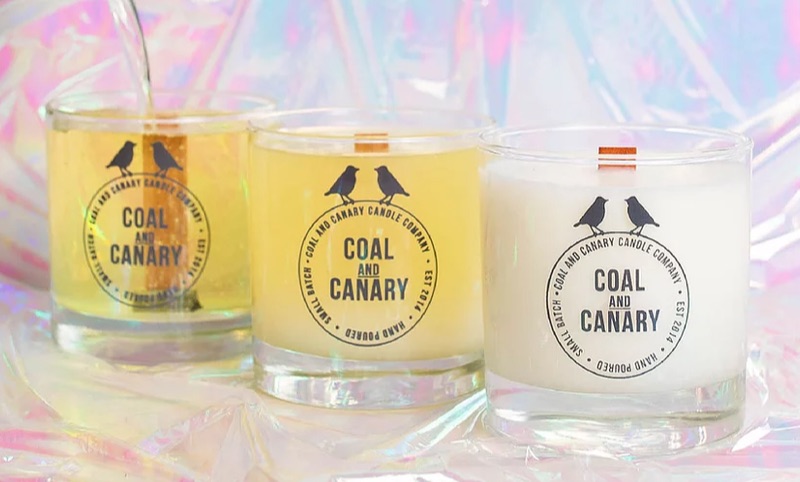 Three Coal & Canary candles at various stages of production.
Coal & Canary found the right partner to get into swag bags for the Oscars and the Grammy's
When her research led to Distinctive Assets, Buhse thought she would take a chance. In fall 2014, she sent a random email that included a product description and link to the company's website. She simply wanted to know the process to eventually be considered for the swag bags.
"We thought it might take a decade or so to be considered for something of this caliber. Honestly, I didn't expect them to even respond," Buhse continues.
They did respond. In two weeks.
"That email back said we know you didn't officially apply, but we did review your website and we get your product is really unique and we think celebrities would love it and we want it this year for the Grammys and the Oscars," Buhse says. "They said, 'Are you in?' It was a pretty crazy moment."
They were in. But not without some effort.
The costs of taking a big risk
There is a big financial component to getting into the bags, Buhse explains. People assume it's free, but far from it. It is an advertising opportunity with fees attached. On top of that, the company also had to donate the product, labour, shipping costs and everything else.
It was a huge risk, but one Buhse couldn't pass up.
Still working full-time jobs, Buhse and co-founder Tom Jansen worked until 4 a.m. for three months to create 300 box sets featuring three candles each. Working out of a 150-square-foot "artist closet" in a downtown building, the team thought they had made it – despite the rats and mice that occasionally accompanied their late-night candle making.
"It was just such an opportunity, just incredible, that you don't want to say no to it. We looked at it as a big adventure, whether it went south or whether it helped escalate our brand. Luckily, it was the latter. Things took off like crazy after that," Buhse says.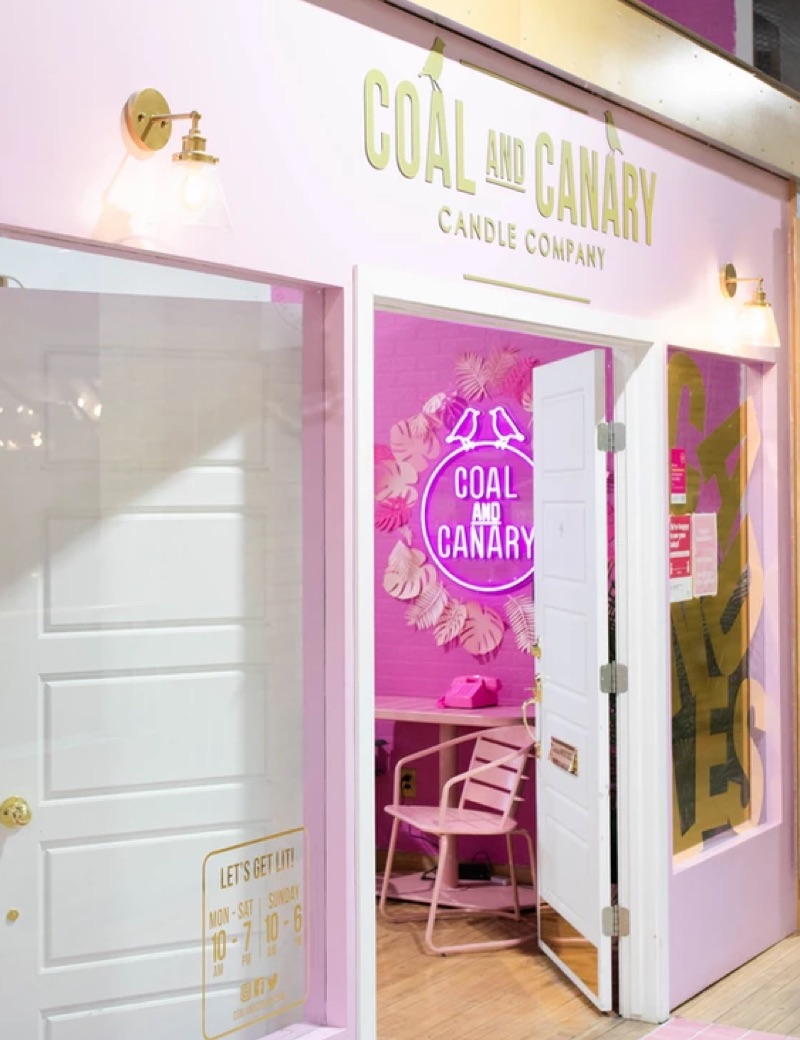 The offices of Coal & Canary Candle Company.
The pay off for Coal & Canary's risk taking
The hard work paid off as the move was a huge catapult for brand awareness and bottom line.
Distinctive Assets did a lot of the publicity legwork, promoting the brand online and in the more mainstream media. Coal & Canary candles were front and centre on Good Morning America one morning. The brand piggy-backed on that effort and pushed out the news of their swag bag inclusion via their own press release and social channels.
Traditional and social media buzz was a perfect driver for the company's ecommerce site, first for visitors wanting to find out more about this Canadian candle company, then for collectors clamouring to buy one of 300 limited edition awards show box sets. Wholesalers from across the country wanted to sell the Coal & Canary candles.
The company continues to use the Grammy's and Academy Awards names and logos in its promotions – to drive starry-eyed customers to their website and boost their ecommerce growth. It is an association that will resonate for years, both in sales and in pride.
"Winnipeg can be looked at as an underdog, and we can get a lot of hate. I'm always determined to change that. I have a passion for my city, and I love sharing that passion with non-Winnipeggers. For us, it was exciting that Winnipeggers grabbed onto it. They're so proud of the fact that there is a Winnipeg company being represented in these bags," Buhse says.
Buhse totally knows her company's candles are on Beyoncé's nightstand. OK, maybe she doesn't know know, but she can feel it. She is certain Coal & Canary products are sold in the Queen Bae's New York hairdresser's salon. He contacted them soon after the Grammys to do so.
It was yet another surreal moment among a host of them since the company landed the swag bag opportunity six years ago.
"It was a big risk. Really big. Looking back, I am not even sure how we managed to pull it off," Buhse says. "But it was a moment – a risk – that changed me and this company forever."
Want to grow your ecommerce business?
Contact our expert sales team to see where your ecommerce journey can take you.
Contact an expert