When your online store's e-commerce platform and shipping features fit together, the results can be as tasty as a peanut-butter-and-jelly-sandwich. Magento, one of North America's leading e-commerce platforms, and Canada Post, the preferred shipper of Canadian online shoppers, have worked closely together to integrate features that will improve your e-commerce operations and help you deliver a better end-to-end shopping experience.
Tip
Part 2 of this blog describes how to turn on Magento and Canada Post features and get them working for your e-commerce store.
What Canada Post features are available for my Magento store?
In Magento Connect, you can buy and install Canada Post extensions to add these in-demand features to your online store. Some of the most helpful include:
Automated shipping labels
Boost productivity by creating your own shipping labels within your Magento store – eliminating the need to measure and weigh individual shipments gets your parcels to customers that much faster (for both Contract and Non-Contract shipping).
Tip
If you currently use a third-party shipping software like ShipStation, OrderCup or Canada Post's Electronic Shipping Tool (EST) to print your labels, keep doing so if you prefer that option.
Show customers shipping costs and delivery dates
Display shipping costs your way – and set shipping defaults and delivery instructions. Did you know that 23% of shoppers who have abandoned a cart in the past did so because of delivery timing issues?  By adding your fulfilment time into the calculation, your customers see more accurate dates for receiving their purchases.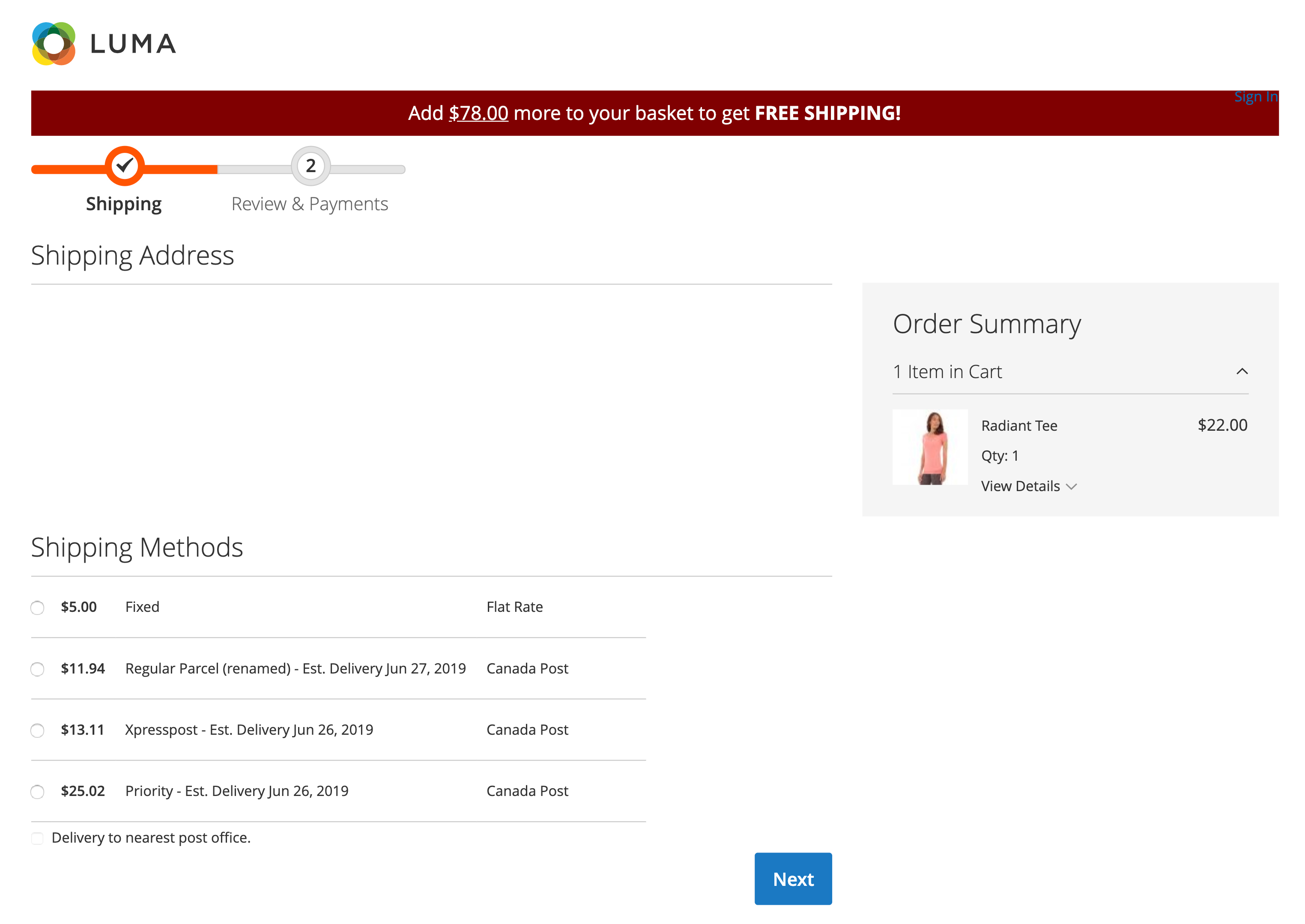 Give your customers end-to-end tracking
3 out of 4 shoppers2 track their purchases during the delivery process. Magento and Canada Post make tracking easy by automatically emailing your customers a tracking number when the shipping label is created. Plus, by hosting tracking on your Magento store, you keep your customers happy and returning to your website – exposed to more offers and making new purchases.
Need help streamlining your e-commerce shipping processes? Canada Post has a team of e-commerce solution integration experts to help online merchants like you.
Contact an expert
Offer unmatched delivery convenience with Deliver to Post Office
During checkout, offer your customers the option to pick up their order from the post office of their choice. Most shoppers are not at home during the day to receive their parcels. In fact, a third of frequent online shoppers3 would take the Deliver to Post Office option if it was given during their checkout!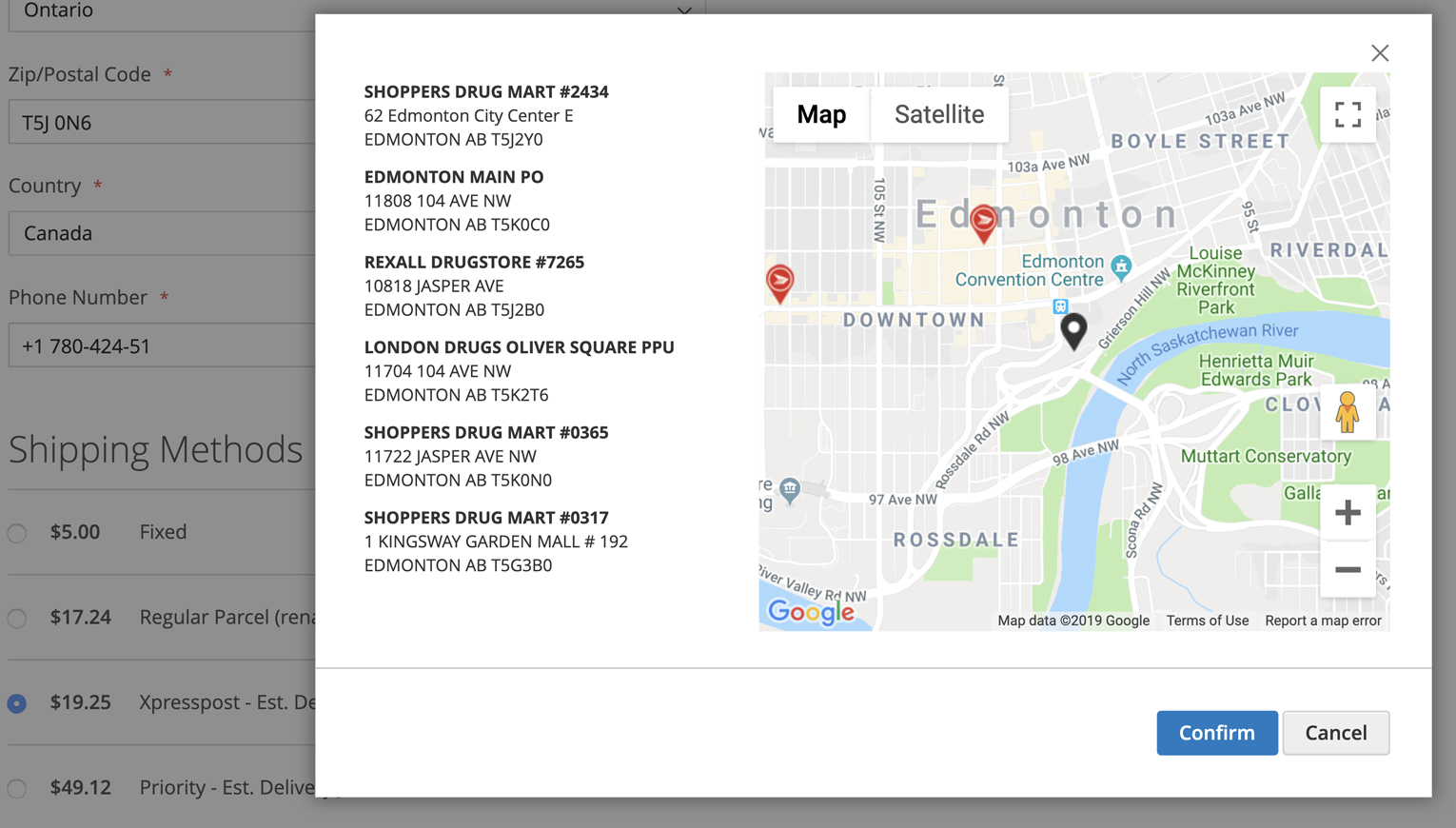 Make the returns process convenient – for your shoppers and you
Create a positive, simplified and convenient returns experience by integrating your returns process directly into your Magento admin. It also gives you an easy way to create return labels right from the Magento admin panel.
How do I get these features for my online store?
If you want to add these business-and-customer-friendly features to your store, you can easily access them through our extension partner – Mageside.
Tip
While you can install the extension yourself, requesting that Mageside install it for you will speed up installation and reduce the chance of errors. You will also receive support from the Mageside team in case of installation issues.
Mageside has fully implemented Canada Post's Web Services for Magento 2. You can display live rates and expected delivery dates to customers before and during checkout, print shipping labels, create manifests for all Canada Post shipments, and track previously shipped orders. Get the Mageside Module here.
Part 2 of this blog describes how to turn on Magneto and Canada Post functions once they're installed – and get them working for your e-commerce store. Read now
1 Source: 2016 Canadian Online Shopper Study, CPC 16-202, April 2016
2 Source: 2016 Canadian Online Shopper Study, CPC 16-202, April 2016
3 Source: 2016 Canadian Online Shopper Study, CPC 16-202, April 2016
Content built for Canada's online merchants
Stay in the loop. Get the latest e-commerce tips, resources and news delivered right to your inbox.
Sign up now