To say we are living in a time of unprecedented change is an understatement. It's an anxious time for Canadian retailers, as the way consumers interact, shop and do almost everything has changed dramatically. Not only is COVID-19 impacting online shopping behaviour, it's changing how your business operates and how you communicate with your customers. Today, you may find yourself focused on taking action to keep your employees safe and healthy, all while trying to secure stability in the months to come. How you adjust your operations to deal with this unique situation is critical.
While we do not have all the answers, we are committed to helping you navigate the uncharted waters ahead with guidance and practical advice on how to apply relevant and effective e-commerce strategies. Below is a list of resources and considerations to help get you started.
1. Deliver comfort to your customers' inbox
Driving customer loyalty goes well beyond making sales. While it's important to update the customers who have been shopping with you and supporting you over the years – letting them know how you're handling the situation, what precautions you're taking, what offers you're making – remember to show them your  personality as well. How do your communications align with your core values? Forging meaningful connections with your customers through thoughtful messaging is more important now than any technical updates you could share. This is something to keep in mind before you hit the 'Send' button.
The retailers that make meaningful connections go beyond their storefronts. They offer communications of comfort and support, and they will be the ones that get noticed in times of uncertainty, and remembered as shoppers adapt to the 'new normal.'

This email campaign from Simons shares uplifting family moments in conjunction with an update about their e-commerce operations.
2. Highlight Canadian-made products
A survey of 5,000 Canadians in 2019 revealed that 40 per cent of those who shopped in Canada intend to shop more domestically in the coming year, versus 37 per cent in 2018. In today's market, it's only natural that Canadian shoppers continue to buy from Canadian retailers. Canadians are ready to embrace this buy-local movement as part of their shopping habits moving forward. It's here to stay, and it's growing. Now is the time to support made-in-Canada brands and highlight home-grown retailers. Consider standing out in ads by drawing attention to the fact that you're a Canadian brand. Most savvy online shoppers recognize the benefits of shopping locally.
Oatbox, a Canadian subscription box company, gave readers a taste of their made-in-Canada goods through an Instagram post featuring a selection of their products along with a buy-local message.
3. Stay connected with partners, vendors, and suppliers
Wondering how to avoid disruptions in your supply chain? Depending on the nature of your business, you might need to ensure that you have back-up or alternative suppliers for your raw materials and/or products, or you should find an alternative source. You may have to expand your product range and add alternative products to your mix, based on your current demand patterns and top sold items.
If you wind up out of stock for certain items, be upfront with shoppers. Ensure your website reflects your current inventory, or let customers know if you've had to make a switch. Give your customers the option to be notified when an item comes back in stock in an effort to continue to build loyalty and trust. Transparency is key during this time.
Keep in mind, customers are not the only relationship you need to work on. It's critical that you ensure a good relationship with your suppliers and vendors as well. Both providing and receiving regular updates is crucial during this time. They too are facing challenges. Remember to thank them for their support and be respectful of any challenges they may be facing.
Don't forget about your technology partners, as well. Solution providers like e-commerce platforms, shipping software, and marketplaces are working hard to support e-merchants during this challenging time. Stay in touch with them to learn what product/service features are being implemented and to get speedy access to resources designed to better serve you.
4. Use your website homepage to keep customers informed
You know it's hard to attract customers. So, what is it that you need to do to stand out? How do you encourage loyal customers to continue shopping with you? Similar to your storefront, your website is critical in your customers' shopping experience. Ensure that it features the information they need and that it's easy to locate. Key information includes product availability, shipping fees, speed of delivery, your returns policy, and how you are improving your services and resources to better serve customers. It might be a good time to start linking out to your delivery partner's website in your FAQ section so your customers can stay up to date with their strategies and safety precautions. Providing this information upfront could potentially reduce calls to your customer service network.
You also might want to consider implementing chat functionality on your website so that your employees can assist your customers virtually.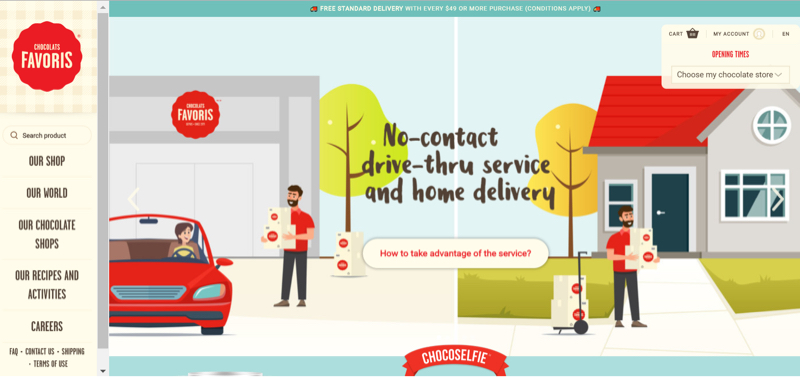 A homepage banner on Chocolats Favoris' website promotes their no-contact drive-through and home delivery services.
5. Offer gift cards to boost sales
Now is a great time to consider selling or promoting gift cards online. You could promote them on your homepage or within your online cart. You could position the cards as a self-gifting option; a gift to celebrate a milestone for a friend or loved one who's practicing social and physical distancing; or for someone who simply will want to shop with you later on. This will help you build long-term relationships and forecast sales.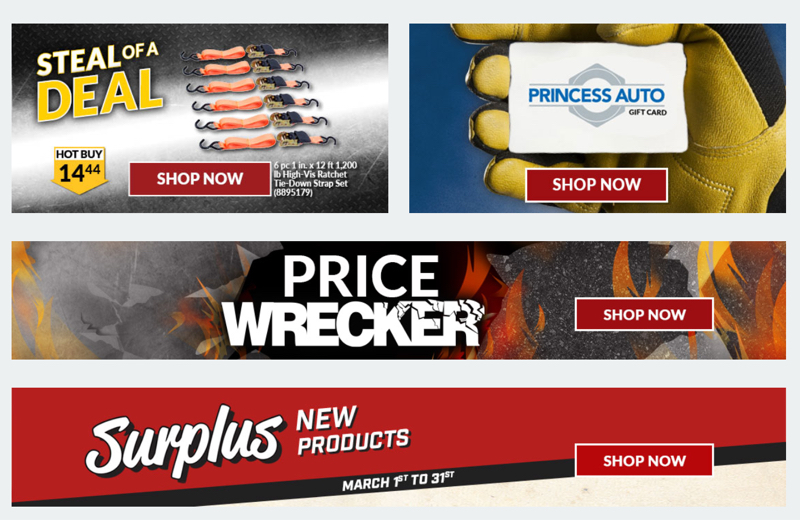 Several online banners promote deals and gift cards for e-merchants.
Get free e-commerce tips and resources delivered directly to your inbox.
Sign up
6. Leverage social media to strengthen connections with your customers
Social media continues to be a popular touchpoint in many customer journeys. Today, social platforms influence how Canadians find information and inspiration, and they play a key role in how they make their buying decisions. Getting creative on social media is a good way for retailers to connect and engage with their communities, and potentially generate sales. Brainstorm ways you can make your customers feel more connected in a time of social distancing. This could act as an extension of your brand.
If your business offers health and beauty products, now could be a good time to leverage Facebook Live to host virtual workouts, yoga classes, or meditation sessions for your customers and followers. If you sell grocery items or kitchenware, you could host a cooking lesson. If you sell home and garden products, consider providing a behind-the-scenes peek of how you care for and nurture your plants. Social media is designed for conversation, so be sure to stay active and think about how you can bring out the human side of your brand by connecting with your community.
7. Feature products with your customers' needs in mind
As consumer shopping behaviours continue to evolve, take a look at your product offerings to identify items that meet your customers' shifting needs. Curate and feature these products front and centre on your website to enhance the shopping experience for your customers. It's no surprise that e-commerce purchases of canned goods, shelf-stable items, and cold and cough products have seen a significant increase at this time. Retailers who highlight these essentials are keeping their customers top of mind.
With consumers practicing social distancing and working from home, you should think about products that could be of value to them. This could be anything from hand care items to cleaning products; household items; and products that provide entertainment, like books, games, and activities for kids. The list goes on.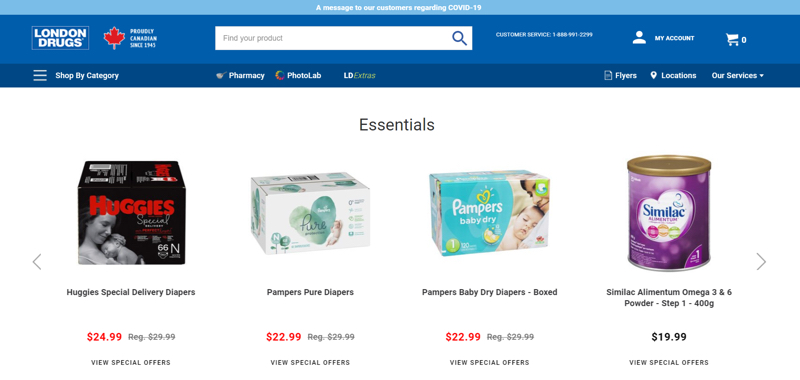 The homepage of London Drugs' website promotes baby essential items, including diapers and formula, that are on special.
8. Offer free shipping to make shopping more accessible
Free shipping isn't free for your business. To make it affordable, many retailers offer free shipping with a minimum purchase threshold, year-round. To sustain sales and remain profitable, there's a benefit to tweaking that strategy during key periods when shopper needs are at their highest.
Free shipping is not only a good way to encourage people to shop with you, it can also help keep customers satisfied if their order might take a bit longer to get to them. This likely applies to your business if you're currently experiencing longer than normal fulfilment times due to special precautions and procedures. Findings from our 2020 e-commerce report confirm that free shipping has more impact on shopping behaviour than fast delivery as 80 per cent of online shoppers factor it into their buying decision.
9. Be transparent around delivery expectations
When it comes to providing a positive e-commerce experience, customers want pertinent delivery information at their fingertips, so they can make informed decisions. If there are any changes to your services, it's best to be open and honest about them. You might be experiencing higher than usual order volumes in your warehouse, or it might take longer than usual to pick and pack orders with social distancing practices and new safety precautions in place.
Providing details regarding delays and time estimates will help customers know what to expect. You want your delivery information to be realistic, clear, and transparent before purchase. This will help you avoid abandoned carts.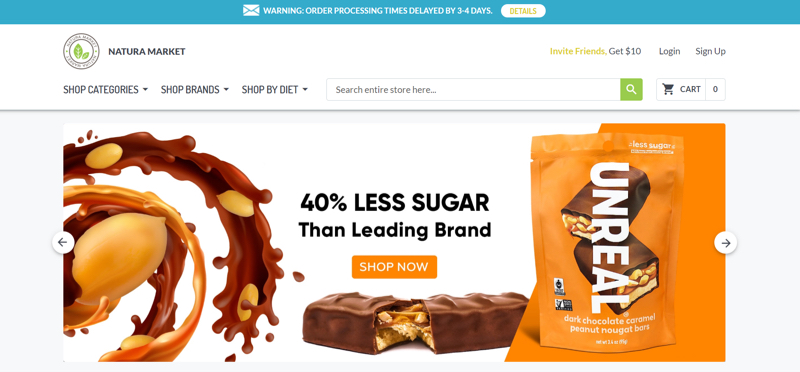 An announcement bar on Natura Market's website informs customers of a three to four day delay in order processing times for the retailer.
10. Optimize and extend your returns policy
As retailers' operations continue to change, your customers might start to wonder about what will happen if they need to make a return.
To manage returns efficiently during this time, start by evaluating areas of opportunity and improvement for your returns policy. This could mean extending your policy to allow for more time to process returns. It's important to acknowledge the nature of the current situation and alleviate any worry a customer may have should a clothing item not fit, an electronic device not work properly, or if furniture clashes with a consumer's decor. Aim to remove any barriers to purchase that your customer may experience, and have minimal restrictions, rules or fine print so you can offer a simple returns process during this time. Don't underestimate the importance of a good returns policy – it can provide the peace of mind needed to convert browsers into buyers.
As you review your returns process, think about your shipping label strategy. What solution are you providing your customers with that will keep them satisfied in the long run? Options like Label on Demand and Label in the Box could be beneficial to you. Label on Demand enables your customer to head to your website to obtain a return label. While this option provides you with more control and visibility on the return activity, it means that your customer will have to be able to print the return label at home. Label in the Box allows you to provide a label in the box along with the outgoing shipment. It makes it extremely simple for your customer to insert the shipment into a Canada Post mailbox. This type of solution could be more reliable to you now and in the months to come.
If you're currently operating from your own distribution centre, then it's business as usual. But if for some reason you are forced to operate differently, keep your return address in mind should an item need to make its way back to you.
If you're looking for more expert help on your returns strategy at this time and would like to chat with an in-house expert, you can reach out here.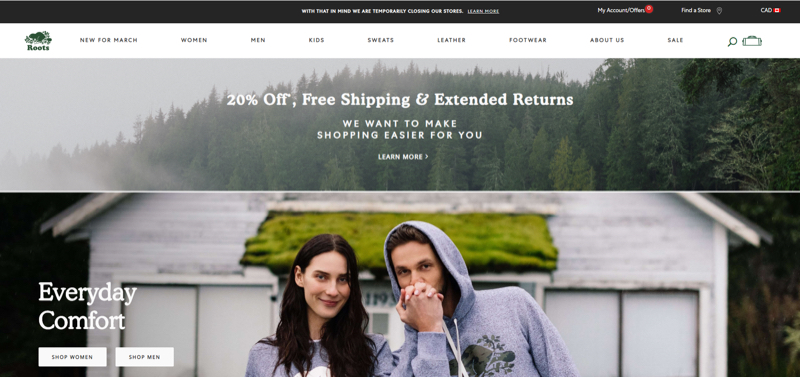 A banner on Roots' website promotes the retailer's free shipping and extended returns policies.
Stay up to date.
Get details on the steps Canada Post is taking to keep deliveries and our employees safe.
Learn more