Well-chosen packaging is essential for an ecommerce business. Choosing the right packaging can keep your shipping costs manageable, help your products make it to your customers on time, protect your products in transit and even minimize your environmental footprint. Paying attention to packaging can also help your brand build customer loyalty, increase brand perception and attract new customers.
There are many things to consider when it comes to choosing the right packaging for your business. We've put together a high-level overview to cover the basics and beyond.
How to pick the right type of packaging
No packaging type is perfect. What you choose to use for your shipments will depend largely on the product(s) being shipped, how many of them there are and what you can afford to buy. Each type of packaging has its own benefits and drawbacks and will most likely fit into 1 of 3 categories:
Boxes
Boxes tend to be the first product that comes to mind when discussing packaging, but they aren't necessarily the best option for the product you're shipping.
Here are some key considerations before you opt to use shipping boxes:
Suitable for large, heavy, and/or fragile items
Durable
Recyclable
Can be branded for an elevated unboxing experience
Padded Mailers
Padded mailers or protective mailers, often referred to as bubble mailers, are envelopes which feature a protective layer on the inside.
Here are some key considerations for those considering using padded mailers:
Suitable for small, flat items that benefit from a thin layer of protection (like a book)
Available in a variety of sizes
Cost-effective and lightweight
Easier for processing machines to handle than polybags
Polybags
Polybags are thin and flexible bags that retailers use for shipping items that are not fragile. Compared to boxes and padded mailers, polybags are the most cost efficient, but the most susceptible to shipping issues due to their comparable fragility.
Here are some key considerations for those considering using polybags:
Suitable for small, flat non-fragile items (like clothing)
Available in a variety of sizes
Inexpensive and lightweight
Weather resistant
Explore our Packaging for success guide for more insights into shipping packaging.
Get the guide
Don't forget the filler
Whether you choose boxes, padded mailers or polybags, you need to ensure your items are protected in transit. They need to withstand any movement that occurs in a vehicle or while being handled and delivered. Not every item necessarily needs a void filler, but if your item is too loose in the package – or prone to scratch marks, scuffing, getting bent or broken – void fillers are a must. Void fillers can also enhance the unboxing experience for your customers and can be branded.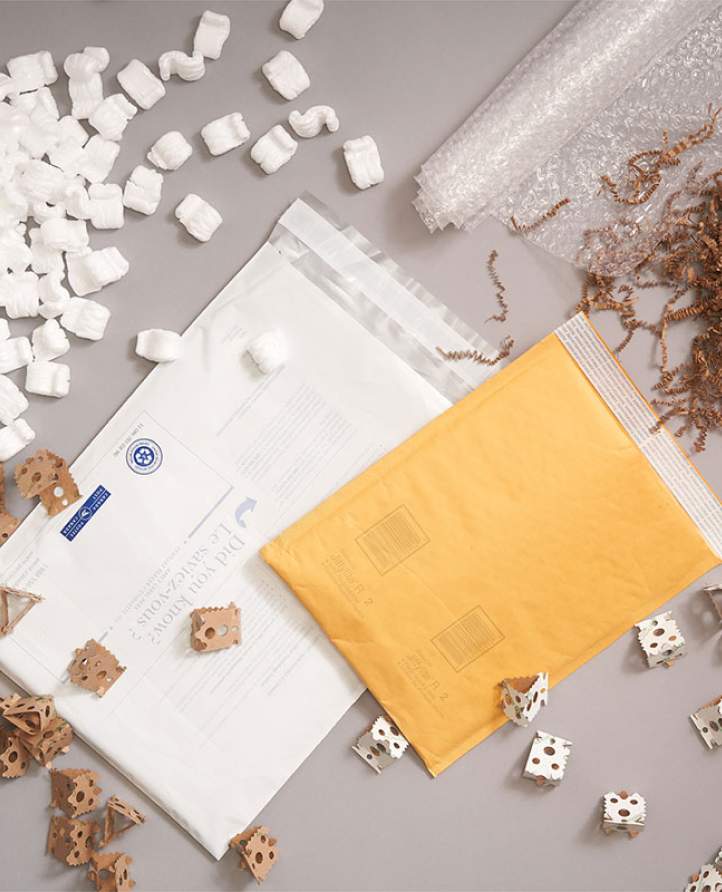 Here are some of popular void filler options:
Packing paper
Tissue paper
Bubble wrap
Crinkle and shredded paper
Peanut fillers
Inflatables
Edge protectors
Choose the best package size to keep shipping costs low
When it comes to packaging, the weight and the size of the package are key factors when determining the shipping price, along with the distance to travel and speed of delivery. Be sure that the packaging you choose is an appropriate size for the item that you are shipping. The base price for shipping is based on the greater of either the item's actual weight or its volumetric equivalent of actual weight. For example, if you are shipping a pair of socks in a box that is big enough to accommodate a pillow, your shipping cost will likely be based on the dimensions of the box – or its volumetric equivalent. This means it is to a retailer's advantage to ship items in the smallest boxes possible to avoid paying more to ship than needed.
Properly place your shipping labels
The placement of your shipping label matters greatly. A well-placed label will ensure that the vital information about your package is processed properly. Follow these guidelines when preparing and adhering your shipping label:
Print it on white paper. No colours.
Make sure there is nothing obstructing the label.
Affix the label to the largest side of the package.
Ensure there are no wrinkles in the label.
Avoid putting the label over an edge or seam.
Don't put tape over the barcode.
Consider investing in a thermal printer. It uses heat, rather than ink, to print. This results in less smudging.
Pack your shipments like a pro
Be efficient
Whenever possible, ship items together. Canadians have said that they're willing to wait up to 5 days for a single shipment to arrive. Shipping items together minimizes shipping costs, reduces the use of packaging materials and increases brand perception.
Pack items securely
Any package will be processed and handled multiple times enroute to its destination. Package all items with care by individually wrapping each item and using void fillers to ensure they are secure. Keep the weather in mind – if your product must remain cool, you may require special packaging in summer months, for example.
Package with safe delivery in mind
Ensuring your packaging fits within community mailbox and parcel locker dimensions will give your customers peace of mind that their items will be stored securely until they can be retrieved.
Keep in mind that Canada Post is the only carrier that offers secure delivery to individual units. Other carriers tend to leave packages and delivery notice cards unattended in lobbies and hallways.
Package with the customer in mind
Packaging is an essential part of ecommerce – use it as a tool to put the spotlight on your brand and make the unboxing experience something memorable for your customer. Consider branded packaging, providing samples, offering special offers and/or providing a personalized note to make your experience stand out.
Package with the planet in mind
Sustainability matters and is increasingly influencing consumers' purchasing decisions. Sustainable packaging matters to consumers and can prompt them to purchase from one brand over another. Consider increasing the percentage of recycled content in your packaging, optimizing your packaging to ensure the package is an appropriate material and size for the item, using reusable packaging or shipping orders only when all products are available.
Need help choosing the right packaging?
Contact an expert at Canada Post for support and guidance.
Contact us