When the pandemic struck, businesses had to move online and fast. But going digital doesn't mean the same thing for everyone. Here's how Tales of Triumph runner-up and finalists took advantage of digital possibilities, reinvented their businesses and set themselves up for the future.
Soul Studio – jumping from in-person to virtual classes
Soul Studio was the 2021 Tales of Triumph Contest runner-up winner in the Offline to Online category .
Sareena Nickoli had been in the fitness industry for 20 years teaching popular classes, including Zumba, HIIT, yoga and Pilates to a growing and devoted following. In 2014, she opened Soul Studio in Vernon, B.C.
A place to move, connect and belong, to focus on you and your wellness. With boutique fitness, I brought big-city thinking to a small city.

 
That big-city thinking was behind a renovation and expansion for an indoor cycling studio and a hot yoga space. Right from the start, Nickoli provided clients with an app that allowed them to register in advance for classes. That decision saved the business during the pandemic. "I had trained clients from the beginning, so they could adapt," says Nickoli. Her clients took it in stride when the studio was forced to close on March 17, 2020 and went entirely digital.
Right away, Nickoli and her team had to figure out Zoom. "I'd never even heard of it before," says Nickoli. But at her first test class, 40 faces popped up on her screen. Nickoli took to the stage in her studio and performed her class. Over six months she ran 2,000 virtual classes capturing participants in Brazil, Austria, Northern Ireland and across the U.S.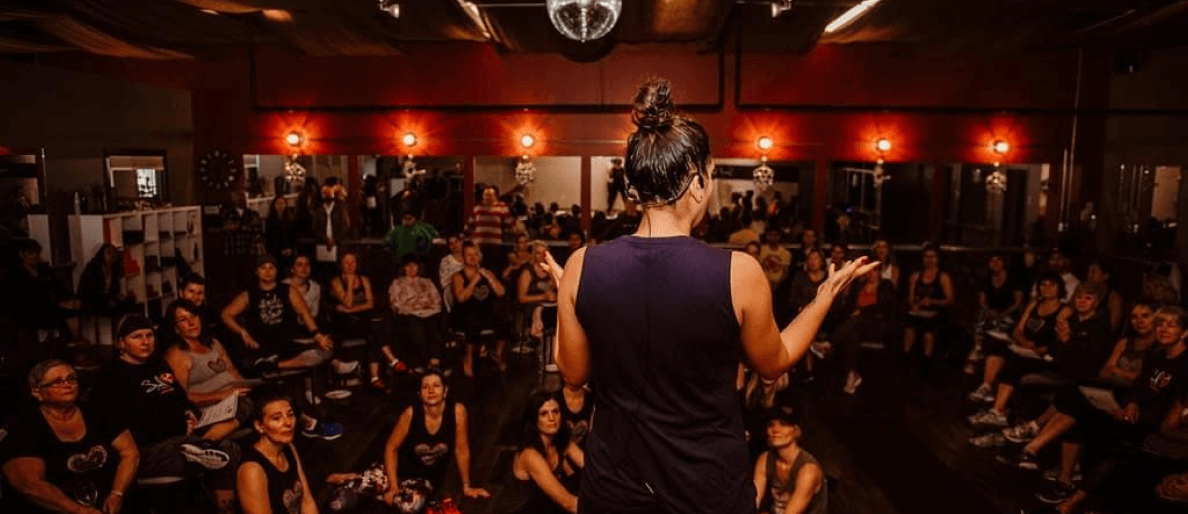 Unlike other exercise studios, Soul Studio classes weren't on demand. Nickoli mimicked the rigor and discipline of real life by offering classes only at scheduled times. She invested in top-of-the line cameras and audio-visual equipment and leaned heavily into social media. "TikTok has been amazing for us," she says. Her 70,000 followers come from around the world and Nickoli intends to focus on growing that global audience as part of her post-pandemic strategy. "People would always say 'go online,' but I didn't know how," she says. "Now I do."
Learn more about past finalists from other categories of our Tales of Triumph Contest.
Meet the finalists
In-Sport Fashions – going straight to the consumer
Montreal-based In-Sport Fashions has been distributing outdoor goods to Canadian retailers for more than 30 years. That includes tents, sleeping bags, backpacks, boots and more. "All the gear you need to play outside," says President Andrew Nelson.
Enthusiasts of cycling, hiking, urban or off-road adventures, can get whatever they need from In-Sport Fashions, but only from brands that care about the environment.
All brands we select come with sustainability in their message, that's part of their main goal as well as producing good products.

 
When the pandemic hit, all the company's retail partners had to shut their doors. Sales plummeted as pre-ordered inventory filled the warehouse. "We had to reignite sales," says Nelson, "to find places where consumers were engaging, and work with our partners to incentivize them to move product."
Going digital was the answer, but it wasn't an overnight endeavour. "I had zero online sales presence before COVID," says Nelson. "We dealt with stores that had online stores, but we had no direct touch point to sell directly to consumers or show our warehouse." That was the first thing Nelson worked to change. Today the company has six websites and will build two more this fall.
Next, In-Sport Fashion started working with Indigo, Hudson's Bay, Altitude Sports and other large retailers in an effort to expose their inventory to bigger audiences. The company also started drop shipping from its own locations. Together these strategies allowed it to not only survive but thrive.
Atelier Chalet – from brick-and-mortar to ecommerce
About five years ago, Bob Eyton-Jones and his partner Pierre Carroll got fed up with living in the city. They needed a lifestyle change. "We wanted to work for ourselves and become masters of our own domain," says Eyton-Jones, co-owner of the leather goods store Atelier Chalet. So, the couple moved to the country. "The idea was to make things that we wanted, that we couldn't find at an affordable price, that were high quality and very durable." They started making bags in the basement of their "little red chalet" in the Laurentian Mountains.
Soon the question became how to bring their work to the next level.
How do you go from a hobby in the basement to being a business?

 
Answer: They would open a brick-and-mortar boutique. "A place where people would come in and interact on a one-to-one basis." They found a space, renovated it and planned an opening day of March 15, 2020. The government shut down came into effect March 13. "What do you do?" asks Eyton-Jones. Answer: change the business model.
First, the website needed to be rebuilt to include an online store. "I had to do all this homework!" says Eyton-Jones. "I didn't know any of this stuff," he says, referring to the technology behind an ecommerce platform. Once he got the product lines up, "how do I get that out to the world?" he asked. "How do I let people know, 'hey! Come see us!'" Learning to maximize the potential of social media as a marketing tool is an ongoing challenge.
Eyton-Jones and his partner are always looking for new markets and are in talks with The Shopping Channel. "That's a whole other way of looking at marketplaces," he says. "We are very visible, constantly on social media and putting out email flashes."
For now, he'll continue to streamline Atelier Chalet product lines, putting out new items, evaluating the response and revising as needed. The boutique is open, but the business' main traffic is online. "People are just beginning to come knocking on the door of the shop," says Eyton-Jones. Surviving COVID taught him to be prepared to pivot. It worked so well, Eyton-Jones might pivot again: "Looking to the future, it's possible the boutique won't be needed."
Be in the know
Sign up for our small business e-newsletter and get all things small business delivered right to your inbox.
Sign up